The creative industry could be the next oil. Or at least the next gold.
Filipinos are born natural singers, dancers, story tellers, and artists.
Filipino illustrators antedated and were at par with the cartoonists of America. The original de rigueur reading for first-time Pinoy readers were comics (Komiks in Pilipino) magazines. These became popular from the 1920s to the late 1980s.
Antonio "Tony" Velasquez (1910-1997) started the Philippine comics industry with his iconic comic character, Kenkoy which first appeared in the Tagalog Liwayway magazine in 1929.
Velasquez was able to produce "some of the best" and "most popular" Philippine comic books, such as Pilipino Komiks (1947), Tagalog Klasiks (1949), Hiwaga Komiks (1950), Espesyal Komiks (1952), Kenkoy Komiks (1959), and Educational Klasiks Komiks (1961).
Filipinos are among the world's best painters
In painting, we had Juan Luna who produced the "Spoliarium" in 1884, along with "The Blood Compact" and "The Death of Cleopatra" in 1881. "Death of Cleopatra" won the silver medal in 1881 and "Spoliarium" the gold in 1884 in the Exposicion Nacional de Bellas Artes.
In movies, the Philippine cinema industry was established in 1887 and reached its peak from the 1960s til the early 1980s. Until the government decided to heavily tax the industry. The industry died but not after producing a president, Joseph Estrada, and an almost president, Fernando Poe Jr.
South Korea tops in movies and pop music
Sadly, South Korea has overtaken the Philippine cinema industry. South Korea has created a new genre, Zombies, and has gone on to win four academy awards with Parasite (2019) and exported international cult classics including Oldboy (2003), Snowpiercer (2013), and Train to Busan (2016). Today, Busan hosts Asia's largest film festival.
South Korea also has Asia's richest musicians. It has the world's first K-Pop investment fund. K-Pop earnings have grown tenfold (1,000%) in the past ten years, according to investment analyst Eric Jurado. The K-Pop Index has 30 entertainment and interactive media companies. The PE ratio of K-Pop companies, at 56x earnings, beats the entire Philippine stock exchange.
There is hope, however, for the Philippine creative industries.
Push from BBM
In his State of the Nation last July, President Marcos Jr gave impetus to the Philippine creative industry.  "The creativity of the Filipino is truly world-class," said the President. "We excel in arts and culture, new media, live events—avenues which generate primary and downstream jobs for our creative and talented countrymen."
One big challenge is piracy.  "The creative industry lends soul to our being Pilipino," BBM said, "Let us protect them."
Chimes in Albay Rep. Joey Salceda, "the country's intellectual property laws sorely need an update, considering the onslaught of digital piracy hampering economic growth."
"You cannot protect what you don't have," he contends.
Salceda's House Bill No. 0799 gives the Intellectual Property Office of the Philippines greater powers to take down infringing materials and raise civil and criminal penalties for offenders.
He also has stressed the need to redefine what constitutes pirated goods to include digital content and site blocking.
PH in Top Ten creative goods exporters
According to Salceda, the Philippines was among the top 10 creative goods exporters with exports in 2015 of $1 billion. China did a whopping $168.51 billion.
The Albay solon estimates the value of domestically produced and consumed counterfeit and pirated goods could range from $524 billion to $959 billion this year.
Other estimates place losses of the creative industries at 50% of revenues.
"The Philippines needs to be competitive in this sector if it wants to reap the benefits of economic growth," says Salceda.
To enhance competitiveness, he advocates fair taxation on digital service providers and a government procurement program of creative works by Filipinos.
Finally, Salceda thinks the government should improve the education of Filipinos.
In recent international tests, Filipino kids were rated the lowest among participating countries in grades for reading, math, and science.
Nine out of 10 Filipinos still cannot read nor understand short texts by age 10.
"Youth and innovation. Reasons why we should protect IP rights. The youth are an intrinsic source of creativity and dynamism," says Salceda.
Still, stupid jokes and stupid movies do make money. Just watch some of the successful Netflix and HBO movies.
.
.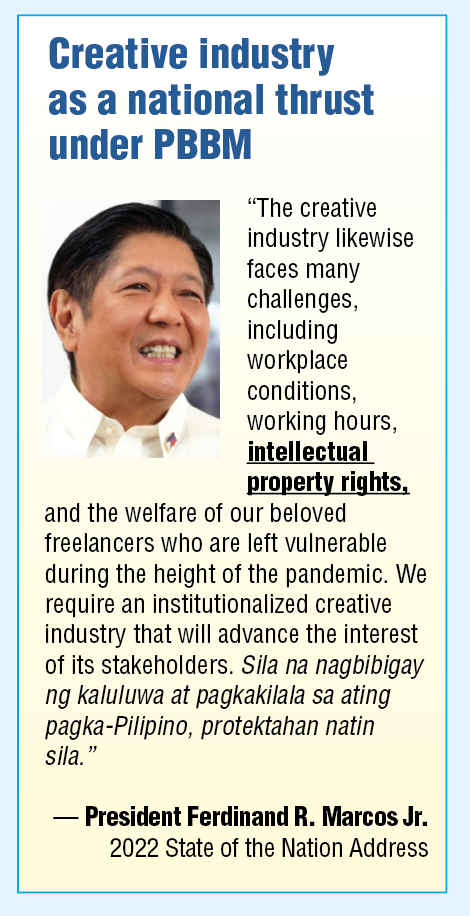 .
.
.
.
— Tony Lopez