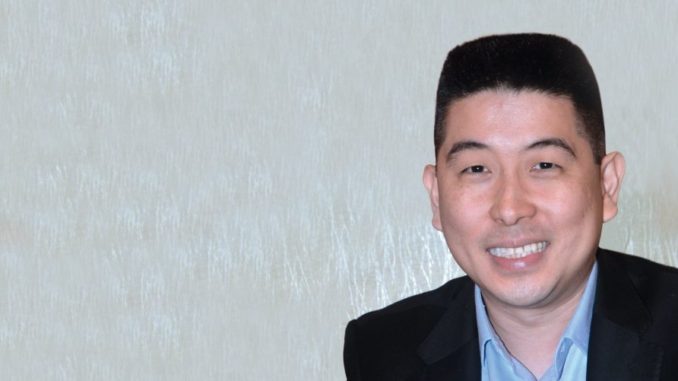 In 2002, Edgar "Injap"Sia II, then 32 and an emerging businessman from Iloilo, saw an ad in a newspaper for a nationwide contest—the person to send the most number of text messages in reply to survey questions will win a brand-new car.
"I read the mechanics carefully, tore the full-page ad from the newspaper, and kept the ad in my bedroom while I thought about the competition," he relates in his latest bestseller, "Life Principles by Injap Sia".
Despite being what he calls himself a probinsyano, Injap tackled the promo systematically and strategically.
The promo required the participant to reply to question everyday. His reply would be his entry. "Each answer will earn you a point. You could also find out your rankings by text message any time after that," Injap narrates, adding:
"I missed the first three days, so that meant that, if I started sending my SMS entries at a certain volume on the fourth day, I should show up on the top five soon after. If I could rank number one by the seventh or eighth day, it would mean my strategy was working; if I didn't top the rankings in that time frame, then I would have to stop, because there was no way I could catch up."
Injap inveigled Ernie, a friend and classmate, to do the texting every night, promising him P200 a day for the effort, and a Nokia if he won. Ernie would text through the night and by early morning Injap himself would take over the texting. Their joint effort paid off. Injap won the car prize.
"That contest taught me many les- sons that I still carry with me," Injap says now.
First, "I learned how to look at things one notch deeper, to analyze situations thoroughly and approach it from different angles. Do this, and you already start from an unbeatable advantage."
Second, "I learned how to anticipate and provide the tools that Ernie needed—in that case, food and energy drinks—that would help us successfully hit our goal."
Third, "I learned how to audit: Every day, I would set my alarm for 3 am, when I would call Ernie. By listening to his voice, I would know if he slept or not. I learned how to audit because there wasn't too much of a margin for error."
Fourth, "I learned to deliver on my commitments."
Lesson One was the same with Mang Inasal. Recalls Injap: "When I set it up, I tried to scan for opportunities in the universe of fast food, and saw that there were no modern fast food barbecue chains yet in the Philippines at that time. It made sense to focus on inasal, the local specialty in Western Visayas. By looking deeper and analyzing the situation closely, I realized that it was a gap that had long been open but was not filled in yet."
Be practical and sacrifice
On Lesson Four, says Injap, "when I won the contest and the car, I gave Ernie the exact cellphone I promised."
There is a fifth lesson though. Reports Injap: "When I got the car, I didn't keep it. I had other priorities at the time, so I sold the car. I liked it very much, but that experience taught me how to be practical, and how to sacrifice."
Be confident
Finally, a very important lesson: "Winning that contest was a very important turning point," Injap points out. "Before then, I was so intimidated by the thought of competing on a nationwide scale. Over time, I increased my confidence by paying closer attention to details, analyzing everything possible, and looking at situations in a far deeper way, beyond what was conveniently obvious."
He adds: "If I hadn't joined that contest, I don't think I'd be able to gain the confidence I needed to even try to compete against the whole country. I'd probably still be doing businesses back home to this day, because the notion that I didn't have what it takes was intimidating to a provincial guy like me. I wouldn't even have found the courage to take the first step outside of my hometown."
"I think I had the confidence to succeed in my hometown, but I was really afraid that I wasn't going to be able to successfully compete in the larger cities, where everything was more sophisticated, more advanced, more organized. It's hard to overcome that thought, na, o, talo na ko d'yan; that you've lost before you even get started because you're at such a disadvantage."
Fast forward to 2017. Today, Injap Sia is on the verge of the Philippines' biggest mall builder.
King of Malls
Injap is the emerging King of Malls in the Philippines.
In four years, his DoubleDragon Properties Corp. will roll out 100 community malls at the rate of 25 malls per year. So far, lnjap has built 50 malls, of which 30 will be operational by the end of 2017. this year.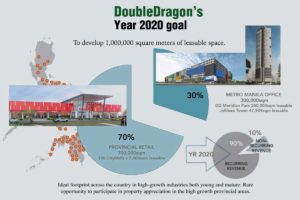 With 30 malls, gushes Injap, "CityMall becomes the dominant community mall player in the Philippines."
Meanwhile, "the first phase of our flagship Metro Manila commercial and office project, DoubleDragon Plaza at DD Meridian Park, is set to be completed ahead of schedule within the last quarter of this year. To date, 53,800sqm of leasable space within the four towers of DoubleDragon Plaza has already been taken up," says Injap, the chair and CEO of DoubleDragon Properties. The company targets one million square meters of leasable space by 2020. That will make DD one of the country's biggest landlords.
Youngest billionaire
Injap's forays, first into barbecue chicken fast food, then into community malls, and lately, property development, have made him the Philippines' youngest billionaire. Thru the family holding company Injap Investments, he owns 36.99% of DoubleDragon, equivalent to $798.25 million.
Injap is the next Henry Sy and John Gokongwei Jr.. His entrepreneurship has been so successful that he became a dollar billionaire, at 37, faster than either Big John or Tatang Henry did early on in their business career.
The now 40-year-old college drop shows no signs of letting up.
Injap's community malls are not the typical massive structures of concrete and glass covering an area of five hectares or 50,000 square meters. Those are the so-called super or mega malls of taipans Henry Sy Sr. whose SM Prime has 62 malls by now, and John Gokongwei Jr. whose Robinsons Land has at least 46. Injap's community malls are more modest enterprises which are one to two-story structures on as lot as small as one hectare.
Still, Injap's CityMalls are nothing to sneeze at. They are complete shopping meccas by themselves. They will be more ubiquitous than either SM or Robinsons and will be located in emerging cities and towns across the Philippine archipelago.
Says DoubleDragon in its disclosure to the Securities and Exchange Commission: "CityMall will not only provide prime spaces to the top Philippine fast food brands such as Jollibee, Mang Inasal, Chowking, Greenwich, Red Ribbon and Highlands Coffee, but also to various non-food retailers including those affiliated with the SM Group brands such as Savemore, Ace Hardware, Watson's, SM Appliance, Simply Shoes, BDO, and Chinabank Savings Bank. CityMall is poised to become a brand that every Filipino can be proud of."
All CityMalls, says the company, "will have a standard color, design, look and feel. They will also have the distinct feature of being 'Greenergized' as each CityMall will be equipped with solar panels as their main source of energy and a rainwater collection system as a sign of the company's drive to help save the planet and its commitment to sustainable development."
Injap points out: "CityMall differentiates itself from other malls by choosing prime and strategic locations in the heart of every community it aims to serve. Location and accessibility to customers is the key to the successful rollout of CityMalls in the country."
Each CityMall site is meticulously chosen and negotiated by Injap himself. "The business model of CityMall is premised on location at the heart of each provincial city to integrate the brand within the natural daily movement of the general population. CityMalls are intended to become the venue for modern retail concepts to thrive in the provincial setting as the transition from traditional to modern retail is envisioned to complete itself in these second and third tier cities over the next few years," says DD Properties.
Mang Inasal
Guided by the brand's four pillars – Organizational Strength, Operational Excellence, Brand Dominance, and Sustained Business Growth – Mang Inasal employed agility, stronger core knowledge and skills, and acuity in business strategy development to round up another successful year. Steps to sustain operational excellence were taken through training programs in Quality Management Systems while internal review processes underwent major improvements and reinforcement.
Mang Inasal worked to strengthen its brand communications through powerful marketing, advertising, and digital campaigns. Through these combined efforts and strategic initiatives, Mang Inasal maintained its position as the #1 Pinoy Branded Eat-Out and #4 in Total Branded Eat-Out in Metro Manila according to the 2016 Kantar Panel.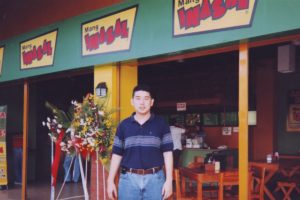 Mang Inasal also capped off 2016 with the opening of 35 new stores and 60 renovated stores. As of December 2016, Mang Inasal had 465 stores, 416 of which were franchised stores and 49 of which were company-owned.
DoubleDragon Properties Corp. was established in 2009, was originally registered with the Securities and Exchange Commission (SEC) as Injap Land Corp. to serve as the real estate development arm of Injap Investments Inc..
DD has undertaken several vertical and horizontal developments since it started its commercial operations in April 2010.
In 2012, DoubleDragon became a 50/50 joint venture between Injap Investments Inc., headed by Injap who is also the founder of Mang Inasal Philippines, Inc. (Mang Inasal), and Honeystar Holdings Corp., headed by Tony Tan Caktiong, who is also the chairman and founder of Jollibee Foods Corp.
Honeystar, incorporated in 2012, is the holding company of the Tan and Ang families.
Injap Investments, incorporated in 2007, on the other hand, serves as the holding company of Edgar J. Sia II and his siblings. Prior to the entry of Honeystar, the company (previously named Injap Land Corp.) served as the real estate development arm of Injap Investments. The company was originally established to hold the Sia family's private real estate investments all of which were focused in Iloilo City at the time.
It was not until 2012, when the company became a joint venture between Injap Investments and Honeystar Holdings and was consequently renamed to DoubleDragon Properties Corp. that the company's development priorities shifted towards the vision that it has today.
Corporate transformation
The company, prior to the entry of Honeystar, was originally the Sia family's intial foray into real estate development. The company's first venture, People's Condominium project, was the first condominium in Iloilo City.
People's Condominium was completed in November 2011 and was fully sold a few months after the pre-selling activities started. Other projects developed by the company in Iloilo City include Injap Tower, a 21-storey commercial and condotel tower, The Uptown Place, a 5-storey premium commercial and residential condominium, as well as horizontal developments FirstHomes and HappyHomes both located in Mandurriao – Iloilo.
DD is a partnership of Sia and Caktiong, both born in the Year of the Dragon
Their joint venture established a clear road map for DoubleDragon.
They identified a unique opportunity to capitalize on the modernization of retail in the provinces by building a chain of community malls to become the venue for this transition.
To become the dominant leader in this space they targeted the roll out of 100 community malls across second-and third-tier provincial cities by 2020.
CityMall Commercial Centers Inc. was incorporated on Dec. 27, 2013 to serve as the vehicle for this rollout. SM Investments Corp. (SMIC) saw the potential of CityMall and subscribed 34% of CM's capital on Feb. 17, 2014.
The 100 community malls, once fully developed, are expected to contribute 700,000 square meters of leasable space which is equivalent to 70% of the DD's target portfolio of one million square meters of leasable space by 2020.
To further diversify its intended portfolio of recurring revenue properties, DD decided to develop commercial office projects in Metro Manila, which would make up the remaining 30% of the company's envisioned portfolio.
The company's flagship commercial office project is DD Meridian Park, a 4.75-hectare project in the Bay Area of Pasay City located at the corner of Diosdado Macapagal Boulevard and EDSA Extension.
The Company's subsidiary DD-Meridian Park Development Corp. (DDMP), which is 70% owned by DoubleDragon and 30% owned by Carto Meridian Development Corp. (Carto Meridian) will develop the project.
DD Meridian Park will be developed in phases and will contribute a total of 280,000 square meters of leasable space by 2020.
To complete that side of the portfolio, on Aug. 26, 2015, the company entered into joint venture with JFC to build a 40-story commercial and office tower on the property of the latter located at the corner of F. Ortigas Jr. Road (formerly Emerald Avenue) and Garnet Road at the heart of the Ortigas central business district.
In the memorandum of agreement between DD and JFC, the company undertook to develop a commercial and office condominium building on a parcel of land in Ortigas. JFC, on its part, will transfer ownership over the subject land to DD in exchange for condominium units and payment of P27.8 million.
On April 7, 2014, the authorized and outstanding shares of DD were listed on the PSE under the symbol "DD". Through its initial public offering, the company was able to raise P1.16 billion to finance the acquisition of land and development of projects. The listing further enhanced the ability of the company to raise substantial funding in the local debt markets.
Dozen enterprises
In 35 years, Edgar or Injap put up no less than a dozen enterprises. The serial entrepreneurship has made him a millionaire at 25, a multi-millionaire at 28, a billionaire at 30, and a multi-billionaire by age 33, the youngest among the current but small crop of Filipino mega-billionaires.
Injap—a contraction of Intsik (his father) and Japanese (his mother)—actually became a billionaire faster than Henry Sy or John Gokongwei Jr. did during their time.
The feat is made more remarkable by the fact that Injap has had no formal training in business, except the weekends he spent tending to his parents' grocery store in Iloilo when he was a boy in short pants. He didn't pursue his only formal course in college—architecture—because he wanted to focus intensely on doing business, putting up a different enterprise after another almost every year as a teener up to his late 20s.
Injap made it big in fastfood, with his Mang Inasal chain of barbecue or charcoal-broiled chicken stores. He built one Mang Inasal store every other day in two years.
Mang Inasal's chicken is unique, broiled with tender loving care, basted with a special sauce concocted by Injap from special spices and herbs and served with unlimited rice wrapped in banana leaf. The chicken is held by a bamboo stick. The meal includes piping hot delicious soup.
Injap's chicken has an unusual freshness and a distinctly Filipino flavor, in sharp contrast to the fried chickens of foreign brands like KFC and McDonald's or even locals like Jollibee or Max's. The Filipino-ness is complemented by the décor of the place – wooden tables, handmade paper lamps, and walls painted in orange, green and yellow.
The entrepreneurial fire keeps burning in Injap. He has gone into what he thinks are the next boom areas, after fastfood—like hotels, community malls, and property development. He has not left fast food though.
In fact, four years ago, Injap partnered with potato chips king Carlos Chan for the Indonesian donut brand, J. Co. Injap keeps nurturing his Lapaz Batchoy chain of eateries.
Injap started up in his native Iloilo City with his parents' grocery stores when he was just 17, moving up to a photo developing shop in 1995 at age 18, a 59-room hotel at age 19 together with a group of friends, a chain of laundry shops in 1998 at age 21, and what would become the biggest of them all, so far, the first Mang Inasal branch in 2003 at age 26.
Mang Inasal would grow to three stores by the time he was 28.
In 2008, Injap acquired and expanded Deco's Lapaz Batchoy, a specialty restaurant founded in 1938. It now has nine stores. Also, in 2008, Injap started his own real estate company, Injap Land Corp.
By January 2009, the Mang Inasal chain hit its major milestone – 100 stores. He was a multi-millionaire. By December 2009, the same year, the chain had 200 stores; by September 2010, 300 stores.
By November 2010, with Mang Inasal having 338 stores, giant Jollibee Foods Corp. bought 70% of the company for a whopping P3 billion. Injap retained 30%, which he sold to JFC years later.
The Jollibee takeover effectively valued his Mang Inasal chain of restaurants at P4.3 billion.
In end-2010, at age 33, the Ilonggo college dropout became the Philippines' youngest peso billionaire.
Many foreign brands tried to penetrate the mainstream fastfood market in the Philippiness but all failed—Popeyes Chicken, Texas Chicken.
They were not able to penetrate the market because once a specific category is taken by a strong brand, no more space is left for any newcomer. This is the nature of the mainstream fast food business.
But the A B market casual dining category is a different business. The barrier to entry is lower so many brands can penetrate.
Right now, Mang Inasal has a stranglehold of the barbecue chicken fast food. It shares market with Jollibee, Chowking, KFC, McDo. Normally there can only be one player per category in the fastfood segment. Fast food is highly competitive.
Thus, Chowking has been the only Chinese fast food in the for the past 25 years.
For Injap, it so happened that the chicken barbecue fast food was vacant in 2003 when he first opened Mang Inasal.
After Mang Inasal, the next one is Bacolod Inasal but it is not fast food, but casual dining—meaning when you enter their store you sit down and the waiter will go to you to get your order. Other Inasal shops are just beer drinking places.
His Mang Inasal, established in December 2003, becoming the Philippines' fastest- growing quick service restaurant. Mang Inasal is No. 3 to Jollibee and ahead of McDonald's. Later as growth stabilized, Mang Inasal is the No. 4 fast-food brand, after Jollibee's 811, McDonald's 526, and Chowking's 479.
Injap began at 26 using a P2.4 million startup loan from his father, a grocer in Iloilo
Edgar's nickname, Injap stands for Intsik-Japan. Sia is originally from China. His mother's surname, Jaruda, is originally Japanese.
From a single store in parking lot of a mall in Iloilo, Mang Inasal grew to 33 stores in three years (when the store opened for franchising), 100 in five years, and to 400 by Aug. 5, 2011.
Injap brought Mang Inasal to Manila in 2008 just at a time when the capital was buffeted by a severe rice shortage. Undaunted, he offered unlimited rice to his diners.
The eat-all-the-rice-you-want was supposed to be temporary. It is now a permanent fixture of Injap's value for money offerings. Laging mabilis. Laging Masarap. Laging abot-kaya. (Always fast. Always delicious. Always affordable).
That is Sia's simple formula of fast-food success. Mang Inasal is customer-driven. Service is quick. The food is delicious and for less than P100 ($2).
Of course, says Sia, "we recognized very early that in order to compete, we had to invest in operating systems." He also offered his franchisees a better deal —lower fees, use of outside contractors for the restaurant décor and fittings, and lower startup cost (half that of Jollibee Foods Corp.).
Edgar believes the buy-in by JFC resulted in better margins, reduced material purchase cost and greater production efficiencies, using JFC's scale and vast fast-food business experience.
In its latest financial disclosure, Jollibee Foods Corp. is effusive of Mang Inasal, now its third biggest fast food brand, after Jollibee, 978 stores, and Chowking 479 stores. Mang Inasal has about 465 stores, making it the largest barbecue chicken brand in the Philippines.
Steps in going into business
Injap says Mang Inasal's success didn't happen overnight. "I considered and analyzed several things and went through four phases." These are:
1) make the decision to go into business;
2) check your resources like time and money;
3) recognize opportunity;
and 4) self-checking.
At the time he put up Mang Inasal, Injap was just 26, "which means I had more time, but less resource." He decided to move the fulcrum of the lever, by finding more resources. He thought of borrowing from his father for his startup capital. Getting a loan was also another option.
In looking at an opportunity, Injap asks himself these questions:
"How do I start? Is there a gap left out by the big players? Is there an industry transition brewing? What will the store look like? What will be its name? What will my product or services be? What will be my price points? How will I market it? Do I have the resources? Will the business remain relevant for generations? There are countless questions that you can think of."
As to principles for successful entrepreneurship, Edgar has quite a few. Cover the territory, he says. Know the terrain. Don't be a specialist. "If you focus too much on just one aspect of the business, you will lose the other aspects which are equally important," he advises.
Allow for mistakes to happen. "It (making mistakes) doesn't matter. What matters is strive to do better each time," Sia says.
Keep moving fast but keep your ear on the ground. "Have a clear vision of where you want to go."
Finally, don't work hard. "Work very hard," Injap insists, "work harder than anybody else."
Why the book, "Life Principles"
Injap says he published his book, "Life Principles" as part of his mission to develop Filipino entrepreneurs, by sharing his experience and mentoring would-be entrepreneurs. He laments that the young do not have an entrepreneurial mindset. He blames that for their fear of failure.
"Be tenacious," Injap advises today's young entrepreneurs. "Other people might get mad and walk away after being rejected, but be different: Be tenacious. After you learn tenacity, grit can come into play. Grit is the stamina to sustain continuous sacrifice in the face of continuous difficulty."
Injap may yet achieve his objective with his "Life Principles". The book has become a blockbuster and a bestseller. The first edition was completely sold out. A second printing is due.
As an entrepreneur, Injap has embedded in his personal ecosystem certain values and guiding principles. Like:
Lean on the family. In Mang Inasal, his first supporters were his parents. He borrowed the startup capital for the food chain.
"All throughout my life—and to this day, in fact—I work with family within my closest circle. My parents, my wife Shella, my brother Ferdinand, my sister Mariz, and my kids have always been my unconditional supporters. That helped inculcate in me the idea that the main purpose of any enterprise is to uplift the lives of everyone involved, because it started with my family," relates Injap.
To succeed, look deeper. "If you go one notch deeper, you'll see a very different picture—this is where you'll be able to see the gaps, the windows of opportunity. So I make it a point not to get caught up in what's only up front; you have to go beyond what everybody sees from the outside," Injap explains.
Also, success is a series of correct decisions. "Every decision that's made today was made because you thought it was right today; and, as a leader and a business founder, that's your job—to keep making decisions all day."
Find your balance. "For me, the right mix is a 50/50 balance: 50% for work and society, and the other half for yourself and your family," he says.
Push progress from the bottom up. Give back to society. "For me, the biggest contribution I can give to society is the effort I pour into building a business from scratch. Building a business is better than giving away money." In helping the poor, education is key.
Have certain guiding principles. Like fairness. "Fairness as something that will be to the long-term positive benefit of everyone involved, and so it's not always the easiest thing to make a fair decision."
Manage your time. "As your business venture grows, your other resources and responsibilities will also grow and expand—but your time remains limited to 24 hours a day. As you move up the ladder, you have to manage and use your time wisely. Stay aligned with your mission in life. Just ask yourself-out of 20 things, I can only do 10 in a day, which ones will be of greater good use, not only for myself, but also for others?"
Finally, on wealth.
"Up to a certain level, money makes your lives more comfortable," notes Injap. "Only up to a certain level. After that, you don't feel a significant difference anymore especially if you have set your personal contentment level low. But I still continue to work, no longer solely for myself, but for a greater purpose.
He says "my first million made me more conservative. Earning that first million was so difficult, that when I finally had it, I knew I had to take care of it because I had sacrificed so much and worked so hard for it."
"Making my first billion put my character to test. In 2010—I was 33 at the time—Jollibee bought Mang Inasal, for P3 billion for a 70% stake. Having that sum of money in front of you, at 33, can make or break you. It's an acid test of your personality, your character, your sense of self. I thank the values that our parents have instilled in us, their children, that made me able to stay whole and grounded."
"I knew I did okay because I didn't squander that money. Money, fame, and fortune needs to be managed properly—many people, like some Hollywood personalities, cannot preserve their wealth for a long period of time. I think a person needs a good value foundation built up over time to handle that special situation properly."
The DoubleDragon currently has eight subsidiaries, namely, DoubleDragon Sales Corp., DoubleDragon Property Management Corp., DD Happyhomes Residential Centers, Inc., DD-Meridian Park Development Corp., CityMall Commercial Centers Inc., Piccadilly Circus Landing Inc., Iloilo-Guimaras Ferry Terminal Corp. and Hotel of Asia, Inc (HOA).
Total Revenues of DoubleDragon Properties Corp. for the first quarter of 2017, increased 111% year-on-year to P649 million on back of strong take up in real estate sales and an exponential increase in recurring revenue which now account for 30% of total revenues as we transition to our target for recurring revenue to contribute 90% of revenues by 2020.
DD's total assets stood at P49.72 billion as of March 31, 2017 owing to the growing additions in its investment properties with 25 CityMalls currently under construction and its two office projects in Metro Manila, DD Meridian Park and Jollibee Tower also in full blast construction.
DoubleDragon Plaza, the first phase of DD's flagship office and commercial block in the Bay Area is expected to be operational within the last quarter of this year.
Structural works in all four office towers of DoubleDragon Plaza has been completed and due to substantial tenant demand, some floors are already being handed over ahead of its original schedule. 53,848 square meters of office space has been taken up in DoubleDragon Plaza year-to-date owing to its exceptional location near Mall of Asia on the corners of Roxas Blvd., EDSA Extension and Macapagal Ave.
The company expects to fully lease out DoubleDragon Plaza prior to completion, which will allow it to contribute over P1.2 billion in estimated full year leasing revenues in 2018. Another two office towers in DD Meridian Park are slated for completion next year which will further drive recurring revenues in 2019 alongside Jollibee Tower which is on schedule to turnover by the end of 2018.
Total equity as of March 31, 2017 stood at P19.96 billion driving a further strengthening of its Gross Debt-to-Equity Ratio to 1.17x.
DoubleDragon Properties Corp. is issuing P6.5 billion retail bonds. It has been oversubscribed, by P3.2 billion.
The issuance forms part of the P15 billion Fixed Rate Retail Bonds previously approved by the SEC and filed under a shelf registration program, the first tranche of which was issued last December 2016 amounting to P5.3 billion.
"This offering will be a good chance for retail bond investors to participate in a fresh name like DoubleDragon since we do not expect to be tapping the bond market again anytime soon beyond what is remaining on our shelf registration from last December. Once completely taken up, the proceeds are expected to fully cover our development plans through 2020 for both our office and retail portfolios." said Hannah Yulo, Chief Investment Officer of DoubleDragon.
Philippine Rating Services Corp. rates the DD bonds PRS Aa for the second tranche bond issuance.
Obligations rated PRS Aa are of high quality and are subject to very low credit risk. The obligor's capacity to meet its financial commitment on the obligation is extremely strong. PRS Aa is the second highest rating category on PhilRatings' existing credit rating scale.
PhilRatings has likewise maintained a Rating Outlook of Positive to DoubleDragon's credit rating for this proposed debt issue. PhilRatings assigns a Rating Outlook of Positive to issuances that they define to hold a potential for its present credit rating to be upgraded in the next 12 months.
Bulk of the bond proceeds will be used to finance capital expenditures of DoubleDragon's core recurring revenue focused projects: CityMalls, DD Meridian Park, and Jollibee Tower.
The remaining P9.7 billion in fixed rate retail bonds under shelf registration previously approved by the SEC is intended to fully fund the remaining capex requirements for the completion of the planned one million square meters of leasable space DoubleDragon anticipates to have in its portfolio by 2020.