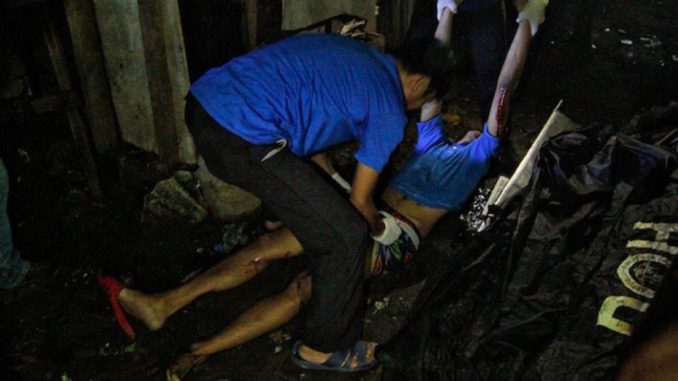 President Rodrigo Duterte was fuming mad in his 50-minute late night press conference the other night (August 21), at the presidential palace. He announced the firing of the current Bureau of Customs chief, former military putschist, Captain Nicanor Faeldon, and his replacement by another military officer, Isidro Lapeña, the current head of the Philippine Drug Enforcement Agency (PDEA).
For the first time in his presidency of 14 months, the chief executive feels beleaguered, for two reasons.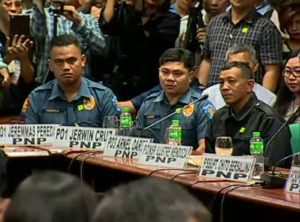 One, at about 8:45 p.m. on a busy night on August 16, despite onlookers from a nearby basketball court and with a closed circuit tv camera in action, a 17-year-old Grade 11 high school student was forcibly taken away from their small store in suburban Caloocan City by three policemen who were not uniformed. The cops covered the young man's head, forced a gun into his left hand, ordered him to run, and pumped three bullets into his head, killing him instantly. The police claimed the student, Kian delos Santos, who was right-handed, fought it out with the arresting officers during a chase and fired at them, forcing them to return fire and murder him point blank.
Witnesses told newsmen later the victim was unarmed, was abducted, coerced to run, and shot dead as he reached the deadened of an alley. Thus, Kian was a victim of extrajudicial killing, one of some 3,500 killed in Duterte's illegal drugs war of the past 14 months. But police insisted Kian was into drugs, just like his father and uncle.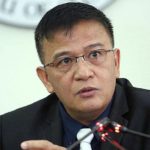 Two, Duterte's son, Paolo Duterte or Pulong, the vice mayor of Davao City, has been linked by a customs broker and self-confessed fixer, Mark Ruben Taguba, was part of a so-called Davao group which imported P6.4 billion worth of shabu from China last May 2017. Taguba made the allegation in three separate hearings of both the Senate and the House of Representatives. The P6.4 billion shabu was imported through the Customs "super" green lane, without need for a single signature.
The third time Taguba named Paolo was in the Aug. 22 hearing of the Senate Blue Ribbon Committee chaired by Sen. Richard Gordon. Testifying under oath, Taguba read messages from a Tita Nanie, who said a certain Jack is the "handler of Paolo [Duterte]" and that Jack could arrange Taguba's meeting with the presidential son. But Taguba said he had never met the Vice Mayor.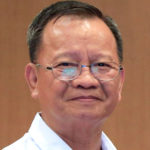 Reading a January 11 text from Tita Nanie, Taguba said: "Good am Marc [sic], will make final arrangement with Jack. He is the handler of Paolo. Now we have to advance the [money] so he can fly down to Davao to arrange your meeting with Pulong asap. During the meeting, you personally turn over the 5 million. Same manner you likewise turn over the [money] to Jack when we meet."
Earlier, Senator Gordon said there is no evidence linking Paolo Duterte to the 604 kilos of smuggled shabu from China last May.
Paolo had initially dismissed the allegations as hearsay and not worth a reply. The President himself said he needs an affidavit as proof to convince him of his son's complicity in big time drug smuggling.
In Kian's case, the police needed no proof of his illegal drugs activity to murder him. In Paolo's case, the authorities are waiting for more substantial evidence, like an affidavit.
Even if Kian was guilty as alleged, there was no reason for the police to murder him in cold blood. Besides, the country's lenient laws on juvenile malcontents prohibit the arbitrary arrest and jailing of minors.
The impunity with which Kian was killed and the seeming double standard of justice by the police have outraged a great part of the nation.
The ABS-CBN news machine has gone full blast interviewing the parents of Kian, his other relatives, alleged witnesses to the killing which they described was a rubout.
The usually timid Manila archbishop, Cardinal Antonio Tagle finally found his balls and his voice and denounced "the waste of human lives". "We knock on the consciences of those who kill even the helpless, especially those who cover their faces with bonnets, to stop wasting human lives," he cried in a letter read in churches in Manila and nearby cities last Sunday.
The president of the 100-strong Catholic Bishops Conference of the Philippines (CBCP), Archbishop Socrates Villegas asked angrily: "Bakit walang nagagalit laban sa drogang ipinasok galing Tsina? Bakit ang mga mahihirap na lang lagi ang binabaril at kapag mayamang "malakas sa itaas" ay kailangan muna ng imbestigasyon at affidavit?" (Why is it that nobody is outraged against the smuggling of illegal drugs from China? How come only the poor are killed while the rich and the powerfully connected need an affidavit before they could be investigated?).
Villegas announced that from August 22, the Feast of the Queenship of Mary, until November 27, the Feast of Our Lady of Miraculous Medal, the church in Lingayen, Dagupan will continuously ring its bell at 8 p.m. The bell rings for 15 minutes as a prayer offering for those who have died in the war on drugs. Incidentally, August 22 is the day after the Aug. 21, 2017 34th anniversary of opposition leader Benigno "Ninoy" Aquino Jr.'s killing. November 27, this year would have been Ninoy's 84th birth anniversary.
Last Monday, August 21, hundreds of pro-Aquino family protesters and anti-Duterte followers massed at the People Power monument outside the Camp Aguinaldo armed forces headquarters to denounce the illegal drugs killings. On August 22, students from UP's various colleges and campuses were to have marched also in protest. The rally was cancelled after the government cancelled classes "at all levels".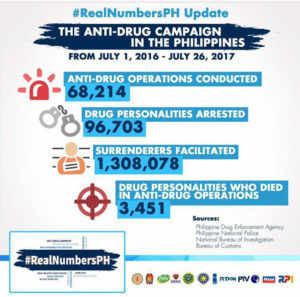 In his presscon, near midnight Monday (August 21), Duterte commented on the Kian case. He said: "I saw the tape or tapes doon sa TV and I agreed that there should be an investigation. Should the investigation point to liabilities by one, two, or all, there will be a prosecution and they have to go to jail if convicted. That I can assure you that there will be no luto-luto diyan sa ano because I really do not interfere."
He recalled that his order to the police is to destroy the apparatus of the illegal drugs organization, implying that the national police had a mandate to kill illegal drugs suspects.
Duterte explained: "When (I) say that you have to destroy the organization I should be referring to the one cooking, the one selling, and the one distributing. Otherwise, if I stop only doon sa taas (only at the top), eh walang mangyari (nothing would happen). I cannot stop the drug problem and it is very serious."
"We are already a narco-politics state," he declared, "92% of our barangays (villages) are affected."