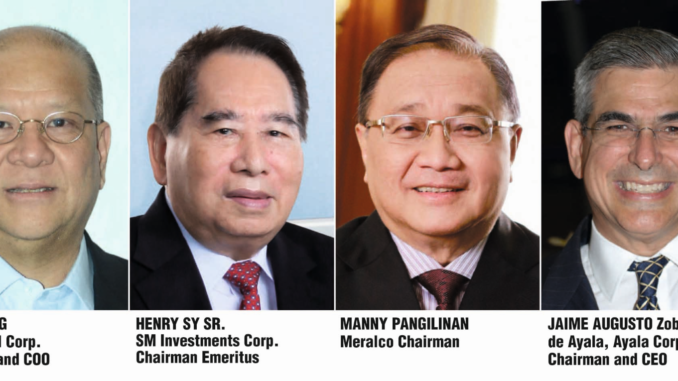 The Philippines' 1,000 largest corporations had combined 2016 revenues of P21.74 trillion, up P1.661 trillion or 8.2% from the previous high of P20.08 trillion in 2015.
The BizNewsAsia 1000 profits jumped much higher, by 22.85% to P2.766 trillion, from P2.25 trillion in 2015.
The BNA 1000 returned 11.22% to stockholders in 2016, a marvelous jump from 0.12 ROE in 2015.
Return on sales in 2016 was 12.72%, a massive turnaround from 0.10% in 2015. (See tables, pages 6-45)
2017 marked the 
10th year since SMC lauded its ambitious diversification.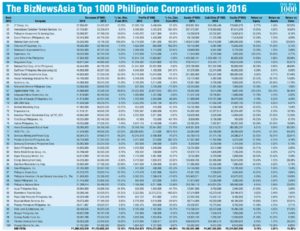 "For your company, it has been a period of great transformation," said SMC Chair Eduardo Cojuangco, Jr. Today, added SMC President Ramon Ang, "we are more resilient because of our entry into businesses like power, infrastructure, oil refining, and petrochemicals. We have more diverse income streams, improved profitability, and more paths to growth than ever before. The changes to our organization and our portfolio have also helped us grow in confidence in terms of what we can achieve, and allowed us to constantly raise the bar on our performance."
In 2016, SMC turned in a record year—"our biggest by far," says Cojuangco. "We registered consolidated revenues of P685.3 billion and operating income of P99.7 billion, a 24% increase over the previous year. Our net income reached P52 billion, an 80% jump from 2015. Consolidated Earnings Before Interest, Tax, Depreciation and Amortization (EBITDA) was also at its highest—P130.9 billion, representing a 19% growth over the previous year.
Why the boom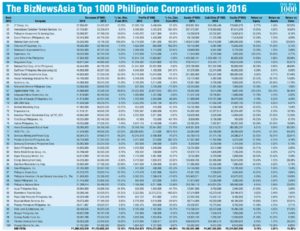 Like many Philippine companies, SMC benefited from substantial tailwind gains: growth in Gross Domestic Product, election-spending, low fuel prices, and higher remittances from overseas Filipino workers. These factors raised real disposable incomes and consumer spending, and in turn, our performance. Yet we realize we are where we are not so much from these external factors as from how well each of our businesses were able to implement our strategies over the last decade.
"Now that our core and new businesses are running side-by-side at the same accelerated pace, we are finally starting to realize their combined revenue potential. And with the advantages of experience, track record, and better resources now firmly under our belt, we are in a much better position to pursue the new opportunities that diversification has opened up for us," says Ang.
"Ten years ago, when we set out to expand, our aim was
to build a company that could grow faster, perform more consistently, and contribute meaningfully to national development. Then as now, we have constantly sought a balance between our growth and helping our country grow," says Ang.
SMIC
SMIC delivered solid results 2016.
"Our core businesses delivered robust growth driven by the country's strong economic development and our unrelenting commitment
to sustainable expansion," said Henry Sy Sr. in their report to stockholders. Since it's listing in the PSE in 2005, SMIC has continued to outperform the average returns for companies listed on the PSE. We remain optimistic about continued development in the Philippines supported by government investment plans and we will continue to prioritize expansion in underserved regions across the country," says Sy Sr.
In 2016, SMIC posted consolidated revenues of P362.8 billion, up 9%, while our consolidated net income increased by 8.1% to P31.2 billion. This was driven by the strong performance of our core investments, namely property, banking and retailing, which contributed 39.1%, 37.1% and 23.8% of our earnings respectively.
For Petron, 2016 was an exceptional year; "We stayed well ahead of competition in every aspect of our operations – from our upgraded refining capabilities to our enhanced value chain to our innovative products and customer services – as we strived to anticipate the needs of our customers. Along the way, we established new records and milestones in the industry, in essence, setting the bar even higher as we sustained our unparalleled leadership," said Petron Chairman Eduardo Cojuangco and President-CEO Ramon Ang.
Petron posted a consolidated net income of P10.8 billion in 2016, a 73% increase from the previous year's earnings of P6.3 billion. Operating income grew by 31% to P23.8 billion from P18.1 billion in 2015. This is the best performance in Petron's 80-year plus history.