In the PWC-Management Association of the Philippines 2022 survey of local CEOs, three factors are key growth drivers of the economy in the next 12 months—infrastructure (cited by 62% of respondents), domestic consumption (59%), and government spending (41%).
Philippine CEOs believe it will take two years to recover from the COVID-19 pandemic.  The worst health crisis in 100 years triggered the deepest economic slowdown since the war, with the economy collapsing by as low as 17% in the second quarter of 2020, after averaging 6.1% growth in the whole of 2019 and 6.3% in 2018. 
The whole year 2020 negative economic growth of 9.4% can only be recovered by 2025 but not after making 97% of our ten-year-olds completely stupid. They cannot read, they cannot write and even if they can read, they cannot understand what they read.
In domestic consumption, government spending is already included.  In effect, only two factors fuel economic growth—infrastructure (also known as capital goods or capital formation) and consumption. Together, household consumption and government consumption account for as much as 84% of GDP (of the value of economic production in a given year).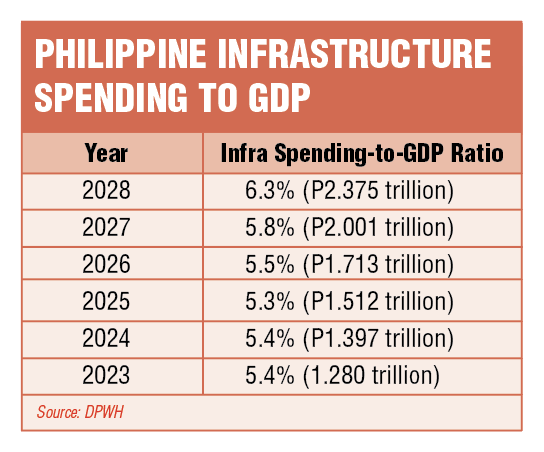 The economy grew by 7.4% in the second quarter and by 8.2% in the first quarter of 2022. The 7.4% second quarter growth was powered by three things—household consumption which grew 8.6%, government consumption which rose 11.1%, and capital formation which showed unusual strength with a 20.5% real growth.
 "As a major source of employment, having contributed over six million jobs prior to the pandemic, infrastructure will continue to be among the top priorities of the new administration," says the PWC-MAP CEO survey.
According to President Marcos (BBM), his administration will continue former President Duterte's Build, Build, Build (BBB) projects, and will maintain infrastructure development spending at 5% to 6% of the country's GDP.
To help accelerate improvements in infrastructure, BBM is also encouraging local government units to enter into public-private partnerships (PPP).
In August 2022, President Marcos Jr approved the review of the IRR of the Build-Operation-Transfer (BOT) Law with the objective of balancing the goals of both the private and public sectors.
"Such review is in anticipation of increased PPP activities in the country," notes the PWC survey.
Like President Duterte, President BBM also has an edifice complex.  He will finish the BBB  projects unfinished by Duterte and complete his own set of BBB ventures.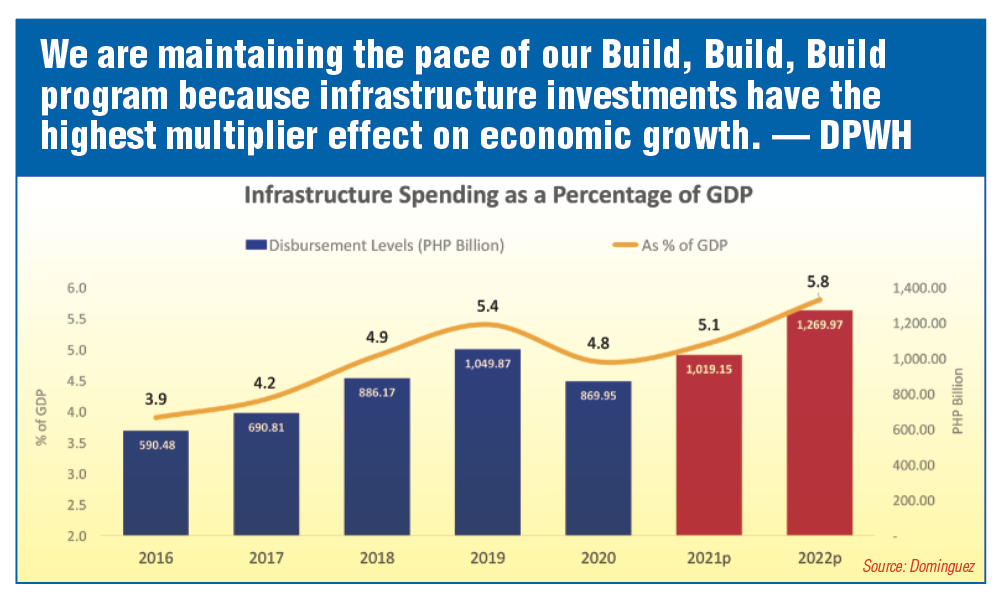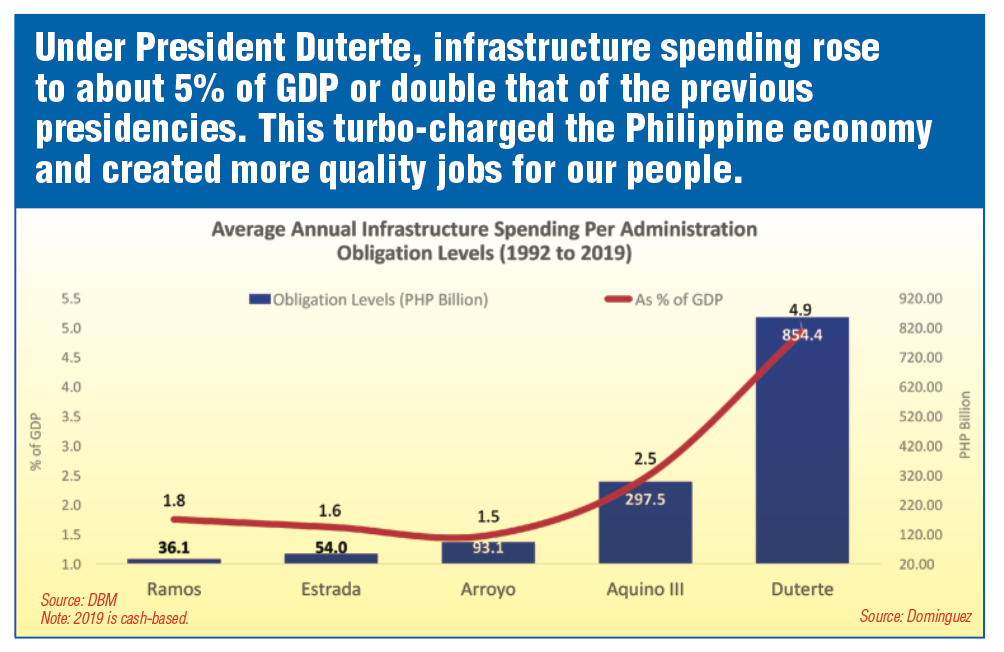 Duterte listed 119 BBB projects. A disappointing 19 were completed in the past three years, with 10 to be completed by December 2022. That's a delivery efficiency of 24% or a non-completion rate of 76%. In other words, Duterte's BBB program was a failure.BBM promises not to be a failure. It seems he will try to finish the 90 projects left hanging by his predecessor.
Accordingly, from 2023 to 2028, Marcos Jr wants to spend P10.78 trillion in infra or BBB—P2.375 trillion in 2023, P2 trillion in 2024, P1.713 trillion in 2025, P1.512 trillion in 2026, P1.397 trillion in 2027, and P1.28 trillion in 2028.
A whopping P10.78 trillion for all kinds of vertical and horizontal projects. It is the largest ever infra spending in the history of this country.  Wow. 
In the meantime, the people do not have enough rice, enough corn, enough fish, enough sugar, enough salt, enough onions and nearly every food item, including water.
For 2023 alone, the agriculture budget is P184.1 billion, up from P132 billion in 2022, and just 7.7% of the gargantuan P2.375 trillion BBB budget.
In the history of nations, when people are hungry they become restive, they revolt.  They spill into the streets. EDSA— the 22-km Epifanio delos Santos Avenue—used to be one of Metro Manila's best infra projects.  In 1986, EDSA proved convenient for the masses, as a place for them to gather, and revolt.
— Tony Lopez