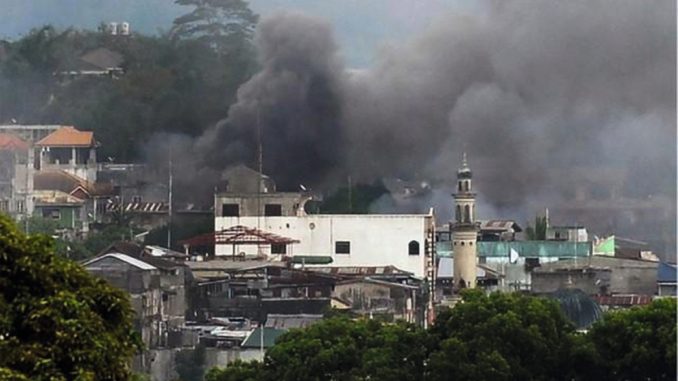 "ISIS is here!".
That is the most important conclusion authorities have drawn from the ongoing siege in Marawi, 1,487 kms southwest of Manila.
Marawi is an ancient Muslim-dominated lakeside settlement dating back to 1639. It became formally a chartered city in 1940. Its population has always been majority Maranao Muslim. Brought by an Arab trader, Karim Makhdum in 1380 (14th century), Islam is the oldest religion in the country and pre-dated the 1521 Spanish invasion to Christianize the Philippine archipelago. Waves of colonizers, from Spain (377 years), United States (50 years), and Japan (four years), failed to subjugate the fiercely independent Muslim Filipinos.
Fast forward to the 21st century. "You can say that the ISIS is here already," Duterte told his officers and soldiers of the Armed Forces of the Philippines (AFP) Friday, May 26, 2017, in Iligan, Lanao del Sur, on the fourth day of the fighting in Marawi, and of his imposition of martial law on the entire island of Mindano.
Duterte sees the ongoing Marawi siege as an aftermath of the Maute criminal group growing rich with drugs money. "Terrorism in the Philippines is funded and fueled by drug money," the President declared on Wednesday, May 31, addressing the 119th founding anniversary of the Philippine Navy in Sasa, Davao. Marawi itself had turned into a center of shabu (methamphetamine) production. Funding had to come from drugs, Duterte explained in Tagalog, "because there isn't that much money coming from IS (Islamic State) from the Middle East."
The President related: "I was referring to the contamination of the ISIS, which was slowly creeping into our shores. And for all, Christians and the Moro, who were into shabu sought sanctuary among the terrorists for protection and to ensure the success of their business."
The situation has deteriorated to a point where even Manila was flooded with illicit drugs and drastic measures were needed to stop the scourge.
"Of course, it would cost lives. You cannot fight a war, especially drugs, without losing your men and the enemy," Duterte said.
Tremendous losses
"And in Marawi now, I'm sad to tell you, we have suffered tremendous losses," Duterte told the navymen. "Because we are the invading force, and they have been set up there for a long time waiting for the soldiers of the republic to come."
Some 100 militants of the criminal syndicate Maute Group and the kidnap-for-ransom terrorist Abu Sayyaf Group (ASG) overran two-thirds of Marawi late afternoon of May 23, 2017, a Tuesday. They were reacting to an attempt by army commandos to arrest notorious ASG terrorist leader Isnilon Hapilon. He was allegedly sighted in Marawi, along with Maute group leaders, the brothers Abdullah and Omarkhayam Maute.
The attempt to get Hapilon failed. The militants instead fanned out to various parts of Marawi and engaged troopers in hit and run battle lasting over 10 days now.
Hapilon, 49, reportedly has been chosen to lead an ISIS branch in Southeast Asia and is on the US Department of Justice list of most-wanted terrorists worldwide, with a reward of up to $5 million for his capture. An Arabic-speaking Islamic preacher and an expert commando, the high school dropout pledged allegiance to the ISIS group in 2014, according to security officials.
Hapilon, was wounded by a military airstrike last January. It appeared he went to Marawi on May 23 to seek medical help, accompanied by some 20 security men. They took positions in a hospital, where they raised a black ISIS-style flag at the gate. Sensing their presence, government troops wanted a quick, surgical strike. When confronted by army troops, the Maute summoned reinforcements from their allies and the ASG. Early afternoon of May 23, Nearly 50 gunmen originally managed to enter the city, according to AFP Chief of Staff General Eduardo Año said.
Meanwhile, 10 other militants fought troops and police near a provincial jail, General Año said.
By mid afternoon of May 23, government troops began to ring the hospital to arrest Hapilon. But they were surprised when challenged by heavily armed Maute forces, whose ranks had swelled to 100, bristling with high-powered weapons and mortar. The terrorists spread themselves out throughout the city, capturing 10 strategic locations that effectively paralyzed Marawi.
After 10 days of fighting, the military expressed the belief Hapilon was still in Marawi, which explains, the government said, the fierceness with which the terrorists have battled troopers which include Marines, Scout Rangers and the national police's vaunted Special Action Force (SAF).
Duterte cut short his five-day Russia visit accompanied by two planeloads of government officials and businessmen, after only a day in Moscow, the Russian capital. Late Wednesday afternoon, May 24, he landed at the Manila international airport.
IS foothold
In his arrival speech, Duterte raised the prospect that Islamic State-linked rebels could gain a foothold in Luzon and warned that he might extend martial law to the islands of the Visayas, central Phlippines, and even nationwide in case the IS had reached the national capital in the main island of Luzon. Duterte said: "I have a serious problem in Mindanao and the ISIS footprints.
Depredations
On May 23, the terrorists raided the city jail and released 68 of its prisoners after killing its police guards, confiscating cellphones and firearms and vehicles. They raided the police station, set it on fire, and took away a police patrol car. They raided a church and took away a Catholic priest and 14 other hostages. They raided the Amai Pakpak Hospital, held hostage its employees, and raised the ISIS flag. They burned another nearby Filipino-Libyan Friendship Hospital. Three bridges were controlled—Lilod, Bangulo, and Sauiaran. The terrorists set up checkpoints and blockades and house to house checks.
The whole city of Marawi lost power for several days. By the 10th day, much of the city was still in total darkness at night. Transportation had stopped. Food became scarce. There were reports of a bank being ransacked. Some 3,000 residents, out of a population of 200,000, were trapped hiding inside their houses for fear of being caught in the crossfire, or worse, being held hostage or killed outright by the Maute.
Stench of death
"The stench of death due to decomposing bodies wafted in the air," reported a GMA-7 reporter, speaking in Tagalog and accompanying government troops to retake the city. On the first day alone, the Maute had killed nine civilians, their bodies dumped by the roadside. A police officer was intercepted at a checkpoint and gunned down.
On Day 1, a police armored carrier was seized after its occupants escaped, leaving a cache of bullets for the terrorists to use. The SAF tank was land-mined and seized while police commandos in Marawi City were on their way to the capitol from their provincial headquarters. "They were ambushed. When they were ambushed [by the Maute], one wheel broke down and the policemen were left," related Philippine National Police Chief Bato dela Rosa.
Two-thirds evacuated
By the second day, May 24, two-thirds of the Marawi's population had evacuated or escaped. The city became a ghost town. In the coming days, the army would conduct what it called surgical air strikes or bombings, destroying houses and at least three school buildings. Without the air strikes, ground casualties from the government side mounted. With the air strikes, scores of civilians were killed or wounded and their homes and establishments destroyed as collateral damage.
On June 1, ABS-CBN reported 11 soldiers died and seven were wounded by friendly air strikes.
The toll so far
On May 31, the ninth day of fighting, the government reported 89 terrorists killed; the bodies of 42 of them were taken. At least 19 civilians died in the crossfire and bombings. The government admitted to 21 troopers, killed in action and 72 wounded in action. It seized 91 firearms, 81 of them high-powered. It reported having secured the surrender of eight terrorists. It also reported that eight terrorists were foreigners – Malaysian, Indonesian, and Singaporean. Terrorists, said to be Arab-looking, were reported sighted.
Despite AFP claiming to have regained 90% of Marawi's territory by the ninth day, the remaining 10% in terrorist hands was strategic, in the central part of Marawi, including two bridges that controlled entry into and exit from the city. Thus, it was not clear who was really in clear control.
Surrender or die
Still, on May 31, the army told the terrorists to "surrender or die". AFP Spokesman Brig. Gen. Restituto Padilla Jr. made the warning as the Maute group members dug in for a long siege reminiscent of the fighting in Alepo, Syria where western troopers have been trying to drive out ISIS insurgents for the past eight months, a situation described by a United Nations official as a "complete breakdown of humanity".
"We aired this message in the hope of ending this soon and reducing any more loss of lives and property," Padilla said in a statement. "For the terrorists, not surrendering will mean their sure death," he said.
After 10 days of fighting, the military tried to put on a brave and positive face, saying victory was a matter of days.
Iligan in peril
The possibility arose of the conflict spilling into Iligan, the bustling capital of Lanao del Sur province (pop. 323,000). With an area of 813 sq kms, Iligan is one of the Philippines' 10 largest cities. It is 37 kms north of Marawi and into which most of those displaced by war had sought temporary shelter and relief. It seemed Maute and ASG would fight on two fronts, in two major cities in the south.
Said a New York Times report: "Iligan City is now overflowing, crowded, because it is the choke point, the gateway in and out of Marawi," said Col. Alex Aduca, an army infantry commander. "The terrorists are trying to withdraw, and those who can leave might attempt to enter Iligan by disguising themselves as evacuees," he told newsmen. "We are carefully screening everyone, including evacuees, to make sure none of the rebels gets past us in disguise."
As government forces tried to flush out the terrorists from Marawi, they escorted hundreds of civilians from the city using armored personnel carriers and military trucks mounted with machine guns, while air force helicopters made sporadic bombing raids.
The Maute militants are said to have been reinforced by the IS-wing of the Abu Sayyaf bandit group and backed by foreign fighters numbering at least a dozen. On Wednesday morning, May 31, the military said eight of the foreign terrorists have been neutralized, military-speak for killed. But the Maute-led insurgents have broken up into small groups and have proved elusive, according to Zia Alonto Adiong, a spokesman for the Lanao del Sur provincial government.
The concern, reports said, is that in trying to escape from Marawi the alleged IS-inspired Filipino terrorists could spill over into nearby Iligan City, the capital of Lanao del Sur province. Iligan has also been overwhelmed by refugees escaping or removed from Marawi.
Duterte visited Iligan City on May 26, a Friday. Vowing to be harsh in enforcing the 60-day martial law, the President told the terrorists: "If I think that you should die, you will die," he said. "If you fight us, you will die. If there is open defiance, you will die. And if it means many people dying, so be it."
Willing to dialogue
In Iligan, Duterte said: "My message mainly to the terrorists on the other side is: we can still solve this through dialogue. And if you cannot be convinced to stop fighting, so be it. Let's just fight."
Martial law revisited
Mindanao is the Philippines' second largest island and home to 22 million Filipinos, including some two million Muslims whose militants have been waging a rebellion since the first fighting against the central government in Manila erupted in September 1972, the year the once popular Ferdinand Marcos imposed the country's first ever martial law.
Marcos's martial law lasted for nine years and its effects lasted for five more years—giving rise to 14 years of dictatorial rule that brought in some 10,000 rights abuses. The strongman rule, however, failed to subdue two major rebellions—the Muslim separatist movement that broke out in the aftermath of the 1972 martial law, and the communist New People's Army that began much earlier, in March 1969.
Now, Duterte has declared martial law—the third, after the original 1972 and the November 2009 declaration by then President Gloria Macapagal Arroyo after the massacre of 57 by the Ampatuan family in Maguindanao, also in Mindanao. Arroyo's martial law lasted eight days, before the Supreme Court could rule on it, and ended the political reign of the warlord Andal Ampatuan Sr. who had controlled Maguindanao province since 2001.
These days, the NPA is still active in the countryside. Duterte's government stopped negotiations with the NPA's political front, the National Democratic Front based in The Hague, Netherlands, after realizing the futility of seeking peace talks with a group that has admitted it has no control over its cadres in the Philippines, whose fighters have been reduced to 3,200, from their peak of 32,000 in 1986. The NPA remains a potent guerilla force to deal with, it being capable of imposing "revolutionary taxes" and occasionally raiding the plantations and facilities of the rich in the provinces and isolated police outposts.
The Muslim separatists are another story. They began as guerilla fighters of the Moro National Liberation Front (MNLF) under former university professor, Nur Misuari in 1972. Later, a breakaway group was formed in 1977 under Hashim Salamat and 57 MNLF officers. In 1991, another splinter group was formed, the Abu Sayyaf Group (ASG). At its peak, ASG had a force of 1,250 but their number later dwindled to some 200 regulars engaging mostly in kidnapping for ransom, assassination, rape, extortion and other criminal activities.
Beginnings of ISIS in Mindanao
In June 2014, when the Islamic State of Iraq and Syria was formed and declared itself a caliphate (a reign by a Muslim ruler, like in medieval times), the ASG apparently gravitated to the Middle East-based fundamentalist group, along with bandit and racketeering groups like the Maute.
By September 2014, both ASG and Maute had pledged allegiance to IS. The ASG-Maute partnership appeared to be intended to call the attention of IS to their power and influence in Mindanao and to prompt IS to accredit them and with it, to funnel arms and funds support.
Duterte's predecessor, Benigno Simeon Cojuangco Aquino III, tried to ignore the alleged IS presence in the country, despite rising depredation by ASG and Maute groups.
Maute has been conducting extreme acts of violence ostensibly in furtherance of the IS cause.
In February 2016, Maute captured and beheaded a Philippine Army officer in Butig town, Lanao del Sur. The Maute family is based in Butig. In April 2016, the group beheaded two Christian workers, supposedly on behalf of ISIS.
The Maute group bombed Davao City on Sept. 2, 2016, killing 14 and wounding 70. At this point, Duterte took notice of Maute. A month earlier, in August 2016, while addressing troops in Mindanao, Duterte threatened to declare martial law if the Supreme Court curbed his violent anti-drugs war. The President had seen the Maute Group as a bunch of drug lords.
At 10 p.m. on May 23, 2017, Duterte finally declared martial law, on the whole island of Mindanao. He also suspended the writ of habeas corpus, basically the right of arrested citizens to be produced by the military, within three days, if it was ordered by the courts.
The fear prompted the provincial government of Lanao del Sur and the city of Iligan to impose a lockdown, meaning nobody could leave or enter the area, without being thoroughly screened. An 8 p.m. to 5 a.m. curfew has also been enforced.
"Government forces are allowing citizens' arrests," Zia Alonto Adiong told reporters in Marawi. "We are calling on those who can to help us."
He added that some trapped civilians had called on the military "to stop the bombardment so that food and water could be brought in."
On Monday, May 29, the atmosphere in Marawi was tense, with constant explosions sending evacuees into a panic. Evacuees also had to pass through checkpoints at several roadblocks to leave the city. Some were asked to submit to "We just want to join our relatives in Iligan," said Norhayda Aziz, 23. "This place has been forsaken."
On the road to Iligan, about 200 people, including children, were asked to get out of their vehicles and pass through a security checkpoint.
As the crisis has deepened, political opponents have called on Duterte not to use it as a pretext for strengthening his grip on the country.
"No one is above the law, not even the president," said Senator Francis Pangilinan, an opposition leader. "We oppose any violation of the Constitution on matters pertaining to the martial law declaration. To allow the president to disregard the Constitution is to open the gates to dictatorship."
According to Wikipedia, the Maute grouphas established a stronghold in Lanao del Sur since February 2016 and is blamed for the 2016 Davao City bombing and two attacks in Butig, Lanao del Sur, a town located south of Marawi, in 2016. Since the militant group's founding in 2013, the Philippine government has downplayed the threat of ISIS in the Philippines.
Following the February 2016 Butig clash with the Maute group, then-President Benigno Aquino III said the Islamic State has no presence in the country and that the militant group was only composed of mercenaries trying to make their presence felt in order for them to attract attention from ISIS supporters in the Middle East.
The Abu Sayyaf group, blamed for deadly bombings and kidnappings in the past, had also reportedly pledged allegiance to the Islamic State movement since 2014.
One of its leaders, Isnilon Hapilon,is listed as among the world's most wanted terrorists by the US State Department with a reward of up to $5 million for his capture.
Following the abduction and subsequent beheading of Canadian businessman John Ridsdel in April 2016, Aquino disclosed that there had been threats against his own life from the jihadist group, and that the Abu Sayyaf also plotted to kidnap his sister Kris and Manny Pacquiao in order to catch the attention of the ISIS terrorist organization.
Aquino also identified Hapilon to be behind attempts to convert and recruit inmates at the New Bilibid Prison to their cause and embark on a bombing campaign in Metro Manila which he said was "part of their effort to gain favor with ISIS."
In November 2016, President Rodrigo Duterte confirmed the Maute's links with the Islamic State group although the Philippine military maintained that ISIS has not established links in the Philippines.
Amid fierce fighting in Butig on Nov. 30, 2016, Duterte, in a command briefing in Lanao del Sur, left a warning to the Maute group: "Ayaw ko makipag-away sa inyo. Ayaw ko makipag-patayan, (I do not want to fight you. I don't want to engage in killing each other) but please, do not force my hand. I cannot be forever traveling here every month para lang makipag-usap (just to talk), at pagtalikod ko patayan na naman (and when I turn around, killing again). I do not want to mention anything, but please do not force my hand into it."
On Dec. 2, 2016, as the military regained control of Butig, the retreating Maute fighters reportedly left a note threatening to behead Duterte and the military.
On Dec. 12, 2016, in a speech before the Wallace Business Forum Dinner, Duterte dared the Maute group to attack Marawi, stating: "Because they (the Maute group) threatened to go down from the mountains to burn down Marawi? Go ahead, be my guest. We will wait for you there. Walang problema (No problem)."
From April–May 2017, the Abu Sayyaf figured in clashes with Philippine security forces in Bohol which resulted in the deaths of at least four government forces.
Prelude to battle
The Armed Forces of the Philippines (AFP) stated that the fighting in Marawi was due to a raid conducted by the military in coordination with the Philippine National Police, contrary to earlier reports that the clash was initiated by the militant groups.
According to Philippine Army 1st Infantry Division commanding general Rolando Bautista, they received reports that local terrorist groups would seize Marawi two to three weeks before the start of the clashes.
As the combined military and local police team conducted zoning in Marawi to validate the information that suspicious personalities, including Omar and Abdullah Maute, were consolidating in the area, their team spotted instead Isnilon Hapilon, the Abu Sayyaf leader who was earlier reported to have established direct links with ISIS and who recently moved his base to the Lanao provinces.
Military intelligence also suggested that Hapilon's faction of the Abu Sayyaf had already linked up with the Maute and other local terrorist groups that have pledged allegiance to the Islamic State.
According to the Philippine military, this "unification" of forces is the third of four stages that groups wishing to join the ISIS international network need to complete. The fourth stage is establishing a wilayat or territory with Hapilon being earlier reported to have been appointed as emir of the IS forces in the Philippines.