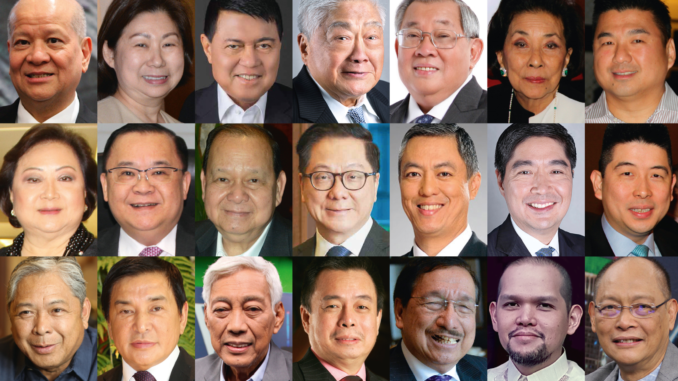 BizNewsAsia celebrates its 17th anniversary on Monday, Nov. 26, 2018 with a gala event at EDSA Shangri-La honoring the Philippines' outstanding taipans, tycoons and splendid success stories in business and governance.
BizNewsAsia is the Philippines' largest business and weekly news magazine with a pass-on circulation of 350,000 readers. It is the most successful Filipino weekly publication in the last quarter century.
More than 30 outstanding individuals have been considered for the coveted BizNewsAsia annual excellence awards.
The BizNewsAsia awardees are honored for excellence or exceptional achievements in strategic management and visioning, entrepreneurship, general management, and green entrepreneurship.
The awardees, however, must personally receive the award during the event. The award is a specially designed 20-inch tall trophy in classic pink gold and sculpted by a prominent Filipino artist to celebrate excellence and achievement.
BizNewsAsia has an online version, www.biznewsasia.com, but there is nothing like reading the magazine itself with its glossy cover and bookpaper pages. It is the only local publication that has a weekly 10-year data on major metrics of the economy.
Antonio Lopez is the founder, president, chairman, CEO and publisher of BizNewsAsia.
In 2001, Lopez founded BizNewsAsia to fill the void for a powerful medium that focuses on business, the economy, the Philippines, and celebrates the great deeds and great lives of leading tycoons, taipans, and executives in business, government, and the professions.
Three former presidents will also be honored at the anniversary party tonight– Fidel V. Ramos, Joseph Ejercito Estrada, now mayor of Manila; and Gloria Macapagal Arroyo, now speaker of the House of Representatives.
BizNewsAsia has published a special edition anniversary issue narrating the exploits, achievements, and sterling success stories of some of the country's best in governance, public service, strategic vision, and management excellence.
The Special Anniversary Issue analyses the record of these movers and shakers in terms of vision, leadership, and innovation, taking note of the impact of their work on their companies, industry, and society; enhancement of shareholder value, and pursuit of a higher purpose.
Theme of the Special Issue is "Nation Builders". The 2018 awardees are prominently featured in the anniversary issue.
Profiled in the BizNewsAsia Anniversary Issue are:
Ramon S. Ang, vice chairman, president and chief operating officer of San Miguel Corp.; Teresita Sy-Coson, vice chairman of SM Investments Corp. and chair of BDO Unibank, Inc.; Helen Yuchengco Dee, chair of RCBC; Felipe L. Gozon, chairman and CEO of GMA Network, Inc.; Zenaida R. Tantoco, chair and CEO SSI Group, Inc.; Dennis Uy, chair and CEO of Udenna, holding company of Chelsea Logistics and Phoenix Petroleum;
John L. Gokongwei Jr., chairman emeritus of JG Summit, Inc.;
Manuel B. Villar, chair and CEO of Vista Land and Lifescapes; Carlos Chan, chair of Liwayway Oishi Group; Andrew L. Tan, chair, Alliance Global, Inc.; Nestor Tan, president-CEO, BDO Unibank; Edwin Bautista, president-CEO, Union Bank;
Michael Tan, president and COO, LT Group; Reghis Romero, chair and CEO, R-II Builders; Jaime Bautista, president, Philippine Airlines; Luis N. Yu Jr., chair emeritus, and Mariano Martinez Jr., chair, 8990 Holdings;
Lance Gokongwei, CEO of JG Summit and Cebu Pacific; John Paul Ang, president and CEO of Eagle Cement Corp.; Anton Huang, president, SSI Group; Dr./BGen. Antonio Tamayo, chairman-CEO, University of Perpetual Help System DALTA; Nathaniel Romero, president, RGR Holdings;
Amable "King" Aguiluz V, founder and CEO, AMA Education Group; Edgar "Injap" Sia II, chairman and CEO, DoubleDragon Properties; Charito Plaza, director general, PEZA; Delfin Wenceslao, chairman, D.M. Wenceslao and Associates; Eduardo Francisco, chairman, BDO Nomura; Florentino Dulalia Jr., chairman, Dulalia Group of Companies; Jose Sio, chairman, SM Investments Corp.; Nestor Mangio, principal architect, Nestor S. Mangio Associates; and Elizabeth Lee, founder and CEO, EMotors;
From the government sector, featured in the Anniversary Issue are: President Rodrigo Duterte, former President and House Speaker Gloria Macapagal Arroyo, former President and Manila Mayor Joseph Ejercito Estrada, former President Fidel V. Ramos, Budget Secretary Benjamin Diokno, and Albay 2nd District Rep. Joey Salceda.
One of the most senior journalists in the country, Tony Lopez, 70, has more than 50 years of journalism experience working with the best, largest and most iconic media organizations in the Philippines and abroad—in Hong Kong, Japan, Germany and the US. He specializes in business, economics, political, global, and social affairs.
Tony finished journalism, magna cum laude, on a four-year full scholarship at the University of Santo Tomas. He has three semesters of MBA at Ateneo de Manila and finished global journalism from the University of Stockholm, Sweden.
Lopez won the TOYM in 1986 for international journalism, the Outstanding Manilan in 1989 for international journalism, the Gold Medal as Hero of EDSA from the Philippine Star Daily in 1987, "Journalist of the Year" from Pilipino Reporter, and four awards from Rotary Club Manila—for distinguished foreign correspondence in 1987, lifetime achievements in journalism in 2015, BizNewsAsia as the "Business Magazine of the Year" in 2016 and 2017.
The University of Santo Tomas made him The Outstanding Thomasian in the field of Arts and Letters. The UST College of Arts and Letters has enshrined him as one of its Most Outstanding Alumni in the last 100 years.
Joseph Estrada is an outstanding mayor for his unprecedented womb-to-tomb program of free health care, medicines, burial and burial plots for Manilans using his time-tested dictum of the greater good for the greate st number, and for recapturing Manila's old glory thru beautification, street lighting, revenue enhancement, and major infra projects like public markets, hospitals, roads, and reclamation. As president, his 6.5% agriculture growth in 1999 remains unsurpassed. As president, Erap also made the government closer to the people with his populist policies. He stopped rate increases by utilities controlled by the country's oligarchs and monopolies.
Outstanding public servants Speaker Gloria Arroyo's sterling public service as president boosted economic prosperity and enhanced governance, and for distinguished stints as the second longest serving president (9 years), the first woman vice president (6 years), the first woman Speaker of the House, and congressman since 2010 of the second District of Pampanga.
President Ramos (June 30, 1992-June 30, 1998) revived the economy, sought peace with the rebels, made the Philippines attractive for investments, and proved development and democracy go together."
Budget Secretary Benjamin Diokno instills the discipline of cash budgeting, backstopping President Duterte's wage increases for soldiers, policemen and teachers; while focusing government funding to the greatest state infra program ever.
Joey Salceda uses his intellectual heft and talent to climate-proof Albay and send its youth to college; to shepherd priority economic and social legislation thru Congress; and to make the Philippines a better place for its citizens, investors, and tourists.
Business honorees
Ramon Ang made SMC the largest, most profitable, most diversified and most development-oriented company thus raising shareholder value and its contribution to nation-building.
Teresita Sy nurtures the Philippines' three biggest public companies in market cap – SMIC, SM Prime, and BDO Unibank, all three undisputed profit-makers, market leaders and disrupters.
Helen Dee shepherds RCBC thru its most severe challenges by keeping faith in its vision and in its stakeholders, in the process recapturing its premium cache as the mid-market and high-end bank.
Felipe Gozon made GMA Network the most admired, most respected, most profitable and most valuable TV-radio network after 12 years of losses, second-rate programming, and lack of vision and purposefulness. Despite having a third of ABS-CBN's revenues, GMA Network is hugely more profitable. He is preparing GMA for full digital service and TV on the go.
With innovation and unmatched service quality, Nedy Tantoco became No. 1 in premium retailing with a formidable portfolio of luxury brands sold with enthusiasm, elegance, customer focus, and unrivalled service.
Dennis Uy of Davao built almost overnight the Philippines' newest highly diversified conglomerate that is now a major player in petroleum marketing, logistics, tourism, education, 24/7 retailing, restaurants, property, gaming, and lately, telco.
John Gokongwei Jr. nurtured enterprises that meet people's basic needs like food, retailing, property, credit, and low-cost travel, and building the country's first global Filipino multinational.
Manny Villar is the inspiring rags to riches entrepreneur. He cashed in on the unprecedented housing and property boom of the past 15 years, in the process, becoming Forbes' second richest Filipino.
Carlos Chan built the Philippines' biggest potato chips global conglomerate with a huge presence in eight Asian countries giving wow and value to its customers and proving that the Filipino can compete with the best in the world and beat them.
Andrew Tan built the Philippines' biggest conglomerate in lifestyle malls with live, work and play values, and the biggest—hotel chain and brands, gaming chain, and high-end fast food.
For 22 years, Nestor Tan has managed the biggest bank in assets, deposits, loans, equity, and management vision with high double-digit growth rates in every measure that counts.
Edwin Bautista manages the best bank in digital banking and use of blockchain to tap the unbanked, thus enriching customer experience in banking, insurance, and asset management.
Reghis Romero turned Manila's biggest garbage dump into a residential-commercial complex thru innovative reclamation and homebuilding, port development, and savvy construction management. Today, he is moving into other big reclamation projects.
Jaime Bautista has made PAL the world's most improved airline and made it four-star in inflight and ground services and products, with the highest safety rating and soon a five-star global carrier.
Luis Yu Jr. and Mariano Martinez Jr. promote financial literacy and built the No. 1 mass housing developer, which delivered over 52,000 housing units in 52 completed projects in 14 years, with more to come.
John Paul Ang manages Eagle Cement, Philippines' most efficient, most modern, and most profitable cement group, by enhancing its revenue, production and profitability profile to make it the best and most valuable listed Filipino cement company.
SSI's Anton Huang built up and manages SSI Group, the largest retailer of luxury—95 foreign brands in five categories, in more than 600 stores in 92 high-end malls, and sold with quality service and customer focus, thus curating the tastes of the Filipino elite.
University of Perpetual Help System DALTA CEO Antonio Tamayo built the largest school and hospital chain south of Manila catering to over 40,000 students, 2,000 of them foreigners; and offering quality medical care at reasonable cost.
Michael Tan's stewardship of LT Group—an exciting portfolio of brand companies – PNB, PAL, Asia Brewery, Eton Properties and Victorias— which provide large sales and profits, in good and bad times, is inspiring being the leader of the second generation to manage a formidable wealth built by his father, Lucio Tan.
Nathaniel L. Romero leads the second generation in managing a large and growing conglomerate that revitalized Smokey Mountain into a modern port and city and which has gone big into construction, utilities, housing and land development, and reclamation.