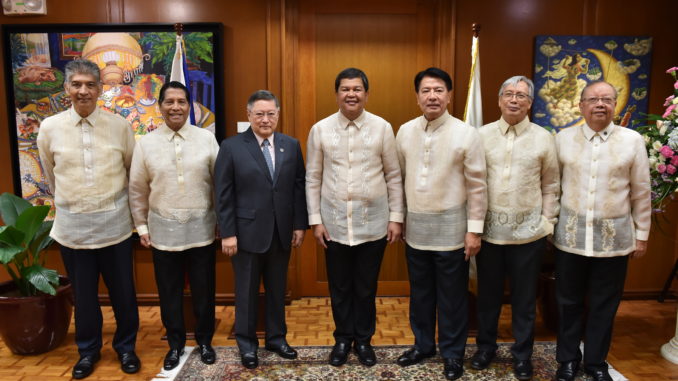 Nestor "Nesting" Espenilla Jr. is the 11th governor of the Bangko Sentral ng Pilipinas or central bank. He took over July 2 to begin a six-year term.
A veteran banking regulator and an economist, Espenilla, 58, a devoted husband and a father of three, is expected to be different from the mould of all previous governors. He will be the Bangko Sentral governor for the poor.
In his inaugural speech, Espenilla used rather high-sounding words to describe his mission of having a central bank relevant. He said:
"Yes, the Philippines' continues to experience strong economic performance amidst a stable macroeconomic and financial environment. But such growth, to be truly meaningful, needs to be inclusive, to create jobs, and to improve welfare."
"The BSP has been promoting reforms in the macroeconomic and financial sectors, but we know that these are not enough. We have to push the envelope further. This is why the BSP has been passionate in its pursuit of its financial inclusion advocacy."
"We need to work on bringing central banking operations closer to the people. This would entail strengthening our commitment to advance our financial inclusion, financial education, and consumer protection agenda to ensure that no one is left behind. "
In 2015, the BSP, the governor recalled, "embarked on an ambitious journey towards modernizing the retail payment system in the country. The National Retail Payment System (NRPS) project defines the principles and critical elements to bring about a safe and efficient digital payment system. This can potentially transform our economy by enabling greater access to financial services. A well-designed payment system serves as a key pillar of an inclusive and expansive digital finance ecosystem – one that is able to meet the diverse needs of all users in a manner that is convenient, sustainable, affordable, and reliable."
He declared: "Our policy agenda is therefore geared towards a truly inclusive, strong and dynamic financial system that is fully responsive to the needs of the domestic economy in line with the Government's medium-term development plan and the AmBisyon Natin 2040."
How does Espenilla intend to achieve financial inclusion?
About 577 towns have no banks and 60 million Filipinos have no bank accounts.  The governor wants to ease the requirements for opening a bank branch in missionary areas.  He will also lower, if not remove, the maintaining balance for deposits kept by ordinary mortals.   He will remove penalties for maintaining deposits below the amount the banks want.  The know your client (KYC) rules will be eased for small borrowers and depositors.  So-called dormant accounts will not be allowed by BSP – meaning if a depositor does not make any transactions in his bank account for a year, the bank cannot penalize the depositor for allegedly maintaining a "dormant account".  "There is no such thing as a dormant account," says Espenilla.
For small and medium businesses, heavy penalties will be slapped on banks who fail to meet their quota of loans for SMEs.
Espenilla says  he will push for legislation for  a Financial Inclusion Consumer Protection Law.    He will also strengthen the BSP's consumer protection bureau headed by Pia Roman Tayag.
As for loan documents, a borrower cannot be forced to sign documents without dates and with blank entries.  A borrower will have to be told the exact and effective interest he must pay for his loan.
Under BSP rules, banks must ensure that "offering documents of products and services contain the information necessary for customers to be able to make an informed judgment of the product or service and, in particular, meet the full disclosure requirements specified under existing laws or regulations."
"All key features and risks of the products should be highlighted prominently in a succinct manner. Where a product is being offered on a continuous basis, its offering documents should be updated in accordance with the requirements set out in the regulations."
Banks must readily and consistently "make available to the customer a written copy of the Terms and Conditions (T&C) that apply to a product or service. The contents of the T&C must be fully disclosed and explained to financial customers before initiating a transaction. Where and when warranted, reference to the T&C should be made while transacting with the consumer and before consummating the transaction, if such reference is material to the understanding of the consumer of the nature of the product or service, as well as its benefits and risks."