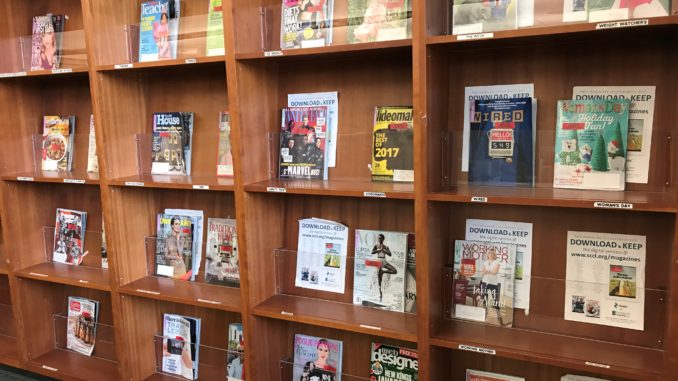 I love to read magazines. Since I was young, I meticulously paged through each one: lifestyle, fashion, news, science, entertainment, technology, electronics, cars, and general interest. I enjoyed looking at the colorful pictures and reading every caption and text.
The ads were just as entertaining. They were usually colorful spreads with creative presentations or amazing photos. When I encountered a new product, I searched for it and was eager to try it out. When I read product reviews, I knew which ones to buy and what to avoid. I felt good with my purchase because I made an informed decision.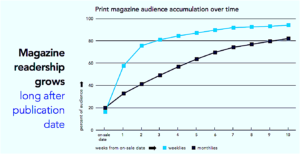 I get the most satisfaction from reading in-depth content, especially in business, news, and consumer magazines. I don't trust online sources since I don't know their qualification and they don't have the same accountability as printed magazines. Online content can be revised and deleted and the writers can pretend it never happened. That cannot be done in a printed magazine. Actual text exists as long as the magazine is intact. Corrections or retractions are made in the next printing. The permanence of printed magazines demands greater judiciousness and integrity.
I like that newsmagazines synthesize issues, gives perspective and history, and offers an educated opinion to help me come to an informed conclusion. Content is engaging and brilliantly written with clever word play. It's a feast for the intellect.
The best part is relaxing with a magazine. Like most people, I read a magazine for leisure and information. I like to sit quietly, maybe with a warm drink, and just peruse the pages. I like to see how the editors lay out each article in order of importance. What story was featured first or prominently, which story had more pages, what was only put in a half page or box, and what was left in the end. You cannot see the same editorial decision online where most story headings are lined up equally in columns and click captions.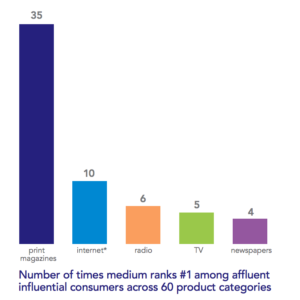 Unless the magazine I want is unavailable in print, I don't like online subscriptions. It's hard to read the screen, the device is cumbersome, I need an internet connection, and I cannot look through it quickly. Sometimes, I just want to jump to a story quickly, but often I read the magazine from start to finish in one sitting. I like the satisfaction of flipping through each page.
But online, there are no pages I can just jump to nor table of contents— just topics or titles to click on. Plus, I can't mark my page to continue next time. It also takes too long to scroll through sections I want. It's especially annoying when the web article is spread through a dozen pages so that I have to click through each page, even if I only want to see pictures. So I am forced to spend unnecessary time on a simple topic that I could have scanned quickly on print.
But with a print magazine, I know at a glance how long an article is, I am familiar with its layout, and I know where each section is and what to expect as I read along.
Magazine readership and ROAS
It turns out that I am a typical magazine reader. Magazines are still highly popular worldwide. In the United States (US) and United Kingdom, 90% of the population read magazines. Print magazines reach more audiences of all ages than the top US primetime TV shows.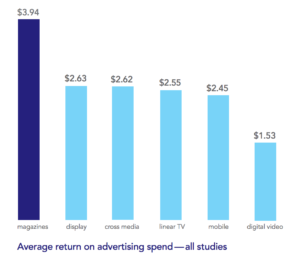 Like me, magazine readers thirst for content, especially with the online proliferation of unverified sources touting all kinds of news.  In 2016, 226 new print magazines launched in the US. Newsweekly readers grew by 11.3% with continued interest in entertainment, leisure, business and industry, national and global affairs, and culture.
Magazine readership remained steady despite the media exodus to the internet. Electronic book readers like Kindle were predicted to destroy print subscriptions, but quality magazines increased amidst numerous closures of newspaper dailies.
Historically, magazine readership continues to grow long after sale or publication, likely because it is passed on to at least three to ten more readers. Weeklies are more popular than monthlies.
This pass-on readership can explain why magazines have the highest return on advertising spend (ROAS) ($3.94) over display ads ($2.63), cross media ($2.63), TV ($2.55), mobile ($2.45), and digital video ($1.53) even when the average campaign budget is not considered. (Nielsen Catalina Solutions, 2016)
A magazine's high ROAS can also be due to the readers' higher retention from print. In a 2015 study on why print magazine advertising works, it found that the majority of all ages prefer to read on paper; derive sensorial enjoyment from reading print; engage fully with print magazines which  stimulate their emotions and desires; and read magazines more slowly, with more focus, and less distractions, so they comprehend and recall more.
Magazine engagement leads to consumption
Print magazine readers take time to sit down quietly to read and enjoy their magazines. Readers spend an average of 51.7 minutes on print magazines. They expect to see ads catered to their interest that they welcome and scrutinize to see if it fits their lifestyle and taste. Thus, print ads alone or combined with other media increases the reader's awareness, favorability, and purchase intent for a brand.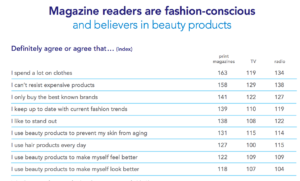 This greater brand awareness translates to sales. A 2016 study across 60 product categories found that print magazines are superior in reaching affluent influential consumers than all other media, even if you combine internet, radio, TV, and newspapers. Magazine reach was over three times more than the other media with influential readers who earned over $75,000 (P 3.75 M) yearly.
Compared to other media consumers, devoted magazine readers are more intelligent and sophisticated who keep abreast of current events so they are trusted recommenders who dominate a wide social circle. They lead an enviable and active lifestyle, live in lavish homes, travel often, have the most financial assets, and spend the most money.
Magazine readers are highly informed and buy the most consumer products in beauty and skin care, fashion, sports, electronics, children, cleaning, insurance, household furnishings and improvement, luxury goods, cars, and food.
Reading print magazines is an anticipated part of the reader's enjoyment of life. It is considered a treat. In a 2016 study, readers ages 18-49 find magazines an enriching and emotional experience because it informs, inspires, and gives them a way to learn about new ideas, products and things. They like to buy and try what's new. Readers trust and choose what magazines to read regularly, so their engagement and commitment is higher than with other media.
"The magazine media brand experience is based on trusted editorial, complemented by relevant advertising. The dual immersion in edit and ads satisfies the interests and passions of millions of readers—when, where, and how they choose." (Magazine Media, 2017)
IVY DIGEST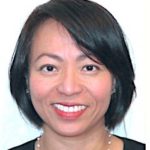 Writer Ivy Lopez
Ivy Digest serves the busy reader and extracts relevant data from worthwhile publications to incite ideas and inform decisions.  
Author Ivy Lopez is a lawyer and journalist who studied in De La Salle, the Ateneo University, and the Wharton School of the University of Pennsylvania.