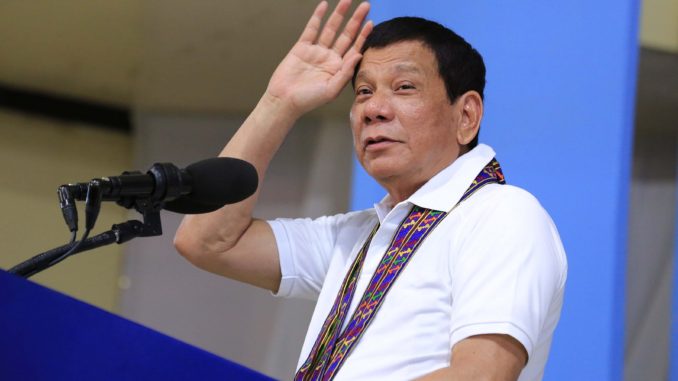 BizNewsAsia's "Man of the Year 2017" is indisputably President Rodrigo Roa Duterte.
A lawyer and former prosecutor, the mayor of Mindanao's Davao City for 23 years romped home the coveted title with very little competition.
The closest one giving him a good fight is not even a public official. He is Ramon S. Ang, the vice chairman, president and chief operating officer of giant San Miguel Corp.. In 2017, Ang brought SMC to new levels of revenues, profits, growth, and expansion that left its corporate rivals eating dust and stockholders smiling all the way to the bank. In 12 months up to this January, SMC's share price went up 38%, valuing the company at a record high of P314 billion and increasing the wealth of its owners by P87.6 billion.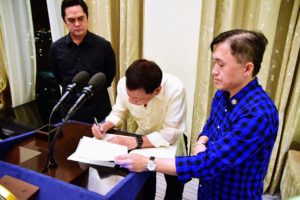 Duterte is BizNewsAsia's Man of the Year for a number of reasons: one, his free college law; two, his tax reform law; three, his winning the Battle of Marawi; four, his war on drugs; five, his savvy diplomatic statesmanship; six, his stewardship of the robust economy; and seven, his unrelenting war on corruption in government.
Duterte signed the free college for everyone law on Aug. 3, 2017. Republic Act 10931 or "The Universal Access to Quality Education Act" guarantees free college education for more than one million college-age students who otherwise won't be able to secure quality tertiary education – and therefore, their future – because of extreme poverty.
The President signed the Tax Reform for Acceleration and Inclusion (TRAIN) Law on Dec. 19, 2017, which exempts some seven million wage earners from paying tax on their income not exceeding P250,000 a year.
Duterte's "tax reform program which the Congress—surprisingly, really—approved at breakneck speed is nothing short of revolutionary," toasts Manila Times columnist Rigoberto Tiglao, himself a former ambassador, a former communist and terrorist, and now, a political pundit. "Such exemption of the poorest workers from income taxes has never been done. Duterte's TRAIN has been the most sweeping reduction in income taxes ever," Tiglao points out.
He reckons that those who have been earning P20,000 a month or less, who number seven million, "have been taxed at least 5% (10% to 15% per data – ed) since 1997."
"The taxes squeezed from the lower classes for two decades have been actually higher as companies have been required to withhold 10% of salaries of all their staff, which they remit to the Bureau of Internal Revenue. In practice, the lower classes mostly no longer file the claims for a tax refund," comments Tiglao.
Albay Rep. Joey Sarte Salceda, principal author of TRAIN in the House, estimates the tax measure will trigger the greatest wealth transfer from the rich to the poor, in the history of this country. About P150 billion in government revenues will now go yearly into the hands of the poor, if TRAIN is properly implemented.
BizNewsAsia believes that together, the free college law and TRAIN will set in motion a massive overhaul of Philippine society, leading to the government finally licking the age-old problem of poverty.
Salceda is also the principal author of the free college law.
According to Salceda's data, only 9.6 million or 9.3% of the 2016 Philippine population of 102.78 million are degree holders. Only 64% of overseas Filipino expat workers have had a college education.
The Filipino electorate is also not very intelligent. Only 17% of voters have a college degree.
Such lack or inadequate understanding of issues and policies results in poor quality of leaders being elected in government.
Under the 2018 General Appropriations Act, the free college bill will amount to P41 billion. The toll will rise to P57 billion in 2019, P53 billion in 2020, and P59 billion in 2021, or a whopping P211 billion in the last five years of the Duterte administration.
Duterte wins the Battle of Marawi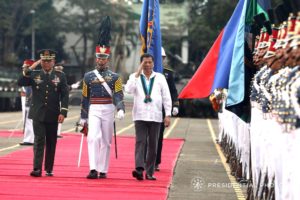 It took the latest in war technology, more than P50 billion in cost, and a longer time frame — four months and three weeks (148 days) — to score victory in Marawi against insurgents wanting to establish a caliphate and a hub for the Islamic State of Iraq and Syria (ISIS) in Southeast Asia, but the victory was sweet and decisive just the same. And Southeast Asia could heave a sigh of relief with the apparent mortal blow to ISIS's expansionary ambitions in the region, home to some 240 million Muslims.
When the insurrection erupted on May 23, 2017, President Rodrigo Duterte was making a state visit in Moscow. He promptly declared martial law and cut short his Russia trip to two days. The same night, he flew to Mindanao to oversee the counter terrorism operation.
Defense Secretary Delfin Lorenzana, a retired general, initially placed the number of terrorists at no more than 50 and indicated the counter-terrorism would be finished in a matter of days. The military failed to reckon with the support of local officials in Marawi and nearby provinces and the seeming sympathy of residents. Duterte himself declared later the siege of Marawi was funded by illegal drugs money, principally from the criminal syndicate Maute group.
Wearing gear ready for combat and an aviator's dark glasses, President Rodrigo Roa Duterte made his seventh visit to balmy Marawi on Oct. 17, 2017. Amid cheers and tears, the commander-in-chief declared the war-torn city's liberation from over 400 terrorists.
His declaration came on the heels of the death of terrorist leaders, Isnilon Hapilon and Omar Maute. The President also announced that the liberation of Marawi City marks the start of the rehabilitation process of the war-torn city.
The President commended the military and the police for risking their lives fighting terrorists. He led the distribution of groceries, wrist watches, and sunglasses to government troops. He also gave them new pistols.
War on drugs
On drugs, government data show 3,967 drug personalities have died in the anti-illegal drugs operations, from July 1, 2016 to Nov. 27, 2017. The number of those killed in the illegal drugs war could be higher. An indicator is that 16,355 homicides are under investigation, for killings during July 1, 2016 to Sept. 30, 2017.
Some 1.3 million alleged users of drugs surrendered. Another 118,287 drug personalities were arrested during July 1, 2017 to Nov. 27, 2017.
Duterte's war on drugs gave the President the gravitas of a strong leader, one who matches his rhetoric with deadly action. It also has made him unprecedentedly popular. Some 77% of Filipinos are satisfied with his drugs war. Some 88% support his campaign against illegal drugs.
The war on drugs also gave Duterte international recognition, although a good part of it unwanted. Some international papers have referred to him as a butcher. On balance though, the image that emerges is one of a strong leader, single-minded and purposeful in his program of government and vision.
Global statesman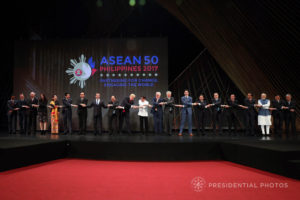 His reputation as a strongman having preceded him, Duterte has ascended to the world stage as of credible statesman and able negotiator, with star power that probably exceeds that of United States President Donald Trump. This is the fourth reason for our making Duterte Man of the Year.
The biggest winner of Manila's hosting of the 31st ASEAN Summit, Nov. 13-15, 2017 was President Duterte.
"The success of the momentous event is indicative of President Duterte's ability to lead the country towards global recognition," Presidential Spokesperson Harry Roque beamed.
"The world community now recognizes not only the fact that the Philippine President is not just the president of the Philippines, a leader of Southeast Asia, but a recognized leader in the international community," Roque asserted.
"And they have also given notice that the Philippines is able to competently host a bidding, a meeting of this scale and scope. And the fact that there was no untoward incident proves that the Philippines is safe to visit," the presidential spokesman said.
"The ASEAN Summit also set in motion a number of constructive negotiations among ASEAN member states and their dialogue partners," Roque said.
South China Sea Code of Conduct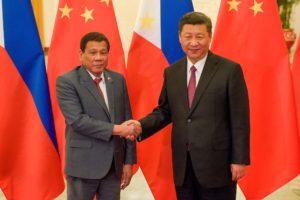 Discussions during the summit led to an agreement between ASEAN and China to start formal talks on the Code of Conduct (COC) in the West Philippine Sea. The talks are set to commence early next year, Roque, a lawyer, disclosed.
This as a "milestone agreement," Roque gushed. This was the first time claimant countries have agreed to start formal discussions on a CoC that is expected to be legally binding.
"I think all the parties want it to be somehow legally binding. Otherwise, it's merely aspirational," Roque explained. "I think that was a priority of the President because unless it becomes legally binding, we would not achieve the kind of predictability that all the countries want in order to achieve peace and stability in the region."
Hence, there is now easing of tensions in the disputed territories due to the countries' willingness to adopt a more peaceful resolution to the conflict.
The fifth reason is the robust Philippine economy. According to Presidential Spokesperson Harry Roque:
"The Philippine economy, under the Duterte administration, remains one of the best performing economies in Asia. The country's spectacular 6.9% gross domestic product (GDP) growth in the third quarter of this year further reinforces its premier status in the Asian region."
"With a year-to-date growth average of 6.7%, we are hopeful and confident that we are on track in attaining the full-year target range of 6.5% to 7.5% economic growth for 2017. We attributed this better-than-expected growth to strong exports and industrial output and improvement in public spending."
"As the administration starting to roll out projects under its Build! Build! Build! Infrastructure Program, we are now seeing a sustained improvement in public spending. The goal of such massive spending is to support growth."
"The government sees infrastructure development as the solution to job generation, transportation and traffic woes, and high prices of goods and services."
"The Duterte administration hopes to attract more investments into the country by building more railways, urban mass transport, airports and seaports, bridges and roads, and new and better cities."
The World Bank, in fact, sees the Philippines as becoming the fastest growing Asian economy during 2018, along with Myanmar, with 6.7% GDP growth. In 2019, the Philippines will be the fastest growing, with 6.7% economic growth.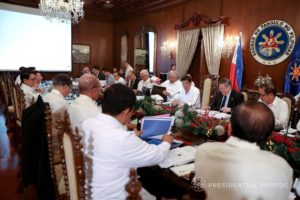 Quite expectedly, Malacañang on Thursday, Jan. 11, welcomed the World Bank citing the Philippines as the fastest growing economy among all Association of Southeast Asian (ASEAN) countries.
Secretary Roque stressed that the Philippines will continue to be one of the top performing economies, especially with the passage of the Tax Reform for Acceleration and Inclusion (TRAIN) Act that is expected to boost the government's infrastructure spending.
"The big rollout of major infrastructure projects would result in a substantial increase in our Gross Domestic Product (GDP) for 2018," he said.
Roque said the timely implementation of big-ticket infrastructure programs under the Duterte administration would be critical in bringing down the cost of doing business in the country and in making Filipino exporters more competitive.
Relatedly, the Bangko Sentral ng Pilipinas (BSP) has reported that the country's foreign direct investments (FDI) net inflows increased to $2 billion in October 2017 from October 2016's $670 million.
FDI net inflows for the first ten months of 2017 grew from year-on-year by 20.5% to $7.9 billion.
He noted that a significant portion of the equity capital placements were channeled to electricity, gas, steam and air-conditioning supply activities.
Finally, Duterte has waged a war of corruption in a manner and viciousness no president before him has done.
On Jan. 11, 2018, President Duterte called on officials and employees of Philippine Amusement and Gaming Corp. (PAGCOR) as well as gambling licensees in the country not to engage in graft and corruption.
"I want to stress again the point that you can come in, expand, do business peacefully but please avoid graft and corruption whether you are the giver or the receiver," Duterte told those investing in the gambling business.
He reiterated that he would not show mercy to corrupt government officials and encouraged businessmen to report them either directly to him or to his officials or through the Citizens' Complaint Hotline 8888.
"Please do not give them the luxury of extortion. All you have to do is just you can call anybody in government… And I will take care of it," he said.
"All I have to do is for you to cooperate and I said do not give in to extortionist. Be it the police, the BIR, Customs, kasi 'pag malaman ko, I'll make it hard for you," he added.
He noted that corruption in government must be stopped because it was pulling the country down.
As part of his continuing efforts to rid the government of corruption, the Chief Executive announced his plan to fire more government officials and policemen in the coming days.
"I am in the thick of firing people. I intend to fire another maybe 70 or 49 policemen and three generals for corruption," he said adding that he might be spending his remaining four years in cleaning up corruption in government.