Washington, DC – United States Senators Elizabeth Warren (D-Mass.) and Lindsey Graham (R-S.C.) unveiled on July 27, 2023 a comprehensive legislation that would rein in Big Tech by establishing a new commission to regulate online platforms.
The commission would have concurrent jurisdiction with FTC and DOJ, and would be responsible for overseeing and enforcing the new statutory provisions in the bill and implementing rules to promote competition, protect privacy, protect consumers, and strengthen our national security.
Backed by Biden
President Biden called for the passage of bipartisan legislation to rein in Big Tech and strengthen antitrust enforcement to boost competition in the tech industry.
"For too long, giant tech companies have exploited consumers' data, invaded Americans' privacy, threatened our national security, and stomped out competition in our economy," said Senator Warren.
"This bipartisan bill would create a new tech regulator and makes clear that reining in Big Tech platforms is a top priority on both sides of the aisle."
Empowering consumers vs. Big Tech
"For years I have been trying to find ways to empower consumers against Big Tech," said Senator Graham, adding:
"I have heard too many stories from families who feel helpless in the face of Big Tech. Stories about children being bullied to the point of committing suicide. Human trafficking. Exploitation of minors. All the while the social media platforms look the other way. Today, we take the first step and provide consumers with the tools they need to begin leveling the playing field. A regulatory commission will give consumers a voice against Big Tech and the power to punish them when appropriate. The creation of a regulatory commission to oversee Big Tech is the first step in a long journey to protect American consumers from the massive power these companies currently wield."
Endorsers
The Digital Consumer Protection Commission Act is endorsed by Accountable Tech, the American Economic Liberties Project, the Center for American Progress, Color of Change, Common Sense Media, the Open Markets Institute, Public Citizen, and Raven.
"An independent regulatory commission tasked with challenging the monopolistic power of Big Tech companies will not only provide the additional oversight needed to keep the industry in check, but also complement the work of our existing regulatory bodies. The Digital Consumer Protection Commission would create a starting point for the necessary structural reform the industry has so far evaded, while promoting more competition, transparency, and privacy to bolster economic growth and innovation," said Nicole Gill, executive director and co-founder of Accountable Tech.
Bipartisan support
"This legislation shows that there is bipartisan support for stronger antitrust action against dominant tech firms," said Morgan Harper, director of Policy and Advocacy at the American Economic Liberties Project. "We applaud Senator Elizabeth Warren and Senator Lindsey Graham for coming together and fighting so that the Federal Trade Commission and the Department of Justice Antitrust Division have the authority they need to rein in the power of Google, Amazon, Apple, Meta, and Microsoft."
"Passing the Digital Consumer Protection Commission Act is critical to preventing a few dominant internet companies from unfairly taking advantage of consumers and eroding our democratic values. The DCPC would help address major concerns around competition, privacy, security, and transparency in a truly bipartisan manner. This bill will ensure that the digital playing field is no longer stacked against competitors, consumers, and the public. I applaud bipartisan work of Senators Warren and Graham and CAP is proud to support the Digital Consumer Protection Commission Act," said Patrick Gaspard, president and CEO of the Center for American Progress.
Racial justice
"The Digital Consumer Protection Commission Act of 2023 shows that racial justice can lead the way when it comes to finally reigning in Big Tech corporations that have been running wild and reckless," said Rashad Robinson, president of Color Of Change.
"Anyone who cares about eliminating bias in the way Big Tech does business, and eliminating massive exploitation and discrimination in everything from data collection to exploitative marketing, must thank Senator Warren for her leadership—we would not have reached this landmark moment without her. Giving regulators the power to protect us from Big Tech abuses is long overdue, and by reducing racial bias, they will automatically reduce the worst abuses that affect everyone. That's why the racial justice lens is so important."
"Senators Warren and Graham cut straight to the heart of the threat posed by today's dominant platform monopolies. They do so by strictly prohibiting these corporations from manipulating and extorting users through discriminatory treatment, by requiring dominant platforms to obtain a license to operate, and by requiring close oversight of how these sprawling corporations endanger national security. This bill would help to protect our democracy and the liberty and prosperity of every individual. We strongly support these actions and applaud Senators Warren and Graham on this brave bill,"  said Barry Lynn, Open Markets Institute executive director.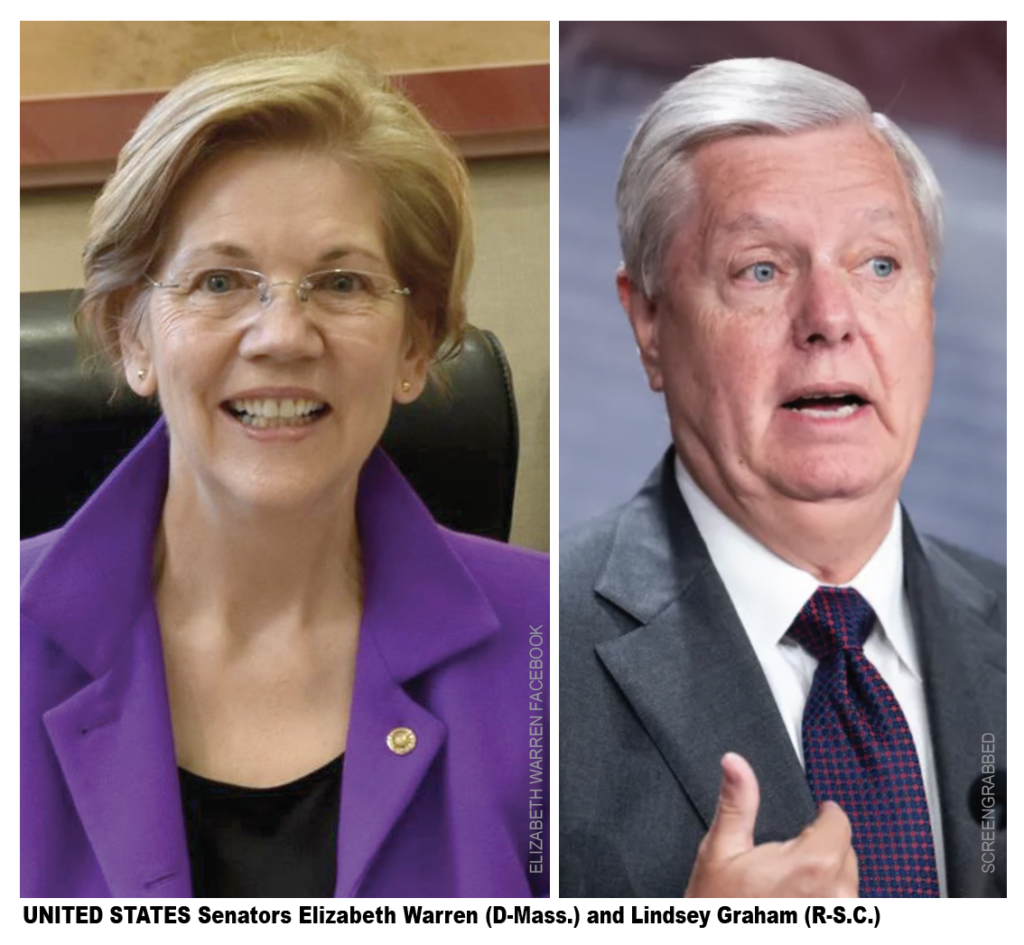 "Public Citizen is thrilled at the introduction of common sense legislation to create an agency focused on the digital platforms. The big tech companies have far too much power and leeway, and when it comes to critical issues like competition, privacy, and transparency a dedicated agency could make all the difference. We strongly support this effort,"  said Lisa Gilbert, EVP, Public Citizen.
"Today the world we live in is digital. Our children are simply not safe online. The DCPC Act will not only keep our children safer online, but it will also help safeguard everyone who lives in today's digital world," said John Pizzuro, CEO of Raven.
"For far too long, companies like Google, Apple, Meta, and Amazon have manipulated our economy, violated our privacy, and designed dangerous platforms that are the root cause of the youth mental crisis. In poll after poll, Americans from both sides of the aisle are calling out for reasonable tech oversight and accountability, and yet, Congress has failed to act, and the companies have failed to self-regulate," said Sacha Haworth, Executive Director of the Tech Oversight Project.
A big step
"The bipartisan Digital Consumer Protection Commission Acttakes a big step in the right direction by establishing a specialized regulator with the tools and authority to rein in Big Tech's most predatory practices. I applaud Senator Warren and Senator Graham for their commitment to creating a safer and more competitive internet," Haworth added.
"We have never been more vulnerable to the dominant tech platforms that control what we see, what we choose, and how we interact with others. The Digital Consumer Protection Commission Act would protect against the most dangerous behaviors of large platforms by complimenting the strongest privacy and competition rules with meaningful enforcement. This bill would fundamentally redirect dominant platforms away from exploitative business models by requiring trustworthy behavior for a safer and more sustainable future,"  lectured Woodrow Hartzog, professor of law at Boston University School of Law and author of Privacy's Blueprint: The Battle to Control the Design of New Technologies.
It's time for meaningful, structural change to rein in Big Tech. The Warren-Graham Digital Consumer Protection Commission Act would create a new commission to regulate online platforms.
What the bill would do
The bill would:
• Create an independent, bipartisan regulator charged with policing the biggest tech platforms, like Facebook, Google, and Amazon, to protect consumers, promote competition, secure Americans' privacy, guard national security, and prevent harm online.
• Empower the commission, along with the Federal Trade Commission and Department of Justice, to enforce violations of the law. Dominant digital platforms would risk losing their license to operate if they repeatedly violate the law.
Transparency
Require dominant platforms to publish clear terms of service and content moderation practices. Establish consumer's right to appeal when dominant platforms violate their terms of service, including their content moderation policies, such as by failing to remove CSAM and other harmful material.
Require dominant platforms to establish user-friendly notification and appeals processes. Empower users to submit complaints following adverse appeals regarding violations of terms of service.
Competition 
Ban abuses of dominance committed by Big Tech firms such as self-preferencing, tying arrangements, predispute arbitration agreements and class-action waivers, noncompete agreements, and no-poach agreements. 
Authorize prospective and retrospective review of Big Tech mergers.
Prohibit conflicts of interest like Amazon's owning its marketplace and competing on that platform.
Privacy 
Guarantee users the right to access their personal data and to know when their personal data is collected and processed. 
Establish duties of loyalty, care, and mitigation of harms, including discrimination, cyberbullying, CSAM, and addictive/harmful behaviors, for all data processors. 
Limit targeted advertising based on users' personal data.
National Security
Require dominant platforms to be owned by U.S. citizens or have a U.S. subsidiary.
Limit data processing in restricted countries and require platforms to identify bots.