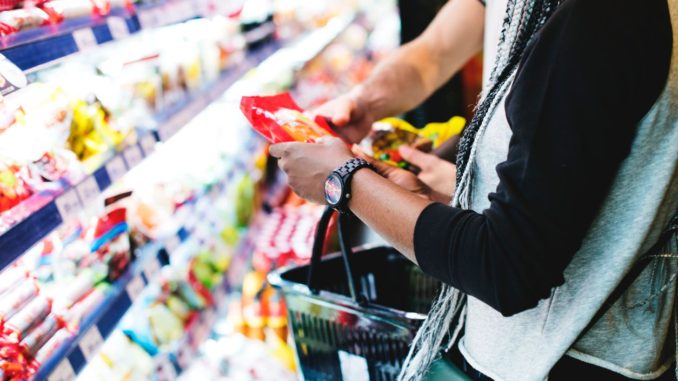 Grocery retail has had the same self-service format for the past 102 years. It remains untouched by e-commerce because over 90% of shoppers worldwide still go to the grocery store to buy consumer products, food, and drinks.
Convenience stores are the smallest segment of the Philippine grocery market, yet it had the highest growth in sales at 8%. Its growth rate was 17% in 2016. (US Department of Agriculture, October 2017)
The Philippine grocery retail market is primed for further growth due to a strong economy, increasing consumption, and the projected urbanization of 3m more. It is a $153 billion industry with a CAGR of 9.1% (2017-2022), third to China and Indonesia.
Spurred by a young population, with 19% below 24 years, and a vibrant business process outsourcing (BPO) industry of 1.3 million with a $24.5 billion revenue, convenience stores (C-stores) are sprouting fast.
Filipino households spend the most on food and non-alcoholic drinks (37%). Second is housing and utilities (23%).
Food and drinks spending has the strongest projected growth of 8.8% annually for 2017 to 2021, which will be worth P6.2 trillion ($124 billion) by 2021. That's a 29% increase from 2017.
An increasing middle class of 18-20 million will be too busy to shop far away and will welcome the services of a nearby convenience store.
The same trend is seen in neighboring Asian countries. Convenience stores are expanding faster in Indonesia, Vietnam, and China. IGD says that Vietnam will be Asia's fastest-growing C-store market by 2021, with a growth rate of 37.45%, followed by the Philippines and Indonesia.
The Filipino marketplace
Next to convenience stores, supermarkets had the second biggest sales growth of 7%. It also has the second biggest market share with 22.5%.
Supermarket leaders are SM Investments (SM), Robinsons Retail Holdings (Robinsons), and Puregold Price Club (Puregold). Last March, Robinsons' bought all of Rustan's supermarket chains to make it second in the market by number of outlets.
A supermarket is mostly located inside malls, department stores, or a commercial complex and is 400 to 2,500 sq m big. Middle income families frequent supermarkets for its cleanliness, service, and quality of fresh food.
Hypermarkets or warehouse clubs had the third largest growth rate at 5% led by SM Hypermarket and Puregold. This has the second smallest market share of 6% but attracts most direct sellers who resell their purchases in their own stores. This requires membership fees, so middle to upper income households and small business owners are target customers who buy high consumables in bulk, like fresh meat, dairy, and household products.
Sari-sari or Mom & Pop stores still dominate Filipino grocery retail with 59% of the market. This is a very small direct seller that is standalone or attached to the owner's house. It remains strong with sales growth of 3% worth over $26.94 billion in 2016.
Sari-sari stores are usually located in rural areas or urban neighborhoods without nearby grocery chains. They specialize in single-serve sizes of staples like rice, oil, and coffee, and basic consumables like shampoo and detergent. They target the low-income households who earn less than P10,000 ($190) yearly.
Specialty retailers have the third largest market share at 10% but the lowest growth rate at 2%. This includes retailers that only sell one kind of item like bread and deli, and non-food items like tobacco.
Lastly, convenience stores make up the smallest market share at 2% led by 7-Eleven, Mercury Drug, and Robinsons' Mini Stop.
How convenient
A convenience store is small (150-300 square meters), operates for longer hours or 24 hours, and is mostly located in urban areas inside a condominium, office building, or gasoline station. It's usually located in a busy city street where many pedestrians and commuters pass by.
Basic C-store offerings of snacks, drinks, and essential household items now include services for telecom, banking, and dining.
7-Eleven is the country's first franchise C-store and the largest with 2,027 outlets. It maintains its dominance by expanding its services to cellphone reloading, bills payment, and banking, which are great time-savers for busy workers.
Mercury Drug is the second largest convenience store in the country with 1,100 outlets. It is uniquely positioned as a pharmacy and was usually located beside hospitals, but can now be found in many commercial buildings. It has expanded its service to become a one-stop shop for groceries and convenience food.
Third is Robinsons' Mini Stop with over 568 outlets, which now includes Rustan's Family Mart. It was the first to introduce freshly cooked fast-food, in its now very popular diner where long lines are often seen.
Fourth is Alfamart with 400 branches, an Indonesian joint venture with SM. Beyond the usual basic goods, it offers fresh meat, poultry, vegetables, and food-to-go.
Over 52% of Filipinos live in cities, and more areas are quickly becoming urbanized. Notorious congestion and lack of city parking discourage Filipinos from driving to the grocery, restaurant, or wet market to buy food. This creates the need for nearby C-stores where workers and families can easily grab a bite to eat or grab a few essentials near their home and workplace.
Convenience stores capture the BPO workers who get off from work at 8am tired and hungry. C-stores are also the only thing open after midnight when BPO workers have their meal and snack breaks.
Even residents of buildings, who shop in supermarkets weekly, commonly dash to convenience stores in their building or nearby when they run out of drinks, soda, snacks, or a cooking ingredient.
The main convenience of these stores is its location. Rather than waste time in traffic and travel, or lose work time, city dwellers usually pop into a convenience store for a quick meal, snacks, and some groceries.
Convenience stores are the urban professional equivalent of the sari-sari store with the comfort of air-conditioning, cleanliness, and hot ready-made food. As more C-stores are offered in urbanizing areas, less sari-sari stores will survive in cities.
Different stores for different folks
Convenience stores are on the rise but supermarkets are not far behind. Neither will we see the immediate demise of warehouse, specialty, and sari-sari stores. Different grocery store formats serve different needs, specific locations, and particular income brackets.
Supermarkets continue to be the most popular choice for urban and suburban households with $10.21 billion in retail value sales. Shoppers enjoy its wide selection, low mark-up, reliable fresh food, comfortable air-conditioning, clean aisles, good service, and proximity to their homes. Households often shop at the grocery store nearest them whoever the retailer is.
Supermarkets cater to the upper and middle income brackets as they usually work in the cities and can afford to live in the area. They are usually located within malls which Filipinos frequent for family outings, dining, and recreation. They have expanded their services to include banking, wire transfers, package delivery, mobile reloading, bill payment, pharmacy, and food take out.
As traffic congestion increases and parking space decreases, more shoppers do not want to drive far for food and household items. That's why many neighborhood supermarkets are sprouting faster than supermarkets alongside residential developments.
In fact, grocery retail leaders have more neighborhood outlets than supermarkets. Lead retailer SM has 152 Save More neighborhood stores but only 44 SM Supermarkets. Second is Pure Gold Jr. with 100 neighborhood stores but only 29 Puregold Extra supermarkets. The opposite is true for No.2 retailer Robinsons with 123 supermarkets but only 17 Easymarts, plus 17 Shopwise Express neighborhood stores by Rustan's.
Even within the supermarket segment, there is the upscale Rustan's chains that has been bought by Robinsons. But the Rustan's grocery business has been suffering over a billion losses since 2012, at the same time that convenience and neighborhood stores have been growing. This can be an indication of the rising lower income bracket which is projected to grow to 70% of the population by 2021.
One shopper opined that Rustan's supermarkets do not reflect the esteemed Rustan's Department quality of service and that its fresh meat and vegetables are disappointing or stale. Another reason could be that high-income brackets, who have more disposable income, often eat out. They could also be buying in bulk from warehouses instead of supermarkets.
As a high-end brand, Rustan's is reputed to be pricey. But shoppers do not want to pay more for the same kind of grocery items that they can buy for less from other retailers. To attract high-end shoppers, premium brands often offer one-of-a-kind products like artisanal food, unique imported goods, or organic and healthy alternatives. This gives shoppers of all incomes a reason to come into a more expensive store.
Meanwhile, warehouses draw both ends of the income brackets. A membership fee cancels out low earners and cash-strapped buyers. But businesses and big families with big salaries come here to save in bulk. Many sari-sari store owners buy here to resell to their own small communities. Likewise, small business owners stock up on supplies. This is also popular for holidays, parties, and big gatherings.
Warehouses necessitate a vehicle, which only select shoppers own. They are preferable to a wet or outdoor market for its air-conditioning, cleanliness, low prices, and reliable fresh food. Warehouses have become a giant one-stop shop for its wide range of consumer products which can include clothes, furniture, appliances, and electronics.
Still the biggest revenue earner, sari-sari stores cater to the growing 70% of the population that is low income. They will not disappear as long as there are rural areas or small pockets of neighborhoods that do not have access to supermarkets or wet markets. These stores posted almost 60% of total food retail in the country, which reflects the still untapped potential for grocery retail.
Food items, like soda, can be sold in small plastic bags, which allow a cash-strapped shopper to buy an item without paying full price for the whole thing. This is great for daily wage earners who can afford to buy only as the need arises.
"Their dominance in rural areas is due to geographical convenience, intimate customer service and payment flexibility that allows short-term credit to regular neighborhood patrons." (USDA)
Sari-sari sellers have a long-standing relationship with the local community and are attuned to their customers' needs that they develop many loyal customers or mga suki. The same is true for wet market sellers who will sell you their freshest items so you will trust her and keep coming back.
Wet markets are traditionally found in every municipality throughout the country and still serve majority of the country's towns and provinces. They sell grains, fruits, vegetables, seafood, meat, and poultry with some plastic wares and household tools.
Like warehouses, wet markets are suppliers for restaurants, hotels, businesses, and those in food service. Shoppers willing to endure discomforts like lack of parking, heat, and grime can find the lowest prices here. But food safety concerns can turn off many shoppers who have the option of a nearby grocery store or farther warehouse. Distance is also a deterrent to middle income shoppers since urban wet markets are located far from commercial areas.
Specialty retailers are a niche market. They can range from the basic, like pandesal, or the specialized like franchise bakeries, drinks like tea and coffee, artisanal food, and imported deli. Depending on the goods, specialty retailers cater to specific tastes who are usually wealthier patrons. Supermarkets cannot compete with the higher quality of these products because they are geared for the discriminating buyer.
But for most Filipinos, buying bread or pandesal is a daily habit, apart from their weekly grocery shopping. Most urban and rural households regularly buy from a bakery near their homes. It may be a good idea to have a pandesal store beside a convenience store to attract the dawn shopper who can also pop into the C-store to eat and shop.
Convenience stores answer a market need for midnight to dawn consumers. Still in its infancy, it likely has the highest expansion rate because it only needs a small space and low inventory.
7-Eleven apparently understands the exciting potential of convenience stores. It plans to expand into smaller towns across the nation, so it is now the fastest growing PH retailer.
Alfamart is also building stores in emerging markets throughout Southeast Asia, even though it already owns 13,477 outlets in Indonesia. Buoyed by the segment's growth rate, it plans to open 150 more PH outlets.
On the other hand, Puregold sold all of its stake in 33 Lawson convenience stores. Lawson is popular in Japan and offers Japanese snacks, pastries, and takeout food like sushi and rice bowls. However, this format may have been poorly adapted to the Filipino palate as not everyone likes Japanese food.
Time vs money
Priority changes as income increases. The more you earn, the less time you have. Time becomes money. The high earner cannot afford to waste time.
But even if a consumer has the time and money, he might not have the willingness to endure traffic and crowds. That's the lure of neighborhood grocers and convenience stores. You don't have to drive far, and you quickly get what you need.
As lives get busier, the grocery market reveals a trend toward efficiency. Most grocery retailers have been quick to adapt to consumers' demands. When shoppers wanted to bank and pay their bills when they bought their groceries, supermarkets offered this service. When more workers wanted quick hot meals near their offices, convenience stores offered them. When BPO workers needed a place to eat in before dawn, C-stores opened with dining cafés.
Burgeoning urban centers without adequate mass transit or parking lots make a car trip to the market a big hassle. So each grocery trip has to be worth it, with as much chores included in one trip, if possible. Quick travel time is also essential when buying fresh food that needs refrigeration. That's why many households buy their groceries at the store nearest their house, regardless of the price or retailer.
If grocery retailers can centralize their offerings in one accessible store to save the consumer time, money, and effort, consumers will go to their store. Supermarkets and convenience stores might not be the cheapest option, but urban shoppers will sacrifice a little savings in money for the savings in time.
Ivy is a lawyer who studied in Ateneo and Wharton.