"Work hard, be humble, patient, persevering, and always stick to your core values and principles."

By Amb. Carlos Chan
Chairman, Liwayway Group
(Acceptance speech during the MAP Management Man of the Year 2021 awarding ceremony and annual MAP general membership meeting for 2021, Nov 22, 2021 via VIRNEW)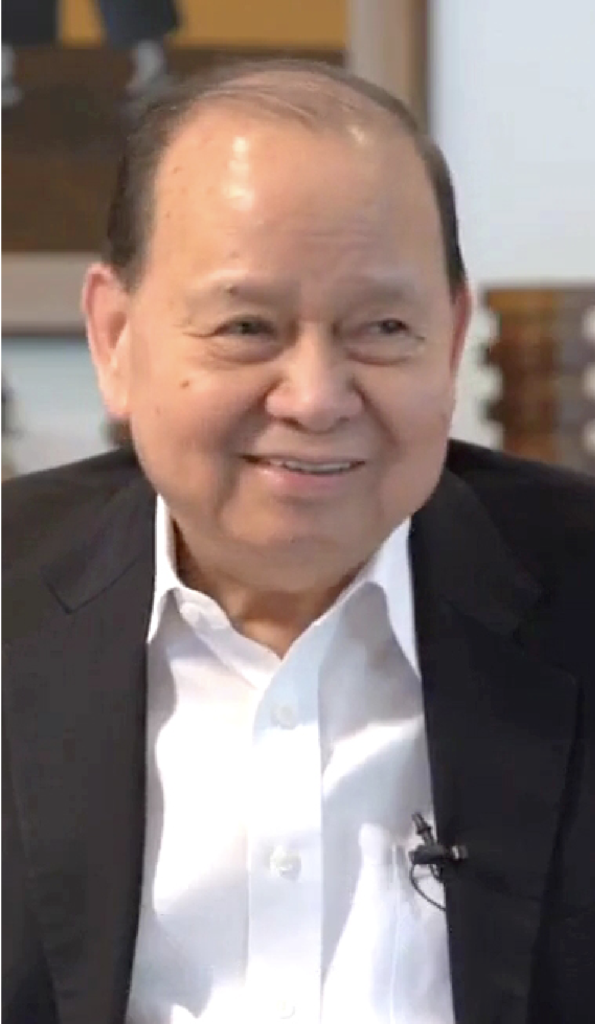 Distinguished Board of Governors of the Management Association of the Philippines,
The Board of Judges,
Friends and colleagues in MAP,
Ladies and gentlemen,
A pleasant good afternoon to all of you.
The Management Association of the Philippines is widely known in the business community as a promoter of management excellence not just within one's company but also for the benefit of the community and the country.
To be given an award such as this is truly an honor because our work is recognized to have excelled in doing our share in nation-building.
MAP President, Mr. Gigi Montinola, MAP Judging Committee Chairman Mr. Ed Chua, MAP Search Committee chairman Atty Francis Lim and to all of you, thank you very much for this recognition.
I am extremely honored. But this is an award shared by our stockholders, management team, our employees and most of all, our customers who believe in us and our products.
This is truly a most pleasant and positive development amid a difficult and challenging time in our world and in our country today, experienced by our fellow Filipinos and all of us gathered here today.
Indeed, the challenge of the COVID-19 pandemic has not been easy but, as MAP's theme for 2021, "The Great Reset: Leading for the Common Good," states, we persevere and we keep on moving forward not just for our businesses but for ourselves, our families and most of all, for our country.
Liwayway Marketing is no stranger to difficult times.
Looking back, it started shortly after World War II when the country was rebuilding from the ruins.
Liwayway started as a small family business selling ground coffee and gawgaw or laundry starch used for stiffening clothes by my father Chan Lib, a native of Fujian province who moved to the Philippines in 1914.
My father bought laundry starch in bulk from an importer and repacked them into smaller packages, and ventured into reselling these products into public markets stamped with the label "Liwayway Gawgaw" a Tagalog word for dawn.
The business flourished and was incorporated as Liwayway Marketing Corporation in 1966.
The company soon ventured into the distribution of candies. It was managed by my younger brother Manuel after the other siblings left the family enterprise to put up their own businesses. One of them is Ben Chan, who founded Bench, a popular Philippine clothing brand.
In 1974, Liwayway Marketing bought a Japanese processing machine and began making prawn crackers and flakes which we marketed under the "Oishi" brand, the Japanese word for "tasty or delicious."
Liwayway's first factory was initially leased in Bulacan but eventually transferred to a new site in Imus, Cavite for bigger space and capacity.
It was in Cavite where new flavors were introduced and OISHI became one of the country's well-known snack food brands.
However, the extremely volatile political situation in the '80s made it difficult for our company to grow. This only happened during the '90s during the administration of former President Fidel Ramos.
After hearing from friends about economic liberalization in China, I went there to check the prospects for business. I took advantage of the economic reforms implemented in China under the leadership of Deng Xiao Ping and I entered into cooperative joint ventures with two state-owned companies that allowed me to lease their warehouses.
It was a big risk to enter a foreign market at that time.
We encountered numerous challenges in penetrating the Chinese market but continuous hard work paid – off.
OISHI soon became well-known and was named "Shanghai famous brand" in 1996.
After being recognized and declared a "China famous brand" in 2001, I thought of expanding the business to other key cities like Harbin, Kunming, Suzhou, Jiujang and Tianjin all in a span of five years.
I went simultaneously to Vietnam and Myanmar and later into Asia's emerging markets like Indonesia, Thailand, Cambodia.
Liwayway also tried to explore other uncharted territories outside Asia as it built its manufacturing plant in Johannesburg, South Africa in 2015. We were the First Filipino company to invest in this region.
Without losing focus in the Philippine market, we also built satellite production facilities in Cagayan de Oro in Mindanao, Cebu, and Iloilo City in the Visayas, and Tarlac province to serve the Central and Northern Luzon region.
Our sales in Mindanao grew more when we put up our plant in Cagayan de Oro. This means you are developing an advantage when you put up more distribution points in various regions.
Our continued efforts to improve our products with aggressive marketing made OISHI a popular snack food able to compete with the best in international markets.
It gave Liwayway pride to bring Filipino products to grocery shelves in different parts of the world.
J.CO Donuts franchise
In recent years, I also helped in bringing the J.CO Donuts franchise to Manila, a family-run business that now has over 50 branches in the country.
The strong work ethic, dedication, and support of everyone have given success to all our endeavors throughout the years.
With great pride, I must share this award, honor, and success with my beloved wife Priscilla, who is my inspiration and strength. She stood by me during the most challenging times of our business. More importantly, she holds the strings of the purse, which without doubt is crucial in the success of a business.
I also owe it to my children who unselfishly support and give their best talents and efforts, for the company to grow, prosper, and compete in the global market.
Children to grow the business
My children, Carlson, Archie, Rinby, Larry, Oszen, and Sheraleen are living proof that the third generation can very well continue and grow a family business started by the first and second generations.
My wife and children are my priceless treasures, and I thank God for blessing me with a wonderful family.
Businessmen usually start small although they can always dream big.
As they say, no dream is considered big, but no dreamer is too small either. You must work hard, be humble, patient, persevering, and always stick with your core values and principles.
We now face difficult times because of the pandemic. But I know that Liwayway Marketing will survive because of the perseverance and strength of heart of everyone in the corporation. We will remain steadfast in our commitment to achieving our goals toward the progress of both the company and our country.
Let this award serve as an inspiration to everyone in the company and to every Filipino to dream and move to greater heights. This award is not an end but our guiding force to pursue more.
Thank you very much and more power to MAP.