By Antonio S. Lopez
By this time, inflation is Public Enemy No. 1 of the Filipino.
Inflation is the rate of increase in prices. Prices of nearly all consumer goods and services have risen. The rate of increase of those prices has been steep. The result of the steep rise is an inflation rate of 6.1% in June. For the six-month period January to June 2022, the average inflation has been 4.4%. (See page 10)
The 6.1% June inflation is 38.6% higher the average inflation for the first six months of 2022. The 6.1% is 56.4% higher than the 3.9% inflation in the whole of 2021.
The 6.1% is 1.5 times higher than the 2.4% annual inflation rate in 2020 and the pre-pandemic 2.4% inflation of 2019. In 2016 when Rodrigo Duterte took over, the inflation rate for the year was only 1.3%. So today's 6.1% inflation is 4.7 times the 2016 inflation.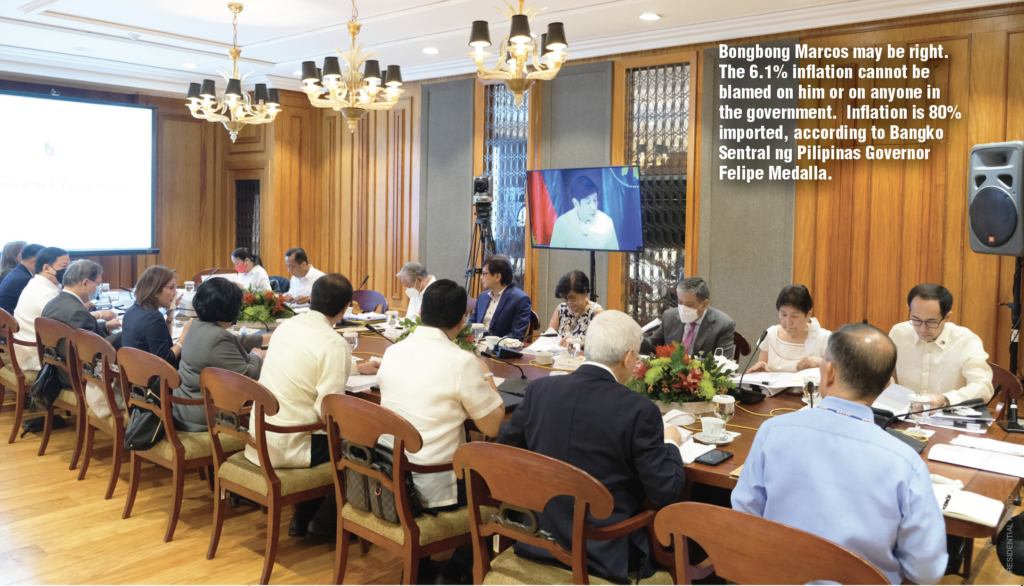 Why inflation is Public Enemy No. 1
Why is inflation a public enemy?
Firstly, inflation, like corruption, steals your money, without you being able to do anything about it.  If you could buy 100 pieces of cookies last year with your P100, you will now can buy only 94 pieces, six pieces less, with 6.1% inflation.  Six pieces—those were stolen from you.
Of course, you can say corruption steals much more, much, much more from you. Many years ago, a University of the Philippines study found that up to 40% of the government budget is stolen. Meaning, if the annual budget were P5.3 trillion, P2.12 trillion is routinely stolen.
Corruption eats 40% of budget
With corruption at 40% of the budget and inflation hurting 6.1% of your budget, you can say corruption steals exceedingly many times more –6.6 times.
This makes inflation a much easier problem to solve or cope with.
So far, at the level of the executive, President Ferdinand "Bongbong" Marcos is in denial. He finds the 6.1% "quote" on inflation quite high.
Bongbong Marcos may be right.  The 6.1% inflation cannot be blamed on him or on anyone in the government.  Inflation is 80% imported, according to Bangko Sentral ng Pilipinas Governor Felipe Medalla.
Medalla, a noted economist, implies that were not for the rise in prices of imported goods, our inflation could have been just 1.22%.  That of course, is hard to believe.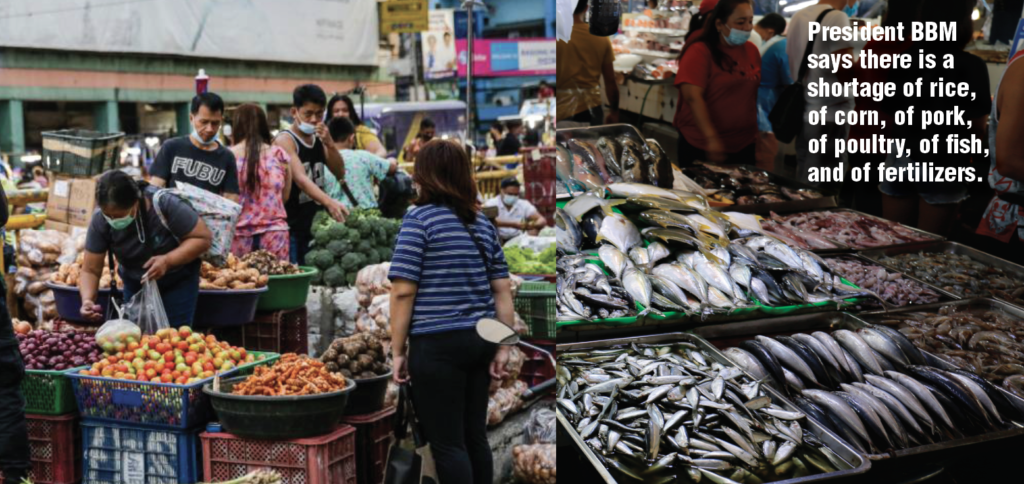 PH does not produce anything much
The Philippines does not really produce anything much of significance in sufficient quantity. President BBM says there is a shortage of rice, of corn, of pork, of poultry, of fish, and of fertilizers. The shortages could last for as long as three years.
"There isn't much we can do with the rising prices," Trade and Industry Secretary Fred Pascual told the Management Association of the Philippines. He was asked about the rising prices of energy—one of the two main reason, the four-year record high inflation of 6.1%.
The Philippines does not produce oil. And oil has doubled in prices in just one year. And of course, the country does not produce enough food. The shortage of good is about 25% of demand.
Worldwide, there are suddenly shortages in supply of food and energy. (See pages 16 to 18). Nearly every major producer of commodities—rice, wheat, maize, sugar, vegetable oil, pasta—has banned exports of these items.
Two things in surplus in PH
There are only two things the Philippines is not short of—humans and the saliva of our politicians and bureaucrats.
We have 111 million Filipinos. Of those, 12 million are deployed abroad. They earn $32 billion a year or P1.79 trillion at the current rate of P56 to one dollar. The P1.79 trillion is 33.7% of the national budget of P5.3 trillion. So more than P33 of every P100 being spent by the government comes from the sweat, blood, and suffering of 12 million Filipino expats.
For a fuller explanation of what is inflation and the harm it does, see pages 14 and 15.
Inflation in other countries
If inflation is mismanaged or allowed to gallop for extended periods, it could lead to unrest and regime changes. Of the 44 rich countries, 37 have seen their inflation rate double in a year. US inflation has hit 9%, the highest in 40 years.
In the first quarter this year, the average inflation in the 37 countries was at least double the inflation in the first quarter of 2020.  In 16 of those 37, their inflation this year was four times the level of two years prior.
Among the countries studied, Turkey had by far the highest inflation rate in the first quarter of 2022: an eye-opening 54.8%. Turkey has experienced high inflation for years, but it shot up in late 2021.
In 1933, Hitler took over as the leader because of Germany's hyper inflation.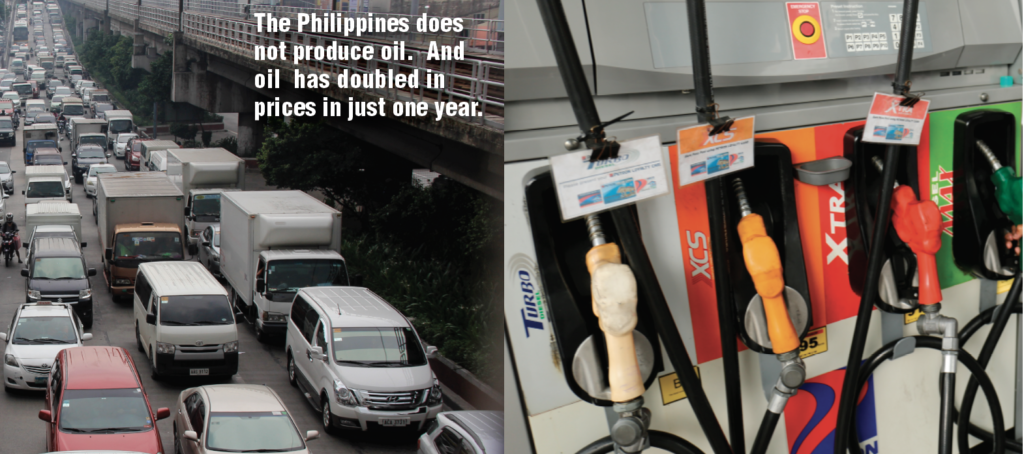 We all know what Hitler did to the world.
"Financial distress, and inflation have the power to change the course of history," says Palki Sharma in her show Gravitas.
"Inflation is often called the mother of political change," she said in a recent show episode inflation.
Inflation brought down Jimmy Carter. Joseph Biden has become the most unpopular sitting US president, largely because of inflation. "His chances are inflation may seal the mid-term election," says Palki.
Says Palki:
"Currently, global inflation is over 7%, and food prices have gone up at least 7%. About 50 countries go to the polls this year and the next. These includes Brazil, Israel, Pakistan, Bangladesh, and Turkey if prices continue to rise, these leaders may find themselves out of office because rising prices can topple governments.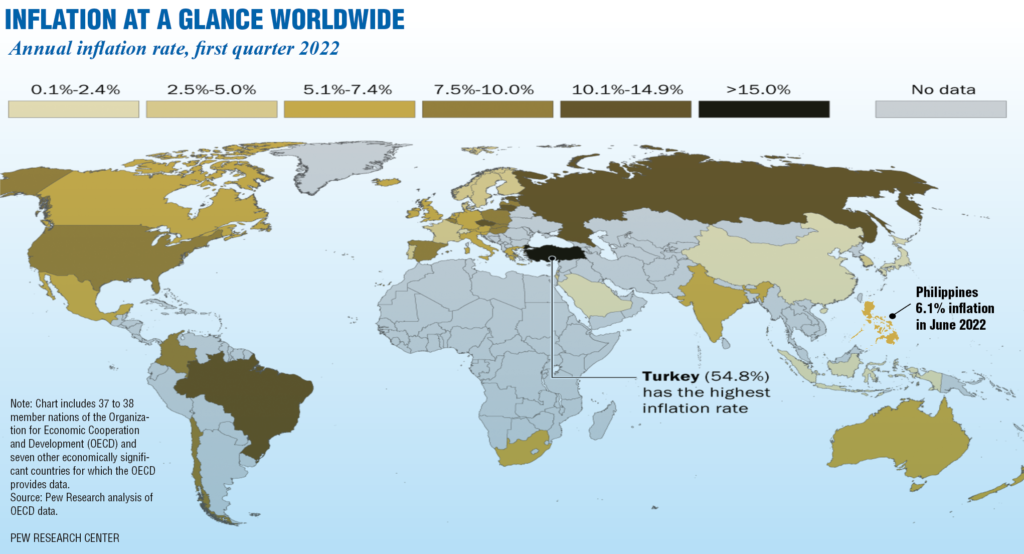 "They can also change the fate of a country, look at Venezuela it has the largest oil reserves in the world but where is it on the global map? It's in the throes of a political crisis and inflation.
"In fact, hyperinflation between 1973 and 2022 prices in Venezuela have gone up 3,729%, let that sink in. And now allow me to also tell you this that this is not the worst number, in February 2019 inflation in Venezuela had reached wait for it—344,509% by then the Venezuelan currency was junk.
"They said using cash as toilet paper was more prudent than buying a roll. What happened then? More than six million Venezuelans have left home, that's nearly 20% of the country's population. And what was once the richest country in Latin America is now struggling to stay relevant. 
.
"No country wants to meet that fate. No country wants to be wiped out by inflation."