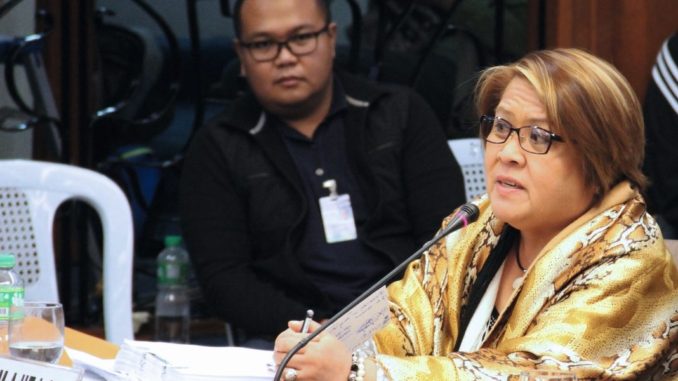 At 3 p.m. Friday, Feb. 24, Leila de Lima, 57, married but separated, was ushered into her detention cell at the northern suburban Quezon City Camp Crame national headquarters of the Philippine National Police. By the standards of her rarified stature as an incumbent senator of barely one year and a former secretary of justice for six years, the 100-square meter room is Spartan. There is a bathroom with a toilet but no shower.
If she has any complaint about her meager cell, De Lima did not make it apparent the morning after. "I prepared myself for this psychologically," she told visitors Saturday morning, gingerly ambling about on a concrete yard outside her cell, in bright yellow T-shirt, denim jeans and sandals, putting on a brave, stoic face.
In a touch of irony, De Lima now shares what is euphemistically  called the PNP Custodial Center with 25 others, including two former senators whom as the justice secretary of President Benigno Simeon Cojuangco Aquino III, she maneuvered to be arrested and jailed on charges of plunder, a non-bailable offense.   Visitors to the facility say there is enough "wall" between De Lima's cell and those of the two senators to rule out a chance encounter.
Sharing a prison with jailed senators
Ramon "Bong" Revilla Jr. and Jose "Jinggoy" Estrada were among the most popular senators of the land when arrested in mid-2014 and would have contested the presidential elections of May 2016.   Both actors, their powerful combination, for president and vice president, would have served as a counterforce to the rising popularity of long-time Davao City Mayor Rodrigo Roa Duterte.  Who knows had not De Lima sent Bong Revilla to jail, he would have been elected president. Would De Lima be in jail today?
As Justice secretary, De Lima also defied a Supreme Court order in November 2011 to allow  former President Gloria Macapagal Arroyo to board a plane to seek medical help abroad following a botched neck surgery.  De Lima jailed Arroyo on a flimsy charge of electoral sabotage and when the former president was about to be freed of the charge, she was quickly slapped with  a case  of alleged plunder for P366 million of sweepstakes money she never touched.  When Duterte became president, Arroyo was released from detention after nearly five years in a military hospital jail.  Now a congressman, Arroyo has become a close adviser of President Duterte.
No match with cells of drug lords
Another irony with De Lima custodial cell is that it pales in comparison with the detention rooms of maximum security prisoners at the National Penitentiary (or Bilibid) at Muntinlupa City, some 25 kms to the south of the national capital.
During De Lima's stint as secretary of Justice (July 2010-October 2015), alleged drug lords at Bilibid, 19 of them, were allowed rooms or kubols that put to shame the suites of snooty Shangri-la Hotel, courtesy of De Lima.
In 2014, "the kubols of the 19 high-profile inmates were found with sauna, jacuzzi, expensive watches, music studio, wide screen TV sets, split type air conditioning units, cash totaling P5,139,545, $2,601, and ¥100, various caliber of firearms, cellphones, bags of shabu and other items."
No amenities
Though now a high-profile prisoner, at her Camp Crame cell, De Lima  is denied amenities denied other prisoners of lesser caliber – a television set, a laptop, a cellphone, as well as the usual coterie of subalterns at her beck and call.  She wanted to continue her work as a senator, she claimed.  Only her lawyers, relatives, Senate colleagues and those pre-screened and qualified by the PNP top brass can visit her.
Three counts
Leila de Lima is accused of three counts of illegal drug trading farmed out to three different Regional Trial Court (RTC) salas and three different judges of Muntinlupa City at the southern tip of the national capital region, 25 kms away from PNP.
De Lima is now in jail by virtue of the arrest warrant and order of arrest issued by the judge in the first case, Juanita Guerrero of RTC Branch 204 who handles Criminal Case No. 17-165. De Lima's co-accused in Case 17-165 include her former driver and boyfriend, Ronnie Palisoc Dayan, and former Bureau of Corrections (BuCor) officer in charge and National Bureau of Investigation Deputy Director Rafael Z. Ragos.
Other co-accused are: Francisco F. Baraan III, a former Justice undersecretary; Franklin Jesus B,. Bucayu, a former head of Bilibid or National Penitentiary; Senior Supt. Wilfredo Ely, Joenel Sanchez, and Jose Adrian Dera, aka Jad de Vera, and high-profile maximum security inmate Jaybee Sebastian.
Dayan was alleged as her bagman while Ragos confessed to delivering up to P5 million of alleged drug money to De Lima's bayside house in Parañaque City, west of Metro Manila in late November 2012 when De Lima was still secretary of justice and had overall supervision over both the National Bureau of Investigation and the Bureau of Corrections (BuCor or Bilibid).  Ragos was a director III of the NBI and for a time headed BuCor.
For the two other cases, Judge Amelia Fabros-Corpuz of Muntinlupa RTC Branch 205 handles Criminal Case No. 17-166 while Branch 206 Judge Patria Manalastas de Leon has CC 17-167.  Ordinarily, the three cases should be consolidated.  That the Department of Justice prosecution did not do so indicates two things – one, De Lima's criminal misdeeds are too many to condensed in a single case, and two, the DOJ wants her to go to the tedious minutiae of three cases simultaneously being heard by three judges in three different salas, a rather unique application of due process, ala telenovela.
In Case 17-166, De Lima's co-accused is Jose Adrian "Jad" Dera, who is said to be her nephew.
In Case 17-167. De Lima's co-accused include former BuCor chief Franklin Jesus Bucayu, her alleged bagman Wilfredo Ely, De Lima's former aide Joenel Sanchez, convicted felony Jaybee Sebastian and Jad Dera.
The cases
The three illegal drug trading cases are based on the complaints filed before the Department of Justice in October 2016 by three groups.
In criminal prosecutions, the DOJ usually is the first level of cases.  A DOJ prosecutor tries to find a probable cause before filing the case in a competent court, in De Lima's cases, the Regional Trial Courts of suburban Muntinlupa City.  In high profile cases, no less than the Justice secretary supervises the finding of probable cause during a preliminary investigation (PI) and the filing of cases before the lower courts.
The first case, now designated by RTC Branch 204 as Criminal Complaint 17-165, was filed Oct. 10, 2016 with the DOJ, by the Volunteers Against Crime and Corruption (VACC) headed by Dante Jimenez.
The other two cases were filed at the DOJ on Oct. 11, 2016, a Tuesday, and Oct. 12, 2016, a Wednesday.
In the two other cases, De Lima is accused of receiving P8 million in payoffs from a drug syndicate in the Visayas. She is described as "the mother of all drug lords".
In the criminal complaint they filed Oct. 10 at the DOJ, former National Bureau of Investigation deputy directors Ruel Lasala and Reynaldo Esmeralda charged De Lima and former NBI officer in charge Rafael Ragos with drug trafficking inside the New Bilibid Prison (NBP) itself.
"De Lima, acting as the mother of all drug lords and through the use of her authority, was able to appoint and designate men inside the NBP in order to ensure the perpetuation of illegal drug trade," the former NBI officials said in their 20-page complaint-affidavit.
The third complaint, filed on Oct. 11, 2016, at the DOJ, by the police chief of Albuera, Leyte province, accuses De Lima of receiving at least P8 million in payoffs before the May elections from the biggest drug syndicate in Eastern Visayas.
She ignored preliminary investigation
In all three cases, Senator de Lima ignored the DOJ's preliminary investigation (PI) and refused to file counter-affidavits. She questioned the jurisdiction of the DOJ since she being a public official, she said, the right venue for the complaint should be the Ombudsman, the anti-graft prosecutor.   She petitioned the Court of Appeals to stop the DOJ from conducting the PI and the filing the criminal cases before the RTCs.    The CA refused to issue the stop order.
VACC lawyer Ferdinand Topacio has maintained that the Dangerous Drugs Act specifically designates regional trial courts as venue for illegal drugs cases.
On Friday, Feb. 17, 2017, the DOJ indicted de Lima in all the three complaints filed October 2016, before the Regional Trial Courts of Muntinlupa.
The New York-based Human Rights Watch (HRW) tried to intervene against De Lima's indictment and urged foreign governments to assail the Duterte administration over the indictments.  On Feb. 19, 2017, a Sunday, Phelim Kine, HRW deputy Asia director, assailed the filing of cases against De Lima, saying it was "an act of political vindictiveness that debases" the Philippines' rule of law.
But the presidential palace insisted on Feb. 20, 2017. that the drug-related cases against the senator were "criminal in nature."
"[HRW] banally disregards the right of a nation to protect its citizens against the menace of a global drug industry and terrorist-connected drug trade, and that it has done so with assumption of regularity," Ernesto Abella said in a statement.
"De Lima's case is not politically motivated. It is, simply put, 'criminal in nature.' The human rights organization might bear that in mind before it attempts to obligate the Duterte administration," the president's spokesman added.
LP reaction
For their part, on Feb. 18, 2017, Liberal Party Senators Paulo Benigno "Bam" Aquino, Franklin Drilon and Francis Pangilinan slammed the filing of three illegal drugs cases against De Lima.  They insisted that it is the Sandiganbayan and not the Regional Trial Court that has jurisdiction over the case.
"This filing before the RTC is clearly an attempt to undermine our court processes. It is an underhanded maneuver meant to go after critics, regardless of legal bases or processes. This purely political vendetta has no place in a justice system that upholds the rule of law. This is condemnable," said the three ranking LP senators in a statement.
"The Sandiganbayan, not the RTC, has jurisdiction over the case as the alleged wrongdoings were supposedly committed when she was Justice Secretary. We reiterate that an arrest based on trumped-up charges is illegal," the senators pointed out.
Prejudged
"Senator De Lima has been pre-judged before any of the charges were filed as no less than the President vowed to destroy her in public and was sure De Lima would land in jail before any case was filed," Drilon, Pangilinan and Aquino noted.
"We maintain that if this warrant of arrest is served, it would be a clear violation of legal proceedings and is therefore a violation of her Constitutional right to due process," the three opposition senators said.
Arrest order on Feb. 23
In the afternoon of Feb. 23, 2017, six days after the DOJ filed its cases, Judge Guerrero issued an arrest warrant and an order to arrest against De Lima.  The senator pleaded with the police not to arrest her Thursday night because she wanted to be with her family.  Still, the police went to her Parañaque house late that evening only to find out that she had gone back or been hiding in the Senate.
Before 9 am Friday, Feb. 24, the police finally collared their quarry at the Senate parking lot.  De Lima was shuttled to the national police headquarters in Quezon City where she was "booked" – read the charges against her, fingerprinted and photographed front view, right side view and left side view, her case number and the title of the criminal complaint printed on a board which was slapped against her chest.
On Monday, Feb. 27, four LP senators in the 24-member Senate were stripped of their leadership positions and lucrative committee chairmanships.
Drilon, himself a lawyer, was ousted as Senate President Protempore and demoted to being the Senate minority leader.
Francis Pangilinan, the LP president, was removed as chairman of the agriculture committee and replaced by Sen. Cynthia Villar, whose Nacionalista Party, is allied with President Duterte.
"Bam" Aquino was replaced as education committee chairman by Sen. Francis Escudero, who was a common candidate of the LP and PDP-Laban coalition that carried Duterte's presidential campaign.
"This is really a political move – a partisan move. We were punished for speaking out against certain policies like the death penalty," complained Aquino.
Another LP senator, Risa Hontiveros, was replaced by Senator Joseph Victor Ejercito, a Duterte ally, as health committee chairman.
De Lima denies drugs links
De Lima has denied any links to the drug trade, claiming she was being pilloried by President Rodrigo Duterte for campaigning against his illegal drugs war that has resulted in extrajudicial killings.  Some 7,000 were killed during the first seven months of the President's illegal drugs war.
The police admit to killing only one-third of the victims, with the rest (two-thirds) blamed on self-proclaimed vigilantes and also probably, the result of internecine war among the drug syndicates themselves.
Four million drug addicts
Duterte has repeatedly claimed the Philippines has more than four million drug addicts.  Of the four million, the government reports more than one million voluntarily surrendered for fear of being charged or being killed as criminal suspects.
In August 2016, President Duterte vowed to destroy De Lima who, as the chair of the Commission on Human Rights, investigated alleged extra-judicial killings in Davao City where Duterte was mayor for 23 years.
In the second case, De Lima, then justice secretary, dismissed Lasala and Esmeralda in March 2014 for their supposed ties with alleged P10-billion pork barrel scam mastermind Janet Lim Napoles.
In CC 165, De Lima et al are alleged to have violated two provisions, Section 5 and Section 26,  of the Dangerous Drugs Act of 2002 – trading of illegal drugs and conspiracy to trade illegal drugs.
Section 5 reads:
"Sale, Trading, Administration, Dispensation, Delivery, Distribution and Transportation of Dangerous Drugs and/or Controlled Precursors and Essential Chemicals. The penalty of life imprisonment to death and a fine ranging from Five hundred thousand pesos (P500,000.00) to Ten million pesos (P10,000,000.00) shall be imposed upon any person, who, unless authorized by law, shall sell, trade, administer, dispense, deliver, give away to another, distribute dispatch in transit or transport any dangerous drug, including any and all species of opium poppy regardless of the quantity and purity involved, or shall act as a broker in any of such transactions.
xxx   xxx   xxx
Section 26 is "Attempt or Conspiracy – Any attempt or conspiracy to commit the following unlawful acts shall be penalized by the same penalty prescribed for the commission of the same as provided under this Act:
Section 26 B refers to the  "Sale, trading, administration, dispensation, delivery, distribution and transportation of any dangerous drug and/or controlled precursor and essential chemical."
Life for illegal drugs trading
Illegal drug trading and conspiracy carry a penalty of life imprisonment and a fine of P500,000 to P10 million.  They are usually non-bailable offenses.
The complaints stemmed from testimonies during public hearings of the House of Representatives Committee on Justice September last year into alleged drug proliferation in National Bilibid Prison (NBP or Bilibid, for short).
"The massive drug trade inside the Bilibid was borne out of a malevolent idea that with vast power, respondents could control the syndicates operating inside the NBP without any competition or opposition; [b]etween 2012 and 2016, respondents, conspiring and confederating with one another, engaged in the sale and trade of illegal drugs inside and outside the Bilibid," the complaint read.
Citing the sworn statements and testimonies of several witnesses in a congressional probe into the NBP drug trade, the VACC complaint alleged that De Lima, "with the mutual aid of Bucayu, Baraan, Sanchez, Dayan, and Jaybee were able to execute a plan to ensure the proliferation and concentration of drug trade inside the NBP is placed under their control."
According to the VACC, "Senator De Lima, utilized her power and authority as then Secretary of Justice (SOJ), to abet and even promote the proliferation of massive drug trade inside the Bilibid. This could not have been made possible without the support of other corrupt public officials of the DOJ, Baraan III, Bucayu and Col. Ely, her driver bodyguards Dayan, another security personnel Sanchez, Sec. de Lima's nephew Jad, and well-known drug lord Jaybee Sebastian.
VACC claims that "Between 2012 and 2016, respondents, conspiring and confederating with one another, engaged in the sale and trade of illegal drugs inside and outside the Bilibid."
De Lima would have successfully rebranded herself as a human rights crusader had it not been for one issue – immorality.  She has been accused of having extra-marital affairs, notably with her former driver and bagman, Ronnie Dayan, and with her security escort.
Madam scandal
In his column in The Manila Times Feb. 22, 2017, pundit and former Marcos presidential speechwriter Yen Makabenta described De Lima  as "a scandal who makes Filipinos squirm".  He wrote:
No matter how many adjectives she loads on her Duterte brief ("sociopath serial killer," "mentally unfit," etc.) and her credentials ("she is not alone"), the projects will flounder from the sheer weight of her orotund and shaky reputation.
De Lima is an unusual politician who makes Filipinos squirm, because of the way she has packed into her career scandal, controversy, corruption, and abuse of power.
People remember her for a litany of headline-grabbing transgressions:
1) Her adulterous affairs with subordinates and aides while serving as justice secretary, which were exposed in a congressional inquiry;
2) Her alleged coddling of the illegal drug trade inside the national penitentiary and her alleged acceptance of bribes from drug lords, in order to finance her Senate campaign;
3) Her implementation of a policy of selective justice against political opponents of former President Benigno Aquino III; and
4) Her abuse of the powers of the justice secretary to enforce the detention of former President Gloria Macapagal-Arroyo on the bidding of Aquino.
Few people in public office have attracted scandal so relentlessly as De Lima has. It is as if her brand is scandal. not public service.