Sources said UB did not offer the highest price for the Citi business. But Citi considered the welfare of its customers and its people and went for UB. UB's digital transformation has been a game-changing and compelling story, one reason why UB will take care of the business Citi had lovingly built in 119 years.

The deal will push UB's return on equity to over 15% within three years, higher than the industry average ROE and those of most banks.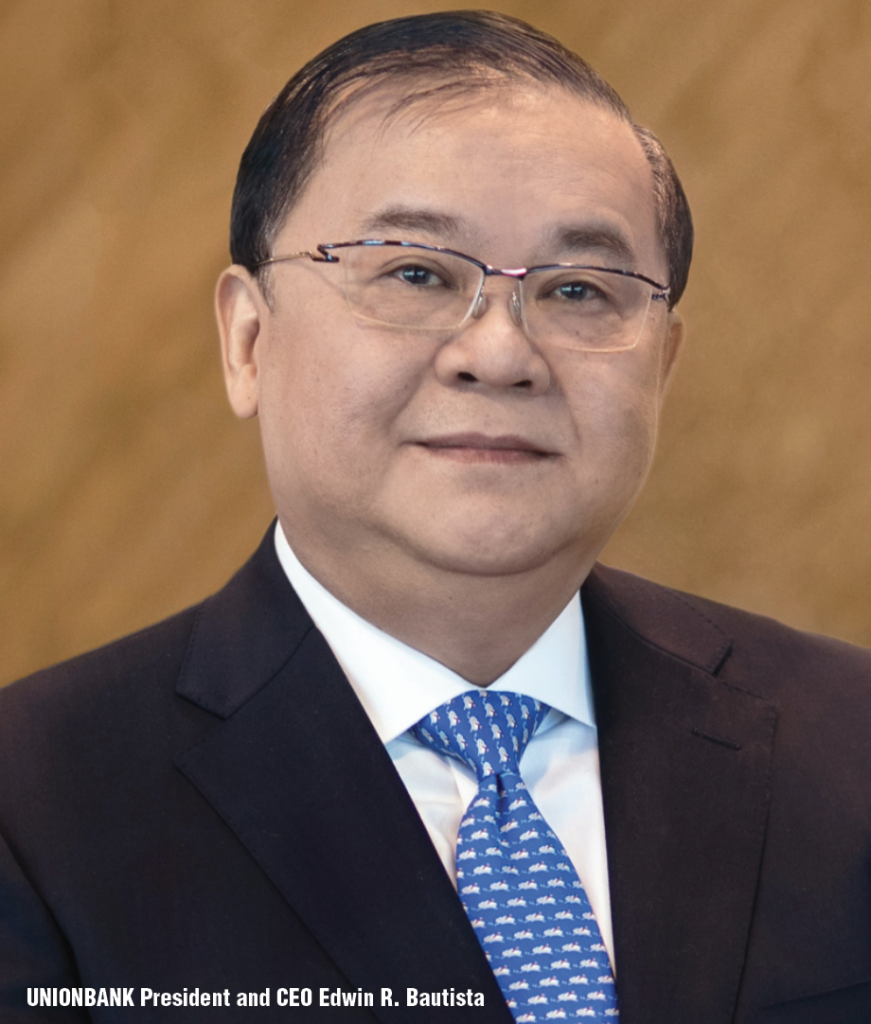 Make way for UnionBank of the Philippines. With Edwin Bautista, 60 as president and CEO, UB is the hottest bank. It has made the strategic game-changing moves that will be make the bank of the Aboitiz family (49.27%), Insular Life (16.20%), and the Social Security System (15.29%) the financial behemoth to reckon with for many years to come.
With 25% stock dividend, UB shares have risen from a low of P67.20 on March 18, 2021, to a high of P118 on Dec. 22, 2021, an appreciation of 76%. Plus the 25% stock dividend last month, the rise is effectively 101%. UB is the only listed bank to double in share price. Other banks managed a 16% gain, at best during 2021.
UB is the only private commercial bank to be awarded a Digital Bank license. The central bank has stopped issuing more digital banking licenses.
On Dec. 23, 2021, UnionBank announced it would acquire Citigroup, Inc. or Citi's banking business and subsidiaries in the Philippines. This is not an ordinary acquisition. UB beat six to 12 other buyers.
P55-billion deal
The deal will cost UnionBank P55 billion to acquire P89.5 billion worth of consumer banking business (including loans of P59.7 billion), deposits of P70 billion, investment AUM (assets under management) of P95 billion, and over one million customers, many high-end and loaded with cash and Citi card bearing. Citi has 75,000 premium depositors under Citigold.
UnionBank will pay cash for the net assets of the Citi Philippines consumer business, plus a premium of P45.3 billion.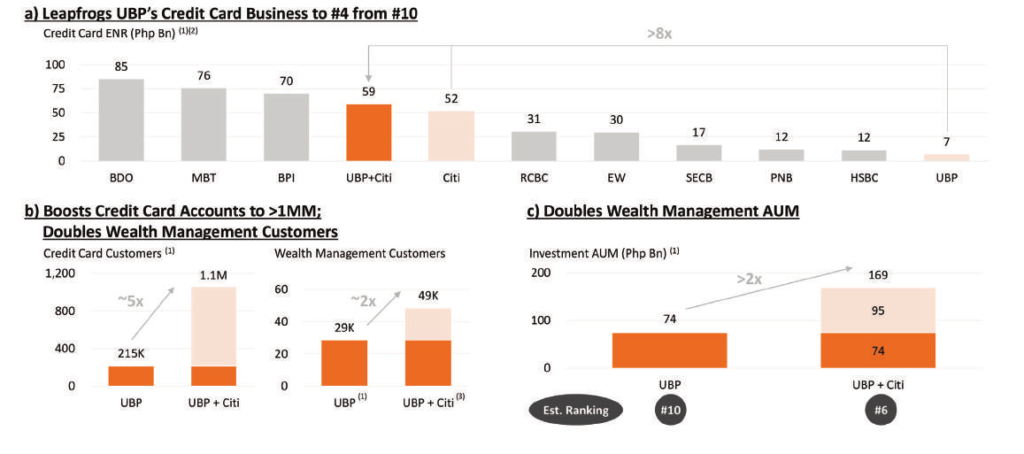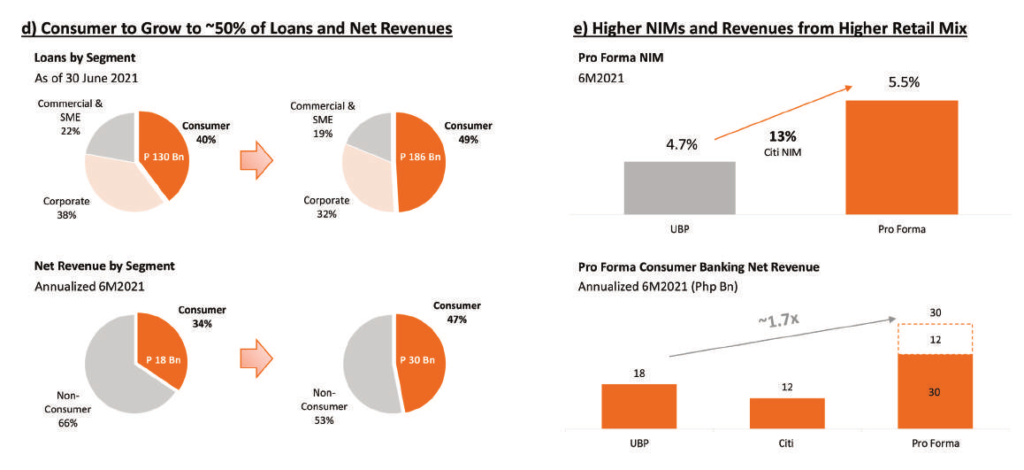 Why UB is the one
Sources said UB did not offer the highest price for the Citi business. But Citi considered the welfare of its customers and people and went for UB. UB's digital transformation has been a compelling story, one reason why UB will take care of Citi's business Citi had lovingly built.
Based on the anticipated increase in risk-weighted assets, the required equity is approximately P9.7 billion as of June 30, 2021. The acquisition is expected to be financed via a combination of internal resources and a stock rights offering (SRO).
UB's key shareholders – Aboitiz Equity Ventures, Insular Life Assurance, and Social Security System – are fully committed to the SRO.
Venerable bank and a school for bank CEOs
Citi is a venerable Philippine bank. It was established in 1902 as Citibank and went on to become the largest foreign commercial bank in the Philippines in assets, revenues, and profits.
With corporate banking, treasury, transactional banking and consumer banking services, Citi has trained many, if not most of the CEOs of local banks, including Union Bank President Edwin Bautista and Vice Chairman Justo A. Ortiz.
Four Citibankers are in the Union board: Justo Ortiz, Bautista, Nina Aguas, and Ana Aboitiz-Delgado. Bautista, the affable UBP CEO, spent seven years in Citi. He was country head for transaction banking. A marketing whiz kid, he honed his skills as a brand manager at P&G.
Bautista's specialty: Marketing and transaction banking
Transaction banking involves cash management, trade and securities, online banking for corporates, global money transfers, supply chain financing, and global correspondent banking. Bautista won the bid to operate the Philippine Domestic Dollar Transfer which he designed for Citi. Transaction banking was 40% of the Citi business when Bautista headed it.
UnionBank's purchase includes Citi's credit card, personal loans, wealth management, and retail deposit businesses. The acquisition also includes Citi's real estate interests in relation to Citibank Square in Eastwood, three full service bank branches, five wealth centers, and two bank branch lites.
The leading bank
Erramon Isidro M. Aboitiz, chairman of UnionBank, said, "This acquisition further cements our position as a leading bank in the Philippines, as well as fast-tracks our growth aspirations in the retail banking segment."
Gushed UnionBank President and CEO Bautista: "Citibank Philippines has a great, profitable and well-run retail portfolio. It has the third largest credit card franchise and is a pre-eminent wealth management provider in the Philippines. We look forward to this game-changing opportunity to leapfrog our credit card business and significantly expand our banking business in the higher end segment of the consumer market."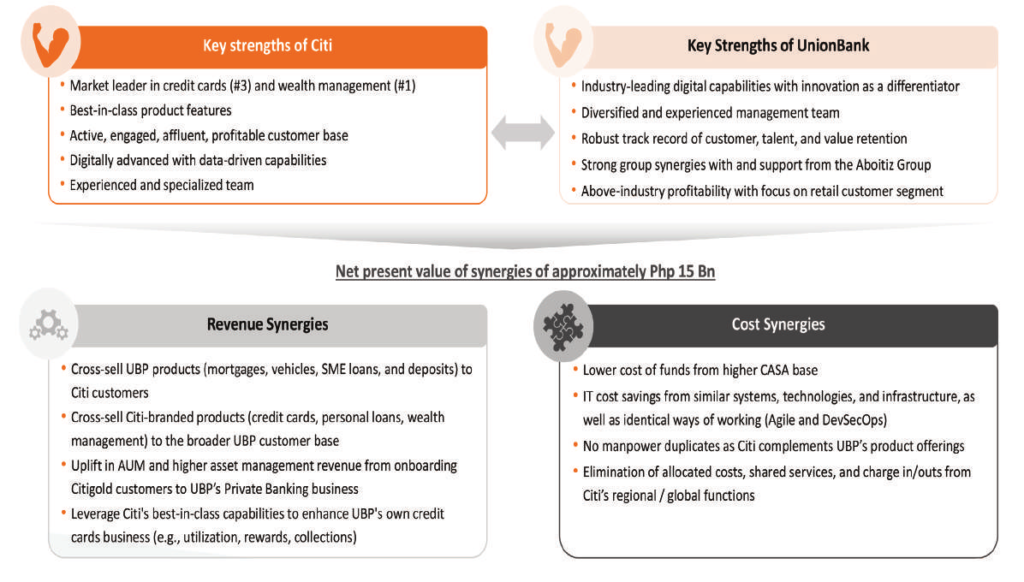 Synergies
Bautista added, "There are clear synergistic opportunities in this engagement. We intend to learn from Citi's expertise to enable UnionBank to effectively build on its success and take the business to the next level. As we embark on this journey, we are committed to retain all of Citi's key talents and uphold the superior customer experience that Citi has delivered to its customers over the years."
Approximately 1,750 Citi employees, including senior management, are expected to join UnionBank. Aboitiz added, "We are looking forward to welcoming all employees to the UnionBank family. With the strong cultural similarities between the organizations, we believe Citi's employees will feel at home at UnionBank."
Citi will continue to operate
Citi will continue to operate its consumer banking business in the Philippines until completion of the acquisition, with no immediate changes in the way it serves its customers.
All consumer banking operations, including call centers, Citibank online and mobile banking services, will continue to serve Citi's customers as usual. Customers will be contacted in the coming months with more details. Citi will continue to operate its institutional business in the Philippines.
"With our current momentum and the reopening of the economy, we are confident that the worst of the pandemic is behind us. We will be entering 2022 with a solid base from where we can resume our pre-pandemic growth trajectories," said President-CEO Edwin R. Bautista.

UB seventh largest
UnionBank is the seventh largest publicly-listed bank in the Philippines and widely recognized to be the leading digitally transformed and most innovative bank in the industry.
The transaction will be effected via (i) an asset and liability transfer of the consumer banking activities of Citibank, N.A., Philippines Branch, (ii) the sale of the shares in Citicorp Financial Services and Insurance Brokerage Philippines, Inc., and (iii) and the sale of Citibank Square building.
The transaction with Citi is expected to close in the second half of 2022. Completion is subject to regulatory approvals, including from the Monetary Board of the Bangko Sentral ng Pilipinas, Philippine Competition Commission, Philippine Deposit Insurance Corp., Securities and Exchange Commission, and Insurance Commission.
Morgan Stanley is acting as exclusive international financial advisor to UnionBank in respect of the transaction. Milbank LLP and Romulo Mabanta Buenaventura Sayoc & de los Angeles are acting as legal advisors to UnionBank in respect of the transaction.
UnionBank's net income for the first nine months of the year grew by 26% year-on-year (YoY) to P10.7 billion on account of a 9% increase in revenues. Return on equity is13.6%.
UB assets: P767.8 billion
As of end-September 2021, total assets stood at P767.8 billion while total loans were at P341.5 billion, 4% lower given the subdued demand for corporate loans.
Total CASA deposits sustained its record growth of 26% to P318.3 billion.
Digital onboarding initiatives continued to gain traction.
UB now has 3.6 million registered users across its digital platforms as of end-September 2021, 2.4x higher than the same period last year.
UBX also ramped up onboarding of customers with about 180,000 MSMEs and channel partners signed up across its platforms, 46% higher than the same period in 2020.
UB's digital bank, UnionDigital, which is one of only 6 licenses granted by the BSP, is on track for launch in 2022.
Net interest income increased 3% to P22 billion on the back of higher margins at 4.6% vs. 4.5% a year ago.
Lower funding costs coming from the robust growth of our CASA deposits supported our margin growth. Non-interest income rose 22% to P12.6 billion due to strong trading gains in the first half of the year, higher foreign exchange income, and increased fees and commissions.
Loan loss provisions booked was lower by 45% at P4.1 billion amid the continued stabilization of non-performing loans. NPL ratio was posted at 4.9% vs. 5.1% as of year-end 2020.