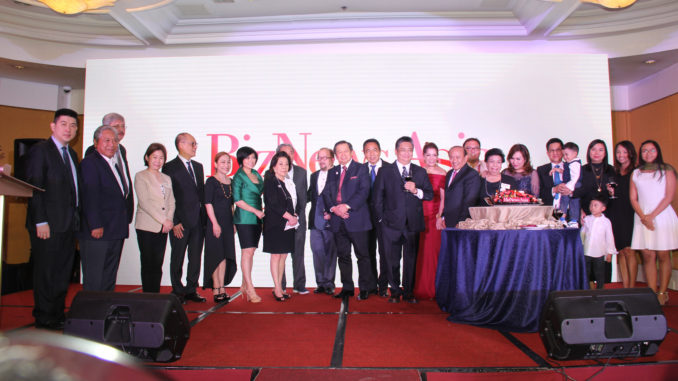 By Tony Lopez
Presidential Spokesman Atty. Harry Roque and Budget Secretary Benjamin Diokno, my compadre Ramon Ang, my comadre Tessie Sy Coson, Helen Yuchengco Dee, Sid Consunji and Injap Sia.
Thank you for coming for tonight's BizNewsAsia 16th anniversary.
Tonight is a meaningful one for me, for two reasons.
One, for the first time in our 16 years of publishing history, we have come out with what we believe is the definitive book on our country's best known and best tycoons and taipans.
Two, in 24 hours, I will turn 69.
Sixty-nine is a magic number, because whatever is your position, up or down, you are likely to enjoy it. I am just kidding.
69 is supposed to be meaningful. Number 6 represents attributes of providing for home and family, the material aspects of life, responsibility, adjustment, solutions, grace, gratitude, dignity, cooperation and compromise, and unconditional love.
Number 9 carries the energies of communication, inner-strength, humility, leadership, intuition and inner-wisdom, spiritual awakening and enlightenment, endings and conclusions, charity, altruism and benevolence, humanitarianism, the divine purpose of life.
Among the Chinese, with 9, you are supposed to be easy and relaxed, yet seeking dreams.
Honoring leaders
There is a third and most important reason for this party. It is to honor you, my readers, advertisers, supporters who have been with me thru the thick and thin, despite the challenges and the difficulties of publishing a magazine 52 times a week or 832 times in the past 16 years.
In the age of the Internet, Facebook, Instagram, Tweeter, Snapchat, Viber, Grab, and Uber, half a generation is a long time for a magazine to exist. A publication like mine really has to be viable, sustainable, and incredibly resilient to last 16 years.
BiznewsAsia starts its 17th year tomorrow. It has been an incredibly difficult but fulfilling ride for me and for my staff, my family and for BizNewsAsia.
In the course of the last 16 years, at least four local magazines tried to copy my format – a newsweekly devoted to business and economic news. They all failed eventually and miserably.
This year alone, two foreign branded business magazines folded up locally, their print version. That's Entrepreneur and Forbes Philippines.
Why does BizNewsAsia thrive when older and bigger brands with a wider foreign footprint have difficulty in making headway in the Philippines?
Maybe, we have been lucky. Maybe, we are good. Maybe, we are both.
But one thing is definite about us – Our focus. We focus on the things that count—business, the economy, the Philippines. That is what makes us really compelling.
BizNewsAsia easily outsells local magazines and foreign brands because of its broad and deep coverage of business, politics and global issues, and outstanding profiles of personalities in business and governance.
We claim a pass-on circulation of 350,000 readers with each copy being read on the average by 10 readers.
Our record sale for a single issue was 35,000 copies, with Power 100 issue. That is how compelling we are.
If you noticed we are more expensive than Time Magazine which invented the original weekly magazine. Time magazine's parent Time Warner is being sold to AT&T by the way, not for the magazine but for cable news and sports news, its pay-tv business, in a merger of content and distribution.
The Philippine or Asian version sells only P170 a copy. They used to be P140, but they tried to catch up with us. So, they are now P170. We have increased our cover price, from P195 to P225. Our magazine, it seems, is not price elastic.
The BizNewsAsia book, "The Philippines' Best: Tycoons, Taipans, Entrepreneurs" chronicles the track record of the outstanding movers and shakers of business and the economy, as well as individuals who have helped improve the life of the Filipino thru the passion in and quality of their governance.
The Who Is Who profiles of the personalities and their companies are drawn from 47 years of my as a business writer and analyst.
I have met, interviewed and interacted with nearly all the personalities in the book. This experience lends authority, credibility, immediacy, urgency and an air of humanity to the profiles.
As in the past, are honoring some of the outstanding tycoons, taipains, entrepreneurs, CEOs this year.
Former President Fidel Ramos was supposed to be with me as the presentor of the awards. But this afterncalled to inform me that per doctor's advice, he should rest by 6:30 p.m. and have a checkup. FVR is a warrior. But age and gravity are among the most difficult of enemies.
In terms of what he has done for business and the economy, FVR is one of our best. As I said in my book, he revived the economy, sought peace with the rebels, made the Philippines attractive for investments, and proved that development and democracy do go together.
In any case, we have one ex-president with us tonight, my good friend, Joseph Erap Estrada. He is one president who made the government closer to the people.
The awards we give to our awardees tonight do not make them anymore distinguished nor do they enhance their reputation. In fact, the opposite is true. It is they, who enhance our magazine's stature and make us stand out above the rest.
When I started giving awards, a decade ago, to business people for excellence, the practice also engendered copycats. Now, nearly every business group or a big company or a foreign person have their own awards.
Despite the proliferation of such awards, those of BizNewsAsia remain much sought after, because we know our awardees at heart.
A book on tycoons
Because we know our awardees, our audience, our stakeholders at heart, I decided to come out with something new – a book on the country's top tycoons, taipans and entrepreneurs.
Each of the guest tonight will get a free copy of the book. If you want extra copies, you will have to shell out P1,500 per copy. Please don't make tawad. Proceeds will cover the cost of writing and printing the book and boost the scholarship fund of the Myra V. Lopez Foundation to train future journalists.
Before I end, I want to thank the most important people in my life—my children, and my grandchildren.
I have five kids – Myra, Ivy, Ranel, Noreen and Ciara. Myra died in 2008, of aneurysm.
I have six grandchildren – Enzo, Gio and Audrey with my daughter Ivy, a lawyer, and her husband, Benedict, a CPA-lawyer; Anika with my daughter, Noreen, a writer and designer of events; and two grandsons, Rafa, 5, and Nacho, 2, with my bunso, Ciara, also a writer and a businesswoman. Ciara is married to Mike Galang, an entrepreneur and owner of an HMO insurance business.
My children and my grandchildren are my pride, joy and inspiration. They are one reason why I keep on going.
I thank my brother Vic Lopez, my senior editor, and my sister Lorna, who has just retired from the government.