SMC's 6.8% share of GDP is a breathtaking 39% increase from its previous contribution of 4.9%.  In previous years, San Miguel revenues had contributed an average of 5% of GDP.

The sharp expansion of SMC's contribution to total economic output of the nation demonstrates the conglomerate's increasing importance to the economy and its pervasive influence in making life better for most Filipinos.

ANTONIO S. LOPEZ
San Miguel Corporation (SMC) has done something stupendous. For every P100 of economic production, P6.80 is churned by San Miguel
The beer, food, power, and infra industrial conglomerate registered revenues of P1.506 trillion (1,506 billion pesos), the highest in its 133-year history.
SMC's 6.8 percent share of GDP is a breathtaking 39% increase from its previous contribution of 4.9%. In previous years, San Miguel revenues had contributed an average of 5% of GDP.
The sharp expansion of SMC's contribution to the total economic output of the nation demonstrates the conglomerate's increasing importance to the economy and its pervasive influence in making life better for most Filipinos.
No other Filipino company has such a sprawling presence and unmatched leadership in nearly every strategic sector of the economy—petroleum refining and marketing (No. 1), power generation (No. 1), food and beverages manufacturing (No. 1), infrastructure (No. 1 in tollways), port and airport development (No. 1), packaging (No. 1, from glass to metal, carton, plastic and back), cement (No. 1), storage battery production (No. 1 with a 1,000-MWh Battery Energy Storage System or BESS), and banking (Bank of Commerce, No. 10).
Its foray into BESS, the company says is "part broader strategy to stabilize supply throughout the grid, and help pave the way for the integration of renewable power in the future."
San Miguel generates 4,719 megawatts of power –19% of the National Grid, 26% of the Luzon Grid, land 7% of the Mindanao Grid. If SMC were not in the business, there would be brownouts averaging five hours daily.
In infra, SMC has rights to 964 kms of roads and operates 78.28% of the country's total tollways.
The group employs 70,000 and operates more than 100 factories or production facilities in the Asia Pacific. 
SMC also spends the most on CSR (corporate social responsibility) projects; P13 billion for COVID response alone. It is spending P2 billion to clean and rehabilitate the notoriously stinking Pasig River, the national capital's major waterway. That's P2 billion money SMC does not even need to spend on the river. The Tullahan portion of the river alone took P1 billion to rehab.
Single biggest investment
The biggest single investment in the Philippines, by any company, Filipino or foreign, is the $15-billion San Miguel Manila International Airport.
Dubbed Asia's most modern when completed, the airport has Phase I which can handle 35 million passengers annually, to be expanded to 100 million passengers as demand expands.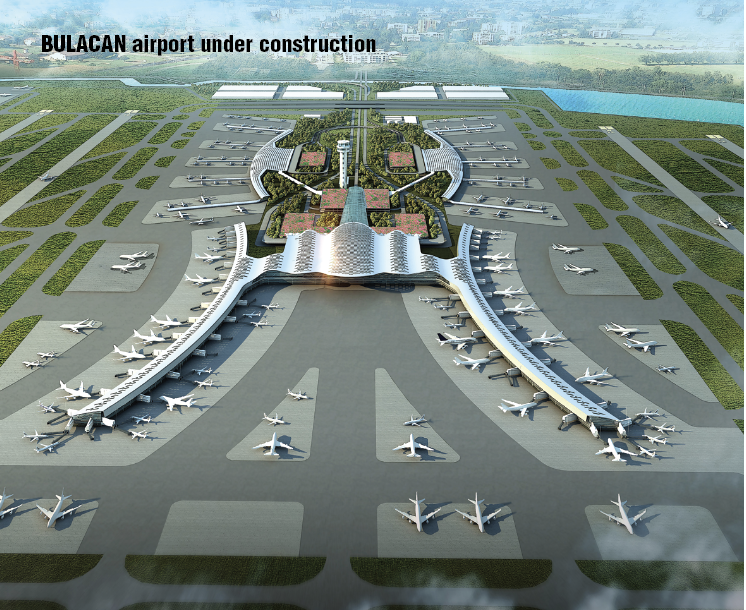 Aviation has 3.4% share of GDP
Since aviation supports 3.4% of GDP, the Bulacan airport will bring San Miguel's total contribution to the economy to more than 10% or one of every P100 of value- added output.
In the size, scale, and scope of SMC operations, no company comes close.
The next largest is the Henry Sy family holding company SM Investments Corp.. Its 2022 revenues of P553.8 billion, up 28% from 2021, is only 2.5% of GDP. Yet, in market cap, SMIC is considered the most valuable, with P1,099,821,022,200 as of March 23.
The overall performance in 2022 amply demonstrates the advantages of SMC's diversified business structure and operational strategies.
More than 60% of the growth of the past decade and a half is largely the result of the massive diversification program uncorked by SMC President and CEO Ramon S. Ang in 2017.
SMC began in 1890 as a single-product company, with beer.  One of the world's best, SanMig is still a cash cow and major profit contributor.  Beer, after all, is 99% water.
The P1.5 trillion is a whopping 60% jump from its P941 billion sales in 2021 and exceeded the pre-pandemic previous record of P1 trillion. The 60% increase wiped out the 6.3% decline in revenues in 2021 compared with 2019.
6.8% of GDP
The P1.5 trillion is equivalent to 6.8% of the total Philippine economic output or Gross Domestic Product of P22,022 billion (P22 trillion), making SMC the biggest single contributor to the economy last year. In previous years, San Miguel's share of GDP had averaged only 5% (4.9% in 2021).
SMC's 6.8% share of GDP is the largest and best ever performance of the Philippines' biggest conglomerate in the past 132 years.
If every P3 million could generate one job (it does), P1.5-trillion revenues could easily mean 500,000 jobs generated by San Miguel's diversified businesses.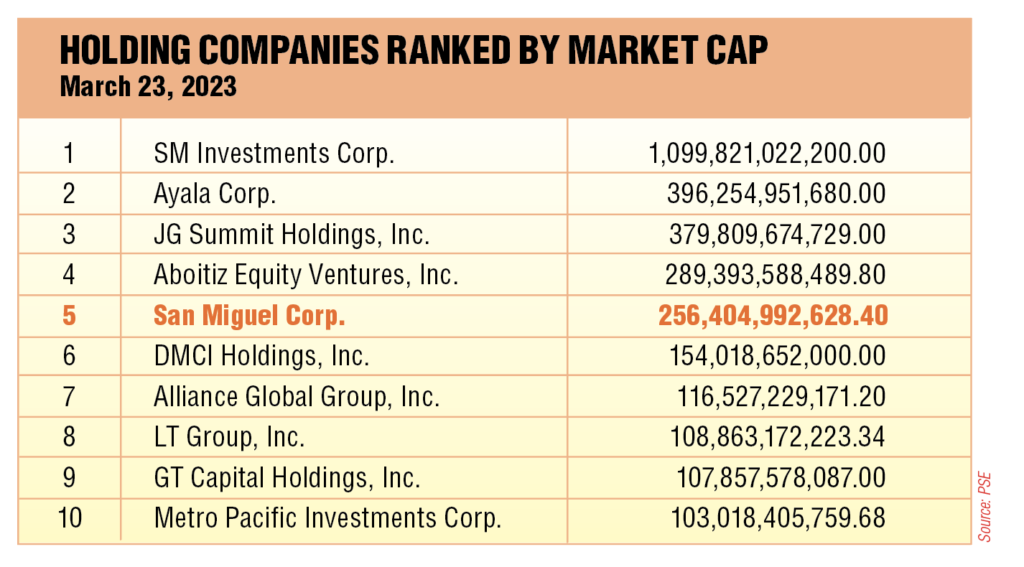 Sari-sari stores
At the retail level alone, there are more than one million sari-sari stores in the archipelago's 7,600 islands and all of them carry a San Miguel product—beer, gin, coffee, chicken, Purefoods hotdog or corned beef, and Magnolia tea or juice, to name a few.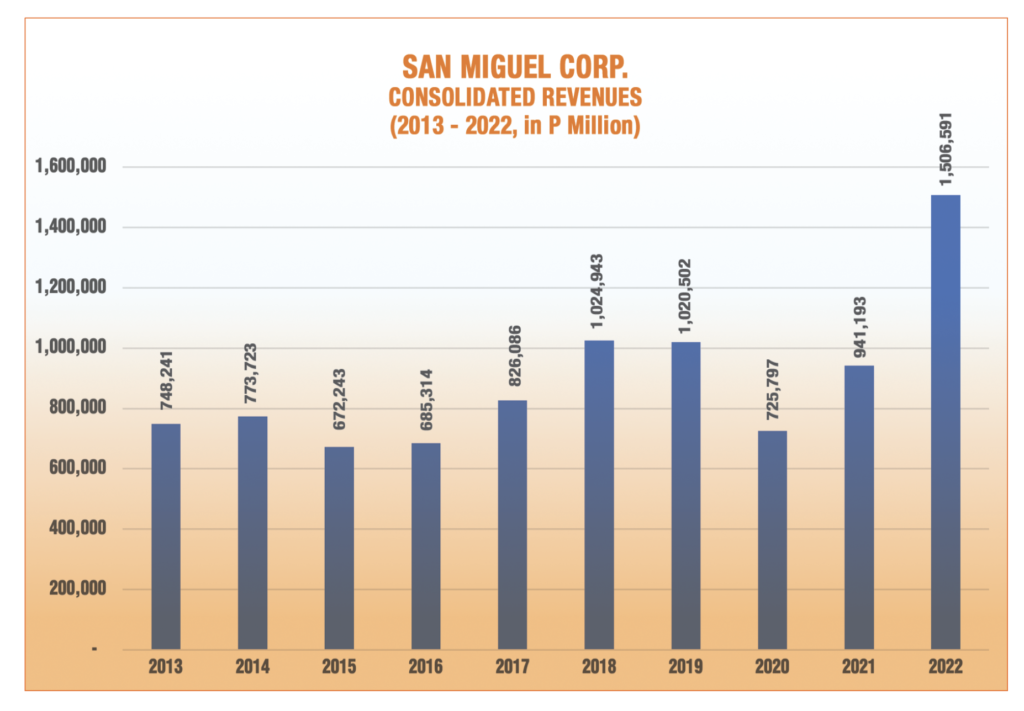 Every day, in the morning, you wake up with a cup of coffee in hand, turn on your lights, drink water or take a shower, take the MRT, drive your car, use the expressway to avoid traffic, gas up your car, visit the supermarket or the public market or fly to Boracay—all these activities are a product or a service provided by San Miguel.
Despite the 60% jump in revenues, consolidated income from operations rose only 10% to P134.5 billion, from P121.899 billion in 2021, indicating the challenges faced by SMC in 2022 while trying to make its mark on the economy.
Net profits dropped 44% to P26.76 billion, from the P48.159 billion recorded in 2021.
The profit decline was triggered by P22- billion worth of foreign exchange losses.
SMC said the P134.5 billion consolidated income was "driven by the sustained performance of key businesses such as Petron, San Miguel Food and Beverage, San Miguel Packaging, and SMC Infrastructure, as well as group-wide cost management efforts to mitigate the effects of increasing raw material costs, inflation pressures, and forex movements."
Core income at P43.2 billion
Consolidated core net income amounted to P43.2 billion.
Reported net income ended at P26.8 billion, reflecting the impact of unrealized losses on the revaluation of its foreign currency-denominated long-term debt. EBITDA, on the other hand, went up 3% to P165.0 billion.
"Our strong top line performance is a clear indication of our economy's continuous recovery as well as the strong consumer demand for our products and services. While challenges remain, we're confident in the measures and programs we've put in place to weather these. We remain strongly committed to executing on the long-term growth strategy we've laid out for our company, that will also significantly benefit our country," said SMC President and CEO Ramon S. Ang.
San Miguel Food and Beverage, Inc.
San Miguel Food and Beverage, Inc. (SMFB) posted consolidated revenues of P358.9 billion, a 16% increase over the previous last year, driven by sustained volume growth and better selling prices across the Beer, Spirits, and Food divisions.
SMFB's consolidated operating income grew 11% to P48.7 billion, while net income rose 10% to P34.7 billion.
San Miguel Brewery, Inc.
San Miguel Brewery Inc. (SMB) sustained its recovery in 2022, delivering consolidated volumes of 224.5 million cases, up 10% from the previous year, driven by effective brand-building and demand-generation programs that capitalized on positive economic growth in both domestic and international markets. SMB's consolidated revenues rose 17% to P136.2 billion.  Accordingly, consolidated operating income was up 10% at P29.5 billion and net income ended at P21.8 billion, 6% higher than the previous year.
Ginebra San Miguel Inc.
Ginebra San Miguel, Inc. delivered another record performance in 2022, registering its highest-ever net income of P4.5 billion, which exceeded its 2021 results by 9%.
Volumes reached an all-time high of 44.6 million cases, surpassing 2021 levels by 7% on the back of effective marketing campaigns.
Full-Year 2022 revenues reached P47.3 billion, 11% higher than the previous year.
Operating income was up 13% at P6.0 billion on account of an increase in selling price implemented in 2022.
San Miguel Foods
San Miguel Foods (SMF) sustained its robust topline performance throughout 2022, delivering consolidated revenues of P175.3 billion, 16% higher than the previous year.
Amid rising inflation, volumes across most segments grew, boosted by intensified distribution, aggressive promotional activities, the launch of new products, and the utilization of additional capacity from new facilities.
Most businesses implemented price adjustments to partly recover costs brought about by escalating raw material prices.
Despite various challenges, operating income rose 15% to P13.3 billion, on the back of optimized utilization of company-owned facilities and strategic spending on revenue-generating advertising and promotions.
Net income surged to P9.2 billion, up 21% from 2021.
San Miguel Global Power Holdings Corp.
San Miguel Global Power Holdings Corp. (SMCGP) recorded consolidated revenues of P221.4 billion, up by 66% from P133.7 billion in the previous year, brought about by an increase in average realization prices, higher spot sales prices, and improved power nominations.
Offtake volumes reached 27,402 Gwh, higher by 181 Gwh from the year prior.
Operating income however declined by 22% to P28.9 billion compared to the P36.8 billion registered in the previous year, reflecting the impact of tremendous increases in fuel costs, exposure to high WESM prices, and the deration of the llijan power plant.
By the end of December 2022, coal prices reached $404.07/MT, coming from $170.23/MT at the end of 2021. Net income amounted to P3.1 billion, down 80% from the previous year.
Petron Corp.
Petron Corporation's recovery continued throughout the year, as it posted combined sales volumes from its Philippines and Malaysia operations of 112.8 million barrels, up 37% compared to 2021.
Domestic volumes climbed 43%, as demand from the industrial and aviation sectors recovered.
Petron's consolidated revenues jumped 96% to P857.6 billion from P438.1 billion in 2021, on the back of the fuel demand growth and higher crude prices. Operating income ended 12% higher at P19.2 billion compared to P17.2 billion in the previous year, while consolidated net income amounted to P6.7 billion, 9% better than the P6.1 billion it reported in 2021.
Infrastructure
SMC infrastructure delivered consolidated revenues of P29 billion, 47% higher than the 2021 level.
Traffic volume at all operating toll roads increased by 25%, sustaining its upward trend.Operating income grew 110% to P14.2 billion owing to higher traffic volume.
San Miguel Corporation ("SMC", or the "Parent Company"), together with its subsidiaries, is one of the largest and most diversified conglomerates in the Philippines by revenues and total assets.
Originally founded in 1890 as a single- product brewery in the Philippines, SMC today owns market-leading businesses and investments in various sectors, including food and beverage, packaging, energy, fuel and oil, infrastructure, cement, property, and banking services.