The country's largest association of real estate and housing industry stakeholders is intensifying its untiring pursuit of the vision of a home for every Filipino as it gears up for its 50th founding anniversary this year.
The year-long golden jubilee anniversary celebrations of the Chamber of Real Estate & Builders' Associations, Inc. (CREBA) will be launched at a grand event on March 16, 2023, at the Conrad Hotel Manila featuring a roundtable discussion with the country's top developers and key government officials.
Founded in 1973 by Atty. Manuel M. Serrano along with known leaders of the property sector which include former Mindoro governor and congressman Rodolfo G. Valencia, CREBA is the Philippine umbrella organization of the real estate and housing sector composed of property developers, builders, contractors, suppliers, and manufacturers of construction materials and other professionals and entities engaged in 70 allied fields with chapters in at least 25 key cities and provinces all over the country.
To this day, its leaders have been at the forefront of the Chamber's efforts in legislative and policy advocacy, particularly in influencing government and private sector activities towards increased production of affordable housing which has contributed considerably in shaping the industry into what it is today.
Mass housing as a centerpiece government program
According to CREBA, so much has been said about the need to reduce, if not eliminate, the country's massive housing backlog in the shortest time possible.
Yet, despite the unparalleled and widely-recognized socio-economic benefits of housing as a centerpiece program, since the Martial Law years, we have yet to see an administration fully dedicate itself to this effort via concrete, meaningful legislative measures.
At the risk of sounding like a broken record, the group has been echoing the core of the country's housing woes: Some 43% of the country's total urban population live in slums; about 5.2 million Filipino households subsist below the poverty threshold; and at least nine million more falls into the low-income bracket.
To date, some 6.7 million of these households do not own their dwellings; and those in the lowest 32% income percentile, which government shelter programs must prioritize, can afford less than P2,000 for monthly housing expenditures.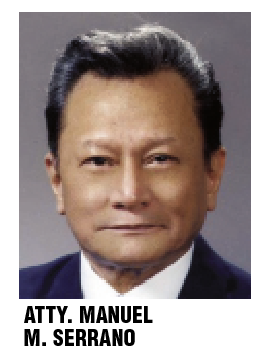 These statistics, CREBA said, are not their own fiction, but from authoritative sources such as the World Bank, Philippine Statistics Authority (PSA), and the National Urban Development and Housing Framework (NUDHF) of what has become the Department of Human Settlements and Urban Development (DHSUD), the passage of an enabling for which CREBA supported for 27 years until its fruition three years ago.
A social imperative
"Apart from the obvious need, making housing the centerpiece program is not only a social imperative, but an economic one. This is because of housing's tremendous output multiplier, income multiplier, and labor multiplier effects – as economic and financial experts worldwide acknowledge," CREBA National Chairman Charlie A. V. Gorayeb stressed.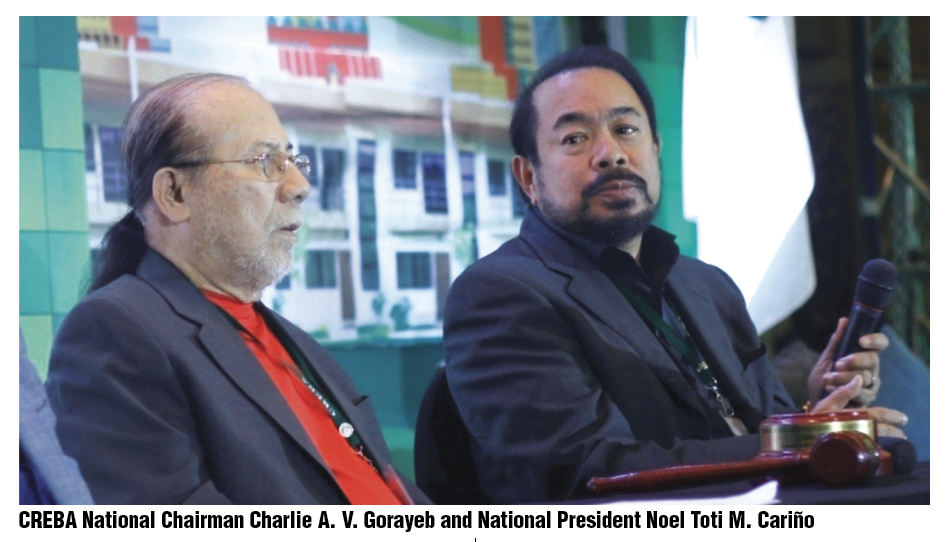 The group lamented that the Constitution mandates the government to look upon all sectors with equal favor, yet, annual government appropriations for housing against a backdrop of 6.7 million landless and homeless Filipino households have been dishearteningly small.
Congress has enacted the landmark Urban Development and Housing Act (UDHA), as amended by Republic Act No. 10884 of 2016 backed as well by CREBA, which compels both private subdivision and condominium developers to produce socialized housing equivalent to 15% and 5%, respectively, of their total project cost or area, yet its supposed performance has not served to de-escalate the problem. CREBA believes the reason to be simple:
Restrictive land access. Land in urban areas where the poor congregate is much too expensive to build homes for the lowest 30% income percentile, while cheaper lands in sub-urban or urbanizable areas are locked up in the CARP.
Extremely limited homebuyer financing. While relatively cheap homebuyer financing is available under the Pag-IBIG program, the agency's funds are limited leaving the informal sector or non-members effectively locked out.
Lack of funds for public housing. The repayment schemes for NHA's housing projects are affordable by those in the lowest 30% income percentile, but NHA funding is simply too limited to allow a massive volume of housing production.
Governance issues.  Over-regulation, over-taxation, and bureaucratic delays among others – all of which add to the already high cost of housing units – actually negate the government's policy pronouncements to make housing affordable.
5-Point Housing Agenda
CREBA's aspirations for the homeless sector are embodied in its 5-point agenda for housing.
As the centerpiece of the Chamber's advocacy initiatives, this 5-point agenda has been drafted into various bills and policy proposals on shelter finance, land access and governance to either amend, rationalize, streamline or beef up existing laws and policies on housing to help achieve a production rate of at least 500,000 units per year and address homelessness within two decades.
The CREBA 5-point housing agenda aims to provide long-term and affordable funds for socialized and economic housing through a Centralized Home Financing program (CHFP); affordable homes in urban areas nationwide through certain amendments to the balanced housing law; equitable allocation of lands for human settlements, agriculture and the environment through an equitable National Land Use Act; efficient housing regulations that will remove the bottlenecks in permits and licensing applications for housing development; and the creation of the Department of Human Settlements and Urban Development (DHSUD) to provide housing concerns the attention it deserves at the highest level of government.
Two of these proposals have been enacted into law, namely the Balanced Housing Program Amendment of 2016 (R.A. 10884) and the creation of the DHSUD in 2019 (R.A. 11201), the implementation of which into various regulations and programs continues to be closely monitored by CREBA.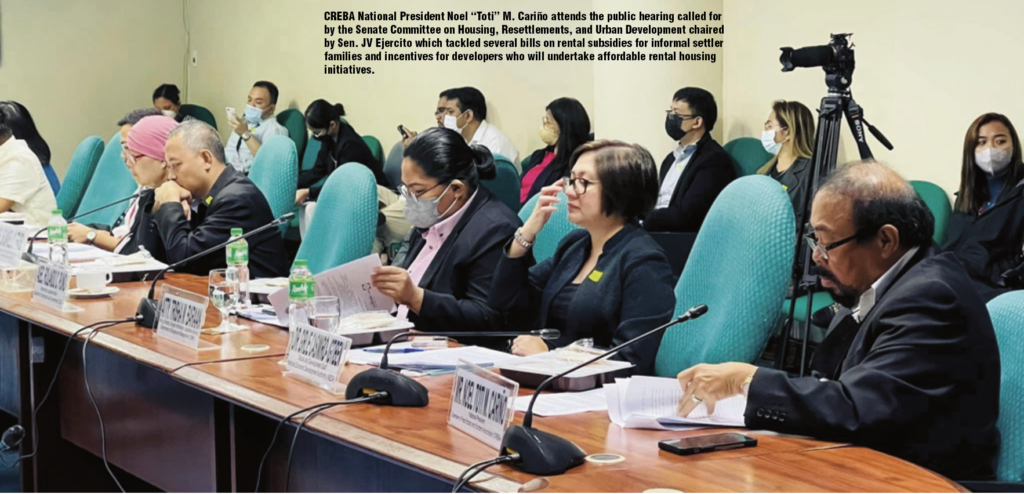 Academic Programs
For more than two decades, CREBA has been at the forefront of formal real estate training and education through the Executive Diploma Program in Real Estate Management (EDPREM) offered jointly with the De La Salle – College of Saint Benilde (DLS-CSB).
Offered through the School of Professional and Continuing Education or SPACE in a hybrid format, the six-month program is open to actual and would-be practitioners in the real estate business and service practice.
Competent pool
Managed by a pool of competent and well-known facilitators and practitioners from the private sector, government, and the academe, it covers six independent and industry-responsive modules which cover: land laws and titling; highest and best use for real estate; planning, development and environmental concerns; effective marketing tools; and project feasibility studies.
Other focused and tailor-fitted programs are also offered as one-day seminars in Metro Manila, in the provinces, and at in-house corporate settings in partnership with CREBA chapters nationwide and selected institutions, companies, and other groups.
In 2017, CREBA signed an agreement with the University of Batangas (UB) for the grant of scholarships to underprivileged but deserving incoming freshmen who enrolled in the BS-REM program at the university's Lipa City Campus.
Embracing a global mindset
The National Association of Realtors®, globally recognized as the "voice of real estate," appointed CREBA as its sole and long-term bilateral cooperating association in the Philippines since 2011 making the Chamber the exclusive steward of the NAR name and programming in the country.
NAR is the largest USA-based trade association, representing 1.3 million members, including NAR's institutes, societies, and councils, involved in all aspects of the residential and commercial real estate industries. With bilateral agreements in 72 countries, NAR's global efforts aim to render the global real estate markets accessible, profitable, and ethical for REALTORS® to conduct business.
Strength through its chapters
CREBA draws strength from its chapters which are strategically spread across various economic centers nationwide.
The development of chapters is a major part of CREBA's thrust in expanding its presence throughout the country.
CREBA sees itself as the listening board of the policymakers – a unit that can provide them insight regarding what is truly happening on the ground. This is where the Chamber's recognized "life-blood" – the chapters based in key cities and provinces where housing and real estate opportunities abound – are truly important.
Celebrating 'CREBA's golden legacy' to the housing sector
Among the activities lined up to highlight CREBA's golden legacy to the sector is a Visayas-Mindanao Regional Housing Conference to be held in General Santos City from April 26-28.
The high-point of the CREBA calendar for the year will be from September 26-28, where members, as well as esteemed speakers, both from the local and global real estate arena, will convene for its annual national convention, expo and gala night at the SMX Convention Center and Conrad Hotel in Pasay City.
"This premier annual event of the Chamber promises more unprecedented initiatives in support of national development goals. The event also beams with excellent business opportunities in the framework of the private sector and government cooperation," CREBA National President Noel Toti M. Cariño said.
The event will be even made more meaningful as CREBA culminates its search and confers the "Pillar Award" to the most outstanding "Developer of the Decade" to be adjudged on the basis of the nominees' highly significant and pioneering social and economic impacts on real estate, housing, and community development over the years that inspire and encourage other stakeholders to strive for project creativity, integrity, innovation, and excellence.
This, while underscoring the overall public good, particularly for buyers, homeowners, beneficiaries, and the environment, in a manner that best reflects the Chamber's philosophy, the CREBA leaders announced. "The symbolism which the Pillar connotes applies squarely to the outstanding developers who can be considered pillars in the art of not only building homes and communities in their own rights but in building a strong nation that breeds the fruition of dreams of families for generations," Gorayeb concluded.