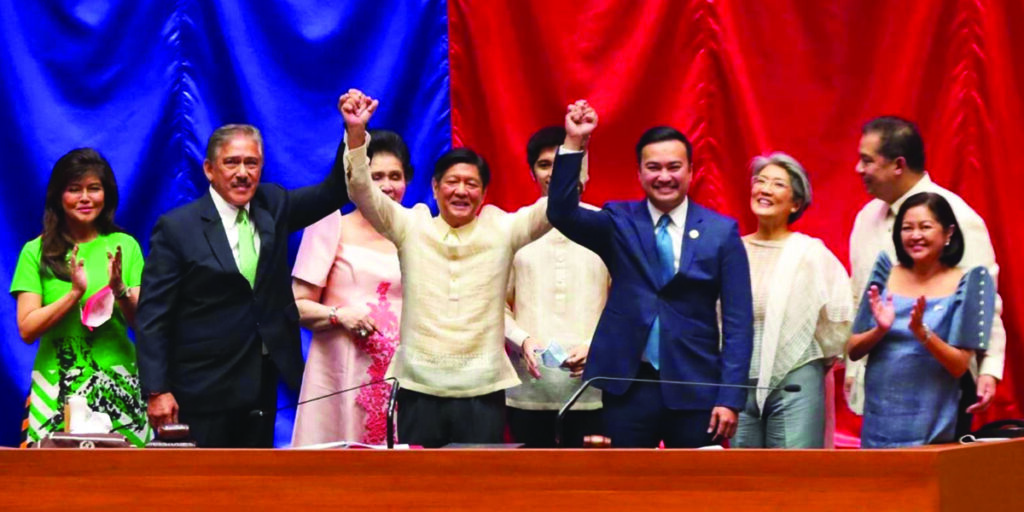 Ferdinand "Bongbong" Romualdez Marcos Jr., 64, is the 17th president of the Philippines.
That became reality at half past 6 Wednesday night (May 25) when Congress, with the Senate and the House of Representatives on joint session to canvass the votes, proclaimed the only son and namesake of the late Ferdinand Edralin Marcos, as the duly elected president of the republic, which is Asia's oldest, succeeding the controversial but popular Rodrigo Roa Duterte.
Per Congress' canvass, BBM garnered 31,629,783 votes, 16.59 million bigger or more than double the votes of the distant second placer, Leni Robredo's 15,035,773 votes. BBM won 58.77% of the 53.8 million votes cast for president; Robredo settled for a paltry 27.94%.
BBM won in 64 provinces
BBM won in 64 of the 80 big provinces and in 25 of the 27 largest cities, including all the 15 cities of Metro Manila and southern cities of Cebu and Davao. BBM beat Isko Moreno in his own city of Manila.
Leni won in just 14 provinces, third placer Manny Pacquiao in one province, and 7th placer Faisal Mangondato in one.
The duly elected vice president, Sara Duterte scored an equally magnificent landslide victory. She garnered 32.208 million votes or 61.53% of the 52.34 million votes cast for vice president. Runner-up Kiko Pangilinan, Leni's running mate, snatched just 9.329 million votes, or 17.82%.
It was a proud moment for the Marcos family. It was a historic point of redemption, one that took exactly 36 years and three months to the day of BBM's proclamation, after a People Power revolt on Feb. 25, 1986 ousted Marcos Sr. and ended the longest or 20 years of presidency, 14 of them under strongman rule.
Marcoses were mocked
"In nearly four decades, we endured being mocked and oppressed," recalled elder sister, Senator Imee Marcos Manotoc who joined her only brother at the rostrum for his proclamation. "We are grateful for this second chance."
At the rostrum with the new president were his wife Liza, their second son Simon, his mother, the ailing former First Lady Imelda Marcos, his other sister, Irene, and first cousin House Majority Floor Leader Martin Romualdez. The Marcos family's second time in Malacañang seems promising.
BBM says he has hit the ground running, forming the core of his cabinet, especially his economic team, identifying his basic problems – the economy (meaning jobs, prices, food shortages); seeking a "honeymoon" with the legislature (the economic recovery measures, including taxation), and the judiciary (will that mean the so-called estate tax claim is dropped?), and setting the timetable of things achievable in the short and long term. After his proclamation, BBM stayed three hours to reconnect with his former colleagues. He was a congressman and a senator himself.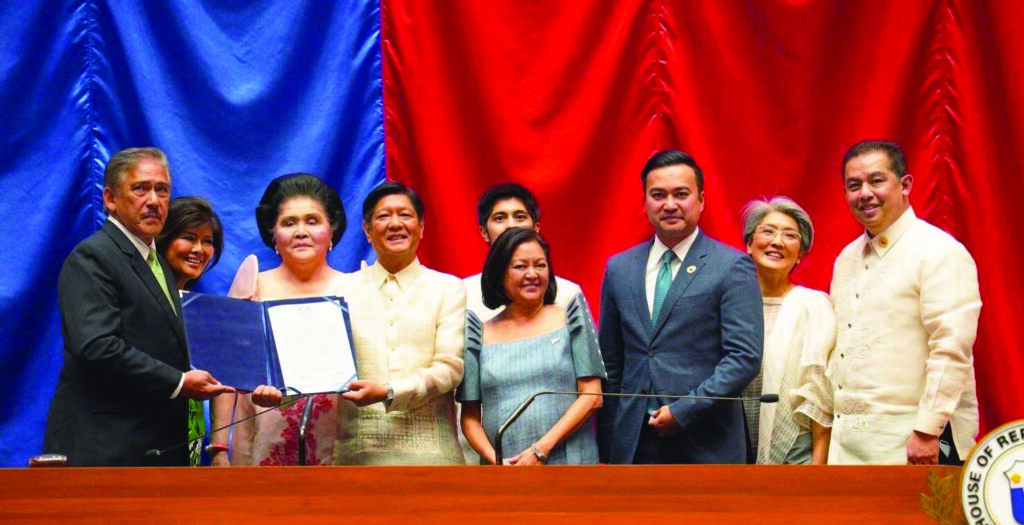 Aspirational future
"Embedded in that vote are the tasks and the confidence that they give to you to take them to that aspirational future. And that is why to have received over 31 million votes from our countrymen is as valuable—an expression of trust as can be had by anyone in public life," he acknowledged.
Addressing his 110 million countrymen after "the best run election", BBM vowed "I promise you that we may not be perfect but we will always strive for perfection."
He pleaded: "I ask you all to pray for me. Wish me well. I want to do well because when a president does well, the country does well."
Of the more than 32 cabinet positions, BBM has filled up 18.
They include: Lawyer Vic Rodriguez, as executive secretary; Bangko Sentral Governor Benjamin Diokno, as Finance secretary; Rep. Crispin "Boying" Remulla, Justice; San Miguel Corp. Tollways Chief Manny Bonoan, Public Works and Highways; Vice President-elect Sara Duterte, Education; labor lawyer Bienvenido Laguesma, Labor; OFW advocate Susan "Toots" Ople, the new Department of Migrant Workers; Management Association of the Philippines President Alfredo Pascual, Trade and Industry; economist Arsenio Balisacan, Economic Planning and NEDA; lawyer Ben Hur Abalos, Interior and Local Government; broadcaster Erwin Tulfo, Social Welfare and Development; Christina Frasco, Tourism; lawyer Ivan John Enrile Uy, Information and Communications Technology; former Manila Congressman Zenaida Angping, Presidential Management Staff; lawyer Trixie Angeles, Presidential Communications Operations Office; and Amenah Pangandaman, Budget secretary. BBM's long-time friend, Davao Congressman Anton Lagdameo is the special assistant to the President.
Economist Felipe Medalla succeeds Ben Diokno as BSP governor. Though ranked only a director in the bureaucracy, the BSP governor can make or unmake the economy. He can create money, credit, debts, employment, production, and even a recession. So he is a very important member of an administration's economic team.
BBM has yet to announce nominees for Foreign Affairs, Defense, Environment and Natural Resources, Agriculture, Health, Housing and Urban Development, Agrarian Reform, and Cabinet secretary.
Jobs, inflation, food
BBM's top focus are jobs, lower prices, and more food production.
For job creation, the next president will bank on the private sector. BBM will cut red tape by streamlining operations of all agencies, which means, he said, "immediate digitalization". Digital technology will mean more efficient collection of taxes (No taxes will be lowered by the way, except for those hardest hit by the pandemic, the SMEs), and reducing what BBM calls "the corrosive effect" of corruption. Distribution of wealth is a major aspect of tax policy. So the rich will have to pay more taxes.
SMEs need help
Small and medium enterprises (SMEs) will get special attention. They will get priority credit. BBM hates that getting a permit takes one to visit 20 offices in three days. "Sixty-two percent of our employees are in SMEs," he notes.
As for food, BBM is keen on achieving, at least for the short term, a P20-per-kilo rice, from the current P30 per kilo average, at least for the short term. That will come by talking to the merchants (who jack up rice prices), importing more rice in the meantime, and assisting farmers to produce more by improving efficiency with machinery, lowering cost of fertilizer, and extending more credit to them (whose average age by the way is 57).
BBM wants Land Bank to go back to its old mission of financing agricultural production rather than be one of the big commercial banks (it's No. 2 largest). Other agencies will be returned to their old mission. Like the National Food Authority which was never intended to be a rice import monopoly but a production entity.