By ROBERTO V. ONGPIN
Chairman, Alphaland Corp.
Despite the COVID pandemic that swept through the country in 2021, Alphaland Corp. did relatively well. As we celebrated 10 years since we inaugurated Balesin Island Club, we also celebrated record patronage from our members and guests.
During the month of December 2021, Balesin had its highest revenues ever, at P120 million. During the holiday period between Christmas and New Year, we had almost a thousand members and guests every day on the island.
The scourge of the pandemic notwithstanding, Alphaland Corp. had a good year. Revenue increased by 51% over last year, and net comprehensive income also increased by 187% over last year.
While we are a long way from the pre-pandemic levels, Alphaland has continued its winning ways.
Record 54 lodges sold
Leading the way was Alphaland Baguio Mountain Lodges (ABML) where, despite weather problems, we sold a record 54 lodges during the year as compared to only 6 the year before.
Since we began this project five years ago, we have now sold a total of 102 lodges. Of this number, 78 have been finished and are now being enjoyed by their homeowners.
The vegetation, especially the Benguet pine trees, is now flourishing and one immediately smells the scent of the Benguet pine as you drive along the property.
The market reception of Alphaland Baguio Mountain Lodges has been wonderful, without any marketing effort on Alphaland's part.
The homeowners tell their friends how beautiful Alphaland Baguio Mountain Lodges are, and they simply continue to visit and buy.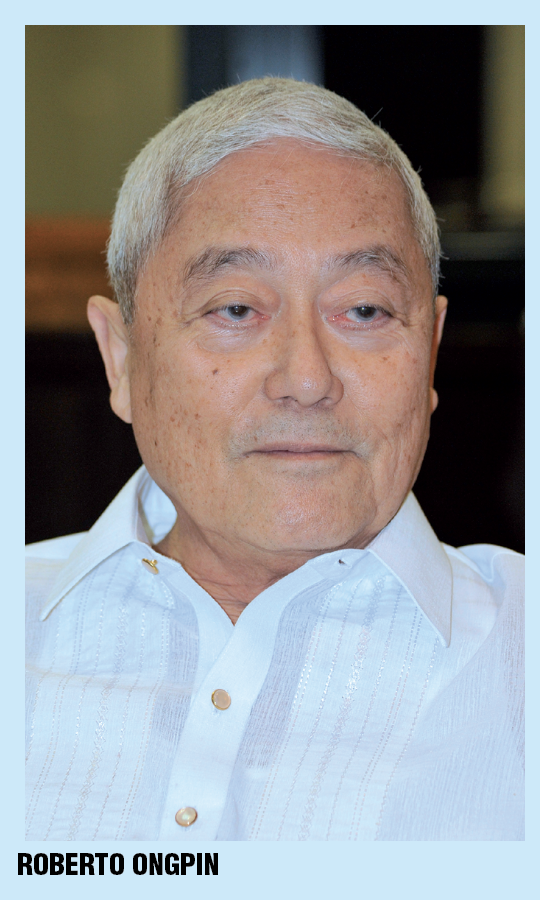 Pines Place
At the beginning of this year, we started to develop a new area north and east of the Clubhouse, which we have christened "Pines Place." Pines Place will have a second Clubhouse, about four times the size of the existing one.
It will have 28 large suites, 3 restaurants (Spanish, Italian, and Japanese) which can together seat as many as 300 people, a cozy bar, and a large entertainment area with karaoke, billiards, and table tennis.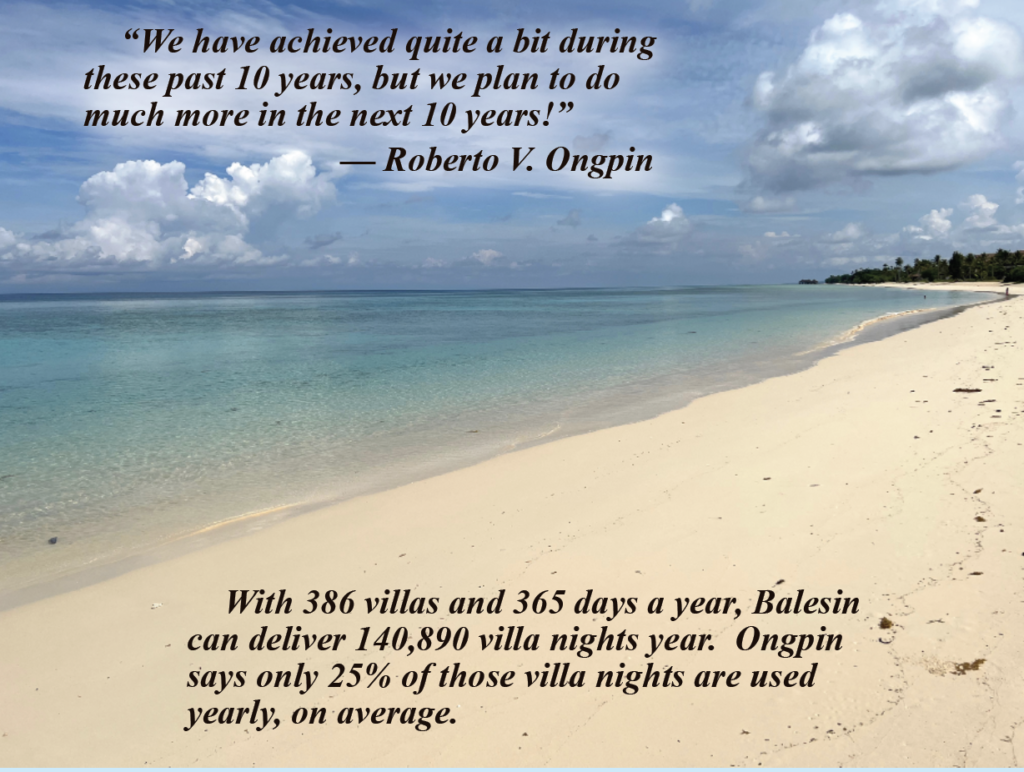 Spa amid the pines
The most spectacular element of Pines Place will be a state-of-the-art Spa, which will occupy one entire floor. In addition to a heated indoor pool, it will have massage facilities, sauna, and Turkish baths.
The Spa will be a most welcome addition to ABML—a great place to hang out and enjoy life, amidst Baguio's cool climate.
Truly, we have achieved what we set out to do at Alphaland Baguio Mountain Lodges: recreate the way Baguio used to be, 50 years ago!
Satisfactory year
Balesin Island Club and Alphaland Makati Place had a satisfactory year, despite the challenges of the pandemic.
Our 250-suite hotel, The Alpha Suites, continues to be rated the No. 1 hotel in Metro Manila by Tripadvisor, the world's largest travel platform. This is a ranking of which we are very proud.
Aegle Wellness Center, due to the huge increase in COVID-19 testing and vaccination services, also had a good year.
Today, Alphaland remains uniquely debt-free and we are sitting on cash deposits of about P1.5 billion.
Thus, in spite of the difficulties presented by the pandemic in 2021, your company's financial health continues to be robust.
Balesin International Gateway
Turning to Balesin International Gateway (BIG), our 750-hectare property on Patnanungan Island (which is only 21 nautical miles away from Balesin), we continue to have a cautious approach.
In 2022, we will only complete Alpha Beach Club, which will be a nice day-use facility for our Balesin members and guests who can travel in the morning by any of our sea craft, our Cessnas, or our helicopters to enjoy the day in Alpha Beach Club and return to Balesin before sunset.
No villas yet
We do not intend to build villas in BIG this year. Our members and guests can continue to use the villas in Balesin. Alpha Beach Club is only a 10-minute helicopter ride from Balesin, and a bit more than an hour on our fast sea craft.
Three projects in the pipeline
Regarding Balesin itself, we intend to focus on three projects this year, all aimed at extracting the benefits from the P50 billion of value that we have created in Balesin.
First, we will be launching an International Marketing Campaign for Balesin, which shall be anchored by extensive TV spots on CNN International, all meant to introduce Balesin to the world.
We are putting the finishing touches on a reinvigorated International Membership Plan for non-Philippine resident members to enjoy Balesin. We shall be announcing the details shortly.
Balesin Football Center
Second, in collaboration with our friend Scott Cooper, we shall be inaugurating the Balesin Football Center (BFC).
This center is intended to be one of the world's top venues for soccer tournaments, North American and European soccer groups' winter training facilities, and youth training camps.
For this purpose, we will be replacing our existing soccer pitch with FIFA-approved, state-of-the-art artificial turf, and building a grandstand which can be expanded modularly.
We shall also be expanding our existing Sports Center to accommodate facilities for BFC.
Soccer is inarguably the most popular sport in the world, with total revenues in excess of $30 billion.
Balesin wants a piece of that pie! There are many football centers in Europe and North America, but not one has resort facilities as extensive as Balesin.
Enhanced Aegle Wellness Center
Third, we will be renovating and relaunching Aegle Wellness Center. This facility, which we constructed five years ago, has lagged behind in performance, especially when compared to other wellness centers around the world.
In addition to recently hiring an experienced Wellness Executive to manage Aegle, we are in the process of refurbishing and upgrading Aegle's facilities, so that it becomes one of the most desirable wellness centers in the world.
None of the prestigious international wellness centers are as well-endowed with resort facilities as Balesin Island Club.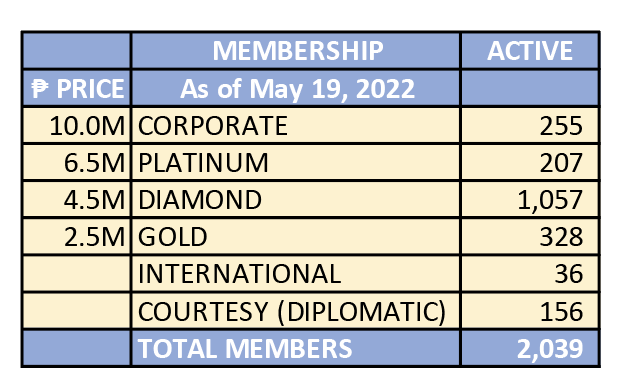 Foundation for climate change
I am also pleased to announce the incorporation of the Alphaland Climate Change Foundation.
This will be your corporation's modest contribution to defeating climate change and making sure that our children and grandchildren continue to live in a sustainable world.
So, as you can see, despite the travails brought upon this world by the COVID pandemic, we at Alphaland continue to plan for the future and dream of a better world.
We have achieved quite a bit during these past 10 years, but we plan to do much more in the next 10 years!