The pandemic-induced shift to digital payments and the Bangko Sentral's aggressive push for financial inclusion produced a big winner in Union Bank of the Philippines.

UnionBank is the Philippines' pioneer internet bank and the first digital bank

Antonio S. Lopez
Banks, like most great enterprises, must provide or satisfy three things:
One, maximum return to their owners or shareholders for them to keep their commitment to the institution;
Two, optimum service to their clients and customers to keep their loyalty and satisfaction; and
Three, innovation to sustain viability and at the same time, service the needs of the country for it to grow and prosper.
Union Bank of the Philippines (UnionBank) does all three—with ease, elan and style. Plus more.
That Plus is called innovation. Innovation is nothing without technology. And these days, technology means digitalization, the internet of things, and going wireless, cashless, and seamless in methods, procedures, and strategy execution.
The internet and mobile phones are the game-changers that inevitably leads to financial inclusion and poverty reduction.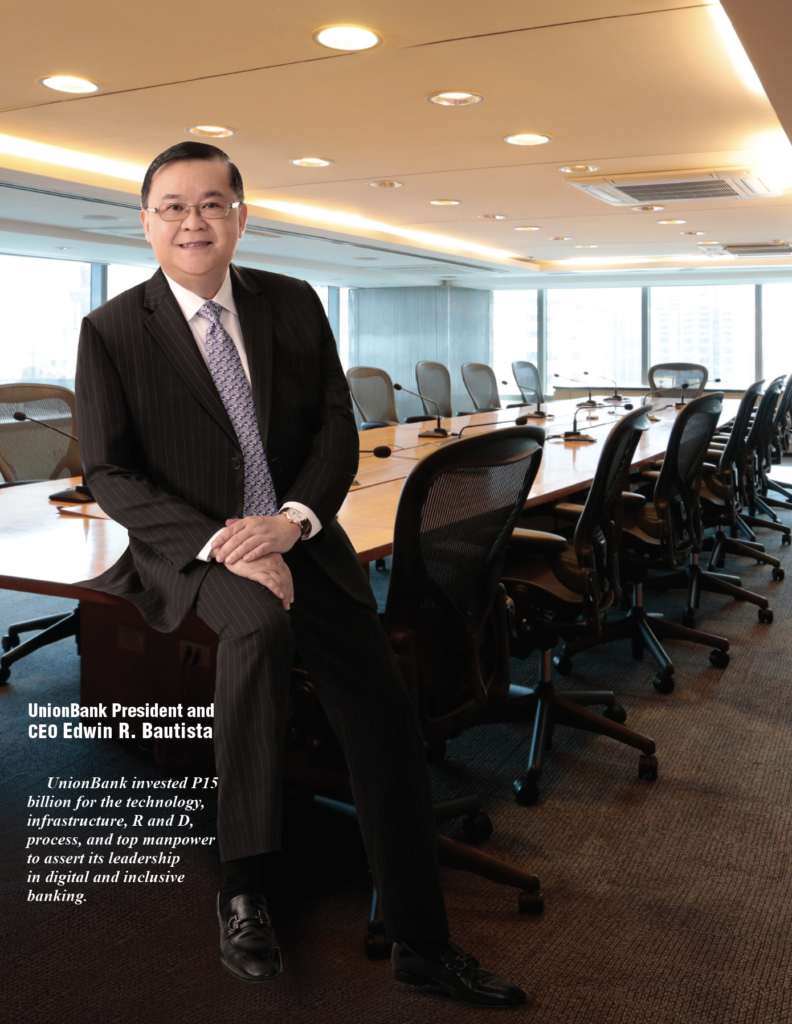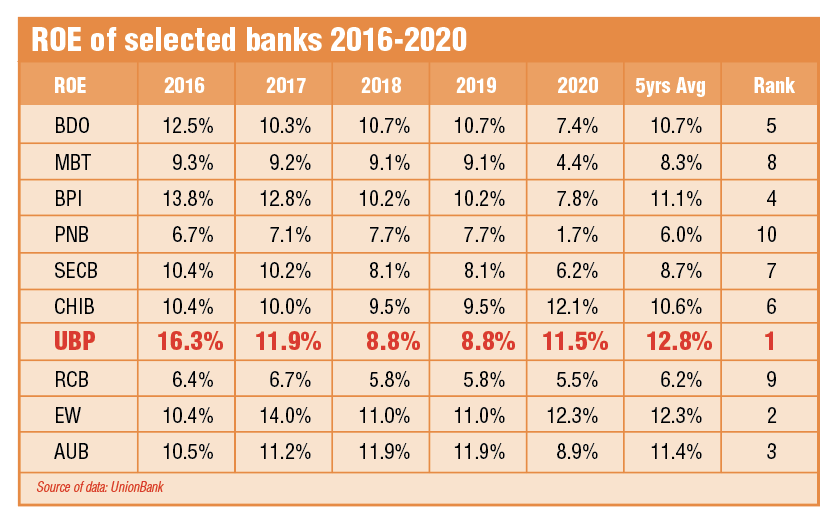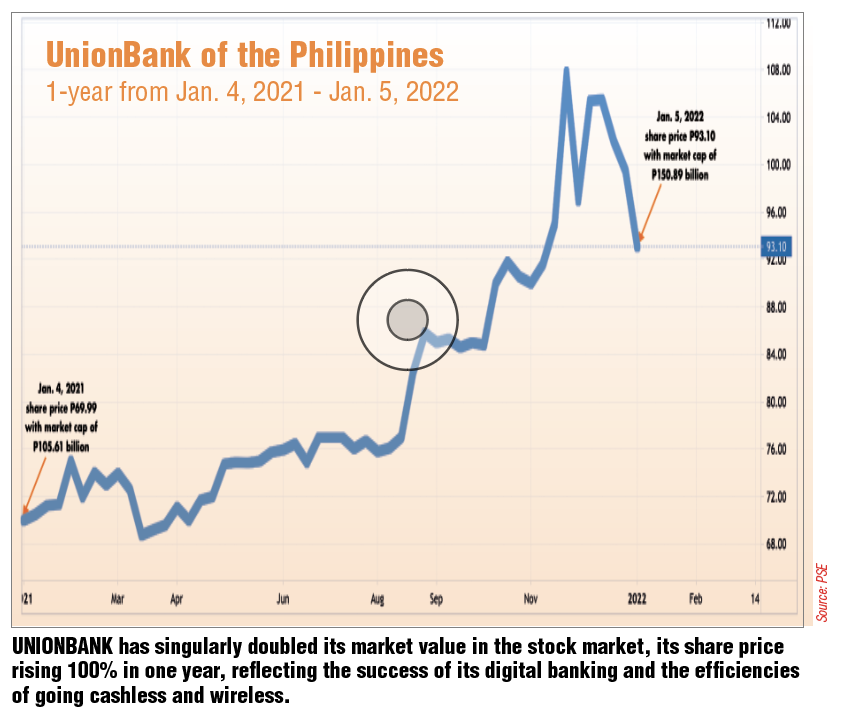 UnionBank the pioneer in digital banking
UnionBank has been at the forefront of pioneering work. It is the Philippines' first digital bank.
In the last five years, under President and CEO Edwin R. Bautista's watch, UnionBank has invested P15 billion in its technology infrastructure, R&D, and process. The bank also recruited the best and brightest, and among the youngest, from companies involved in digital technology and telco.
Bautista credits UnionBank's former president and now vice chairman Justo Aboitiz Ortiz, for the digital visioning. "We embrace emerging technologies like blockchain, AI, and robotics as our path forward," Ortiz told BizNewsAsia.
"UnionBank's mission is to elevate lives and fulfill dreams. We do that by enabling communities," Ortiz adds. More than 60 million Filipinos are unbanked or have no bank accounts. Worldwide, two billion people are unbanked.
And how does UnionBank guarantee service quality, speed, and safety of members' accounts and money?
.
"We continue to invest and experiment in new technologies to improve banking, upgrade process (like Agile/DevSec/Ops) and further building a culture of innovation," explains UnionBank CEO Bautista. "All these centered on delivering a sustainable, superior customer experience."
The magic of internet
The internet, says the Bangko Sentral ng Pilipinas, "opened up opportunities for greater operational efficiency for banks and other payment service providers, as banks began to design and launch internet banking facilities that allowed their clients to access information on their accounts, transfer funds, pay bills, apply for loans, and make other banking and payment transactions using personal computers."
In turn, says the BSP, "these innovations in the financial and payments ecosystem paved the way for the Philippines to become the first country to introduce the concept of mobile money services in 2001."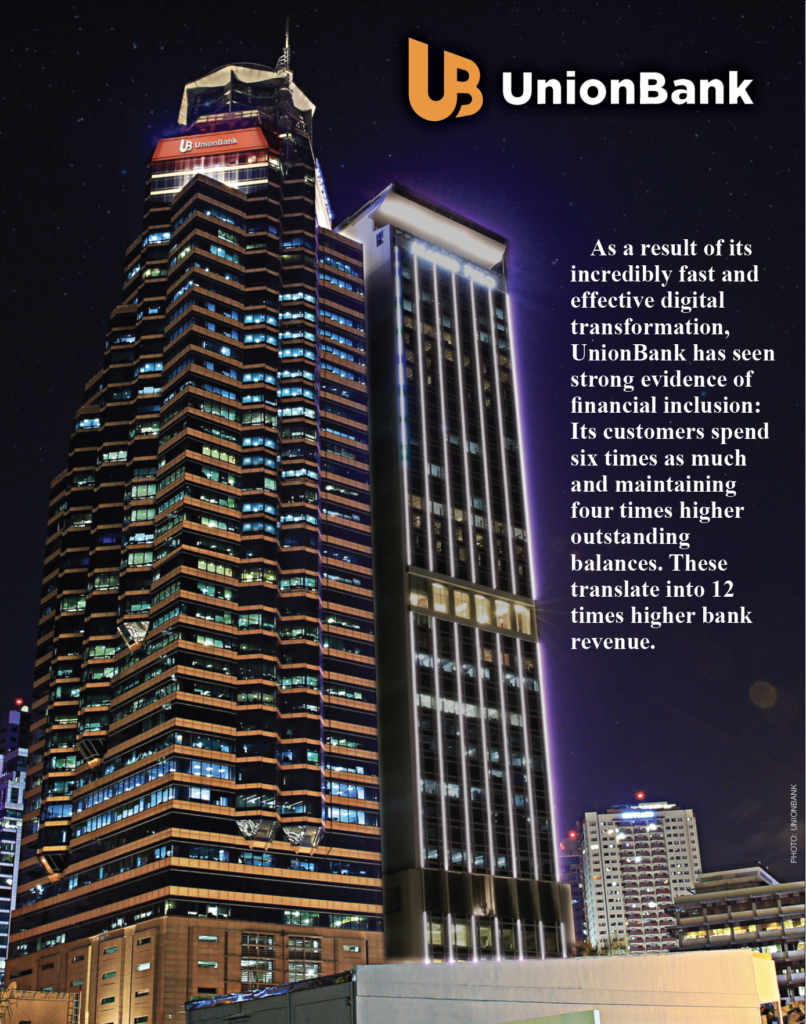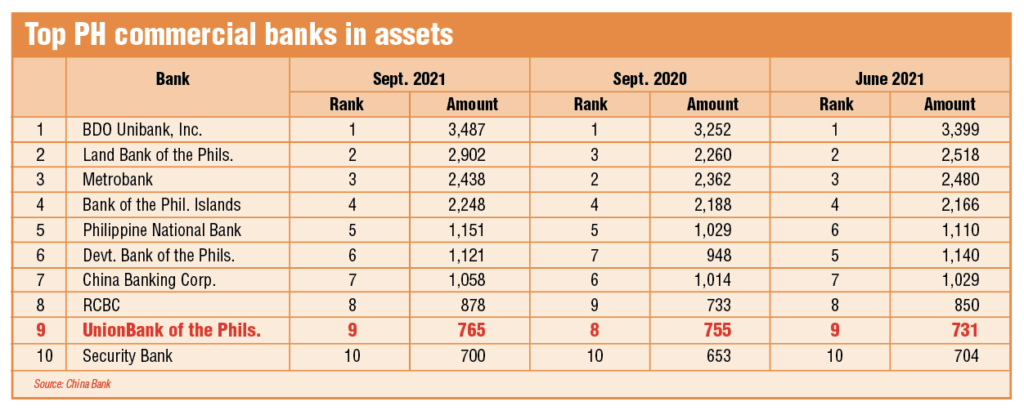 63M Filipinos use internet, 75M have mobile phones
By January 2020, 63 million or more than half of Filipinos, were internet users, and 75.66 million had mobile phones. More than 75 million Filipinos have a cellular phone. In three years, per forecasts, 77% of mobile phone users will access the internet with their wireless phones.
Yet, more than 60 million Filipinos have no bank account. What to do then? Well, introduce banking to them thru the mobile phone. That, UnionBank is doing, magnificently.
In 2020, the Philippines topped the average user index in Asia—10 hours and two minutes a day on the internet.
Mobile penetration rate growth has been dramatic, exceeding 100% of the population of 110 million. This means many Filipinos have more than one cellphone.
Mobile data is the way to go
Over 45% of gross revenues of telcos is mobile data. In 2019, 52% of adult Filipinos had a smartphone, up from 38% in 2017. With mobile phones as banking platform, e-money transactions grew 54% from P963 billion in 2017 to P1.485 billion in 2019. Between 2017 and 2019 alone, active e-money accounts rose quadrupled from 2.2 million to 8.8 million.
Wireless is basically cellular phone penetration.
.
UnionBank's digitalization push has coincided with the digitalization and financial inclusion thrust of the Bangko Sentral ng Pilipinas.
In 2007, BSP became the first central bank in the world to have an office dedicated to financial inclusion.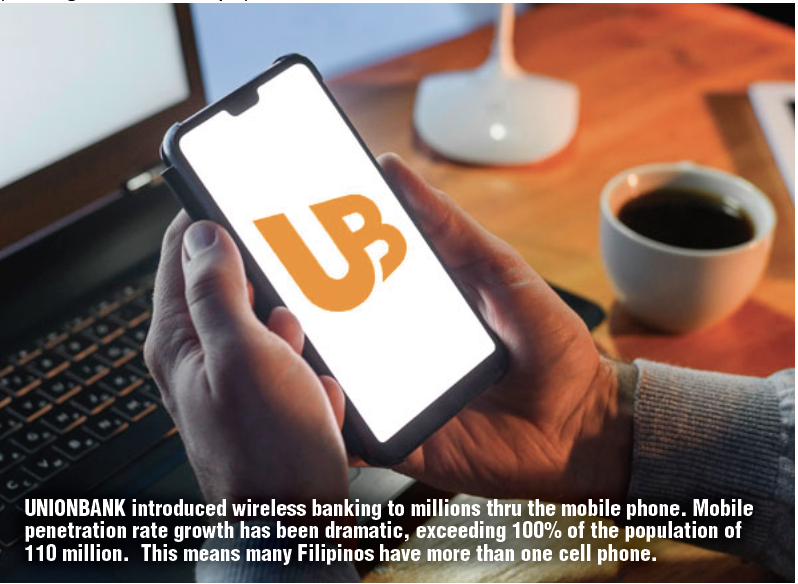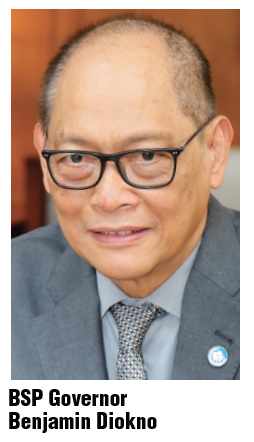 UnionBank first with internet banking
"UnionBank actually launched the first internet bank, in 1999," discloses President and CEO Bautista. UB clients accessed the bank thru their computer. "At the same time," he says, "we had mobile banking using text messaging, to get balance info."
"The BSP has long recognized the role of digital platforms in finding greater efficiency in the delivery of financial products and services," says BSP Governor Benjamin Diokno.
When it comes to digital banking platforms, UnionBank is first in mind of most bank customers and clients.
With more Filipinos having more mobile phones, more people will have greater access to finance and banking. With more users and competition tougher, banks are forced to lower fees and improve service to expand their customer base. That is financial inclusion.
"Access to affordable financial services is critical to poverty reduction and economic growth," says Governor Diokno, citing a World Bank paper.
For his efforts at digitalization of Philippine banking and the Bangko Sentral's extraordinary response to contain the economic fallout from the pandemic, the prestigious Banker magazine has recognized Governor Benjamin E. Diokno "Central Banker of the Year 2022", Global and Asia Pacific.
Digital financial services
Explains the BSP chief:
"Countries with deeper, more developed financial systems enjoy higher economic growth and larger reductions in poverty and income inequality. Fintech-enabled Digital Financial Services (DFS), has the potential to lower costs, increase speed, security and transparency and allow for more tailored financial services that serve the poor at scale.
Digital financial services
Explains the BSP chief:
"Countries with deeper, more developed financial systems enjoy higher economic growth and larger reductions in poverty and income inequality. Fintech-enabled Digital Financial Services (DFS), has the potential to lower costs, increase speed, security and transparency and allow for more tailored financial services that serve the poor at scale.
"DFS also enable a fast and secure way for governments to reach vulnerable people with social transfers and other forms of financial assistance, especially during challenging times."
Central Banker of the Year 2022
"Creating a strong banking sector that supports individual consumers while moving forward with the digital banking agenda has been the goal of the 2022 winner of the Central Bank Governor of the Year award," wrote The Banker, in citing the BSP chief.
Diokno, said The Banker, "has helped to see the Philippines through the COVID-19 pandemic, and pushed ahead with his modernization agenda for the country's banking system." (See page 34)
Meanwhile, mobile phones helped massive digitalization and wireless banking. Premier tech data provider International Data Corporation (IDC) reported in August 2021 the Philippine smartphone market grew 22.6% in the second quarter of 2021, the fourth consecutive quarter of year-on-year growth, amid history's worst pandemic and economic crisis.
Filipinos want cheaper but better phones
Filipinos are getting more sophisticated in their choice of mobile phones. 5G is now more than 10% of the market, a share up 56%, helped in part by sharp declines in prices, by about 41.5% in the second quarter of 2021 alone.
.
"Feature phone and 3G smartphone shipments continued to dwindle, reflecting the willingness of Filipinos to spend more for better functionality as well as the successful 4G LTE campaigns by telcos," said IDC Philippines.
Apple's iphones and other expensive brands have only less than 18% of the market; 80% has been gobbled up by the Chinese brands—the top three brands are Chinese which are aggressively priced.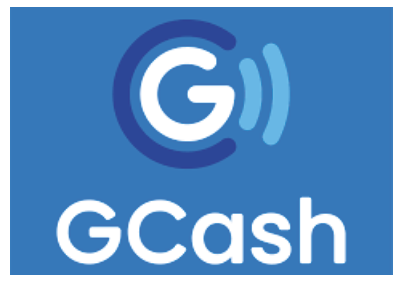 Awesome rewards for digital services
Awesome rewards await the digitally nimble. GCash, the No. 1 finance app in the Philippines, now has more than 50 million users, over 10 million transactions, and is hitting P3 trillion in value transactions.
READ FULL ARTICLE HERE: