By Antonio S. Lopez
A remarkable week for me last week, July 11 to 16, 2022.
MONDAY, I had a severe bout of gout—a reminder for me to go easy on nuts and some rich foods.
TUESDAY, I had breakfast with my Tuesday Club, a group of senior editors, columnists, top corporate pr professionals, businessmen and senior government officials. I discussed that President Bongbong Marcos Jr. (BBM) seems to have  a serious communications problem.  In two press conferences, he made roundabout statements signifying nothing.  BBM was asked about marching orders to his cabinet. It seems there was none, it turns out, except for a blanket authority to "streamline" the cabinet bureaucracies.  "Streamline" is the code word for disposing of excess baggage.
2.3 million in the bureaucracy
With 2.3 million (including 923,000 teachers and 450,000 soldiers and policemen), the bureaucracy is heavily overpopulated. You can "streamline" a third of it and you can get the job done better. In 2022 budget, P1.456 trillion is allotted for "personnel services", up 12% from P1.299 trillion in 2021, and up 22% from P1.184 trillion in 2020. About 27% of total government budget goes to salaries—almost the double the ratio in the private sector.
In a press conference, BBM was asked about his support for public transport commuters. No more libreng sakay he said first. Then he realized he was wrong before completing his sentence. BBM conducts press conferences without briefing notes, the political equivalent of hi wire dancing.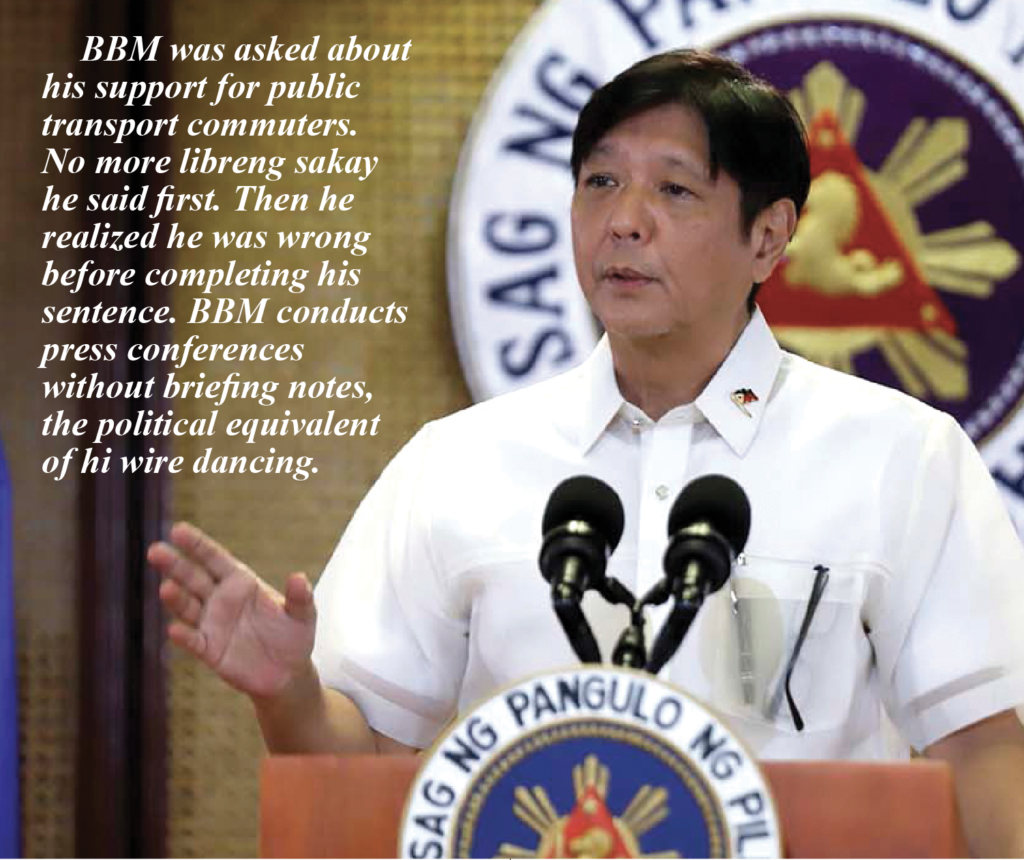 WEDNESDAY, I attended a lunch forum on nutrition and education by the Philippine Business for Social Progress (PBSP) and Philippine Business for Education (PBED).  
The forum was led by Manuel V. Pangilinan of the MVP Group, Edgar Chua, chair of the Makati Business Club; Ramon del Rosario Jr., CEO, of the Phinma Group; Babes Singson, president of the Management Association of the Philippines (MAP), Dr. Chito Salazar, CEO of Phinma Education and president of PBED; and former Central Bank Governor Joey Cuisia.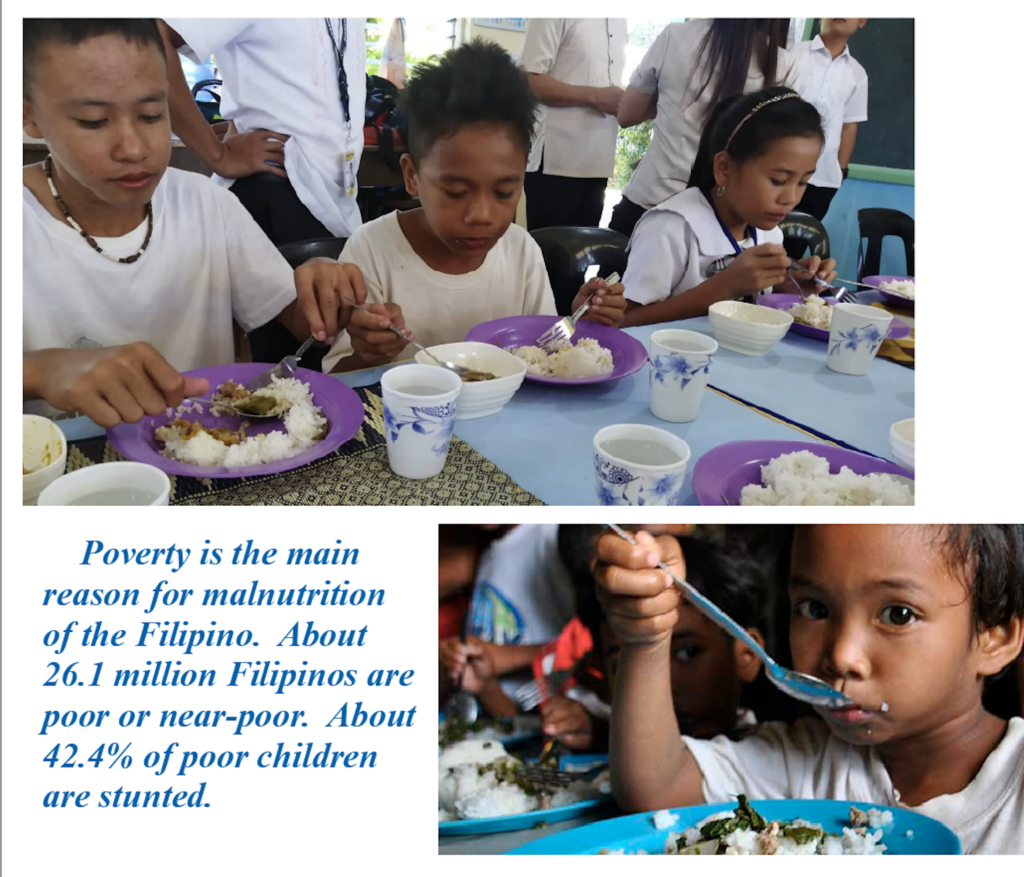 Malnourished, mis-educated Filipinos
Our kids lack nourishment of body and mind. In 2018, 30.3% of kids had low height for their age (stunted), 5.6% had low weight for their height, and 58 million Filipinos lacked enough food during the pandemic. During the pandemic, 33% of Filipinos lacked money to buy food.
Poverty is the main reason for malnutrition of the Filipino. About 26.1 million Filipinos are poor or near-poor. About 42.4% of poor children are stunted.
Undernutrition is more prevalent in the rural areas than in urban areas. Ironically, our food producers –our farmers—are the poorest and most food insecure Filipinos.
97% of kids not proficient at all
In the forum, Dr. Chito Salazar cited a 2017 study in which 97% of school children were found to be below proficiencies in math, science and English.
World Bank and Unicef data show that during the two years of the pandemic, the ratio of ten-year-olds (fourth graders) who could not read simple text, rose from 70%, to 90%. Stunted kids who become adults learn 20% less than their non-stunted counterparts.
Our young are growing up knowing nothing. This makes them very good voters.
They are gullible. Closing the forum, MVP urged companies to invest in agriculture. I joined in the singing of happy birthday to the PLDT top honcho, a compadre and friend from way back.
THURSDAY. I missed my Rotary Club of Manila weekly meeting and board meeting in favor of a Facebook link to the first FTF general meeting of MAP. DTI Secretary Fred Pascual discussed his 10-point program.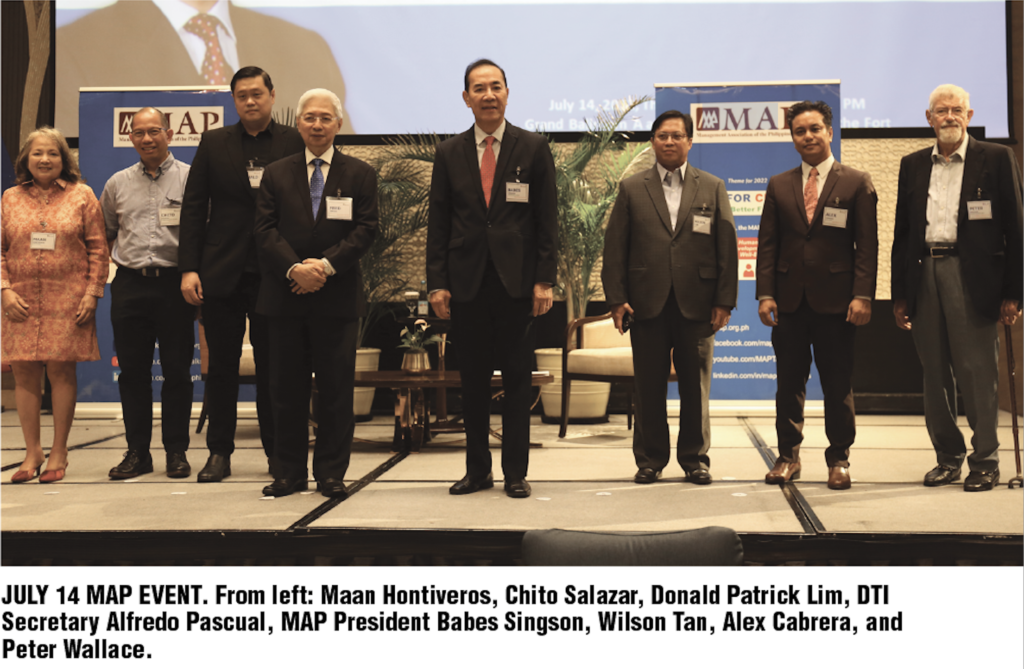 MAP wants to help SMEs
MAP president Rogelio "Babes" Singson made three demands on behalf of SMEs: Do not harass them, stop audits on them, and big companies must pay their payables to the SMEs, on time, 30 days, not 180, so the SMEs don't prey victims of loan sharks masquerading as banks.
The ten points of DTI Fred Pascual's program: 1) Upgrade, upskill, and upsize micro, small, and medium enterprises (MSMEs); 2) Foster industries geared to domestic demand; 3) Promote and support regional development; 4) Ensure the availability of accessible and affordable food; 5) Reconfigure PH export sectors into industry clusters; 6) Enable jobs-skills matching and skills upgrading; 7) Improve the ease of doing business; 8) Create an enabling environment for attracting investments, and expanding exports; 9)  Protect and empower consumers; and 10) Transform DTI into an agile organization.

FRIDAY. I joined a small group of biz columnists riding in Ramon Ang's sleek superjet Gulfstream 650 for a whole day tour of the 22,500-ha.
Bugsuk island, Balabac, near the tip of the vast Palawan archipelago. Bugsuk is the next Boracay, only ten times bigger.
It already has an airport that can take in A320s and Boeing 777s and on one side of the island, an 8-km-long 100-meter wide white beach with sand finer than Boracay's.
Bugsuk  has an 8-lane well-paved road that is 36 kms long, the distance from Makati to Nuvali.  
That gives you an idea how long and how large the island is. At 22,500 hectares, Bugsuk is 22x the size of the original Makati. RSA opens Bugsuk tourism in 2024.
At lunch, we feasted on prawns, lobsters and wild Lapu-lapu fished out from the sea.
Going back to Manila, we arrived at NAIA with the same Gulfstream executive jet of RSA but were made to wait for 30 minutes in the air before landing, and another ten minutes to wait before the sleek executive air saloon could park at its hangar.  Airport congestion.  RSA sees the congestion crisis at NAIA to worsen. 
Yet, President BBM has vetoed a bill, sponsored by his sister, Senator Imee Marcos, granting freeport zone status to San Miguel's Aerocity New Manila International Airport in Bulakan town, Bulacan.  
Without such setbacks, RSA promises to open the P740-billion NMIA in just three years.  NMIA is the single biggest investment in the Philippines by any entity, government or private corporation.  It is fully funded by SMC.
SATURDAY,  I joined a breakfast of a dozen people with Finance Secretary Ben Diokno and Albay Second District Rep. Joey Salceda. What was discussed?
According to Joey Salceda, Ben is the most powerful man in the Philippines today, after BBM.
In the meantime, educationist Dr. Chito Salazar, the president of Philippine Business for Education, stresses the need for both government and the private sector  to invest more in both nutrition and education.
"Investing in the nutrition and education of our youth is an economic imperative. We need to build strong human capital to drive productivity and inclusive economic growth," he said in his remarks before the PBSP forum on July 13.
"To achieve shared prosperity for all, we need to break the chain and no one sector can do this alone," he added. The Phinma Education chief cited some examples of what small gestures can do.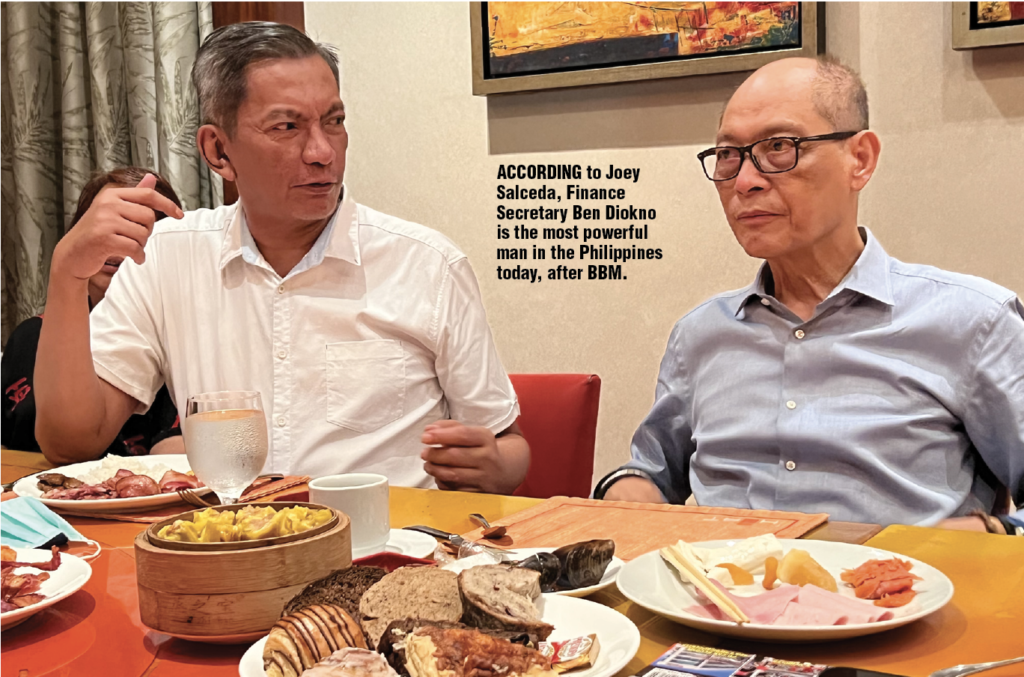 "An example is our project with Accenture on an early grade reading and Math remediation where we provided 1,000 disadvantaged children tablets with a gamified learning app, and enlisted volunteer tutors to help them.
"In less than six months, we saw a 122% increase in reading scores among the laggards of Grade 1 and around a 20% increase in Math scores among the bottom performers in all grade levels."
Another commendable initiative, Salazar noted, "is the supplemental feeding program of PBSP and Century Pacific in BARMM, which benefitted 42,000 kids for a full school year."
"This increased perfect attendance by 14% and reduced the cases of wasted and severely wasted children by 86%."
Salazar concludes:
"If these kinds of interventions are scaled up and institutionalized, imagine what long-term, targeted, high-value investments can achieve?"