By Antonio S. Lopez
In a series of hearings recently, senators took turns pummeling key officials and legal luminaries of the National Grid Corporation of the Philippines (NGCP).  
In three hearings on May 17, May 24, and July 12, this year, NGCP officials were subjected to punishing sessions of harangue and insincere blandishments totaling seven hours.  
The main allegations: 1) NGCP is a monopoly; 2) NGCP is a security risk because a major stockholder is a large Chinese company: 3) NGCP is overpricing and raking in billions; and 4) NGCP has not been meeting its committed transmission upgrade projects.  
Higher, better transmission system  
To all these charges, NGCP has stood its ground.  It remains committed to deliver higher transmission capability in the light of doubling in power demand growth over the next quarter century.  
Yes, NGCP is a monopoly.  That is how the business was designed, by the government, thru an act of Congress in 2001.  RA 9136 (Electric Power Industry Reform Act) was signed by the president of the Philippines, Gloria Macapagal Arroyo.  That is how the business was sold as a franchise, by the government. And that is how the business should be run, as a national grid operated by a single operator.  
The EPIRA introduced two major reforms: The restructuring of the electricity supply industry and the privatization of the government-owned National Power Corporation (NPC).   
In 2009, NGCP paid the government P177 billion ($3.95 billion at the old P45 to $1 rate) in fees for the rights to the concession.  It has invested an additional P309 billion since its takeover in 2009.  That's a total of P486 billion.
Returns not that big  
So if NGCP makes a profit of P20 billion-P22 billion, which it did in recent years, that's just equivalent to 4%-4.5% return, a pittance.  
In contrast, a large manufacturing enterprise makes on average 15% per year.  Banks make much more money.  Citibank has an ROE (return on equity) of 25.95%, Land Bank 18.54%, China Bank 16.19%, Bank of PI 15.4%.  
In fact, with just P33 billion in investments  from 2003 to 2008, government-owned TransCo was making more money than NGCP is today, 15.87% average cost of capital, according to NGCP lawyer Cynthia Alabanza.  "We have outspent TransCo by a ratio of 5-to-one," the counsel told the senators.  
Having invested that much (P486 billion), NGCP has been making profits equivalent to just 15% of capital invested.  NGCP revenues and profits are capped by the government.  
NGCP costs household 3.5% per kwh  
At the household level, the NGCP transmission charge translates into just 3.5% per kilowatt hour.  
As to NGCP's 40% owner, the government-owned State Grid Corp. of China, well, it is the world's largest public utility.  In revenue, it is the world's third largest, behind Walmart and Amazon.  
NGCP thus could not have gotten a bigger partner than SGCP.  This means access to technology, to global best practices standards, and management prowess.  
And compared to TransCo's time, outages or brownouts happen less frequently, according to the company.  As to cybersecurity threat, "we have made huge improvements to protect the corporate network," says lawyer Alabanza.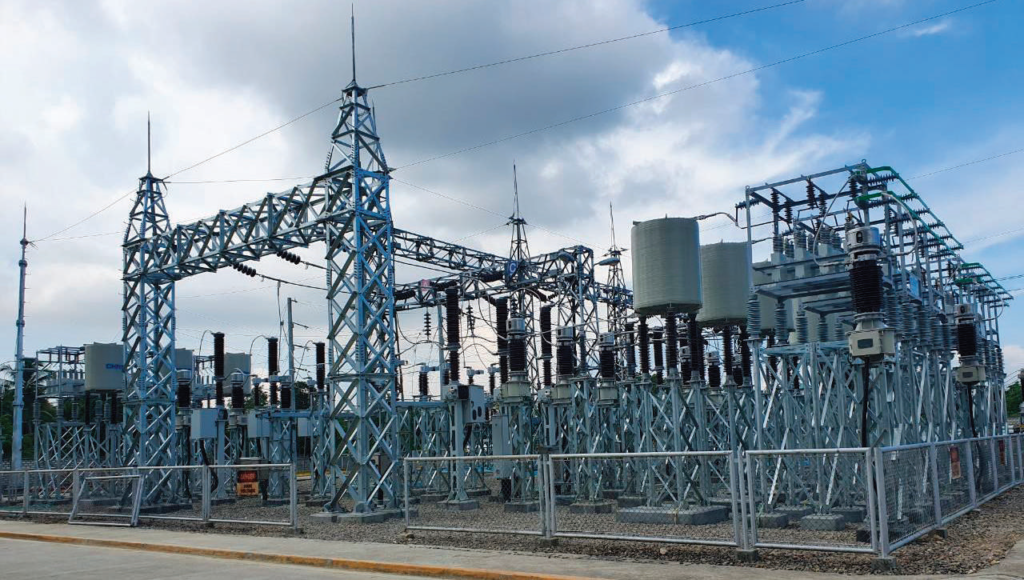 Delays, right of way issues
Finally, delayed projects. NGCP concedes that there are delays, in 37 projects. But those delays are not self-inflicted, but are caused by factors over which NGCP has little control.
ROW, clearances  
Like right of way (ROW) issues.  And delays in government approvals.  It took government ten years to clear one major project, for instance.  
EPIRA restructured the ailing power industry which was broken up into four components: generation, transmission, distribution, and supply.  
Electricity rates were unbundled to allow consumers to see each individual component of the electricity service they are paying for.  
Generation was privatized through the sale of generation assets. Transmission was spun off to government owned National Transmission Corp., in preparation for its eventual privatization via concession.  
Concession, unlike outright sale, allowed government, through TransCo, to retain ownership of the country's transmission assets. Only the obligation to operate, maintain, and expand the grid was given to the private investors.  
The consortium of Monte Oro Grid Resources Corp., Calaca High Power Corporation, and the State Grid Corporation of China as technical partner, won the 25-year concession in 2007 to operate the country's power transmission network after an open, public, and competitive bidding process. It was the biggest government auction conducted in efforts to reform the local power sector.
NGCP officially started operations as power transmission service provider in 2009. Under a congressionally-granted 50-year franchise, NGCP has the right to operate and maintain the transmission system and related facilities, and the right of eminent domain necessary to construct, expand, maintain, and operate the transmission system.  
As the System Operator of the Philippine power grid, NGCP balances the supply and demand of electricity to efficiently serve all its customers – power generators, private distribution utilities (DU), electric cooperatives, government-owned utilities, economic zones, and directly-connected customers.
It is responsible for dispatching the power plants and transmitting the generated power to various DU which, in turn, deliver the electricity at a lower voltage to households and other end- users.  
NGCP also operates and maintains metering facilities and provides technical services, particularly system studies, and operation and maintenance of customer facilities. NGCP also determines the levels of Ancillary Services (AS) required for each grid.  
Power demand  
Power demand is to rise by 6-6.73 % per year til 2030, more than double the 3.66% growth rate during 2005 to 2020.   
As end-2020,  total Philippine power demand was 15,282 megawatts, broken down into 11,103 MW (72.65%) for Luzon, 2,201 MW (14.4%) for the Visayas, and 1,978 MW 12.9%) for Mindanao.  
Under NGCP's Transmission Development Plan, the power demand for the country is expected to grow at an AACGR (average annual growth rate) of 6.06% for the period 2022- 2025, 6.73% for 2026-2030, and 6.49% for 2031-2040.  
Mindanao will have the highest AACGR compared with the two other Grids. Mindanao is forecasted to reach an AACGR of 7.81% for 2022-2040 while the Luzon and Visayas Grids at 6.04% and 7.11%, respectively, according to NGCP.