SMC's nine mega projects will dramatically change the country's economic landscape and affect nearly every facet of the life and work of millions of Filipinos.

They include: 1) The P740-billion new Manila International Airport in Bulacan; 2) an aerotropolis of seven cities sprawled over 9,000 hectares of land adjacent to NMIA plus a 1,000-ha. economic zone; 3) power generation of 4,734 megawatts; 4) renewable energy coming from batteries, hydro, wind and ocean waves; 5) infrastructure with tollways running for 787 kms, 75% of the market; 6) food processing with P100 billion for 10 mega poultry and chicken processing plants; 7) the Bugsuk island Palawan resort on 25,000 hectares with 20 kms of white beach on both sides; 8) mass transportation with the MRT-7 operating speedy trains on 22 kms of elevated railway and a six-lane highway underneath; and 9) bulk water to meet the future needs of Bulacan and Metro Manila.

By Antonio S. Lopez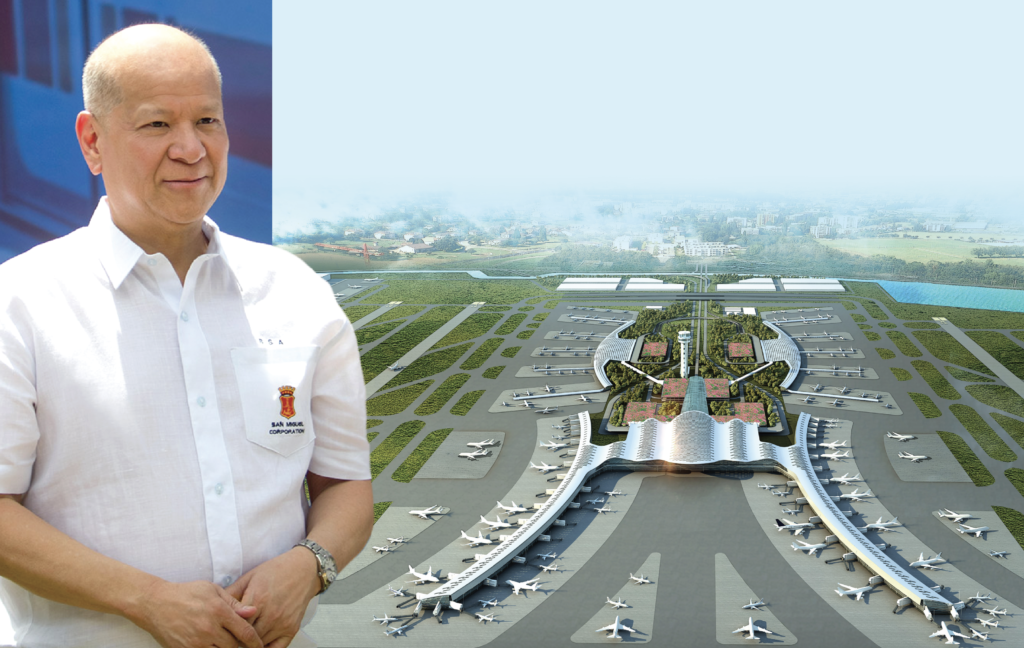 No private enterprise has had a more pervasive impact on the life and work of Filipinos than San Miguel Corporation.
SMC produces public goods at a scale, intensity and costs never undertaken before by any other corporation. And the conglomerate creates tremendous measurable impact on society without neglecting its bottomline. In so doing, San Miguel creates value, in the short and long term, both for its stakeholders and the people in general.
Under Ramon S. Ang, San Miguel has redefined capitalism and the motive power for doing business. Its brand of capitalism is less financially driven and more public-good driven.
Plainly, San Miguel's capitalism is nourished by an overweening desire to do the public good, to provide solutions to the problems of people and the planet.
This may explain why futurely, the life and work of many Filipinos will be suffused with a product, commodity or service produced by San Miguel, often at a reasonable price.
Ramon Ang is undertaking at least nine mega projects that will define and epitomize the San Miguel of the future. They include:
1. The P740-billion New Manila International Airport (NMIA) in Bulakan town, Bulacan province, north of Manila
A game changer and pace-setter, this is the single largest investment by any company in the Philippines.
Operational by 2025 with an initial two runways each 3.5 kms long and expanding that with four runways by 2027, the new Manila International Airport can handle 200 takeoffs and landings per hour, 5x the capacity of NAIA. Easily, the new MIA can service 360,000 passengers per day or 130 million passengers per year.
More than 60% of those passengers will be Filipinos or domestic passengers because domestic tourists outnumber foreign arrivals by a ratio of four to one.
With the NMIA, RSA expects foreign arrivals to increase from 7 million at present to 30 million per year. Each foreign tourist usually is serviced by one person. So 30 million foreign tourists mean 30 million jobs.
While under construction, the new MIA will create one million jobs.
With a single runway that is wrongly designed, the present NAIA is overcrowded with 42 takeoffs and landings per hour.
With new MIA's four runways, plane fares will come down dramatically. Today a typical return flight from Manila to Cebu costs P24,000 or $460.
With airlines having plenty of space at new MIA, Manila-Cebu fares could be reduced significantly, thus opening the thrill of travel to millions more Filipinos.
Four major benefits
The Bulacan airport will bring about four major benefits: One, solve congestion at NAIA which costs the economy P1 trillion a year; two, solve traffic congestion in Metro Manila which costs another P1 trillion a year; three, solve severe joblessness; about 30 million Filipinos have no jobs; and four, modernize the Philippine economy, improve its image before foreign investors and thus, stimulate investments at a scale never experienced before.
The Bulacan airport will be linked by high speed train that can carry passengers from the airport to Rizal Park in just 20 minutes, if not less.
President Duterte's P5 trillion Build, Build, Build last year alone brought in $10 billion of foreign direct investments, up 54% in one year.
2. The ambitious Aerocity which seeks to create seven modern satellite cities around the Bulacan airport sprawled over 9,000 hectares of what is today mostly land under water
A companion to the Aerocity is an industrial processing zone that will become the Silicon Valley of the Philippines. RSA wants to attract high tech companies like the Taiwan Semiconductor Manufacturing Corp. and Apple.
3. Power Generation
SMC is one of the largest power producers in the Philippines. It has 4,734 megawatts of capacity. If San Miguel were not in power generation, huge swaths of the country would have brownouts daily.
4. Renewable energy
SMC is tapping major renewable energy sources such as hydro, wind, ocean waves. It will produce 1,000 megawatts of Battery Energy Storage System (BESS) in 32 locations in the country.
Of the 1,000 MW of BESS, 690 MW are already operational, insuring no brownouts in many areas. Using the latest and cheapest in battery technology, SMC's BESS is the first in the Philippines and of the first in Asia.
5. Infrastructure
Aside from the airport in Bulacan and the airport in Caticlan (Boracay), SMC has a huge portfolio of tollways whose total length is 787.54 kms, or 75% of private tollways in the Philippines. SMC's tollways will from Pagudpud in the north to Sorsogon in the south and will link the major seaports and airports west of Luzon island.
6. Food processing
SMC is spending P100 billion in 10 mega chicken processing plants to produce 80 million processed chickens (plus processed byproducts) yearly for local and export consumption.
Chicken today is the least expensive meat. Pork is now priced the same as beef. Nearly all of Luzon's entire pork production has been wiped out by an insidious pig disease imported from China.
SMC is the largest and most valuable food manufacturing company in the Philippines and one of the biggest in Southeast Asia in key food product categories carrying among the most recognizable brands, from chicken, to ice cream, fresh and marinated meats, hotdogs, canned meat and seafood lines, and ready to eat meals.
7. Resort destination
SMC is developing a 25,000-hectare beach resort in Bugsuk island, Palawan. It will have 20 kms of white powdery coral beach. With a 3-km-long runway that can now take in jet planes as wide-bodied as an Airbus A-350-300 and Boeing 777.
When fully developed, Bugsuk is certain to usurp the present Boracay as the premier and most beautiful beach resort in the Philippines and in the region.
8. Mass transportation
MRT-7 is no ordinary infrastructure. It expands Metro Manila's rail system with a 22-km railway with 14 stations to connect Manila, the capital, to the northern Quezon City and the northern province of Bulacan.
Under it is a 22-km six-lane asphalt highway that connects the North Luzon Expressway to an intermodal terminal in San Jose del Monte, Bulacan.
9. Bulk water
SMC seeks to help solve the water shortage in Metro Manila and Bulacan with the Bulacan Bulk Water Supply project.