By Antonio S. Lopez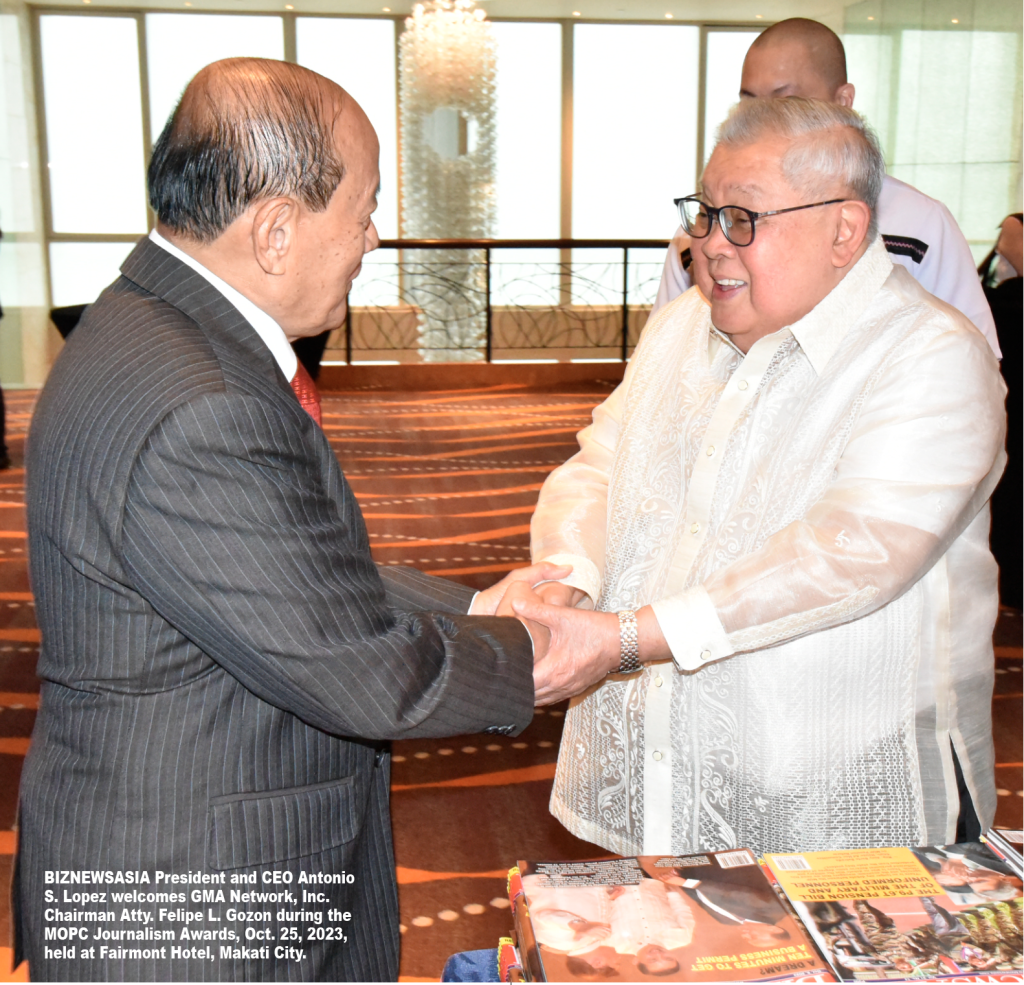 The "MOPC Journalism Awards" have been a huge, stunning success.
On Oct. 25, at the gala event attended by journalism's best, brightest, bravest and biggest names, 11 individuals and three major media organizations (The Philippine Star, GMA Network, and DZRH) received their MOPC Bell of Freedom and Excellence (BFE) trophies for distinguished work and singular excellence in journalism.
Journalism today is endangered, given the rise of authoritarianism, wars on many fronts, social media disinformation, COVID's devastation, and predictive artificial intelligence (AI).
Founded in 1945, by the foreign correspondents who accompanied Gen. Douglas MacArthur to liberate the capital, the Manila Overseas Press Club (MOPC) is Asia's oldest and most prestigious press club.
The MOPC Journalism Awards are significant and coveted for two reasons: One, it is the first time in the press club's 78 years the BFE Prize was given; and two, the awardees did not apply for the honor.  It is a judgement of peers, like a jury making an impartial and unbiased decision.
Fifteen inches tall and weighing 3 kilos each, the gleaming golden bell trophies were custom-made in Italy and airlifted to Manila.   The land of Ferrari, Lamborghini, Gucci, Pucci, Armani, Ducati, Botticelli, and Da Vinci has the world's best bell manufacturing technology. At the base of the trophies were inscribed for eternity, the names of the awardees and the citations.
Awardees
The awardees: Atty. Felipe L. Gozon, chair and CEO, GMA Network, Inc., "Television Station of the Year"; the Philippine Star, under CEO Miguel Belmonte and Editor-in-Chief Ana Marie Pamintuan, "Newspaper of the Year"; Ana Marie Pamintuan, "Journalist of the Year"; former Supreme Court Chief Justice Artemio V. Panganiban, "Journalist of the Year-Law"; DZRH, represented by Deo Macalma, "Radio Station of the Year"; Deo Macalma, "Radio Broadcaster of the Year"; Mel Tiangco, "Television Broadcaster of the Year"; Mike Enriquez, posthumous, "Lifetime Achievement in Broadcast Journalism";
Alex Magno, PhilStar, "Columnist of the Year"; Dax Lucas, Inquirer, "Business Writer of the Year"; Luchi Cruz-Valdes, TV5, "Lifetime Achievement Award"; Press Secretary Cheloy V. Garafil, "Distinguished Journalism and Government Service"; Globe EVP Yoly Crisanto, "Leadership in Digitalization and Advancing Journalism's Mobile Frontiers"; and Dennis Datu ABS-CBN Integrated News, "TV Reporter of the Year".
A special prize for Digital Inclusion, was given DICT Secretary Ivan John Uy, the guest speaker.
GMA CEO Gozon (UP Law valedictorian, and Masters in Law, Yale) made it a point to attend the awarding rites to personally thank MOPC, receive the "TV Station of the Year" trophy, and witness the awarding of trophies to two other winners from GMA-7, Mel Tiangco, "TV Broadcaster of the Year"; and Mike Enriquez, for "Lifetime Achievement in Broadcast Journalism".
"I attach special significance to these awards because we did not apply for them. Instead, I am told that these were based on the judgment of peers in the press club and that makes these awards even more meaningful," said Henry in his acceptance speech.
Gozon, 84, recalled that "when I took over the management of GMA Network in 2000, GMA was a poor second TV station. Three years later, in 2003, GMA-7 overtook the competition and has not relinquished the No. 1 position."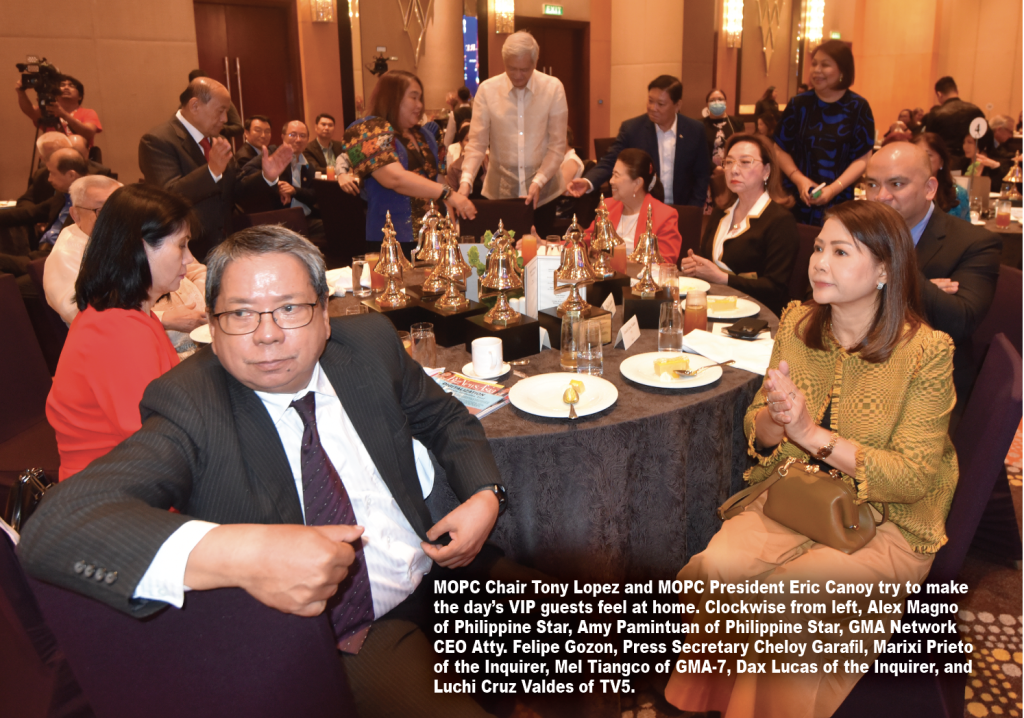 GMA Network synonymous with truth and integrity
"One thing I am proud to say," Henry stressed, "is that since the beginning, GMA Network's name has been synonymous with truth and integrity. It is our Kapusong Totoo brand of journalism that defines who we are."
Editor Amy Pamintuan thanked the MOPC "not only for giving recognition to The Philippine Star, but also because it shows that people continue to read newspapers."
"In the age of social media and artificial intelligence, which have facilitated the spread of fake news and disinformation," she said, "getting the news from reliable sources becomes even more important."
"While news consumption patterns have been changing, especially among the younger generations, the role, responsibility and ethics of journalism have not changed," UP-educated Amy said. "Journalists are accountable to the people; journalism is a public trust. The print medium in particular, because of its permanent nature, requires several layers of vetting for every item that is published, including advertising materials."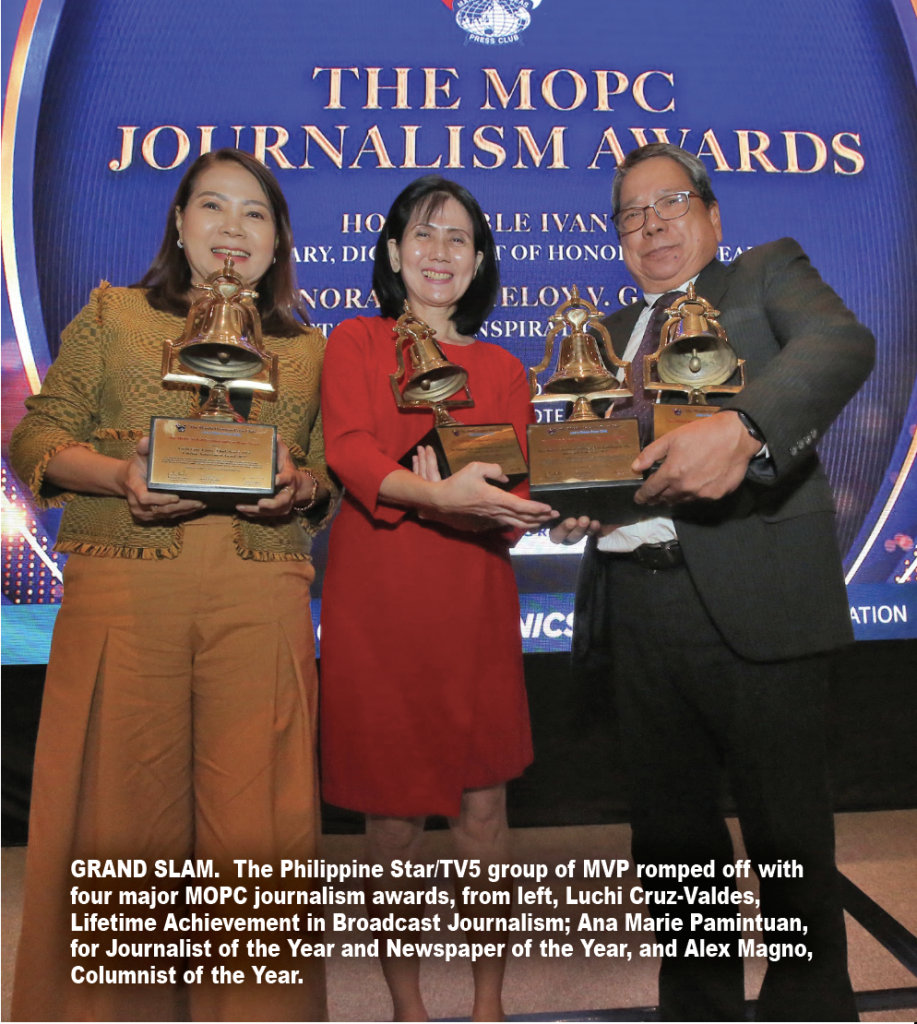 Trust in media
"Trust in a media organization allows it to influence public opinion and contribute to positive change. It makes the organization effective in speaking truth to power, especially where abuse of power is pervasive," Amy asserted.
Heartwarming was CJ Panganiban's 26-min acceptance speech. He lauded "three 'Mega Media Movers' to whom I owe this precious recognition at the sunset of my humble life: MOPC chair Antonio 'Tony' Lopez, retired Inquirer chair Marixi R. Prieto, and GMA Network chair and CEO Felipe 'Henry' L. Gozon."
Initially, Art declined the MOPC award, saying "thank you, Tony, but I am not worthy of the appellation 'Journalist,' which is given only to battle-tested stars of the journalism profession, much less of the title, 'Journalist of the Year.' At best, I am just an ACCIDENTAL WRITER; in short, tsamba lang 'yon."  But I insisted, citing his "prolific work and prodigious excellence in writing about law and justice, with depth, clarity, and command of language."
In 2006, Marixi invited Art to write a column in the Inquirer. "I have been writing for the Inquirer for 17 years, much longer than I did for the Supreme Court during my term of 11 years," Art recalled.   His most visited column was his eulogy for his late wife, Leni, who passed away unexpectedly on April 9, 2023.  Marixi published Art's columns as books, 14 so far.  The first volume, in 2011, was the third Amazon bestseller, courts category, "bested only by the books of Jeffrey Toobin of CNN and Justice Antonin Scala of the US Supreme Court".
Art extolled Gozon as "our foremost expert on aviation law", as counsel for PAL for 50 years. As the lawyer of foreign carriers KLM and Continental, Art and Henry "clashed passionately but socialized privately". "My respect for him grew over the years," Art said of Henry.
"Today, GMA is unrivaled," said Art, citing Nielsen, "with a rating higher than those of the 10 other major networks combined."