By Antonio S. Lopez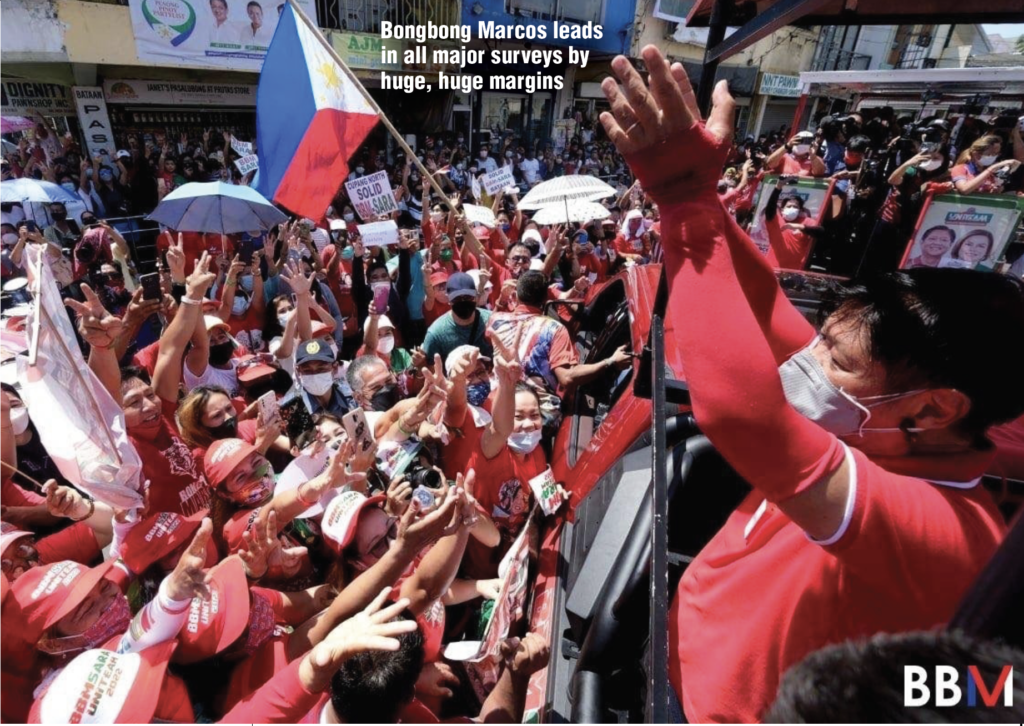 At this writing, April 1, 2022, it is one month and eight days before the May 9, 2022 presidential elections. Campaigning is allowed until May 7 only. That means just 30 days of April, and seven days in May—a total of 37 days.
In the latest survey, by Laylo Research of March 15-22, 2022, for president, former Senator Ferdinand "Bongbong" Marcos Jr. (BBM for short) was the choice of 61% of 3,000 respondents polled, nationwide. A poor second is Vice President Leni Robredo, the choice of just 19%.
Deduct 19 from 61, you get 42 percentage points. Multiply 42 by the number of expected voter turnout of 60 million, you get 25.20 million votes—the difference between the votes of BBM (61% of 60 million voters or 36.6 million) and the votes of Leni, 19% of 60 million or 11.4 million.
Headed by political scientist Junie Laylo, 12-year-old Laylo Research is a very reputable research firm. It uses a respondent base of 3,000—the largest among the top three polling firms. Pulse Asia uses 2,400, while the Social Weather Stations has usually 1,200 respondents. All three use a margin of error is plus or minus 2%. In surveys, the more respondents you poll, the more accurate the results. The smaller the error margin, 2 or less, the better and more accurate the results.
A master pollster
Junie has a master of arts in political science, with concentration in survey research, from the University of Connecticut. He has over 30 years of experience in surveys and strategic research and was a fellow and political scientist of SWS until he joined in 2001 Gloria Macapagal Arroyo as her pollster.
With BBM ahead by 25.2 million votes in the Laylo March 15-22 survey, Leni must gain consistently by 680,081 voters every day, just to tie BBM in race for the presidency by election day, or May 9. No presidential candidate had executed such a miracle before.
The best catchup was done by then Davao Mayor Rodrigo Duterte in 2016.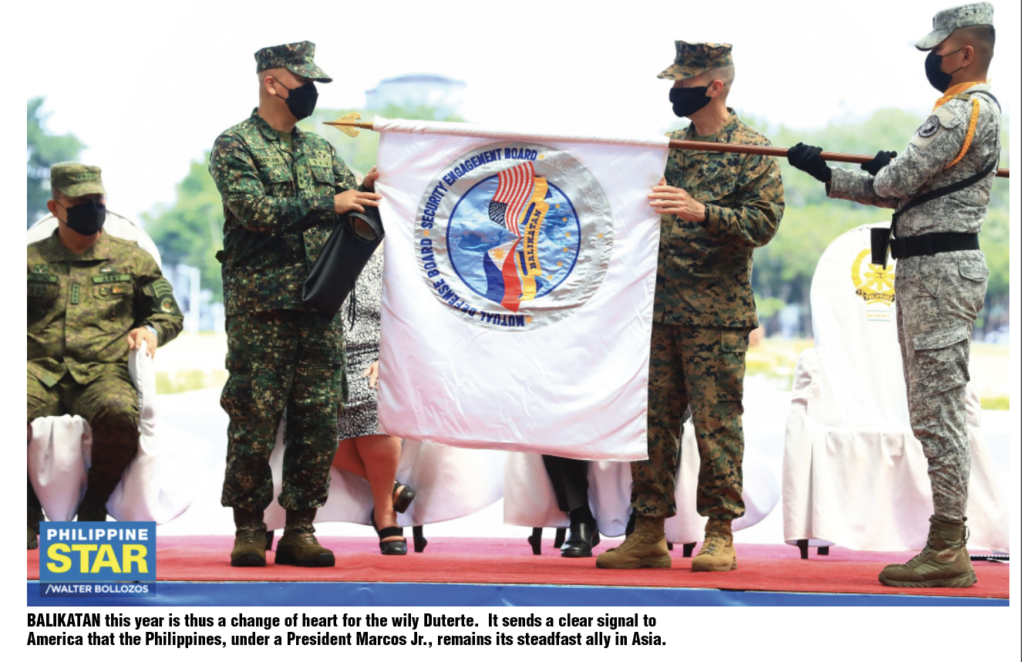 Six years ago, or on March 22, 2016, presidential candidate Digong was still behind frontrunner Senator Grace Poe by 9 percentage points—26 vs. 35, in the Social Weather Stations survey during the period. The 9% was equivalent to 3.829 million votes or less than 4 million votes.
In the SWS survey of March 30, 2016, Duterte, with 31%, was still behind Grace Poe's 34%, by three percentage points, equivalent to 1.32 million votes.
In the March 30-April 2, 2016 SWS survey, Duterte had gained the upperhand over Poe, 27% vs. 24%. Both Duterte and Poe lost ground to VP Jejomar Binay, whose ratings rose from 17 to 20 percentage points in just two days, and Mar Roxas, who went up from 17 to 18.
The final results of the May 9, 2016 elections: Duterte, 16.6 million votes or 39.01%; Mar Roxas 9.978 million votes or 23.45%; and Poe, 9.1 million votes or 21.39%.
To win as president, in 46 days, from March 22, 2016 and May 7, 2016 (the last day of campaigning), Duterte had to gain 120,217 votes every day.
In Leni's case, with 37 days to go, she must gain—every day— 681,081 votes to wipe out the 25.2-million-vote margin of BBM.
Without Duterte's killer-instinct and tough guy and can-do gravitas as mayor, VP Leni must convince 5.5 times more voters than Duterte did in 2016 to win the presidency. Can she do that? The answer is obvious: No. Only massive cheating and tampering with election results can overturn an irreversible Bongbong Marcos victory.
Will Leni's camp, in desperation, try that? Leni is not cut from an anti-democratic Trump cloth. She will gracefully accept a hugely disappointing result. Will her followers try?
This is where the manifesto of 180 retired senior generals and ranking officers comes in. Invoking the Protector of the People provision of the 1987 Constitution, the retired officers declared: "We call on all sectors of our society, irrespective of partisan preference—to preserve and respect the sovereign will of the Filipino people in the upcoming 2022 national elections. In other words; Don't mess up the election and please, count the votes properly.
The manifesto of 180 senior officers was signed by 125 generals, seven four-star generals (the rank of a chief of staff), and nine of 15 Medal of Valor awardees (Medal of Valor is the highest award given for courage and gallantry in combat).
The Protector of the People clause in the Constitution was repeatedly invoked by the military in past coup attempts and destabilizing moves.
Now, where is the United States in this year's Philippine elections? Some Leni followers hint that America wants her to be the elected president this year.
Yesterday, March 29, the Philippine and the US government launched their largest Balikatan military exercise ever. It involves nearly 10,000 troops (including 5,100 US soldiers), the best of the best fighting men of both countries, and is intended to bolster the two countries' longstanding military treaty alliance.
In the past, from 2016 to 2021, Duterte, the anti-American commander-in-chief, had disdained at such exercises and even attempted to junk the Visiting Forces Agreement.
Balikatan this year is thus a change of heart for the wily Duterte. It sends a clear signal to America that the Philippines, under a President Marcos Jr., remains its steadfast ally in Asia.
In overseas elections among its allies, America usually votes (if that is possible) where its boots are on.
READ MORE HERE: