By TONY LOPEZ
An economic crisis.
That is a very strong possibility for the Philippines in 2023.
Major corporations are reporting dramatic declines in sales – both in volume and value (with a price increase). Christmas sales this year are apparently weaker than last year's, indicating weakening consumer spending.
Sales of San Miguel beer for 2022 are down 18% in volume and 20% in value, compared with a 5% increase in volume and 8% rise in value in 2021. Sales of SMC processed foods are also down significantly, compared with 12% growth in 2021 over 2020. Refined petroleum products are likewise down. San Miguel is the country's largest corporation. Its revenues are equivalent to 5% of total economic output in value.
SMC President and CEO Ramon S. Ang notes that in 2023, the biggest contributors to the global economy—the United States, China, India, and Europe will have a slowdown if not a recession. And nearly all countries are reporting high inflation and high interest rates. "I see an economic crisis," RSA frets. "In a crisis, it is very difficult to achieve growth."
Still, in 2022, the Philippines will be lucky. Its growth this year will be 7.7%, a significant increase from GDP growth of 5.7% in 2021, the peak of the COVID-19 pandemic. By today, COVID has sickened 4.04 million Filipinos; of that, 65,000 died.
Government poured massive funds into the economy to beat the pandemic; P2.3 trillion by the estimate of the Bangko Sentral. That money translated into spending revenge by consumers, powering a once dying economy into one of the strongest performances in the region. In the ASEAN, the Philippines will show the highest growth in 2022—7.7%, beating Vietnam, 7.5%; Malaysia 7.3%; Indonesia 5.4%; Singapore 3.3%; and Thailand 3.2%.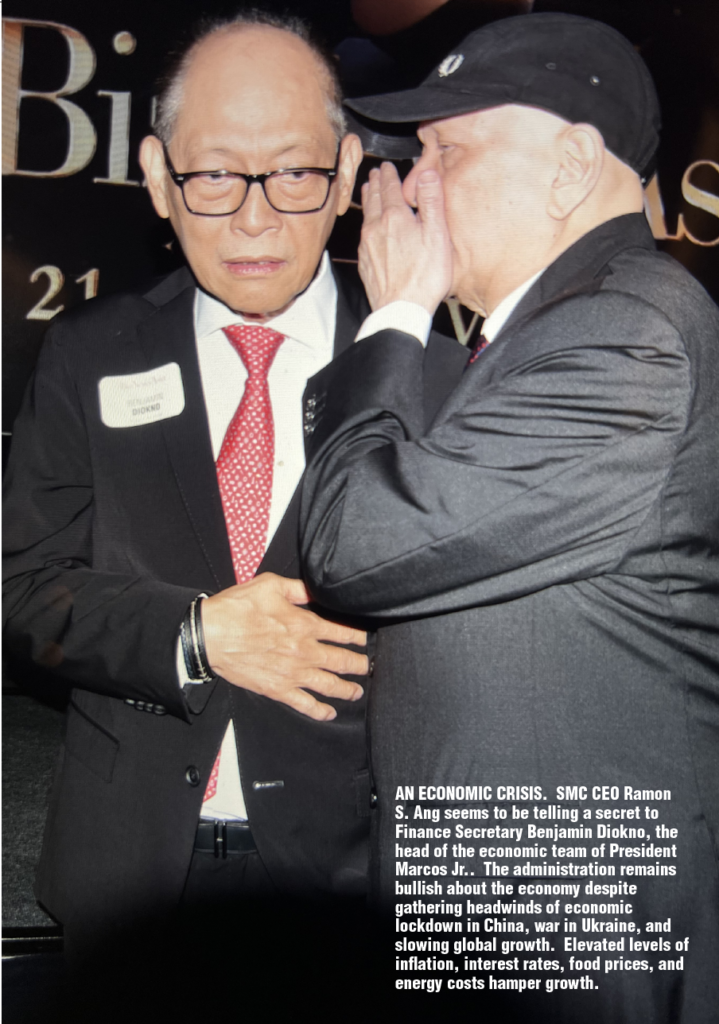 Says the Asian Development Bank: "The 2022 growth forecast for the Philippines is revised up after domestic demand spurred Q3 growth above expectations. GDP grew by 7.7% in the first three quarters of this year, driven by robust private consumption and investment and by sustained public infrastructure spending. Rising employment, tourism recovery, expanding production and retail sales, and public investment will continue to support growth." 
In 2023, Philippine economic growth will slacken dramatically, to 5.7%, per the World Bank, or to 6.0%, per ADB.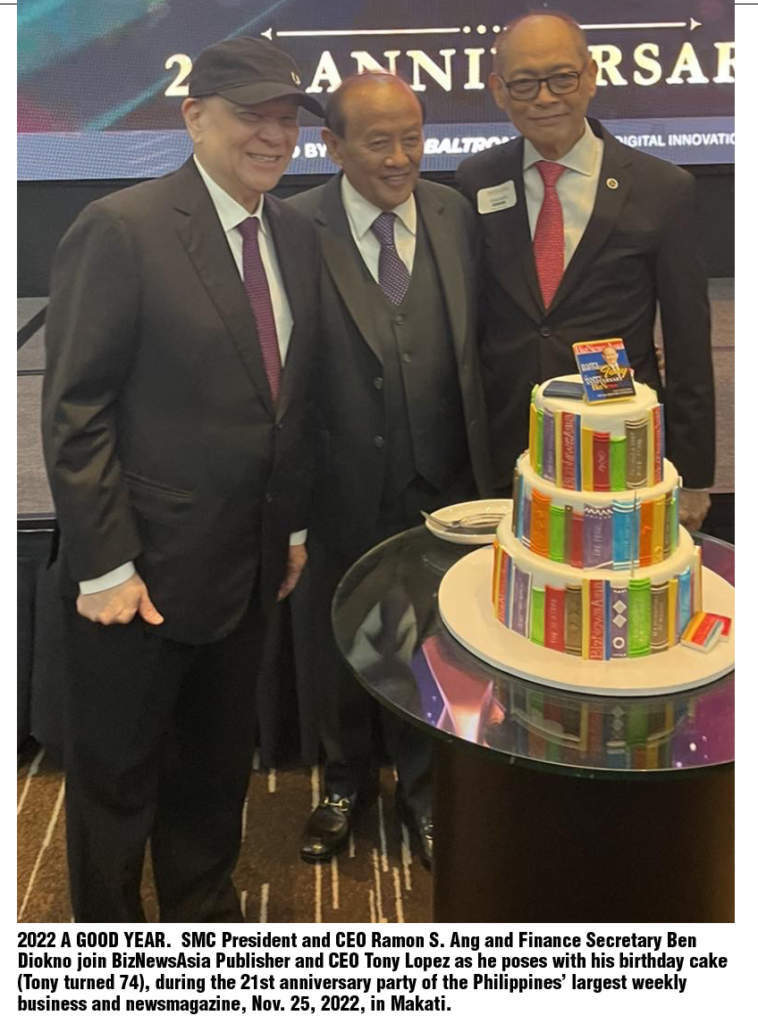 "The GDP growth forecast for 2023 is revised down to accommodate monetary tightening, a sharper growth slowdown in the advanced economies, and continuing uncertainty arising from the Russian invasion of Ukraine," says the Manila-based ADB.
A 5.7% or 6% growth in 2023 will be lower than Vietnam's 6.3% but still is hugely respectable compared to the projected 4.8% of Indonesia, 4.3% of Malaysia, 4 of Thailand, and 2.3% of Singapore, per ADB figures.
One thing good about 2022. Tourism recovered mightily.
The Philippines hit its 1.7-million whole year foreign arrival target in the first ten months of 2022.
Of course, a 1.7 million target is underwhelming; it's a joke, because our ASEAN neighbors routinely drew, pre-pandemic 2019: 39.9 million (Thailand); 26.1 million (Malaysia), 19 million (Singapore); 18 million (Vietnam).
And 16 million (Indonesia). The Philippines in 2019 attracted just 8.3 million. This year, the Philippine target is just 4.8 million. Paltry.
Why? Blame our Manila airport. It is the worst in the world. Blame our prices. They are the second highest in ASEAN. Blame our reputation. We are a land of terrorists and drug lords. And corrupt politicians. I am digressing. Since the Russian invasion of Ukraine, Asia, and indeed, the world, has been in crisis.
Per ADB, three main headwinds continue to hamper recovery in developing Asia: recurrent lockdowns in the People's Republic of China, the Russian invasion of Ukraine, and slowing global growth.
ADB has revised down from the 4.3% forecast for 2022 made in September 2022 to 4.2% made this December to 4.2% in 2022 and from 4.9% to 4.6% in 2023.
"These external challenges have channeled through the Philippines in the form of high inflation, peso depreciation, and capital market volatility," explains the World Bank.
My overall outlook in 2023: Worse than 2022. Prepare for a possible economic crisis marked by high inflation, high interest rates, severe food and powershortages, and crucially, job losses.
Philippine economic growth will decline from 7.2% in 2022 to a 5.7% average in 2023-2025.