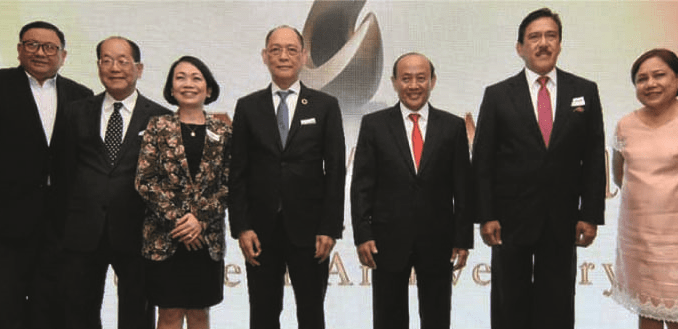 The Philippines' largest business and weekly news magazine with a pass-on circulation of 350,000 readers honored top tycoons, taipans and public servants with excellence awards last Nov. 25, 2019.
The BizNewsAsia 2019 Excellence awardees who received their trophies were:
The Nation's Master Builder Award: Ramon S. Ang, president of San Miguel Corp.;
Management Excellence: Teresita Sy-Coson, chair, BDO Unibank and vice chair, SM Investments Corp.; Jose Sio, chair, SMIC; Nestor Tan, CEO, BDO; John Paul Ang, president, Eagle Cement; Rene Almendras, president, Manila Water; Michael Tan, president, LT Group; Felix Ang, CEO, CATS Motors; Rizalina Mantaring, president; and William Guido, CEO, Globaltronics.
Public Service Excellence: Senate President Vicente "Tito" Sotto, Sen. Cynthia Villar, BSP Governor Benjamin Diokno, House Majority Leader Leyte Rep. Ferdinand Martin Romualdez, and former Speaker Jose de Venecia Jr.
Financial Management Excellence: Ferdinand Constantino, CFO and treasurer, San Miguel Corp.; and June Cheryl Cabal-Revilla, SVP Group Controller, PLDT and CFO, Smart Communications.
Excellence in the Professions: Francis Lim, law; Dr. Hermogenes Villareal, CEO, Villareal Dental Clinic, Inc., dentistry; Dr. Benedict Francis Valdecañas, director, Aegle Wellness Center, sports medicine and wellness medicine; and Nestor Mangio, architecture.
Excellence in Real Estate Management (BizNewsAsia Real Estate Who Is Who Award): Isabelita Paredes Mercado, CEO, ITM Holdings; Group; and Roberto Alvarez Jr., CEO, ServeQuest.
The BizNewsAsia awardees were honored for excellence or exceptional achievements in strategic management and visioning, entrepreneurship, management, public service, and leadership in real estate.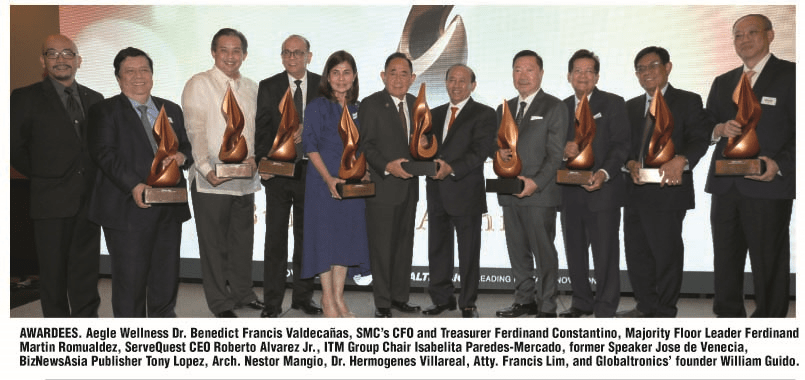 BizNewsAsia has an online version, www.biznewsasia.com, but there is nothing like reading the magazine itself with its glossy cover and bookpaper pages. It is the only local publication that has a weekly 10-year data on major metrics of the economy.
Antonio Lopez is the founder, president, chairman, CEO and publisher of BizNewsAsia. He has 50 years of journalism. He worked with the largest and most iconic media companies in the world. He finished journalism, magna cum laude, with minor in economics and banking, at UST on a four-year full scholarship. He took up three semesters of MBA at Ateneo Graduate School, and global journalism at Stockholm University, Sweden, among the world's top 100 universities.
In 2001, Lopez founded BizNewsAsia to fill the void for a powerful publication focused on business, the economy, the Philippines, and thatcelebrates excellence in business, entrepreneurship, public service, and the professions.
Among Tony's major journalism awards are: TOYM for international journalism in 1985, Hero of EDSA Gold Medal by Philippine Star 1986, Outstanding Manilan 1989, Most Outstanding Thomasian, Global Journalism Grant from Stockholm University, Centennial Journalist of the Year 2019, Journalist of the Year 2019, Business Magazine of the Year 2016 and 2017, and Distinguished Foreign Correspondence 1987, all from the Rotary Club of Manila.
Tony also writes a column, Virtual Reality, in the Manila Standard, and hosts the award-winning weekly business tv show BizNews on PTV.
A CELEBRATION OF EXCELLENCE
By Antonio Lopez
(Welcome speech before SRO guests at the 18th anniversary of BizNewsAsia Newsmagazine, Nov. 25, 2019, City Club Ballroom, Makati)
Tonight, we mark a milestone – the 18th anniversary of BizNewsAsia.
BizNewsAsia has been a publishing sensation. It has become the Philippines' largest and most influential weekly news and business magazine.
We claim a pass-on circulation of 350,000 readers. That is because the last time we published our best-selling issue ever, the Power 100, it sold 35,000 copies. And each copy is read by ten readers.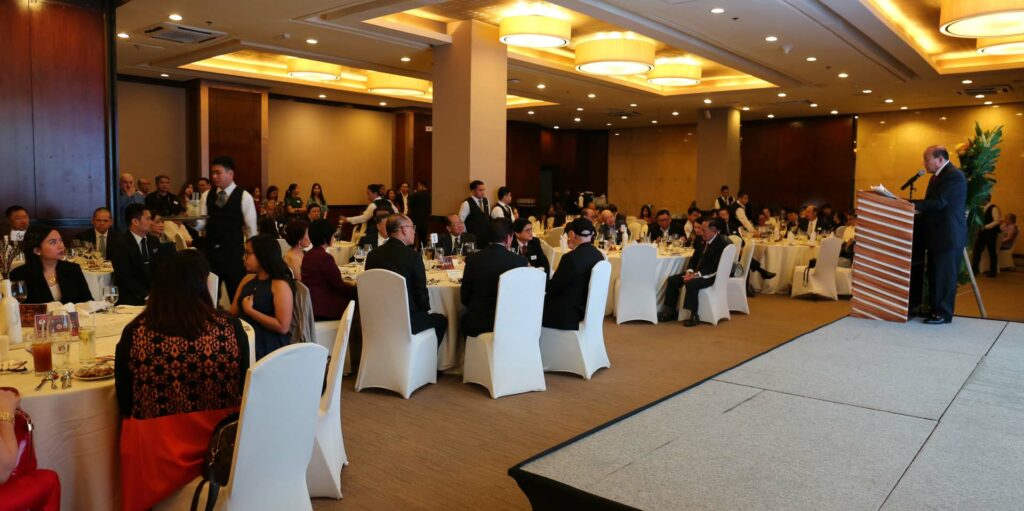 We haven't published a new version of Power 100, the list of the most powerful and influential Filipinos. One reason is that I make as many friends as I make many enemies. Those who are included are thankful they are included.
Those who were not included were angry they were not included. And some who were included were angry they were underrated. Still others protested that I overrated some people in power and influence.
But if I were to publish the Power 100 tonight, easily 30 or more in tonight's audience would easily make it. And they wouldn't angry because they qualify in the Top 30 most powerful and influential Filipinos.
Tonight is also my 71st birthday. Thank you friends and supporters of BizNewsAsia for making the BizNewsAsia anniversary such an elegant and power night.
I chose the prayer recited in the invocation tonight. It is often attributed to Saint Francis although some doubt he indeed wrote it.
Anyway, the prayer is a litany of inspiration, of recovery; a supplication for love, pardon, faith, hope, truth, light, and joy. Understanding and pardon. It is a prayer of inclusion.
There is so much conflict and division in this country and the world today. Amid riches and plenty, there is still remarkable poverty and misery.
Our magazine, BizNewsAsia, stands for hope and optimism, for celebration of good deeds and achievements, for focus on the right things – the economy, country, and people. No publication, big or small, does this today, in the Philippines.
And it may explain, partly, our success,
The CEOs and top honchos of the Philippines' largest companies are here with us tonight. By largest, I mean, largest in revenues, largest in market value, and/or largest in wealth or net worth.
I have been a business writer for 50 years. I have known, befriended, and watched a number of our taipans and tycoons become big. That also includes many of our public servants. I met them literally as kids before they became senators or something bigger.
I can write about them with authority. That is why tonight's awards of excellence are still much coveted, despite the recent proliferation of copycat awards. There is authority and credibility behind the awards.
They say behind every great wealth is a great crime. That is not always true.
What is true—always—is that behind every great wealth is punishing hard work, relentless drive for excellence, and purposeful ambition. The late John Gokongwei Jr was right—"if you don't work, you don't eat."
When the late Henry Sy Sr landed in Manila from China in 1936 as a boy of 12, he had only ten centavos in his pocket.
By the time he died early this year, his wealth was worth $17 billion. How did he do it? Pure hard work. No illegal drugs. No selling of get-rich-quick scams. Just punishing work 24/7.
Tatang Henry worked so hard he had little sleep. Always sleepy in class, he decided to quit. So he did not finish school. He did finish his goal—to be No. 1 in malls and retailing, No. 1 in property, and No. 1 in banking. In all three, Henry had no close second.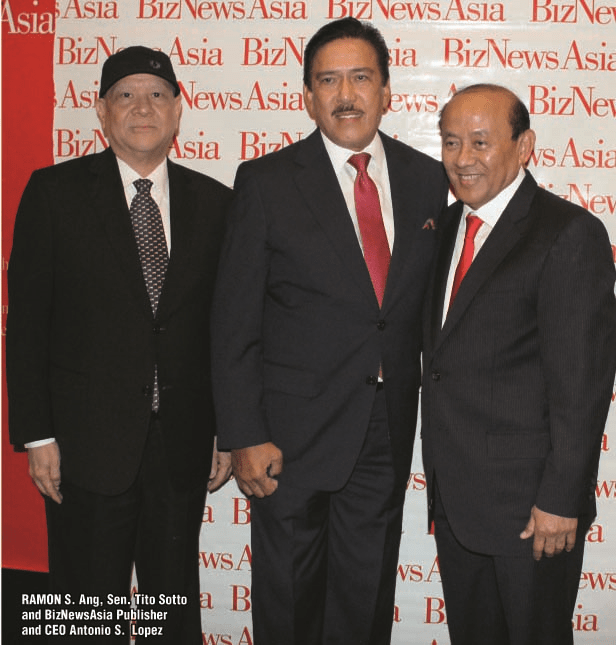 Ramon Ang's secrets
Ramon S. Ang of San Miguel has seven secrets to success. Rule No. 3 is "Work harder than anybody else". Rule No. 6 is "Nothing is impossible". Rule No. 7 is "Believe in a bigger purpose".
What does that mean? May I quote Co. Ariel Querubin on San Miguel:
"Mr. Ang has been a true nation builder, helping create new economic centers and disperse growth away from the big cities."
"Where San Miguel has set up factories and distribution hubs, it has also provided thousands of jobs, allowing small businesses and micro-economies to take root. By establishing new, regional manufacturing hubs and harnessing the strength of its businesses today in terms of access to affordable, reliable power and efficient infrastructure, San Miguel and RSA are delivering on the commitment to helping our nation achieve its development goals."
So there. Believe in something bigger than ourselves. Believe in a bigger purpose.
When Singapore was just starting as a nation, 50 years ago, they had nothing. Singaporeans had no resources, no land, no water, no toilets. In contrast, Manila had one of the oldest water and sewerage systems in Asia and Asia's first expressways. The entire island of Singapore you can sink into Laguna Lake and you still have 24,000 hectares still extra.
Yet today, the per capita income of Singapore is nine times that of the Philippines—$90,000 (purchasing power parity) vs. $10,000.
Singapore reckons its founding from 1965. Filipinos reckon their republic from 1898. We had a lead time of 67 years. Longer, if you acknowledge that the Philippines was westernized from 1521, when Magellan landed in Mactan and was quickly decapitated by Lapu-Lapu's men. Cut to pieces, Magellan's body was never found.
Today, a Filipino child can go to school free—free elementary, free high school (required by the Constitution), and free college (ordered by President Duterte). I think the quality of teaching in public schools should have improved. Why? Because public school teachers are paid better than teachers in private school—P25,000 vs. P15,000.
Of six future taipans who landed in either Cebu or Manila just before the war, only one is still alive, Lucio Tan. The others have all died, but not after building great fortunes—Al Yuchengco who died in 2017 at 94; George Ty who died in 2018 at 86; Henry Sy who died in January 2019 at 94; and Gokongwei who died Nov. 9, 2019 at 93). Gotianun had wealth of $501 million, Yuchengco $600 million, Ty $2.2 billion, Sy $17 billion; and Gokongwei $5.9 billion. Kapitan Lucio Tan is worth $3.9 billion per BizNewsAsia reckoning.
What do these taipans have in common? They started penniless. They ended up dollar multi-millionaires or billionaires.
To be sure, you don't need to finish college to be wealthy. Half of the ten richest men of America are college dropouts. Nearly all our first generation taipans did not finish college. The billionaire college dropouts of America were inventors. The billionaire college dropouts of the Philippines were industrialists. They didn't invent anything. They just developed new ways of doing old things. A common trait of these dropouts—hard work. Also, they could be ruthless. They finish off their competitors at the first opportunity. Lapu-Lapu style. He finished off the first conquering tyrant at the first sign of invasion.
In BizNewsAsia, we like competition. But our rivals have voluntarily finished themselves off. Entrepreneur magazine has quit print publishing. So has Forbes Philippines.
This makes BizNewsAsia a monopoly. Sadly, I don't have the fabled millions of a monopoly. Maybe, I am in the wrong business. Publishing is an endangered profession. Print publications are losing subscribers and advertisers who have gone digital.
A number of local big newspapers are losing readers, circulation, and money.
Thankfully, that is not happening with BizNewsAsia. We remain a very strong brand. I will not say very profitable because BIR has been on the lookout lately. But hey, I do a lot for this country promoting the Philippines as an investment and tourism destination.