Something new: An armed attack on the Philippines in the South China Sea will now trigger a US attack.
By ANTONIO S. LOPEZ
It's been a while since you've been here," US President Joseph Biden greeted President Ferdinand Romualdez Marcos Jr., 65, as he and his official party were welcomed at the White House on Monday, May 1 (May 2, Tuesday, Manila time).
Forty-one years ago, in 1982, Bongbong Marcos was a dashing young man when his father, President Ferdinand Edralin Marcos Sr. and mom, the First Lady Imelda Romualdez Marcos, were treated to a pomp-and-circumstance South Lawn welcome ceremony (I was there), a substantial one-on-one talk with US President Ronald Reagan, and a glittering garden state dinner later in the evening.
An important role
Reagan was an unabashed Marcos admirer. "The Philippines and you, Mr. President, play an important role in addressing the problems of economic development in the world," he told the Filipino leader.
"Under your leadership at home, the Philippines can boast a record of solid economic growth over the past decade, attributable in significant part to its hospitable attitude toward free enterprise and private initiative." Reagan also acknowledged Marcos's and the Philippines' role in this world. He said: "Our security relationship is an essential element in maintaining peace in the region and is so recognized. This relationship, one of several we have in the Western Pacific, threatens no one but contributes to the shield behind which the whole region can develop socially and economically."
PH a force for peace
The American leader added: "Mr. President, under your leadership the Philippines stands as a recognized force for peace and security in Southeast Asia through its bilateral efforts and through its role in ASEAN, which is the focus of our regional policies in Southeast Asia." In reply, Marcos Sr. declared from memory: "Destiny has decreed that the United States of America be the trustee of modern civilization against the threat of a possible second Dark Ages. And America cannot fail," he told Reagan, "If America fails then the world is lost."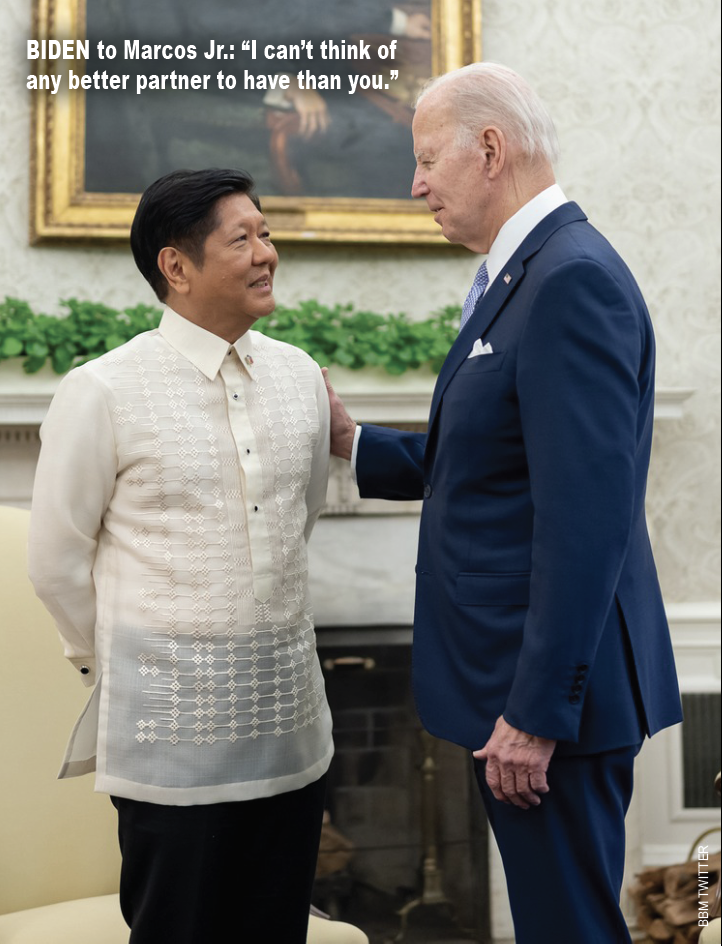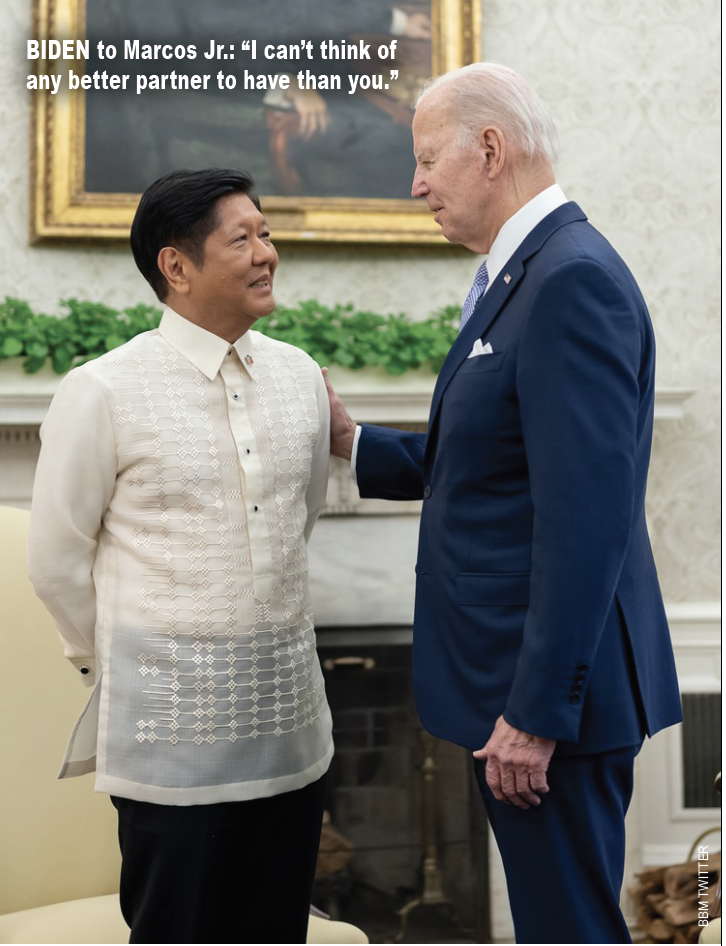 The May 2 White House welcome for Marcos Jr. was devoid of frills and soaring rhetoric.
Philippine-US relations have evolved, "as we faced the challenges of the new century," Marcos Jr. has said.
Biden agreed. He told his barong-clad guest: "We are facing new challenges. I can't think of any better partner to have than you… This relationship has to continue to evolve. And together, we're tackling climate change, we're accelerating our countries' transition to clean energy, and we're standing up for our shared democratic values and workers' rights and the rule of law. And together, we're deepening our economic cooperation, which is going to continue to deepen and I think is mutually beneficial."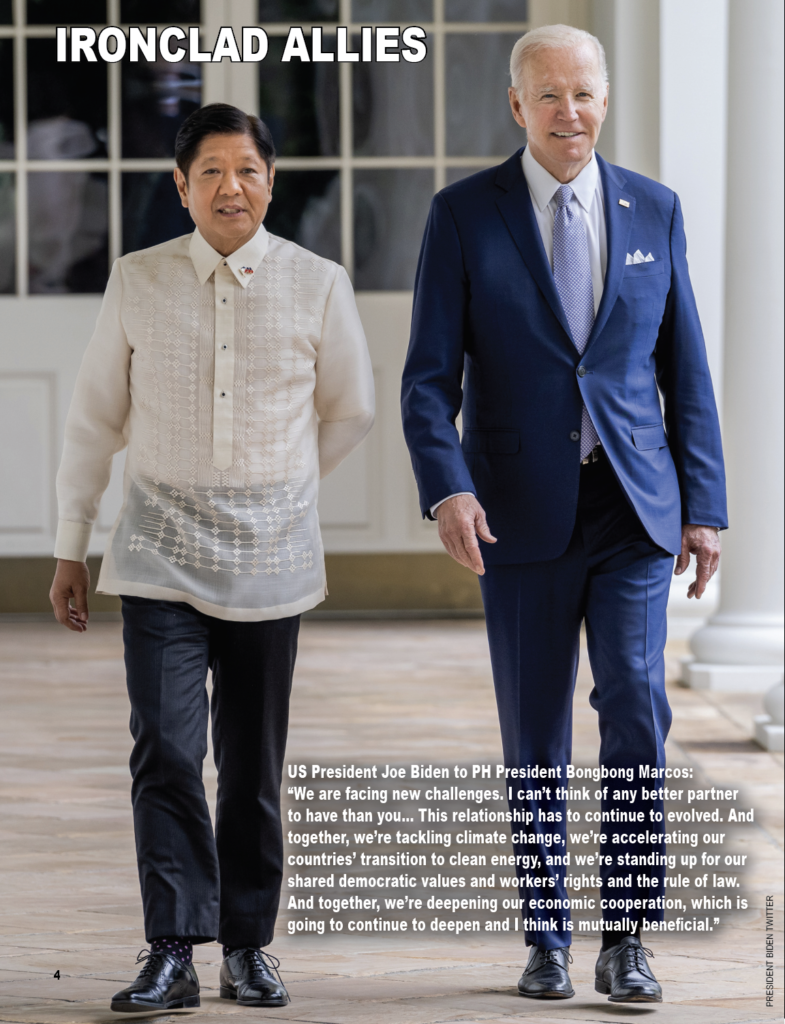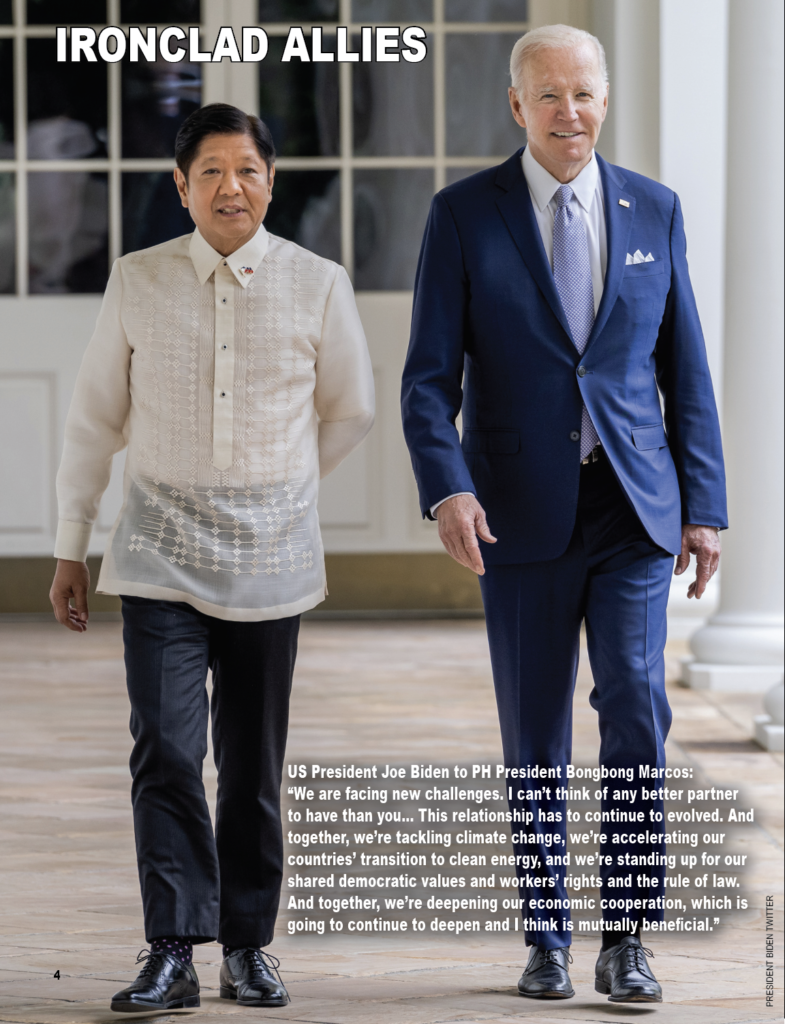 Ironclad defense commitment
Biden said what is music to Marcos Jr.: "The United States remains ironclad in our commitment to the defense of the Philippines, including the South China Sea, and we're going to continue to support the Philippines' military modernization goals. Mr. President, our countries not only share a strong partnership, we share a deep friendship — one that has been enriched by millions of Filipino Americans in the communities all across the United States of America."
Marcos replied: "In the difficult times that we are facing, ahead of us, we need to find many ways to strengthen our alliances and our partnerships in the face of the new economy that we are facing post-pandemic. Beyond that, there are also the issues, geopolitical issues that have made the region where the Philippines is, possibly, arguably the most complicated geopolitical situation in the world right now."
BBM explained: "It is only natural for the Philippines to look to its sole treaty partner in the world, to strengthen and to redefine the relationship that we have and the roles that we play in the face of those rising tensions around the South China Sea and Asia-Pacific and Indo-Pacific regions."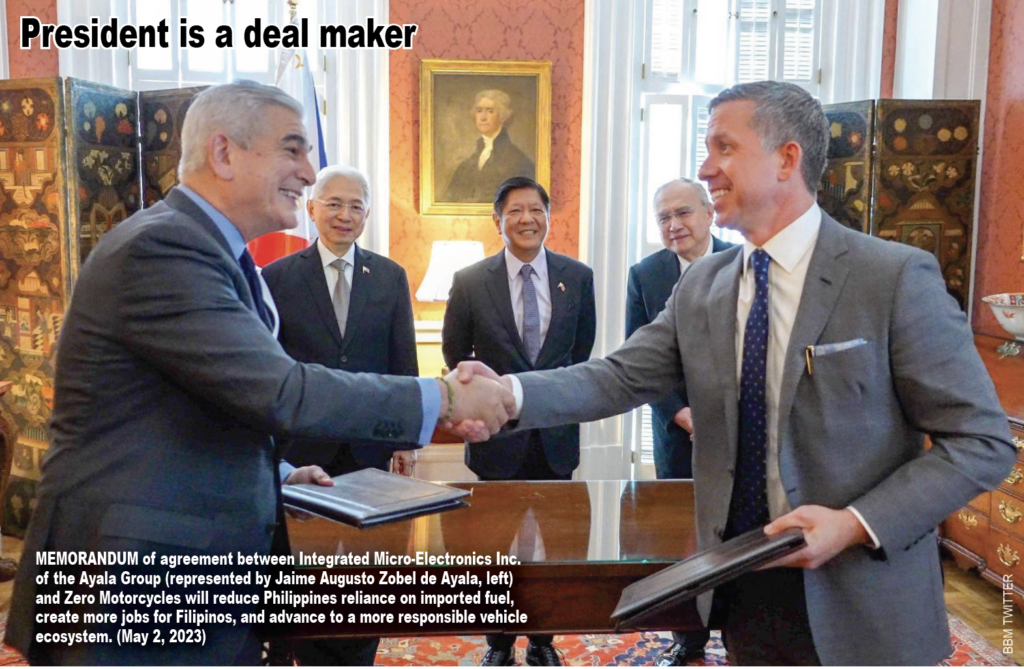 Joint statement
To put flesh and blood to the so-called ironclad US commitment, Biden and Marcos issued a 1,227-word joint statement which says "an armed attack on Philippine armed forces, public vessels, or aircraft in the Pacific, including in the South China Sea, would invoke U.S. mutual defense commitments under Article IV of the 1951 U.S.-Philippines Mutual Defense Treaty."
Previously, the 790-word treaty signed Aug. 30, 1951, referred only to the metropolitan territory of the Philippines as coverage of an armed attack. Now, it includes the South China Sea (West Philippine Sea to the Philippines).
South China Sea is PH
metropolitan territory Article V of the MDT says: "An armed attack on either of the Parties is deemed to include an armed attack on the metropolitan territory of either of the Parties, or on the Island territories under its jurisdiction in the Pacific Ocean, its armed forces, public vessels or aircraft in the Pacific."
After meeting Biden, Marcos was welcomed by Vice President Kamala Harris and a reporter asked him point-blank: "How concerned are you with the continued provocation from China?'
Marcos admitted: "As concerned as you could possibly be.  It is one of the major issues that we have to face back home."
Cooperation to get protection
"Do you believe cooperation with the vice president and President Biden will get you closer to protecting the region?" Marcos was asked.
Marcos's reply: "Well, cooperation with the United States certainly is just something that are building upon that has been going on for many, many decades.  And we just keep going on." (See page 22).
Money question
Today's Filipino-American friendship is not all about war and geopolitics, however.
There is the question of money. Money that creates jobs and economic activity– as in trade, investment, official development assistance (ODA).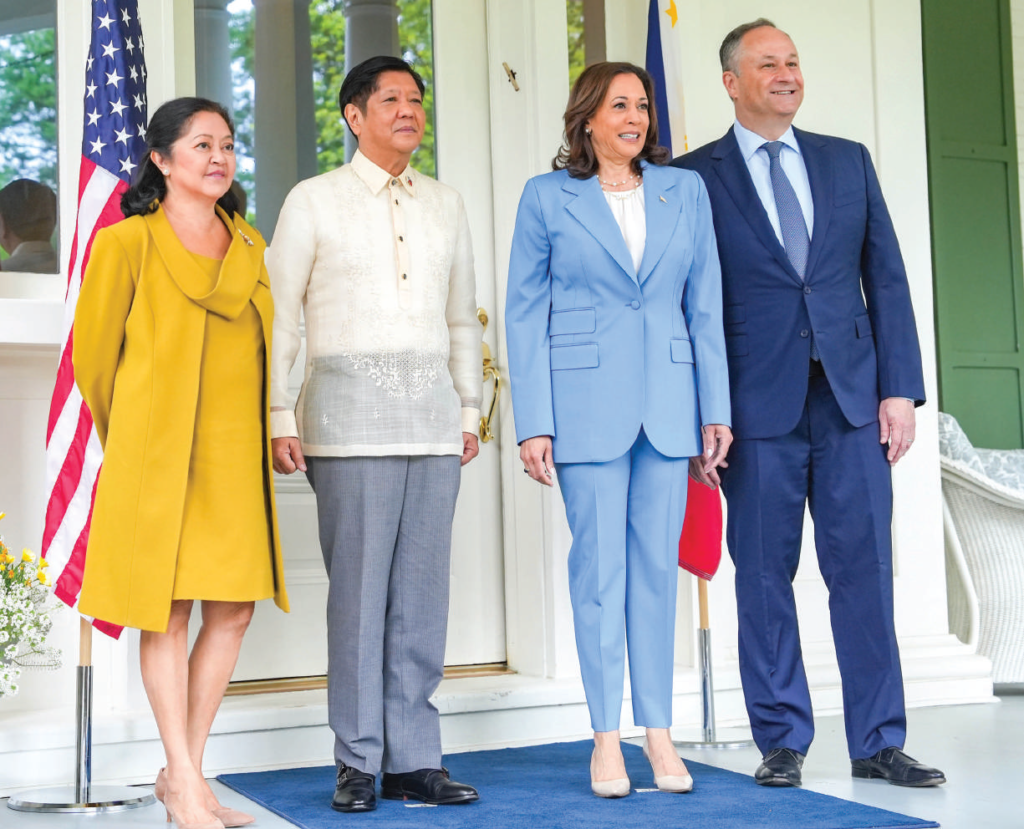 In 1979, Marcos got compensation for the two major bases, Clark Air Base and Subic Naval Base –$500 million a year–$200 million in economic support, $250 million in military credits, and $50 million in grant military aid.  That agreement expired in 1999.
Marcos Jr. has allowed the US access to four more military bases in the Philippines where it can store weapons and rotate troops, on top of the five agreed to previously by past administrations, for an unprecedented total of nine.  The four new bases include two in Cagayan, one in Palawan, and one in Cagayan de Oro where they are already operating ports or airports.
Highest caliber investment mission
Aware perhaps that the US must have gotten much (nine bases) by paying virtually nothing, Biden told Marcos Tuesday: "I'm sending a first-of-its-kind presidential trade and investment mission to the Philippines" with the highest caliber US business leaders, and as the White House explained, "to enhance US companies' investment in the Philippines' innovation economy, its clean energy transition and critical minerals sector, and the food security of its people."
Aside from giving $500 million yearly for the use of Clark and Subic, the US used to be the Philippines' No. 1 trade partner, No. 1 investor, and No. 1 source of tourists.  No more. The US is the No. 3 trading partner. China is No. 1 with total Philippine trade of $38.35 billion—$11.55 billion in exports and $26.8 billion imports by the Philippines. 
From a peak of P35.37 billion approved US investments in the Philippines (No. 1) in 2020, American investments have fallen to P3.8 billion in 2021, and to P5.0 billion in 2022 (No. 5).
In case of conflict thus, Manila is very vulnerable to trade sanctions by Beijing. The Philippines does 44% more trade with China ($38.35 billion) than with the US ($21.38 billion). The Philippines imports three times more from China ($26.8 billion) than from the US ($8.92 billion). Imports from the US mainly are soyabean oil and pellets, wheat, ICs, milk and cream, and materials for making dice.
In 2022, total trade with the US amounted to $21.38 billion. The Philippines exported $12.47 billion and imported $8.92 billion for a trade balance in Manila's favor of $3.55 billion.
As of June 2020, the US is the top 1 destination for overseas Filipinos. About 4.21 million Filipinos live in the US, making them the biggest source of OFW remittances. Of the 4.21 million Filipino-Americans, 1,695,715 (40%) are in California; 371,528 (9%) are in Hawaii; 201,971 (5%) are in Texas; 188,890 (4.5%) are in Washington; and 173,592 (4%) are in Nevada.
"Filipinos are much admired in America for the excellence and quality of their work," Marcos told the Filipino community in Washington DC on April 30, 2023. "Every one of you is an ambassador of the Philippines."
In 2022, net FDI amounted to $250.39 million. For January 2023, net FDI from the US was $10.18 million.
The US remains an important source of ODA, mostly in health, peace and humanitarian assistance. In 2021, US ODA was $629.69 million, 1.95% of its total ODA.
The US is seventh in ODA sources (loans and grants) and No. 1 in ODA grants to the Philippines.