By Tony Lopez
If there is one thing that riles Ramon S. Ang to the max, it is being accused, unfairly and falsely, of wrongdoing, especially as regards the consequences of action taken by the San Miguel Corp. management to implement or execute its major projects.
Aside from being a beer and beverage, food and power powerhouse, SMC is the largest private infrastructure company in the Philippines. It has rights to 964 kms of tollways in Luzon, 78% of total tollways.   Its P735-billion New Manila International Airport (NMIA) on 2,500 hectares of land in Bulakan town, Bulacan is the single largest investment by any company, government or private, in the Philippines.
In 2022, its P1.5-trillion revenues were equivalent to 6.8% of GDP or total national economic production. 
After the Ondoy-level floods inundated Bulacan, Pampanga and provinces up north, social media erupted with speculation the massive deluge was caused by the Bulacan airport now under construction, with 2027 as the opening date target. Hearing that, the SMC president and CEO went on the offensive. RSA met with top officials of the DENR, DPWH and the Metro Manila Development Authority and the governors of the flooded provinces. He explained the recent major flooding in Bulacan this way:
When major typhoons like Egay and Falcon hit the country, vulnerable areas like Bulacan are heavily affected due to various reasons such as:
Both Egay and Falcon brought substantial rainfall which naturally affected low-lying areas, as water from mountains and rivers in other provinces, along with spillage from dams, flow and accumulate.
Heavily-silted and polluted rivers, waterways and drainage systems which reduce capacity to hold water and prevent floodwaters from being carried out to sea and instead overflow into communities.
Land subsidence (sinking) due to over-extraction and depletion of groundwater which has caused land to settle or sink.
The proliferation of fishponds has further impeded the flow of water and compromised waterways.
Manila Bay effect
• Its proximity to Manila Bay and its river systems that make Bulacan susceptible to the impacts of rising sea levels.
The geographical location of Bulacan and its numerous river systems that are heavily polluted, not the future airport, make the province vulnerable to flooding.
Decades before the land restoration for the NMIA started, Bulacan had been subject to severe flooding from storms and typhoons.
The NMIA site in Bulacan sits on titled lands that were previously swamps and fishponds with pre-existing earth dikes.
This is proven by maps of NAMRIA, the state maps agency.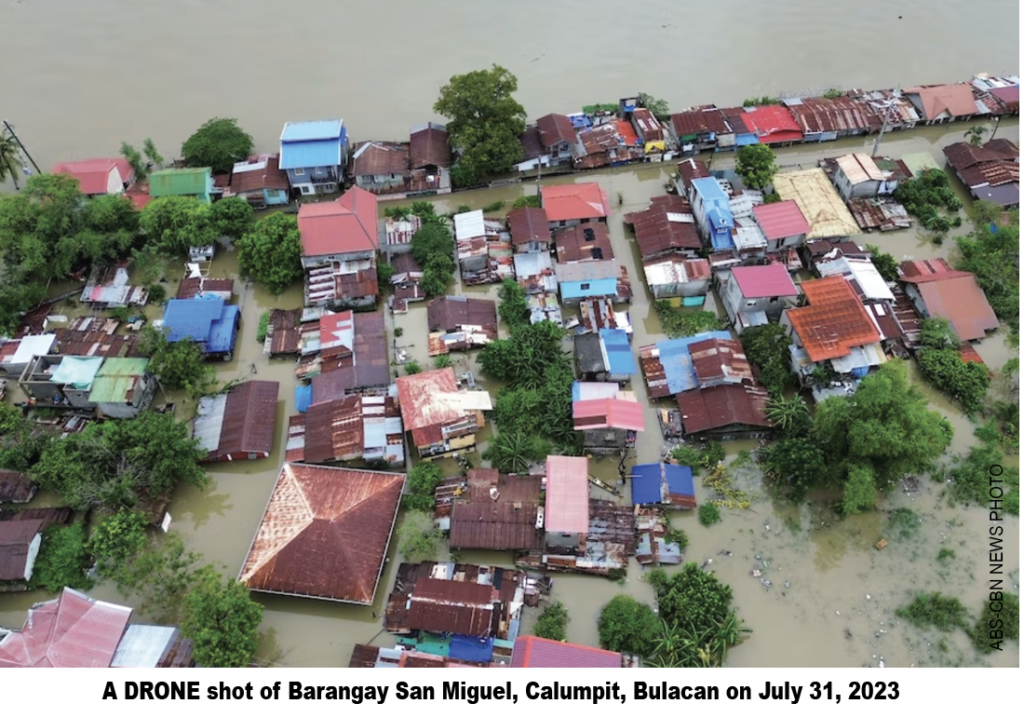 The place is naturally surrounded by two main rivers – the Meycauayan River and the Maycapiz/Taliptip River.
Also, there is no development outside of the normal boundaries of the NMIA property nor is there an obstruction on the pre-existing river systems.
According to RSA, "the construction of the airport, together with SMC's parallel commitment to clean, deepen and widen the surrounding rivers, in fact, provides Bulacan province a ready solution to flooding at no cost to the government and taxpayers." SMC has spent P2 billion to dredge and clean Pasig and its sister rivers north of Manila, at no cost to the government. This explains, RSA points out, "why there was no flooding in Marikina, San Juan and Talayan Village in Quezon City."
Flood mitigation
"The mitigation of floods as well as other risks, primarily through dredging and clean-up of Bulacan's heavily-silted and polluted river systems, are integral to the airport's operations and long-term viability," says the company's explainer.
SMC's cleanup initiatives provide the Bulacan large-scale solution to flooding that was not there before.
SMC has desilted and removed wastes from about 4.4 kilometers of a targeted 13-km length along the Taliptip/Maycapiz River and Meycauayan River.
A total of 537,788 metric tons of silt and solid waste was removed.
SMC is also coordinating with LGUs and the DENR on the expansion of the scope of its river cleanups to include other major rivers within and outside the airport project site to maximize flood mitigation.
SMC's San Miguel Aerocity, Inc. has tapped international consultants to ensure that the project does not add to local flooding issues or cause adverse environmental impacts.
Per SMC's initial findings, using flood modeling and actual monitoring of water volumes in the rivers adjacent to NMIA, there has been no increase in water levels since the land development started in 2022.
"The overall design of the airport project in Bulacan province is meant to address its problem of flooding that has existed for many decades and made worse by clogged waterways and drainages," explains RSA.
Finally, RSA insists NMIA is not land reclamation. Land reclamation is the process of creating new land from oceans, seas, riverbeds or lake beds.
"The project site sits on titled lands," clarifies SMC. RSA started buying lands in Bulacan in 1999 when he became enamored with flying and airports.
It's just that in previous decades, much of the land area had been submerged due to subsidence and rising sea levels, and eventually converted into privately-owned fish pond businesses.
SMC's international contractor, Royal Boskalis Westminster NV, is restoring submerged land into land form again, at a cost of euro1.5 billion ($1.64 billion).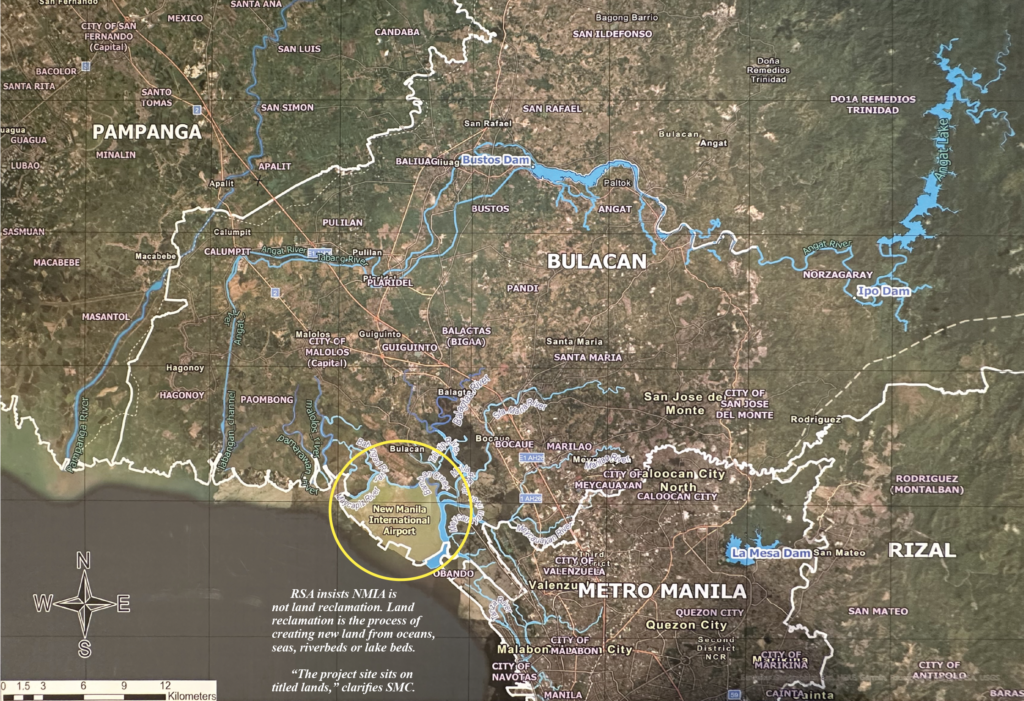 An Export Credit Insurance (ECI) from the Dutch government backs the Boskalis contract.
Initially, SMC's flood mitigation program around NMIA covered only Bulacan province's rivers and tributaries. Now, RSA has offered flood mitigation and river dredging services for Pampanga and other LGUs.
With his dredging and extensive river cleanup, RSA assures, "we can significantly increase the carrying capacity of our rivers and help solve flooding once and for all."
The DENR, by presidential order, has suspended all the 22 reclamation projects along Manila Bay. BBM suspects the reclamation projects could be causing the recent massive floods.
After the floods, what concerns RSA most? The sharply slowing economy.
— The Philippine Star, Aug. 15, 2023