Profits could double in two years
By Antonio S. Lopez
San Miguel Corp. President Ramon S. Ang is building a new financial behemoth to backstop the diversified conglomerate's vast operations and fund future growth.
SMC is the Philippines' largest conglomerate in assets, revenues, and diversity of operations. In 2021, SMC is estimated to have chalked up revenues of P940 billion and net profit of P48 billion.
SMC's new financial arm is the Bank of Commerce, a 59-year-old commercial bank that used to be owned by, Jose Cojuangco Sr., the father of the late President Corazon Cojuangco Aquino.
SMC has acquired 84.52% of BankCom—39.89% thru San Miguel Properties, Inc.; 38.54% thru the SMC Retirement Plan, and 21.57% thru the SMC Equivest Corp.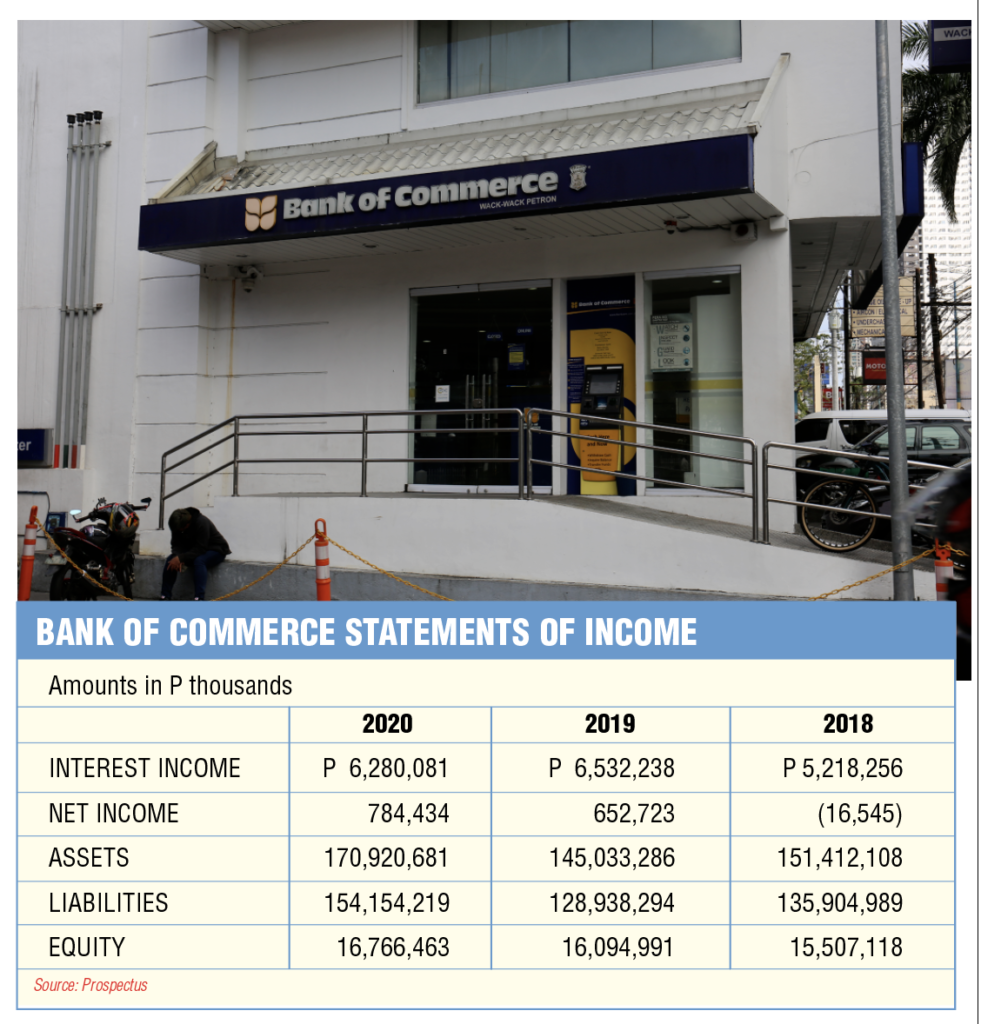 IPO to raise P3.5 billion
BankCom is conducting an initial public offering this March to raise P3.5 billion. Plus the P5.5 billion recent capital infusion from SMC Equivest, the bank will have P9 billion in fresh equity as it tries go big time.
The Bangko Sentral recently granted BankCom its universal banking (UB) license, giving it flexibility in its operations and branch banking.
The UB license, says leading investment bank BDO Capital "would allow the bank to broaden its suite of products and services and achieve sustainable growth across its business segments. The bank will also have more opportunities to generate fee-based income, as well as engage in investment banking and bancassurance activities."
UCPB taken away by government
Previously, SMC had wanted to develop United Coconut Planters Bank (UCPB) as its financial arm. But the government sequestered it and now wants it merged with another government bank, Land Bank.
So RSA has to grow another bank—BankCom. Major Philippine conglomerates own banks.
A P9-billion in fresh capital can be geared 8x, enabling BankCom to extend up to P72 billion in fresh lending. In September 2021, BankCom had P72 billion in customer loans alone.
With total networth of P23 billion as of end-September 2021, BankCom is 11th largest among the private domestic banks (excluding the three government-owned banks) in equity.
It is the 13th biggest in assets (P195 billion as of end-September 2021) and in total deposits (P167 billion), among the local banks.
Highly capitalized
BankCom has capital adequacy ratio (CAR) of 21%, better than the CAR of the Top Ten Banks. The CAR of the biggest banks: 1) BDO 14.87%; 2) Land Bank 17.36%; 3) Metrobank 20.66%; 4) Bank of PI 17.64%; 5) PNB 14.32%; 6) DBP 14.86%; 7) Chinabank 15.30%; 8) RCBC 15.15%; 9) Union Bank 18.28%; and 10) Security Bank 20.10%.
In terms of capital thus, BankCom is the strongest bank among the top tier banks.
In terms of bad loans, BankCom is just fine. Its NPL (non-performing loan) ratio is 3%. Compare that with the 2.8% of Chinabank, 3% of BDO, 3.4% of LandBank, 4.2% of both Union and Security, the 5.2% of RCBC, 6.7% of DBP, and the whopping 10.7% of PNB. Two banks have negligible NPL—Metrobank 1.3%, and Bank of PI 1.6%.
RSA serious in growing the bank
Improving the quality of BankCom's networth and loan portfolio indicates Ramon Ang's seriousness to make the bank one of the biggest and best in the industry.
Quickly, but still adhering to prudential rules of banking.
BankCom has three main strategies to power its growth—one, make use of the San Miguel group's vast network and ecosystem; two, use the latest in IT; and three, render the best in service.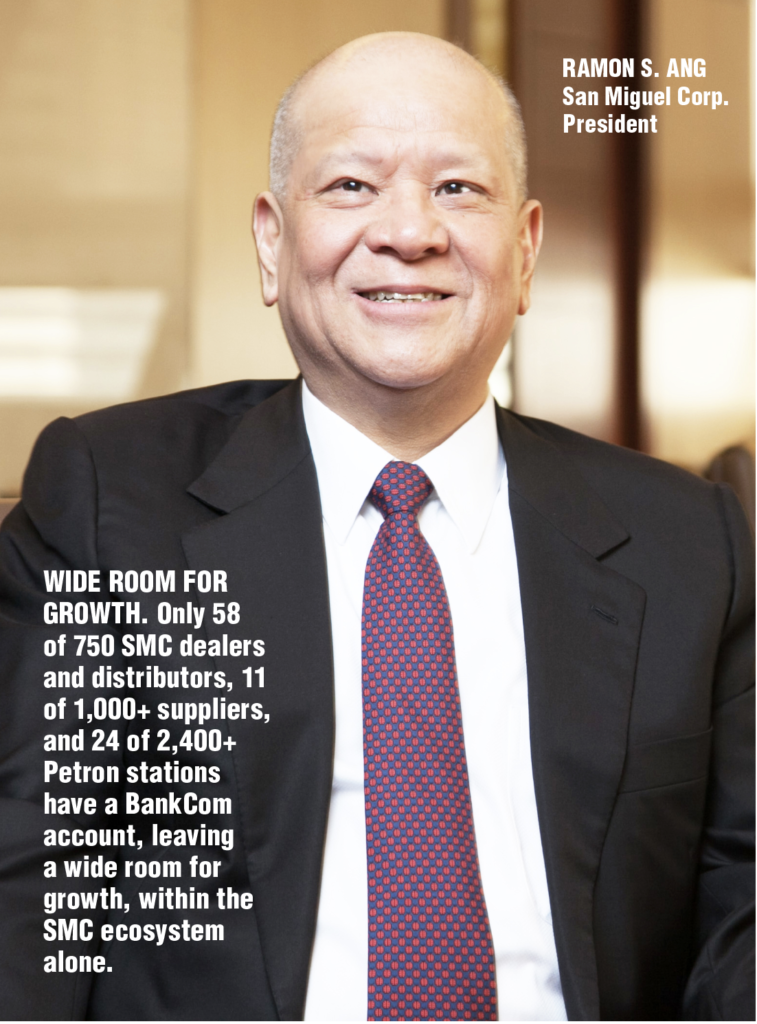 "We Think Customers"
BankCom has adopted for its slogan, "We Think Customers". It calls its branches, 140 so far, "Malasakit Centers".
BDO Securities sees a boom in banking.
"Sustained reopening and recovery of the economy is expected to drive demand for bank services," says BDO Securities in analyzing BankCom's IPO.
"The latest BSP survey showed that consumer and business sentiment appear to be improving, with respondents more optimistic for 1Q22 and the next 12 months.
Businesses cited improving demand and sales, and some firms are now looking to expand operations and hire more.
Consumers, on the other hand, are anticipating the availability of more jobs and better income.
So far, industry loan growth has been improving for the past five months (4.6%/4.3%/3.5%/2.7%/1.3% in Dec 2021/Nov 2021/Oct 2021/Sep 2021/Aug 2021), and we expect the uptrend in bank lending to continue, tracking GDP growth in the subsequent quarters."
Profits to double in two years
BDO Securities projects operating revenues and attributable net income to grow by an average of 7.1% and 38.5%, respectively, from FY2020 to FY2023, on the back of steady increases in lending and service transaction volumes as BankCom transitions into a full-service universal bank. Increasing scale and improving operating efficiencies are also expected to gradually lift the bank's ROE from 4.8% in FY20A to potentially 6.8%/8.6% by FY22F/FY23F. (See page 14)
SMC has 100 factories
SMC is the Philippines' largest corporation in revenues and assets. Sales are 5% of GDP, the country's value of economic production. SMC has more than 100 factories and factories in the Asia Pacific. Its SanMig is one of the best and best-selling beers in the world.
SMC has five major businesses—nearly all market leaders: Food and beverage, packaging, fuel and oil, energy, and infrastructure. SMC has investments in other businesses such as property development and leasing, cement, car distributorship, and banking services (Bank of Commerce).
SMC says it has a portfolio of companies that is interwoven into the economic fabric of the Philippines, benefiting from, as well as contributing to, the development and economic progress of the nation.
SMC products include beer, spirits, non-alcoholic beverages, poultry, animal feeds, flour, fresh and processed meats, dairy products, coffee, various packaging products, and a full range of refined petroleum products, most of which are leaders in their respective markets. In addition, SMC contributes to the growth of downstream industries and sustains a network of hundreds of third-party suppliers.
READ FULL ARTICLE HERE: