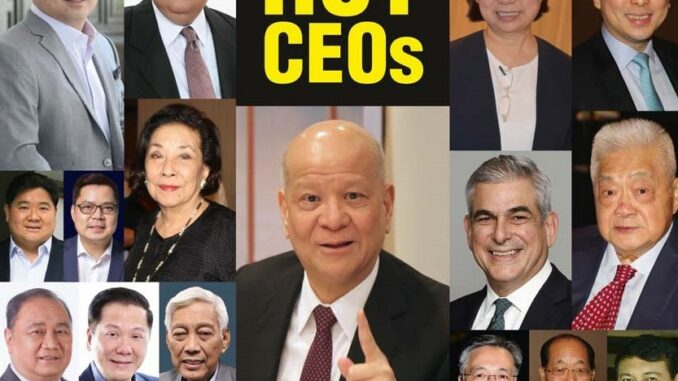 RAMON S. ANG : THE MAN WHO REMADE SMC
Ramon S. Ang (RSA) re-engineered San Miguel Corp. into what it is today—a nimble, green, colossal, hugely profitable money-spinner with No. 1 position in at least eight industry areas – beer (San Miguel Brewery), food (San Miguel Pure Foods), packaging (San Miguel Packaging Group), power generation (SMC Global Power Holdings), fuel and oil (Petron Corp.), infrastructure (SMC Infrastructure), fun to drive premium cars (BMW), and cement (Northern Cement).
About 60% of San Miguel's business, revenues, and profits is the handiwork of RSA.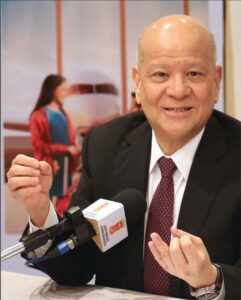 Fifteen years ago, if not less, San Miguel was absent or not even a force to reckon with in five major businesses – fuel and oil, power generation, infrastructure, cement, and luxury cars. Three companies alone – Petron, Global Power, and Infrastructure—had combined revenues of P339.6 billion and operating income of P34.2 billion in the first half of 2019. The P339.6 billion revenue was 66% of SMC's revenue of P509.49 billion in January-June 2019 while the P34.2 billion operating income was 59% of SMC's total operating income.
In 2008, SMC had revenues of only P168 billion. By end-2018, revenues had ballooned to a record P1,024 billion (P1.024 trillion), a six-fold or a 509% increase in 10 years or a 50.9% rise every year.
In 2008, SMC had a net income of only P20.1 billion. By 2018, profits had levelled at P48.6 billion, up 142%. If reckoned from 2007's P8.4 billion net income, the rise in profitability has been more dramatic, to P48.6 billion, a whopping increase of 479%, or a dizzying 43.5% gain in profits per year.
RSA was dragooned into San Miguel Corp. in January 1999 by tycoon Eduardo Murphy Cojuangco Jr. (ECJ). Danding became chairman of SMC in July 1998. He wanted his good friend Ramon to take over and manage SMC.
Ang became vice chairman in January 1999 and president and chief operating officer on March 6, 2002.
Half Chinese and a mechanical engineer by training, Ang is a low-key executive who shuns stiff suits and ties, except when attending board meetings and negotiating with partners and bankers. Often, he reports for work in simple shirt or t-shirts and wearing only slippers. Humble of manners, he disdains antagonizing people and firing subalterns.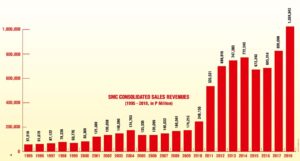 At the conglomerate's sprawling Ortigas garden headquarters, Ramon opened SMC's sanctum sanctorum, the 8th floor offices of the CEO and the President. "Before, visiting the 8th floor was like making a pilgrimage to God," says one insider. "Now, you can walk in and discuss things with RSA (Ramon S. Ang). The second floor executive dining room was also opened to all SMC employees, not just to senior executives.
Cojuangco and Ang first met in the 1980s because they shared the same passion — collecting antique and top-tier cars. Ang operated a shop that specialized in importing the fancy wheels and customizing cars to their owners' specs.
Ang learned the rudiments of business at age eight when he began helping his father in his auto parts and machinery surplus businesses.
At 13, he built up his business using only a telephone directory. Clients would walk into their Abad Santos, Tondo shop or call up asking if a particular part was available. Ramon would jot down the part number or description of the item and then rifle thru the pages of the phone book to get a quotation from other suppliers. Then he would get back to the customer and quote a price, adding an infinitesimal margin. The logic is that a 1% markup a day multiplied by 354 days is a 365% profit. And Ramon did not even spend a centavo of his own money because he was just brokering.
Eventually, he made his first million importing and reconditioning heavy equipment.
SMC reform begins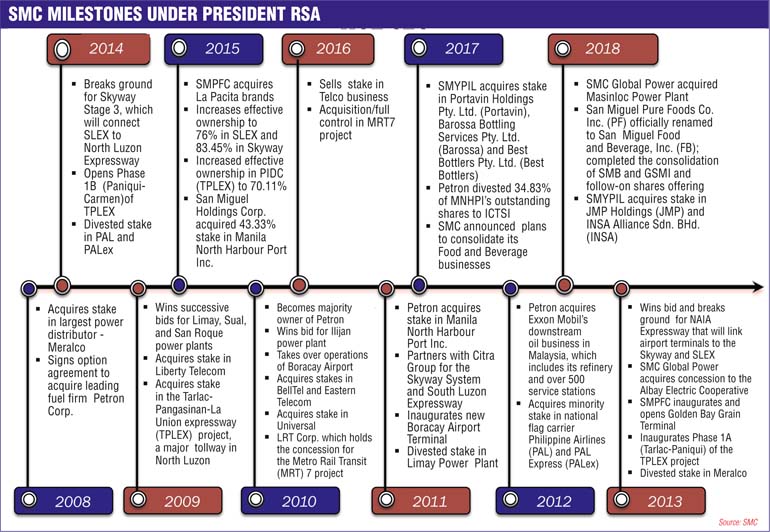 It was not until 2008 that RSA took an aggressive posture as the then sluggish beer, beverage, food, and packaging behemoth. He decided to remake San Miguel and launched its largest expansion and diversification program.
From 2008 to 2015, San Miguel bought four of Luzon's biggest power plants; acquired rights to and developed the Tarlac-Pangasinan-La Union Expressway (TPLEx) that connects Manila to the far north; bought and five years later sold at a huge profit of $2 billion, a 32.8% of electricity monopoly retailer Meralco; became majority owner of Petron Corp. which has the largest network of gas stations in the Philippines; bought Exxon-Mobil's refinery and 600 service stations in Malaysia; built three expressways to NAIA; acquired and later sold at a small profit control of Philippine Airlines; acquired La Pacita biscuits, and begins the Skyway connector road from Magallanes to Balintawak.
Biggest in seven years
Almost instantly, in just seven years, San Miguel became Luzon's biggest power producer, the country's largest petroleum refiner and retailer with 34% of the market, and the biggest infrastructure and toll road operator with 55% of the business.
As a property company, San Miguel manages hotels, residential, commercial projects and economic zones.
Adds Ang: "We continue to expand our feeds, flour, feed-mill, piggery, chicken-dressing plants and ready-to-eat products, packaging and property businesses, thus creating more jobs for our countrymen."
Relates Ang: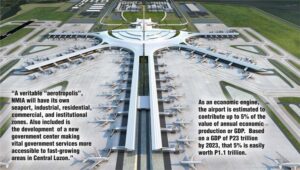 "We manage toll roads, among them Skyway, SLEX, Star Tollway, South C6 connector road. Through our toll roads we hope to solve traffic on EDSA.
"The Boracay Airport in Caticlan is in its finishing stage and we are building Boracay Bridge that will help solve solid waste, sewage, water, power and telecom problems.
"MRT7 and the Edsa Loop connecting SM North Edsa through Commonwealth, Batasan, to San Jose del Monte Bulacan to Malabon, Navotas, Manila to Makati will ease commuter stress.
"The Bulacan Airport will be one of the biggest airports in Asia and the world. It will have six parallel runways good for 200 million passengers equipped with mass transit. It will create 40 million jobs and bring in 20 million foreign tourists a year. A comparable country like Thailand with a population of 100 million brought in 30 million tourists."
At San Miguel, Cojuangco and Ang pursued five basic strategies:
One, enhance the value of its established core businesses through operational excellence, brand enhancement and improved product visibility.
Two, diversify into industries that underpin the development and growth of the Philippine economy.
Three, pursue synergies across its businesses through vertical integration, platform matching and channel management.
Four, invest and develop businesses with leading market positions, enabling SMC to leverage on its strong brands and market dominance to expand existing businesses.
Five, adopt globally competitive practices through partnerships with leading companies worldwide.
DENNIS A. UY: HE DREAMS BIG FOR PH
His dream is to connect and unify the Philippines' major islands and cities.
Wirelessly, by putting up the archipelago's third telco, a P279-billion venture with the Chinese. And physically, thru a network of roads, expressways, railways, airports, intermodal terminals, and tourism destinations linked by a modern shipping line, cargo, warehousing, software services, and logistics network.
It is an ambitious dream. Dennis has always been a dreamer.
Dennis is chairman of four major companies—Udenna Corp., his holding company, Dito Telecommunity Corp.,his telco; Chelsea Logistics and Infrastructure Holdings, his shipping, logistics and infrastructure company; and Phoenix Petroleum Philippines, Inc., his oil retailing company.
Five qualities have made Dennis singularly successful as an entrepreneur – hard work, passion, guts, luck. Since 2016, there has been a sixth factor – being a supporter and friend of fellow Davaweno President Rodrigo Roa Duterte. He is sometimes perceived as a crony of the president although Dennis can certainly stand on his own merit and track record built by entrepreneurship of more than 20 years.
Udenna Corp. is the fastest growing company in the country today. In less than 15 years, the group has become a sprawling conglomerate engaged in six major industries –oil, gas and retail; shipping and logistics; education and food; gaming and tourism; infrastructure; and property development and management. There is a seventh business, Mislatel, the third telco, which has been renamed Dito, a joint venture with ChinaTel. It will launch only 4G services and will no longer offer legacy 2G and 3G systems.
Udenna is a play on Dennis' name – U for Uy, Denn for Dennis, and A for Ang.
Phoenix Petroleum is now the third largest local oil company with 630 retail stations and assets of P64 billion.
Shipping and logistics is under Chelsea Logistics and Infrastructure Holdings Corp,, the largest and fastest growing shipping and logistics company locally.
According to the company, Chelsea has – 3,300 delivery points, 39,281 tons of shipping tonnage, 65.7 million liters tanker capacity, 7,000 containers of cargo capacity.
Chelsea has assets of P33.5 billion. It has 92 vessels and wants to bank on its first mover advantage by servicing booming areas of the country "which show superior growth". It currently services the Roxas-Caticlan, Batangas-Caticlan and Cebu-Tagbilaran-Cagayan de Oro routes routes.
It has the shipping company Nenaco and the logistics company 2Go said to be "the largest supply chain enterprise and end-to-end solution in the Philippines." In the first half of 2019 alone, Chelsea posted revenues of P3.5 billion, up 28%.
Education has Endurun Colleges in Taguig and a maritime training school in Batangas. Edurun, says its president Ed Rodriguez, "has become an intellectual hub in the areas of hotel administration, culinary arts, entrepreneurship, and management. We have expanded to technology with information systems, a degree focusing on technology management."
Food is Conti's 20-outlet coffee shop and bakeshop. "The Philippines food service industry amounts to roughly US$7.2 Billion and over the past decades has had annual growth of 15% to 20%," says Dennis of his Conti purchase.
Gaming and resorts is under PH Resorts Group Holdings, a P6.82-billion (in assets) company owned entirely by Dennis and his wife, Cherylyn.
PH Resorts is completing the five-star Emerald Bay and Casino on Mactan island, Cebu.
In Panglao, Bohol, it has the Donatela Hotel which will have 75 villas on a 7.5-ha. Property just 12 minutes from the airport.
In Clark, it will build a premiere adventure-themed integrated resort" on a 4.4-ha. property.
Property is under Udenna Land, formerly UDEVCO, founded in 2007. It, has grown substantially in just a dozen years. It has 249 hectares in the high growth areas of Pampanga, Mega Manila, Batangas, Cebu, and Davao. Its developments include Clark Global City, a 177-hectare property in the Clark Freeport Zone in Pampanga; Calaca Industrial Seaport, a 108-hectare industrial park with its own seaport facility hosting a dynamic community of forward-looking locators; and The UDENNA Tower Corporation, a prime commercial location in Bonifacio Global City, where the company's headquarters is located beginning.
Udenna, thru Global Gateway Corp., will build a resort, casino, logistics hub, and a central business district in Clark.
Dito Telecommunity Corp., formerly Mislatel, received its certificate of public convenience and necessity (CPCN) in July 2019.
Dennis is third generation of a family of entrepreneurs based in Davao. His grandparents were into the selling of bread and fishing equipment. His parents initially traded in copra and then expanded into a number of other businesses, including mining. It is in mining where the family literally struck gold.
The future taipan went to Manila's De La Salle University for his business management degree which he obtained in 1993.
Dennis wanted to be Mindanao's oil kingpin. He leaped into it, starting with only eight people and small terminal with capacity of six million barrels. He thought of branding his oil. "Gas Boy"? "Gasco"? Baduy, sneered an ad man. So Dennis offered an ad executive P30,000 to think of a name and a logo. That is now Phoenix Petroleum. It has a catchy slogan "Phoenix Fuels Life".
On July 11, 2007, PNX listed in the stock market. The stock price easily doubled, reaching a high of P13.36 per share by the third and fourth quarter. In 2019, Phoenix's valuation rose to P17.3 billion before settling at P15.7 billion on Aug. 20, 2019 at P12.32 per share.
Phoenix has now more than 630 retail stations nationwide, plus 10 under construction, becoming third largest among the local oil companies.
EDGAR "INJAP" SIA II
KING OF KINGS: FROM FAST FOOD CHICKEN BARBECUE TO MALLS AND SUPERMARKETS
From being the King of Fast-Food Barbecue Chicken, this son of a grocer, will be the King of Malls, the King of Supermarkets, and the King of Warehouses of the Philippines. He will also be a major player in the leasing and hotel businesses.
Since Jan. 2, 2019, the market value of Injap Sia II's DoubleDragon Properties Corp. has risen 37% to P58 billion, a gain of P15.68 billion in less than eight months. Since he owns 34.84% of DD, Injap is P5.46 billion richer, with his ownership in his property holding company now worth P20.2 billion.
If the 37% market gain is not considerable, other property companies like Ayala Land and SM Prime Holdings have risen much less or even lost in value. The market cap of Ayala Land, Inc., the property subsidiary of the Philippines' oldest company, is up only 16.34% in eight months to P708 billion. The Sy family's SM Prime even lost 5.4%. SM Prime is the Philippines' largest property company in market cap, at P1.036 trillion.
Injap credits DD's rising market cap to the company's increasing profitability because of the boom in leasing, consumption spending, hotel, and logistics businesses.
DD is building 100 City Malls, 5,000 hotel rooms, 1,200 supermarkets with P120 billion system-wide revenues by 2030, and dozens of industrial centers to host warehouses and commissaries, tapping emerging cities and provinces that are rapidly urbanizing.
Injap's DoubleDragon Properties Corp. is an emerging real estate company in the Philippines, principally engaged in the ownership and operation of a portfolio of leasable properties through its four principal business segments: retail leasing, office leasing, hospitality and industrial leasing, with the aim of becoming one of the leading property players in the Philippines with the highest percentage of recurring revenue.
DD's two principal shareholders are Injap Investments Inc., controlled by the Sia family, and Honeystar Holdings Corp. controlled by the family Tony Tan Caktiong of Jollibee Group, the larget fast food company in the Philippines.
DoubleDragon has so far completed 10 office buildings, eight hotels, 51 malls, and eight warehouse buildings.
By 2010, Injap had built 300 Chicken Inasal barbecue chicken outlets nationwide. That year, he sold 70% of the company to Jollibee Foods Corp. for P3 billion. In 2016, he sold the remaining 30% also to JFC for P2 billion. Not bad for a fast food barbecue business that began in a forgotten parking slot in Robinsons Mall Iloilo in 2003.
FELIPE GOZON: ASIA'S BEST BROADCAST CEO
Topnotch UP and Yale-educated lawyer Felipe L. Gozon has made GMA Network the Philippines' No. 1 television network for the last 10 consecutive years, since 2010.
Since taking over as CEO in 2000, Gozon has brought immense presence, prestige and profitability to GMA Network with cumulative revenues of P194.2 billion and cumulative net income of P34.4 billion. That also brought substantial fortune to the three families which own the network: the Gilberto Duavit family, Menardo Jimenez family, and Gozon's.
Gozon shepherded GMA Network to its unrivalled niche today thru masterful strategy, savvy programming, first-rate marketing, and judicious cost control. Lately, the station has gone back to filmmaking which has provided remarkable windfall.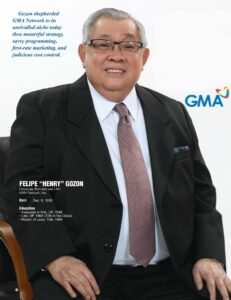 In 2018, revenues amounted to P15.23 billion, down 2%, and profits P2.33 billion, down 9%.
In the first half of 2019, revenues reached P7,914 million, up 7%, while profits P1,356 million, up 10%, thanks to election spending in May this year. Without the election, revenues would have been down 3%. Poll spending added P750 million to topline sales.
GMA kept its No. 1 ratings in Urban Luzon and Mega Manila in 2Q 2019. Nielsen TV Audience Measurement showed GMA registering 36.1% average people audience share in Urban Luzon, 17.6% better than ABS-CBN's 30.7%.
In Mega Manila, GMA dominated with with 37.5% average people audience, a commanding 34% higher than ABS-CBN's 28%. The Lopez-owned network, of course, disputes those figures, using its own pollster.
In regular programs, GMA captured 18 of top 30 programs list in Urban Luzon. Kapuso Mo, Jessica Soho consistently remained the No. 1 program.
Online advertising rose 18%, showing potential as revenue booster. Online includes the company's main websites, GMA News Online and GMA Entertainment Online, as well as the digital content uploaded on the various programs' social media account, etc.
Meanwhile, airtime advertising abroad through the company's GMA Pinoy TV platform rose 13%.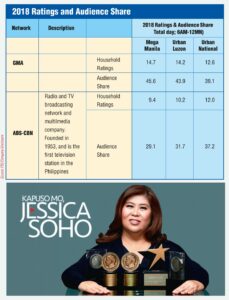 Digital transformation
GMA has marked another milestone in its digital journey as it began transmitting digital TV using its permanent frequency, UHF Channel 15, as assigned by the National Telecommunications Commission (NTC).
Viewers of analog TV may also continue to watch GMA programs on its free-to-air Channel 7 broadcast.
GMA is in the final stretch of preparations for the launch of MyGMA Go, its mobile Digital Terrestrial Television (DTT) service that will revolutionize content consumption habits by combining digital TV viewing and the fun elements of mobile interactivity.
GMA is set to launch an affordable and compact end-user device that can act as a digital TV receiver when connected to an Android smartphone.
Complementary to this device is a mobile application that can be downloaded from the Google Play Store where users can watch GMA's exclusive channels that will include an Asian telenovela channel, Korean music and variety channel, and a concert channel, and other free-to-air channels without a need for an active Internet connection.
To enhance their viewing experience, users can also enjoy many other features if they have an active Internet connection such as streaming of GMA's online videos and messaging with friends and Kapuso artists, among others.
All these features are seamlessly integrated within the mobile application and can be accessed even while watching the live TV channels.
The proprietary technologies that include hardware and software solutions for MyGMA Go have been the brainchild of the Network's technology arm and future-proofing agent, GMA New Media, Inc. (GMA-NMI) since the mid-2000s.
These have been patented with both the local and international Intellectual Property Organization (IPO).
Marketing and distribution plans are underway for the launch of MyGMA Go.
HENRY SY SR. : HIS HARD WORK, GRIT, AMBITION MADE SM
Hardship, hard work, ambition, timing, and luck.
These are the five ingredients behind the success stories of the Philippines' leading taipans who happily are also the richest Filipinos of today. No one epitomized those qualities as did Henry Sy Sr.
The Sy family is the richest in the Philippines. Their wealth is more than $16 billion.
When Henry first came to Manila by boat as a boy of 12 in 1936, he had only ten centavos in his pocket. He was in search of his father, an education, a better life, and a fortune. He spoke no English and no Tagalog. His mother, Tan O Sia, had told Henry on the day of his departure, "don't look back."
Henry grew the ten centavos, a pittance, into a fortune worth between $16 billion and $20 billion today, making him the richest Filipino, the ninth richest in Asia and the 52nd richest in the world. Henry died in his sleep on Jan. 19, 2019. He was 94.
The boy-child Henry cried when he first saw his father in Manila. "There has to be a better life than this," Henry told me in one interview eight years ago. His father's store in Calle Echague was no bigger than two square meters. It was multi-functional—a store by day, a bed by night, with the same table where goods were displayed serving as bed by nightfall. Every morning his father bought goods in Divisoria and carried them barefoot to Echague. It was backbreaking unrelenting work. From his father, Henry learned one thing – the importance of discipline, hard work, and good credit.
Henry attended Grade 1 at the Anglo-Chinese School in Quiapo but he was in such hurry he asked his teacher how he could speed up schooling.
The reply: Have a grade of 90. He did. He finished grade school in five years, at the top of his class, remarkable given that he had no textbooks and could only afford second-hand handouts.
By 1941, when the Japanese bombed Pearl Harbor, the Sys already had two stores, which happily were not devoured by war-induced looting. Under Japanese rule, Henry, by then a man at 17, got a bike and busied himself doing the buying and selling for the two stores. "In good times, I do my usual work. In bad times, I work harder."
After the Battle of Manila, one of his two stores was razed, the other looted. The city was in ruins. His father left Manila back to China.
With post-War Manila, Henry had saved a few hundred pesos. He found a new business hub – Plaza Miranda. He began buying cigarettes by the cartons from American GIs and selling them by the pack, making a peso per pack. He also went into selling scrap metal and other odds and ends.
Later, with rented space from Don Vicente Rufino on Calle Carriedo, Henry built his first store, selling anything he could. It was also his house by night. US shoe importers offered to sell him shoes by the job lot. The business prospered. With a partner, Lao Kang, he opened Plaza Shoe Store and a second, bigger store, Park Avenue Store.
One day, a Filipino GI walked into one of his stores and bought a pair of shoes without haggling. Henry felt guilty the GI was overcharged. From then on, he adopted fixed pricing.
With two stores, Henry quit night school, finishing only a two-year Associate in Commercial Science at FEU. Going to school was an ordeal. Wearied from backbreaking work the whole day, he often was sleepy in class.
In 1949, he got his first bank loan, P1 million, from Bank of China. Today, he owns that bank, in addition to BDO.
By 1959, Henry, after nine years of marriage to Felicidad, a teenage crush, had six children – Teresita (1950), Elizabeth (1952), Henry Jr. (1953), Hans (1955), Herbert (1956), and Harley (1959). They are the new management team today. After the Battle of Manila, one of his two stores was razed, the other looted. The city was in ruins. His father left Manila back to China. Henry plodded on.
"Usually, when you come from China," he recalled, "You come with cousins, friends, together, a group. I came alone, by myself." "From the very start, at the age of 10," Henry recounted, "I knew I had the drive and determination to make something of myself."
In the 1955s and 1960s, Henry made trips to the United States to learn many things about retailing. The US had become the mecca of shopping centers, with the rise of Macy's (1858), Sears (1893), and JC Penney (1903) following the post-War economic boom. Henry also travelled to Europe to observe the latest trends in fashion and retailing. Henry didn't study abroad. His children were all educated in Manila. He made up for the lack of foreign education with his frequent trips overseas.
He improved on what he saw. "My travels made up for what I missed in school," he said. He went to trade fairs in Europe, and frequently to the US, observing the latest in fashion, store trends, retailing developments.
He noticed that most Filipinos dreamed of going to America to experience its cool climate and the lure of its shops. So he pumped first class air-conditioning into his malls and in some, put up ice skating rinks, unusual given that there is no snow in the Philippines, "so shoppers would feel like they are in America." Henry also required his sales girls to dress like stewardesses.
Sy targeted the venerable Ayala Group as the corporate giant to beat. For a number of years, he was in the board of Ayala Corp.. Then one day in the1980s, the Philippines' oldest company reduced the number of its directors. Sy, who had only 10% of the company, was ousted because one needed 20% to remain in the board. He pleaded reconsideration, saying he loved the company and that he posed no threat. To no avail. Stung, he told the Ayala family point-blank: "I will be bigger than you in real estate, bigger than you in banking, bigger than you in shopping malls."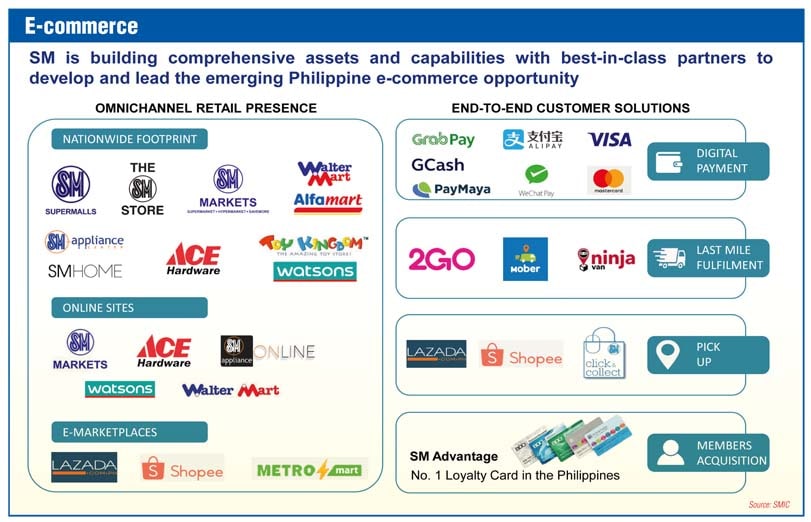 In less than 15 years, Sy became No. 1. His smallish Acme Savings Bank became BDO Unibank, the largest Philippine bank; his two SM branches, one in Manila and another in Makati, became a sprawling shopping complex of more than 60 malls plus five in China. SM Prime is the largest property developer, with market capitalization of $22 billion, outclassing No. 2, Ayala Land which is valued by the stock market at only $14 billion.
Biggest in market cap
As of June 2019, Sy's listed holding company, SM Investments Corp. is the biggest in market capitalization, $21.8 billion, nearly double Ayala Corp.'s $11 billion. His BDO has total resources of $56.9 billion, 33.3% bigger than the No. 2 bank, Metrobank ($43 billion), and 43.3% bigger than No. 3, Ayala's Bank of PI ($39.7 billion).
SMIC has a market cap of P1,204.582 billion. With 68% ownership, the Sy family is worth P819.1 billion or $16.06 billion at P51 to one US dollar.
As an entrepreneur, Henry Sy lived by 14 principles, namely:
1. Strive to be the leader in your chosen field
2. Be a person of integrity
3. Have a long-term vision and strategy
4. Focusing would mean concentrating and prioritizing
5. Have a great passion to achieve
6. Work hard
7. Be patient and persevere
8. Recognize opportunity
9. Try to be optimistic
10. Be confident
11. Be disciplined
12. Build your organization
13. Make it your vision to provide employment
14. Social responsibility is important
What is the future? Henry's death in January 2019 is not likely to slow SMIC's further march into bigness.
"At present, you actually have not one, not two, not three, but six Henry Sys!" exclaims Jose Sio, the chairman of SMIC. He is referring to the six Sy children who are active in the business.
Sio explains: "Of the 18 grandchildren, six are already now working for the SM Group. If we can get nine of the 18 to be involved in the businesses, that's all right, because I do not believe it is good to force heirs to work in the business. Not all heirs and heiresses should manage a family business, (though) they can be trained to be good, responsible shareholders and owners."
Of the present crop of taipans and tycoons, the most likely to replicate Henry Sy's success as the king of Philippine business is Ramon S. Ang or RSA.
JOHN TO LANCE : "IF YOU DON'T WORK, YOU DON'T EAT"
That is one of the most important lessons I have learned from my good friend of many years, John Gokongwei Jr.. it is a formula for hard work – and entrepreneurship.
John, 93, is not your typical rags-to-riches taipan. He is, in fact, a riches-to-rags-to riches story. He was born with the proverbial silver spoon. In the late 1930s, his father, John Sr., was big time and one of the richest in Cebu.
Until his mid-teens, John was based in Cebu and led a life boys his age would envy. His father owned a chain of movie houses, including the first air-conditioned theater outside Manila. He was the eldest of six children, lived in a big house in Cebu's Forbes Park, and was driven by a chauffeur to an upscale school, San Carlos University. He was top in his class. He would bring classmates to his father's movie houses. Life was good.
One day, when he was 13, John's world of wonder stopped. His father died suddenly, from complications due to typhoid. "Everything I enjoyed vanished instantly. My father's empire was built on credit. When he died, we lost everything—our big house, our cars, our business—to the banks," he recalled.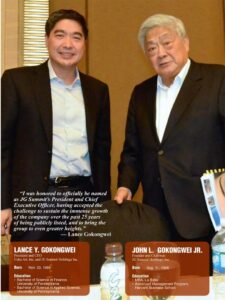 He was left with a widowed mother and five siblings much younger than him. He sent his mother and four brothers and a sister to China. In Cebu, they had nothing to eat, their future in limbo.
Then Big John worked. Hard and relentlessly. He sold roasted peanuts in the backyard of a now much-smaller home. When that wasn't enough, he opened a small stall in a palengke, one much farther than the other markets "because there were fewer goods available for the people there. I woke up at five every morning for the long bicycle ride to the palengke with my basket of goods."
By the time he was 15, John was selling whatever people needed—"soap to keep them clean, candles to light the night, and thread to sew their clothes." Perhaps, without knowing it then, the teener upstart learned the first lesson of entrepreneurship – satisfy a need. As a young businessman, the tall and lanky teener had one advantage – he was young, strong, active, intense. "I did not tire as easily, and I moved more quickly," he said.
"I was also more aggressive. After each day, I would make about P20 in profit! There was enough to feed my siblings and still enough to pour back into the business. The pesos I made in the palengke were the pesos that went into building the business I have today." He said: "I told myself, 'If I could compete with people much older than me, if I could support my whole family at 15, I could do anything'!" And the best person to depend on in a crunch? "Myself," he grinned. "And so I continued to work."
From Cebu, John expanded to Manila. He would transport tires on a small boat called a batel, travel for five days to Lucena, load his cargo onto a truck for the six-hour trip to the Philippine capital. He sat on his goods so they would not be stolen.
"In Manila, I would then purchase other goods from the earnings I made from the tires, to sell in Cebu. Then, when WWII ended, I saw the opportunity for trading goods in post-war Philippines."
At 20 in 1946, John formed his first company, Amasia Trading which imported onions, flour, used clothing, old newspapers and magazines, and fruits from America. After two years, he made enough money to feel confident of retrieving his mother and siblings from China. He converted a two-story building in Cebu to serve as their home, office, and warehouse all at the same time. The whole family began helping out with the business.
At age 27 in 1954, John put up a corn-starch manufacturing, going against the biggest in the business, Ludo and Luym. He tried to borrow his capital. The first bank rejected him. The second gave him a P500,000 loan, princely at that time. It jumpstarted Universal Corn Products. He was met by a vicious price war. He won.
Universal Corn is what JG Summit Holdings is today. In 2018, JG Summit had revenues of P291.9 billion, net income of P19.2 billion, and assets of P819.2 billion, up 11%. JG Summit claims it is the third largest conglomerate in terms of how much the stock market values the company, P399 billion.
In the first half of 2019, JG Summit had revenues of P158.4 billion, up 9.7%, and profits of P17.4 billion, up a whopping 76.8%.
Remarkable is John's Cebu Pacific. It now claims to be the largest airline in the Philippines in terms of passengers carried. It was launched in 1996 with its first domestic flight. As of end-2018, it had 71 planes, 20.3 million passengers, 37 domestic destinations, 26 international routes, assets of P129 billion, revenues of P74.1 billion, and profits of P3.9 billion.
In first half 2019, Cebu Air chalked up revenues of P44.7 billion and profits of P7.3 billion, more than double from the same period in 2018. This 2019, carrier gets delivery of 11 A321NEO (New Engine Option) Airbus planes which have more seats, more fuel efficient engines, and longer range, enabling it to improve service, efficiency and profitability and fly to distant routes like India and Russia.
John is a very practical man. In 1974, I visited his executive office at the then Midtown Ramada in the Ermita tourist district. His visitors were made to sit on a sofa that had seen better days. I asked him why he had a battered sofa when he could certainly afford a better couch. "Why I should buy a new one when the old one serves the same purpose," he asked back. "Buying a new one will use up my capital," he said.
John was very fond of freebies. Inside the pockets of his huge coat one could find peanuts, and papers of all kind. A hotelier himself, he is probably one guest who would bring home the hotel slippers, soap, and other toiletries.
In the late 1970s to the early 1980s, John waged among his biggest boardroom battles – a board seat in giant San Miguel Corp. controlled by the Soriano family. John was aghast that he had more shares of San Miguel than the Sorianos did and yet was not allowed to enjoy one board seat. The boardroom fight revealed am ambitious streak in John. That you can actually buy companies bigger than yours. And that you could grow big indeed thru acquisitions.
His fight with the late Don Andres Soriano Jr. eventually paid off. Don Andres put him in the board of San Miguel's Hong Kong subsidiary and sold to him at a bargain what was a decrepit riverside warehouse property on EDSA which John converted into a sprawling cyberpark, condo and commercial complex.
In 2011, John sold his money-losing Digitel to the PLDT Group Manny Pangilinan for P69 billion. The deal enabled John to get two board seats in PLDT and Pangilinan to control majority of Meralco. In 2013, John acquired 27% of power distribution monopoly Meralco from San Miguel, joining Pangilinan for control of Meralco.
When his Cebu Pacific launched service to Shanghai in 2007, John invited me and his best friends to join the inaugural flight. Cebu Air is a low-cost carrier. There was no food service during the four-hour flight. Upon landing, past midnight, we were checked in at the Crowne Plaza Hotel in Shanghai.
He owns the Crowne Plaza Galleria in Ortigas, Quezon City, so securing rooms for his valued friends at Crowne Plaza Shanghai should not have been a problem. Only half of the rooms were available. The idea: Save money.
EDWIN BAUTISTA: THE PIONEER DIGITAL BANKER
Total digital transformation is the mantra of Union Bank of the Philippines President Edwin Bautista.
A banking veteran from Citibank, he believes the bank of the Aboitiz family and the Social Security System must go digital or perish.
With status quo, UnionBank could lose the business to so-called non-banks- retail outlets that can service the needs of the unbanked without necessarily taking their deposits. There are thousands of such potential banking outlets, like the remittance centers, the 7-11s, the Jollibees, the McDonalds, even the drug stores. The industry has a category for them – fintech.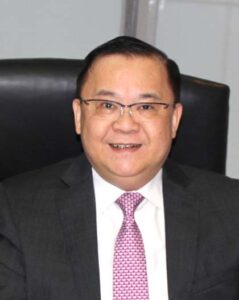 Bautista notes the tremendous improvements in the Philippines' digital environment – 67 million Filipinos having access to the internet, 61 million Filipinos with mobile phones, and a 403% increase in internet speed from 2017.
Union Bank's transformation has two aspects. "Tranformation A" focuses on being the Best Digital Bank. "Transformation B" is becoming a "Fintech that happens to have a banking license."
The dual transformation ensures UnionBank's relevance in an increasingly competitive yet expanding business (the foreign banks are coming in droves; the locals are also transforming themselves), Also, only two of every five Filipinos are served by a bank. And. More than 600 towns have no bank facility. Says Bautista: "UnionBank can best reach out to more unserved and underserved communities to achieve inclusive prosperity." After all, in a rising tide, all boats rise.
Accordingly, the bank has made innovations for faster, safer, efficient and convenient banking.
Examples are The Ark and EON.
Launched two years ago, The Ark is said to be the Philippines' first fully digital bank branch, disrupting the concept of branch banking. It has the air of an airline VIP lounge, complete with coffee, tea and snacks. It is manned not by tellers, but by "branch ambassadors" who assist customers to go digital or do self-service transactions as they are led to machines for cash and check deposits, sans human contact.
Since The Ark's opening, cash deposits with the machines have reached 6,300 transactions or 570 per month or P13.6 million per month. Check deposits reached 2,300 transactions, or 210 transactions per month. That leaves 4,300 digital transactions that have to be done in the branch, with the tellers, and not in the machines– account opening, product application, check encashment, request for manager's check, telegraphic transfer, bank certification, etc.
One of the biggest benefits is speed. It takes an hour waiting for and being attended to by a teller. Digitization takes only 15 minutes.
Also, as of end-2018, new accounts opened numbered 1,000 with P200 million in average daily balance, six times what a new branch would normally process. UnionBank will roll out 45 ARKs nationwide during 2019.
Meanwhile, EON is neo banking relaunched in March 2017. It has scored many firsts — the first Selfie Banking in Asia, thanks thru facial recognition; Open Banking which allows customers to use any Visa/Mastercard debit or prepaid card for seamless online purchases; capability to open a bank account without submitting documents or going to a physical bank branch; 24/7 access to the EON Starter Kit, the first prepaid card in the Philippines to be available in convenience and online stores.
EON has also partnered with PeraHub to provide agency banking and bring financial services to rural areas. UnionBank is also creating synergy with the rural banks that it has purchased by providing the EON platform to these banks.
UnionBank embedded artificial intelligence capabilities into some its digital channels including chatbot Rafa—the country's first banking chatbot and pioneered the API platform, another first in the banking industry where fintechs can connect to the system functionalities of the bank and vice-versa.
UnionBank's use of AI, robotics, the internet of things in its internal processes reduced processing time by 80% to 90%.
The bank has put up its software design and data analytics team to predict consumer or bank customer behavior like whether he is a good borrower or not or simply determine what they want, without even interviewing the client, simply by profiling them with the use of AI.
The bank has a team of 28 data analysts to increase revenues thru what it calls "leads creation".
Data analytics has enabled UnionBank to execute its 360°, 720°, and 1080° customer analytics framework – from consolidating and analyzing internal customer data, to enhancing them with external customer data, and now generating predictive models to come up with customer profiles.
The data analytics team had significant revenue contributions to several businesses like credit cards, debit cards, consumer finance, and SME businesses.
Finally, Edwin Bautista believes blockchain is the future, which will power the internet of finance. UnionBank is the first bank to implement the blockchain technology into its internal processes processes and its customers. It also has introduced its own digital currency.
MANUEL B. VILLAR JR.: THE RICHEST FILIPINO
Manuel B. Vilar Jr. may have lost the 2010 presidential election dismally after spending by one estimate, P5 billion. After that disappointment, the former Speaker of the House of Representatives (1998-2000) and former President of the Senate (2006-2008) went back to what he knows best – housing and land development. He has been a big winner.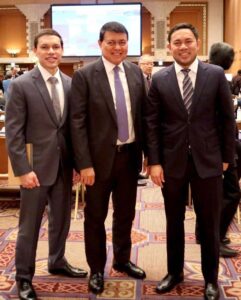 Because two listed companies are highly valued by the stock market – Golden Bria Holdings and Vista Land and Lifescapes – the ever smiling Manny has become the Philippines' richest person. He is also probably the country's largest private landowner.
His wealth is estimated by BNA to be P203.67 billion or $5.84 billion. His family owns 88.62% of Golden Bria which is valued at P272 billion. His family owns 64.99% of Vista Land and Lifescapes which is valued at P96.37 billion. Manny is chairman of both companies.
His son, Wharton-educated Manuel Paolo A. Villar, 42, has been the president and CEO of Vista Land since 2011. He has degrees in economics and applied science at the University of Pennsylvania.
Manny's other son, Mark, 41, is the secretary of the Department of Public Works and Highways (DPWH), implementing the P9-trillion Build, Build, Build infra program of President Duterte.
Mark has three degrees – economics, philosophy, and political science, from UPenn. He has an MBA from the University of Chicago Booth School of Business.
Manny's wife, Cynthia, topped the senatorial elections last May 2019, with an unheard of 25.28 million votes. That makes her a viable candidate for president in 2022. In the Senate, she is focusing on agriculture and SMEs.
The market seems to value Golden Bria, which used to be a chain of memorial parks and funeral before it went public, exceedingly—more than 200 times earnings. The market values Vista Land, the country's largest home builder, at about 77x earnings. Whether Manny has such a solid reputation as a smart businessman or his companies have been doing extremely well or the market sees potential not every investor knows, it is hard to tell. Villar has a multi-billionaire, on paper and in actual valuation.
In 2018, Golden Bria had revenues of P5.77 billion, up 56.75; and profits of P1.568 billion, up 124.3%. In 2018, Vista Land and Lifescapes had revenues of P31.856 billion, up 15% and profits of P10.534 billion, up 16%. Profit as a ratio of sales is high – 33%.
Manny has parlayed his more than 30 years of experience in housing building and property development to build a conglomerate with nationwide presence (more than 125 cities and towns, unmatched by any other developer), superior brand recognition, and proven track record, under five distinct business units—Brittany, Crown Asia, Camella, Communities Philippines, Vista Residences, housed under an integrated real estate holding company, Vista Land and Lifescapes.
Manny has also made successful forays into malls, department stores, hardware, 24-hour convenience stores, home depots (a future IPO), memorial parks, drug retailing, coffee shops, schools, and even medical centers, to enhance themed residential and leisure projects in his so-called Communicities.
Villar is a compelling rags-to-riches story. A poor boy from Tondo, who became the first Filipino brown dollar billionaire, in 1995 when his C&P Homes went public and his 80% stake was valued at $1.5 billion.
Over the years, he has built over 250,000 housing units. A cpa and MBA from UP, Manny is one man who has changed, for good, the landscape of cities and towns in the Philippines.
DESPITE TOUGH TIMES AND TAXES, LTG THRIVES
With its businesses operating under severe government regulation, scrutiny and taxation, the LT Group, Inc. (LTG) and Philippine Airlines are doing well, short of marvelously. The kapitan, Lucio Tan is probably the most resilient of Filipino businessman. He keeps plodding on despite the challenges. He loves his country, the Philippines.
Philippine Airlines beat 300 other airlines to become the world's most improved airline, thanks to Jaime Bautista's efforts. Jimmy, however, retired in July, after making PAL four-star for the first time. Lucio Tan's children by his first wife took a more aggressive stance at managing one of the most difficult carriers in the world to manage.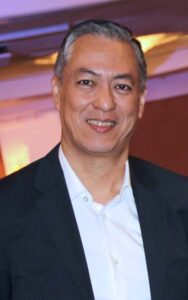 Asia Brewery profits swelled, along with revenues. It is also top in energy drink and soya milk and second in branded bottled water.
Tobacco continues to deliver profits despite increasingly oppressive taxation and a nationwide ban on smoking in public.
Philippine National Bank is scaling up in size, profitability and loans.
The distilled spirit revenues are up slightly and market share is up. Property remains a cash machine.
LTG first half 2019 net income hit P9.24 billion, P274 million or 3% higher than the P8.96 billion reported for 1H18.
The flagship PNB contributed P2.25 billion or 24% of total attributable income. The tobacco business accounted for P5.85 billion or 63%. Tanduay Distillers, Inc. (TDI) for P373 million, while Eton Properties Philippines, Inc. (Eton) added P370 million, or 4%; Asia Brewery, Inc. (ABI) P244 million or 3%; and the 30.9% stake in Victorias Milling Co., Inc. (VMC) yielded P148 million or 2%.
LTG's balance sheet remains strong. As of June 30, 2019, the cash balance of the parent company stood at P1.51 billion. Debt-to-Equity Ratio was at 3.97:1 with the bank, and at 0.15:1 without PNB.
PNB
PNB's first half 2019 net income was P4.05 billion, 27% lower than 1H18's with the absence of large gains from the sale of Real and Other Properties Acquired (ROPA) in 2019. Excluding the ROPA gains, core income was actually +52% higher at P3.98 billion from P2.61 billion.
Net Interest Income rose 13% as loans and receivables grew by 12%. Net Service Fees and Commission Income picked up 11% while Trading and Foreign Exchange Gains more than doubled.
Tobacco
LTG's tobacco business reported a net income of P5.87 billion for the first semester of 2019, P998 million or 20% more than the P4.88 billion reported for 1H18. Equity in net earnings from LTG's 49.6% stake in PMFTC reached P5.65 billion, 20% or P935 million higher than the P4.72 billion of 1H18. The improvement in earnings is largely attributed to the volume mix in favor of premium Marlboro, as well as the price increase of Fortune in December 2018.
The government took smuggling seriously, as the number of raids has been increasing and has been effective in curbing the presence of illicit products in the market. Some $15.2 million worth of illicit cigarettes were confiscated. Still, LTG said continued actions and vigilance are needed in order to contain the growth of the illicit trade. The tax-driven price increases of the tax paying industry players make it attractive to make profits from the illicit trade.
LTG is not against tax increases, but believes that the hikes should be moderate. Additional price increases to pass on higher excise taxes may result to further volume drops. Volume is down 33% 73 billion sticks from 109 billion sticks in 2012. Excise taxes have substantially increased starting 2013, under RA 10351, then RA 10963 starting 2018, and RA 11346 starting 2020. From a low of P2.72 per pack of 20 sticks in 2012 for the lower tier and P12 per pack for the upper tier, the current excise tax of P35 per pack is 3x to 13x more than the 2012 level.
On July 25, 2019, Republic Act (RA) 11346 increased further the excise tax on tobacco starting January 2020, from the current P35 per pack to P45 in 2020, up P5 per pack annually from 2021 to 2023. More increases are due after that.
Tanduay Distillers, Inc. (TDI)
TDI's net income for 1H19 amounted to P380 million, P57 million or 13% lower than the P437 million reported for 1H18.Revenues from liquor were 2% higher y-o-y despite the 5% drop in volume as TDI was able to increase selling prices. Bioethanol sales were also higher. But higher operating expenses, mainly selling expenses, resulted in the lower net income.
As of end-June 2019, TDI's nationwide market share for distilled spirits was at 29.8%, higher than June 2018's 28.7%.
Eton Properties Philippines, Inc. (Eton)
Eton ended 1H19 with a net income of P371 million, P159 million or 75% higher than the P212 million recorded in 1H18. Revenues were 15% higher y-o-y with the increase in residential unit sales, the addition of retail space and lease renewals at higher rates.
Eton Square Ortigas along Ortigas Avenue in San Juan City opened its doors in the first half of 2019. It is currently fully leased out with 2,062 square meters of gross leasable area.
Meanwhile, eWestMall, the retail component of mixed-use Eton WestEnd Square in Makati City, was completed with several tenants slated to open before the end of the year. The office component, eWestPod is fully leased out.
Blakes Tower, the 36-storey office and residential building was topped off in the first half of 2019.
DELFIN "DING" WENCESLAO JR.: THE RECLAMATION KING OF MANILA
Delfin "Ding" Wenceslao Jr. has parlayed the company founded by his father 50 years ago, into an integrated property developer with an established track record and market-leading capabilities in land reclamation, construction and real estate development.
DM Wenceslao currently is No. 1 in land reclamation with its track record and leading edge technology.
The company's first half 2019 net income grew 42.5% on the back of strong growth in its leasing business to P969.8 million despite an 80% drop in revenue to P1.2 billion.
Ding Wenceslao is chairman. His son is CEO and president, Delfin Angelo C. Wenceslao who has more than 17 years of experience in property development, property management, financial analysis and leasing and brokerage.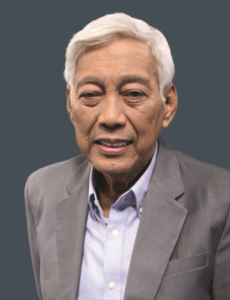 "Strong execution from our marketing and construction teams is accelerating momentum across our businesses," said DM Wenceslao Chief Executive Officer Delfin Angelo Wenceslao. "We have completed our third commercial office building ahead of schedule and within budget. This early delivery added over 30,000 square meters (sqm) of leasable gross floor area which was fully leased out as of the end of 2017."
In the first half of the year, the company commenced construction of a 68,980-sqm office building called 8912 Asean Ave., due for completion in 2021. It is the company's largest project in its office portfolio so far.
DM Wenceslao has 571,863.8 sqm of landholdings, mostly in Aseana City. They are valued at P132.8 billion and good for least 10 years of development.
Aseana City is part of the larger 2,040,000 sq.m. CBP-BC project, which Wenceslao reclaimed.
Aseana City is positioned to become the next major mixed-use or "Next Generation" CBD in Metro Manila, anchored by tourism, recreational developments and retail malls. These sectors have and continue to attract large investments into the Philippines. Aseana will be complete with recreational and entertainment outlets, commercial and retail developments, prime office space and residential condominiums.
DM Wenceslao's master plan for Aseana City is designed to create a self-contained community and to specifically attract the middle-class working families and middle-income executives who work in these sectors.
Aseana sits cheek-by-jowl to Entertainment City and the Mall of Asia complex in the Manila Bay area.
Aseana has cashed in on the boom in gaming or casinos, online gaming, business processing outsourcing, and tourism in general.
Aseana City is well- connected with key transport linkages such as the NAIA Expressway and the Southwest Integrated Bus Terminal Exchange ("SWITex") station.
The LRT 1 extension under construction will improve urban connectivity and access to Aseana City from major transport hubs and rapidly growing population centers outside of Metro Manila, which will facilitate the development of Aseana City.
As one of the country's foremost experts on land reclamation, Wenceslao assisted the government to reclaim the land underlying Aseana City. It obtained title to a portion of the total reclaimed lands.
During 1993 to 2008, DM Wenceslao reclaimed for the government 2.04 million sq.m.. Of that, DM Wenceslao a share of 1,074,714.0 sqm., including our existing land holdings in Aseana City of 569,121.2 sq.m.
Prices have skyrocketed in Aseana giving DM Wenceslao windfall profits.
DM Wenceslao has completed more than 100 construction and infrastructure projects throughout the country, including ports, bridges and expressways.
The company offers a full range of construction-related services, including survey and planning, condition works, engineering, architectural and project management services.
8990 SUSTAINS NET INCOME GROWTH MOMENTUM IN 1H19
8990 Holdings Inc. posted an 18% year-on-year net income growth from P2.39 billion to P2.82 billion by the end of the first half of 2019. 8990 Holdings is one of the fastest growing real estate developers in the Philippines.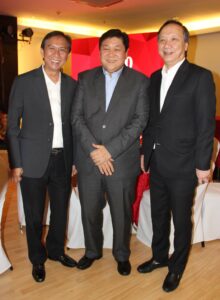 The company's sustained bottom-line growth is being driven by its flagship project, Urban Deca Homes Manila with total units sold equivalent to around two buildings. Total revenues for the first six months of 2019 increased by 17% year on year to P7.01 billion from P6.0 billion in the same period last year.
Total housing units delivered increased 19% year on year to 4,934 units. Forty-two% of revenues came from sale of high-rise buildings, 23% from medium rise buildings, and 35% from horizontal projects. On a regional basis, 67% came from Luzon, 23% from Visayas and 10% from Mindanao.
The Company's Performing Accounts Ratio (PAR) remains steady at 94%. According to 8990's President and CEO Willie J. Uy, "Rising demand for affordable housing in the country has allowed us to sustain our revenue growth in the first half of 2019. We are very confident of meeting our P13.5 billion target for the year."
Sales reservations increased 28% year-on-year to 5,785 units from 4,535 units in the first half of 2018. Unrealized sales for the period stands at P1.32 billion which the Company expects to recognize towards the end of 2019.
Situated on an 8.4-hectare property, Urban Deca Homes (UDH) Manila is a 13-tower residential complex offering over 13,000 units with an estimated sales value of P 20 billion.
Targeting residents of Tondo and those living in the Port Area, Intramuros, Divisoria and the Camanava area, UDH Manila addresses the housing needs in the most densely-populated area of Metro Manila. This is the largest residential development in Tondo. Twenty months after the launch, more than 5 buildings have been sold.
In July 2019, 8990 Holdings launched its largest Metro Manila project to-date, Urban Deca Homes Ortigas located along Ortigas Avenue Extension. Once completed it will have a total of 19,046 condo units.
The company's current landbank stands at 712 hectares. Mr. Uy related that "Our landbank will ensure the growth of our company in the next 8 to 10 years and would potentially bring in P154 billion. This is still a conservative estimate of our future sales as it does not factor in the future sales of our opportunistic purchase of Monterrazas in Cebu".
KING AGUILUZ: GIVING TECHNO EDUCATION TO THE REST OF US
The extensive school business of Amable "King" R. Aguiluz V has become even more relevant and urgent these days, what with the Fourth Industrial Revolution (IR4) in full swing.
"The technological revolution will fundamentally alter the way we live, work, and relate to one another. In its scale, scope, and complexity, the transformation will be unlike anything humankind has experienced before," says Klaus Schwab, founder and CEO of the World Economic Forum.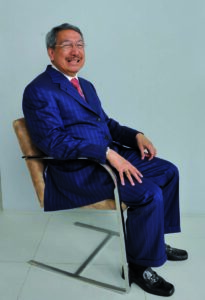 Breakthroughs in artificial intelligence, robotics, the Internet of Things, autonomous vehicles, 3-D printing, nanotechnology, biotechnology, materials science, energy storage, and quantum computing create an enormous demand tech-savvy workers and managers.
That is where AMA comes in.
King Aguiluz is the founder, owner and chairman of the AMA Group of Companies. He runs what is today the Philippines' largest school – both in number of campuses (200, including 10 overseas), and number of students – over 150,000 enrolled. The AMA Group is also the biggest school in Asia.
"Nobody comes close," King enthuses, 73. The 200 schools include in the Philippines alone, 87 franchised by third parties, 46 managed under management agreements with their owners, and at least 16 owned by the AMA Group.
Annual turnover of the Philippine schools is about $50 million with profits hitting $22 million a year. King also operates the biggest private university in the Middle East and is a good friend of the Bahrain royalty. He is a special envoy to the Gulf Cooperation Council (GCC) member states. As such he has saved a number of OFWs from sure destitution and at times, sure death.
About 350,000 have studied or finished schooling at AMA—the largest pool of technically-skilled and technology-oriented manpower in the Philippines trained under a single roof, the AMA brand. AMA has the biggest IT infrastructure in the Philippines.
King has a vision. He wants to offer quality education to everyone, anyone, anywhere, everywhere. "I want to provide education to all Filipinos, especially those who have no access to it."
He is focusing the 16% of the 39 million Filipinos who are of school age but are out of school. They are out of school either because they cannot afford it, or they have no time for it, or there are no schools near their home or their places of work.
King's answer to their problem—online education which simply stated is educating people without the need for physical classrooms but with the magic of satellite and internet.
King's AMA is disrupting education with its vision to extend universal education by offering online courses (combined with brick-and-mortar experiences) to nearly everyone willing to learn, without them having to commute to a school or campus, and serving consumers outside of the mainstream and the elite sector, thru the use of technology such as satellite, internet, and handheld devices.
The students master courses, programs, subjects and IT skills unhampered by traditional time-based metrics, thus making higher education affordable, accessible, simpler, more relevant and focused, competency-based, and a journey of life-long learning.
In the Philippines, according to King, online or open course education helps solve the government's chronic shortages of classrooms and teachers while preparing workers to acquire skills and knowledge needed by the work place of the 21st century.
On the side, ARA is also into banking, property, and retailing. Those businesses also offer exciting growth potential.
THE ROBERTO V. ONGPIN: BUILDING PLAYGROUNDS FOR THE RICH AND FAMOUS
The mind of Harvard-educated tycoon Roberto V. Ongpin does not stop thinking of new projects despite his being past 80. The projects will serve as the playgrounds of the rich and famous, local and foreign.
Aside from his iconic 490-ha. Balesin Island Club (BIC) members-only resort in Quezon province, he has two major projects: one, another island resort 1.5 times the size of BIC, and two, a resort and getaway residential Forbes Park of the north, the Baguio Mountain Lodges.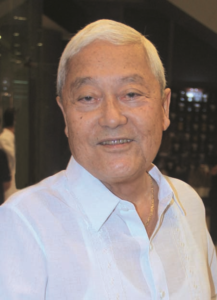 In between, he is expanding Balesin Island Club by building a new Chinese village, a cluster of new villas called Regency, two new restaurants (one Chinese, one Vietnamese), and a cavernous convention and events place.
Ongpin thinks Balesin Island so big it can actually accommodate large weddings and international conventions of up to 1,000 people. For sit-down dinner, the island already has The Balesin Royal Villa for 300 guests. Not contented with that, the inveterate tycoon has ordered the construction of The Balesin Marquee as a special events facility for 600 guests, seated, and for as many as 1,000 guests, seated theater-style, for a performance
Balesin Island Resort already has 384 villas catering to the club's more than 1,500 members.
For an events place, "we have ordered a fabulous (but expensive!) marquee events-style tent, made of PVC polyester tensile fabric from Germany. It is guaranteed to withstand 250 kph winds. The marquee will have its own large kitchen, a dozen comfort rooms, and huge storage spaces," reports Ongpin.
"The marquee will be fully air-conditioned and will have a cocktails / reception area with a beautiful view of the beach and Lamon Bay. We have sited it at the former driving range area near The Regency Private Villas," he relates in his latest update letter to members. "For us in Balesin, it is a game changer, and will optimize the use of the many villas that we have built over the years."
Ongpin has just completed the first Regency Private Villa (Villa A). It will have 20 bedroom suites and a splendid deck, pool and cabañas, overlooking what he calls the best beach on the island. Before Regency villas, the Balesin's largest facility was The Balesin Royal Villa with only 14 suites. Three more Regency villas will be completed this year. In all, there are 52 bedrooms in four different buildings—Regency A, B, C, and D.
Ongpin has signed up with one of the most affluent entrepreneurs from Shenzhen, China, for a long-awaited mini Chinese Village. Called "Apsaras Tribe" ("not very Chinese-sounding, but it is the name they chose," grins Bobby), it will house 12 villas and a banquet area for 150 people. The Chinese investors have pledged to bring in Cantonese chefs from Hong Kong or from Shenzhen.
Half an hour helicopter ride from Balesin is an even bigger island resort, the 732-ha. Balesin Island Gateway (BIG) on Patnanungan island. It is geared for the ultra rich, high-end tourists, and high rollers from Macau, Hong Kong, China, Japan, South Korea and as far as Europe and the Americas for them to enjoy their own beachfront homes while enjoying the amenities of five hotels and a championship golf course. It will come complete with a 2.5-km runway to accommodate wide-bodied jets.
"The beach is pink, not white as Balesin, but attractive in its own way," says Ongpin. "We intend to qualify as an international airport, a championship golf course, five hotels of about 200 rooms each, and over a thousand home sites. Unlike Balesin, it will not be a membership club, but available to the general public."
During 2019, relates Ongpin on Patnanungan, "we target to complete the runway, the wharf, and a 50-suite villa, by Christmas time."
Up north, 250-kms from Manila, Ongpin is developing the Mountain Lodges, just 9 kms from Baguio City on Ambuklao Road.
He is erecting 300 veritable log cabin houses that sell for P25 million to P55 million apiece, on an 82-ha. mountain property nestled 5,300 feet above sea level. "We have completed 27 log homes and sold all of them. We are building an additional 11 single-family homes, in addition to the two quadruplex units (four homes in one building, or a total of eight home units)," reports Ongpin.
There, summer or no summer, the air is crisp, the weather is cool, and the greenery lush and luscious with pine trees and tropical forest flora and fauna.
At the Makati Central Business District, Ongpin's Alphaland Corp. has two major facilities, the City Club, and the Alphaland Suites, a serviced residences cum five-star hotel. They are housed in two buildings called Alphaland Makati Place that sits on a three-ha. property at the corner of Malugay Street and Ayala Avenue Extension.
Opened last May with 250 keys, the hotel "has been doing quite well," boasts Ongpin. "We have been getting superlative ratings from several hotel booking companies. One hotel booking company rated us 9.4 out of 10, and gave The Alpha Suites the best rating out of all the serviced apartments in Metro Manila."
Indeed, notes Bobby, "it is not possible to find a hotel in the city where you have access to nine restaurants within the premises, a 500-sqm gym, plus tennis, basketball and badminton courts, and a huge swimming pool." Rate is P7,000 per night. Balesin and City Club members can probably haggle a discount.
In 2017, Alphaland refinanced its debts for a fresh P5.5-billion loan from BDO Unibank to bankroll Ongpin's current ambitious projects.
— Tony Lopez