The President scores senators for wasting the time of his executive officials who now must get his permission before they can appear before the Senate as resource persons
---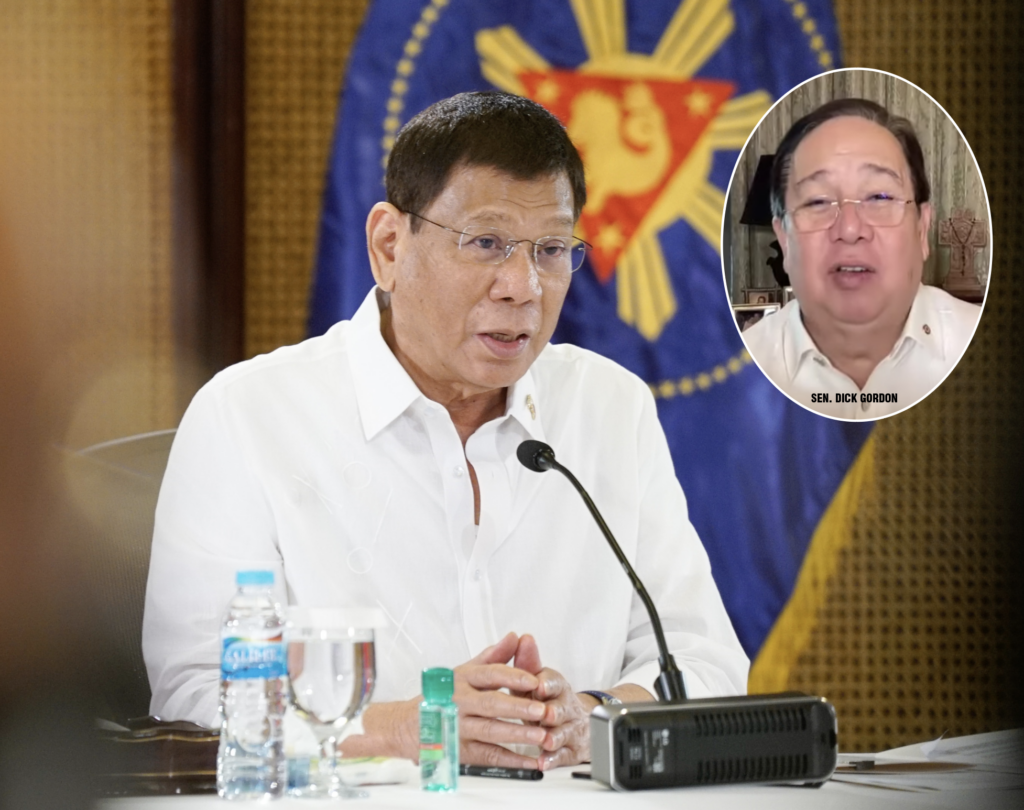 "You can tear up Pharmally if you want. We are done with them."

By President Rodrigo Roa Duterte (Talk to the People taped Sept. 13, 2021 but aired Sept. 14, 2021 on national television)
---
I would like the people to know that we are studying the possibility of vaccinating the general adult population as early as October if there is a stable vaccine supply.
Kung mayroon nang madagdag ho at kung kaya na nang ma-absorb ng gobyerno 'yung lahat ng tao na mapabakunahan, we will start with the — maski sino na general public.
Parang pumunta ka na lang doon at magpaturok ka kung hindi ka pa nagpaturok ng vaccine. Ang aming ano dito is always we have to keep equity in mind na dapat unahin na natin ang walang-wala and mga mahirap.
Alam mo kasi 'yung mga iba in the far-flung areas also of the country outside of Metro Manila, there are a lot of Filipinos waiting to be vaccinated. And so doon sa kanila, in their respective jurisdictions, I would suggest that unahin muna ninyo 'yung mga mahihirap, those who cannot really afford to be travelling back and forth. As a matter of fact, it would be nice of government to go to their places. Tutal alam naman natin 'yang blighted areas eh. Many of those ayaw o hindi o needs to be convinced that there is a vaccine available and it is good for them.
Senate scored
Ngayon dito sa… Itong Senate hearing, we do not question the authority and the power of the Senate to investigate in aid of legislation, iyan ang sinasabi nila.
But alam mo kasi nakita ko na pinapatawag ninyo almost so many persons and yet you are only able to put the resource person for four, five, six, seven hours at 'yung iba naghihintay ng wala namang silbi. And yet the subpoenas are repeated every hearing at pinapatawag sila and I think that most of the DOH officials in this morning's hearing were all there doing nothing.
Alam mo, well, with due respect to the Senate this time, ilang beses ninyo pinapatawag 'yung mga Cabinet members, especially Secretary Duque. And umabot na kayo from the purchase, the procurement, then down to itong Pharmally. Now, you are branching out to COVID — ah not COVID, drugs issues.
Repeated summons for nothing
Mahirap 'yang ganoon pinapatawag ninyo pabalik-balik tapos hindi naman ninyo nau-utilize 'yung testimony. So ganito ang proposal ko: I will require that the Cabinet members invited to your hearings that he will clear the invitation with me at kung tignan ko na pabalik-balik na lang with no other purpose except really to ramble on, to stretch the hearings because that is good for election until maybe until the election itself, okay man 'yan because you are entitled to your own strategy. Pero dito sa amin because Secretary Duque has sometimes — he has not been in control of the workings of DOH because he spends most of his time nandiyan sa inyo.
Clear any invitation with me
This time I will require every Cabinet member to clear with me any invitation. And if I think that he will be called for walang ano silbi except to harass, to be berated in front of the Republic, eh hintuin ko na 'yan at pagbawalan ko na. Now, may option kayo: you can cite the person in contempt — pero ako na ang magsabi na ako ang may utos na hindi mag-attend.
So that is… Well, I think I can do it as President really if there is an abuse of authority there or exceeding the authority of the reasonable time that Congress conducts a hearing, I will limit you to what you can do with the executive department of the government.
President heads the Executive department
Dito sa executive department I am the head so I would say kung gusto ko at nakita kong risonable, go, especially if it is really pursuant to the truth na hinahanap ninyo. Maganda 'yan and I would suggest that you do it diretso-diretso.
Sagasaan na ninyo 'yung sagasaan, 'yung Pharmally puwede na ninyong watak-watakin 'yan at you would do what you want kasi kami dito tapos na. I used the Bayanihan 1. Eh sa Bayanihan 1 kayo ang nagbigay ng authority ng executive department even to disregard the procurement law.
Kayo mismo ang nandiyan sa… Tapos ngayon sabi niyo you can take whatever measures for the fastest delivery of the things that we need. So iyon ang ginagawa namin tapos ngayon you are dwelling on the procurement law and asking the officials to explain of their actuations.
I ordered the emergency procurement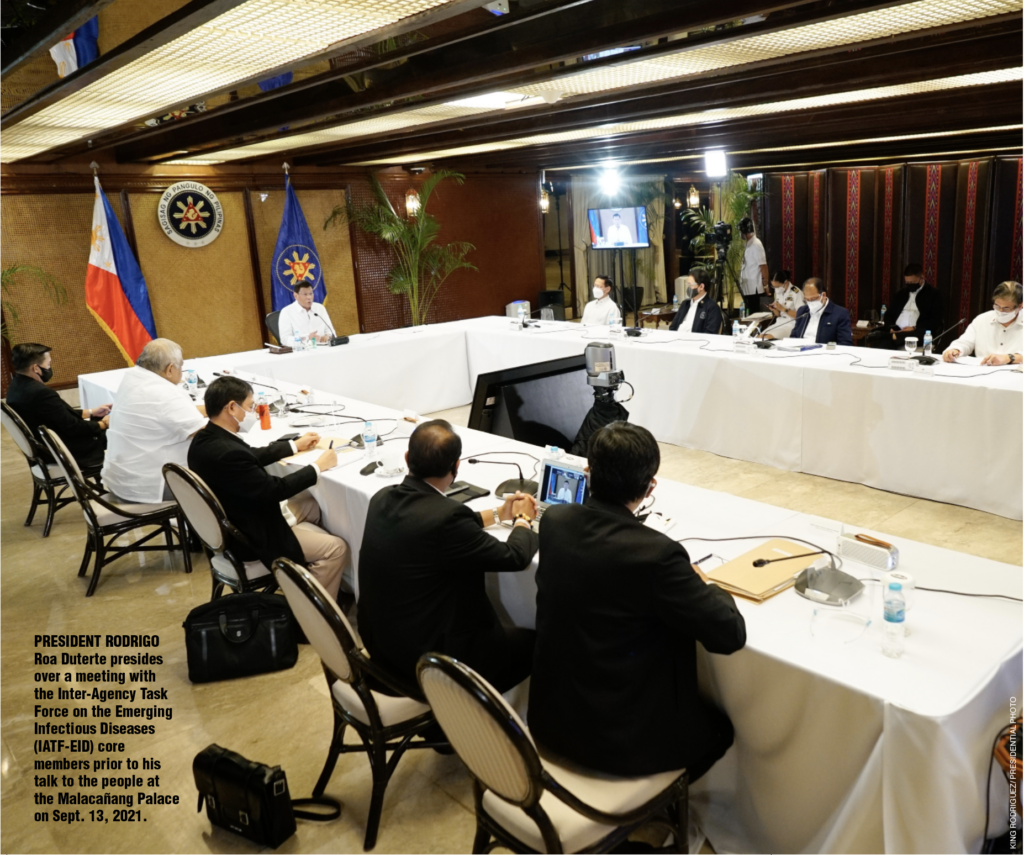 Basta ako ganito, we ordered, ewan — hindi ko man alam kung sino basta sabi ko "dalian mo" kay Secretary Duque. Sabi ko, "dalian mo, you do away with the…" I said there is a law somewhere about an exemption sa procurement law, 'yung makabili ka especially kagaya ng negotiated contract. Nandiyan sa batas mismo eh, 'yun ang ginamit namin.
Ngayon nag- order kami, delivered and inspected if it was really the order — the things that we ordered according to specifications and it was, then we paid. We did not shell out anything before delivery. Para sa akin tapos na kami. Iyang Pharmally ninyo pati droga bahala kayo.
Wala akong pakialam diyan Pharmally gutus — [Anong tawag dito sa — ? Kumutkumutin ng…] You can crumple ang Pharmally, wala kaming pakialam diyan. Basta 'yang pag-avail namin — ang pakialam namin nag-order kami, dumating, tama 'yung nag-order, tapos ang presyo negotiated.
Now, mayroon kaming ilabas na all of these things were done in accordance with law even the pricing. Ngayon for the meantime, I would just like also to remind Senator Gordon na I will campaign against you for being unfit to be a senator of this Republic. You are trying…
Well, others are trying to be a Chinese when they are not; and ikaw naman, you are trying to be an American na hindi ka naman talaga totoong Amerikano.
100 witnesses made to appear but are not allowed to talk
Every time that there is a committee hearing, you subpoena more than a hundred resource persons and witnesses and then more than half of that number comes from government — comes from the government. Instead of working, they are stuck attending hearings that last for more than five hours.
Tama ba 'yang ginagawa ninyo? I mean, are you crazy? Bakit ganoon? Can you not approximate the time that you would take to make these persons testify, question and answer?
Lalo na ikaw Gordon, abugado ka. Ano bang kakalkalin mo? Nandiyan na 'yang medisina ginagamit na namin. Para sa akin tapos na ang trabaho. Iyang Pharmally na 'yan or droga, then we will talk about it. Hintay lang kayo. Iyan ang ano ko.
A waste of time
It's a waste of time. And I am ordering Senator — ah si Secretary Duque that the next time that he is invited, he should clear the invitation to appear dito sa akin and I will decide. Nasabi na ni Du — ni Secretary Duque 'yung kaya niyang… Ano pa ba ang gusto nila pati 'yung kaluluwa ninyo hatakin?
May isa pa. I am surprised that one of the resource persons, ang tragedy niya — ang tragedy is that you are listening to him.
And I do not understand why the Senate is listening to a witness or the person of Acierto. Acierto was dismissed by the Ombudsman twice. First, for his role in the obvious P100-million deal with Werfast. For this was later reversed, he was finally dismissed for his role in the importation and selling of more than 1,000 AK-47 to the NPA rebels.
Ito ang — ito ang masakit sa akin kaya ako rin galit talaga kay Acierto, among others, dito ako naano 'yang napipika talaga. At palagi ko itong sinasabi na siya 'yung — he was one of those responsible for the importation and ito si — napunta 'yung 1,000 doon sa NPA, anak ng…So ilang sundalo ko namatay diyan sa mga baril na 'yan? Ganoon na — ganoon na lang ang istorya natin? Iyong kalokohan mo.
You are a fraud
You are a — you are a fraud actually. At saka 'yung sa Davao na raid ng laboratory doon, namatay anim na foreign nationals, you managed to produce documents na pinalabas mo na iyo 'yun. Hindi mo alam nandoon ako buang. I was there.
Well, I was called to — so it was the fiscal who called me na "there is something, you better come here." So nagpunta ako doon, at wala, hindi kita nakita. Inagaw mo kay — sa mga tao ng PDEA ng Davao 'yung credit. Talagang 'yung nag-manufacture ka — you manufactured so many documents, falsified documents and used it. You know, there is fabrication and there is such a thing as the use of false documents. Marapat — ang rami ng patong mo, sigurado 'pag buhay ako, talagang hahanapin kita kasi sinira mo 'yung — gusto mong siraan at sinira mo 'yung bayan ko. You produced so many arms to kill my soldiers. Mainit talaga ako sa iyo, sa totoo lang.