Banks' profits keep hitting record highs

During January to March this year, banks made more money than in any first quarter, in fact, in any quarter or three-month period in the history of Philippine banking.
In the first quarter of 2023, these monolithic cash machines hauled in record profits despite the lingering effects of the worst pandemic in 100 years, followed by the highest interest rates in 40 years and the highest inflation in 14 years amid the biggest ground war in Europe since the Second World War.
As of end-March, Philippine banks recorded P96.62 billion in combined profits, an increase of 45.65% over the first quarter of 2022.
In the whole of 2022, the industry carted away P309 billion in profits, a record, and an increase of 37.5% over the P224.75 billion reported in 2021. The P309 billion 2022 profits eclipsed the previous all-time high of P230.67 billion profits made by the system in 2019, the last normal year before the pandemic.
If the first quarter profits of P96.62 billion were annualized or multiplied by four, 2023 could end up with another record profit for banks, P386.48 billion, up 25% from the 2022 record earnings of P309 billion.
Such profitability indicates a number of things.  Business in the Philippines is booming.  Our banks are well-managed, and mostly compliant with regulations, some of which are inane, viciously competitive, nimble and pro-active. 
Of course, banking probably is the best business in the Philippines.  That is why nearly all the large Philippine conglomerates have a bank.  For the conglomerates, their bank is either the No. 1 or No. 2 profit maker.
Banking (BDO and China Bank) contributes 45%  of the total profits of SM Investments Corp., with property a poor second, 23% , and retail, just 19%.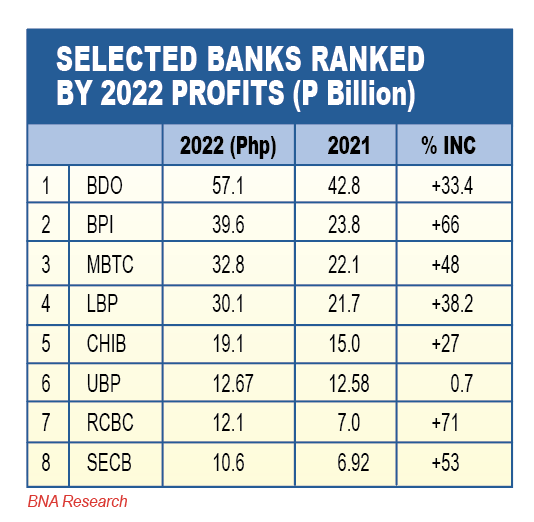 At Ayala Corp., bank profits (BPI), P39.6 billion in 2022, are more than double profits, P18 billion, from land, supposedly the group's main and oldest business.
The oldest commercial house, Ayala Corp. was founded in 1834 while Bank of PI, Southeast Asia's oldest bank, was set up in 1851.
Philippine banking is the oldest in ASEAN and was once dominant in the region. Til the 1970s, the largest ASEAN bank was the Philippine National Bank. Today, Philippine banks are among the smallest of the region's banks.
The total assets of the Philippine banking system are $409 billion. One bank in Singapore, the Development Bank of Singapore, has total assets of $502 billion, 22.5% bigger.
Imagine that: The largest bank of a country whose population (5.4 million) is only 5%  of the Philippines' 111 million and whose territory (72,860 hectares) you can sink into the entire Laguna Lake (91,170 hectares), and still have 18,000 hectares extra, is singularly larger than the entire Philippine banking system.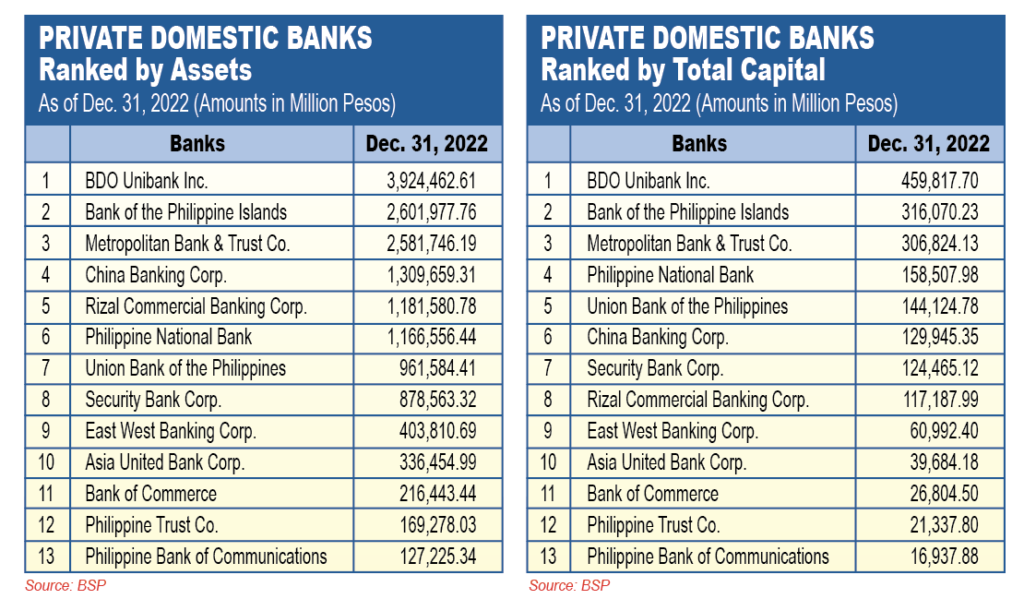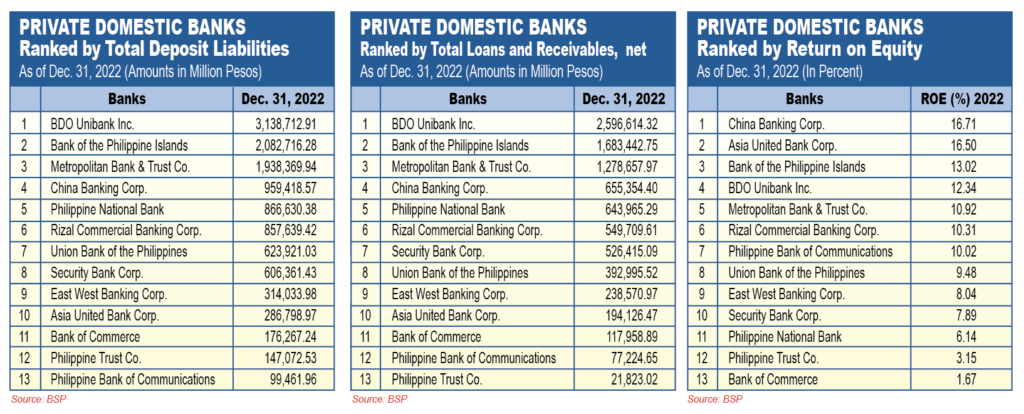 How did that happen?
Well, too many regulations imposed by the Bangko Sentral whose capital requirements and lending rules are doubly more strict than international standards. A fixation with minutiae of banking. A fixation with hiking interest rates to control inflation rather than letting lose more money into the system so the economy can produce more food. Food, after all, is half of the inflation index.
In 2022 alone, the benchmark interest rate pegged by the Bangko Sentral, nearly tripled, to 5.5%.  This 5.5 rose further by 14%, to 6.25%  in March this year.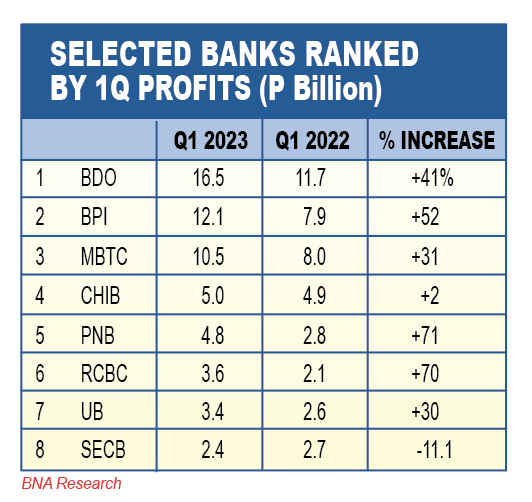 In March 2023, inflation in the national capital (NCR), was 7.8%, still up 129% or 2.22x the 3.5% inflation in March 2022.
During the same one-year period, the BSP raised interest rates 2.5x, from 2.5% to 6.25%, up 3.75 percentage points or 150%. Of the Philippine banks, the biggest money maker is BDO Unibank under President Nestor Tan. The Henry Sy bank had a whopping P57.1 billion income in 2022, up 33.4%. In Q1 2023, BDO made P16.5 billion, up 41%. The bank generates profits at the rate of P5.5 billion a month.
The next biggest money-making bank is BPI under President TG Limcaoco, with P39.6 billion in profits in 2022, up 66% ; and P12.1 billion in Q1 2023, up 52% .
A decent third is the Ty family's financial powerhouse Metrobank under President Fabian Dee, with P32.8 billion net income in 2022, up 48%; and P10.5 billion in Q1 2023, up 31%.
The largest government bank, Land Bank, saw its profits decline 18% to P10.8 billion in the first quarter, after registering a 38% jump in income to P30.1 billion in 2022. Land Bank's president and almost its entire board have been replaced.
In 2022, Sy-owned China Bank chaired by Hans Sy was the fourth most profitable private domestic Filipino bank. It made P19.1 billion in 2022 earnings, up 27% from 2021, and P5 billion in the first quarter.
A battle royale rivalry has ensued between RCBC of the Yuchengcos and Union Bank of the Aboitiz family.
In 2022, Union Bank under President Edwin Bautista reported P12.67 billion in profits, almost flat from P12.58 billion. However, UB has gobbled up Citi's local banking business for a "capital benefit" of $700 million in the Deal of the Decade.
Citi Philippines has over one million middle to high-networth individuals, P99.4 billion assets, and P60 billion in loans (when UB began due diligence), and P81.3 billion loans by March 2023.
With its massive headstart in digitalization and the Citi acquisition, Edwin Bautista goes for the gold in 2025—to be the largest and most profitable retail bank by 2025.