Alternergy is one of a few renewable energy (RE) developers with a diversified "Triple Play" renewable energy portfolio that currently covers most of the key RE resources, particularly in solar, wind, and run-of-river hydro and battery storage plants. This allows for a diversified mix of complementary power generation revenues.
Renewable energy company Alternergy Holdings Corp. targets to hold on March 24 an initial public offering (IPO) of shares from which it expects to raise up to P1.87 billion to fund ongoing and prospective projects.
Alternergy is a clean energy pioneer. It claims to bring to life precedent- setting wind, solar,and run-of-river hydro power projects that pave the way for future renewables growth.
Since 2008, Alternergy has served as a clean energy pioneer, bringing to life precedent-setting wind, solar, and run-of-river hydro power projects that pave the way for future renewables growth.
In the process, says the company, "we have expanded the opportunities available to our diverse set of stakeholders. Innovative financing, local community engagement, and employee fulfillment define the way we do business."
According to Alternergy's amended preliminary prospectus, the maiden listing covers the sale of up to 1.15 billion common shares, with an overallotment option of up to 115 million.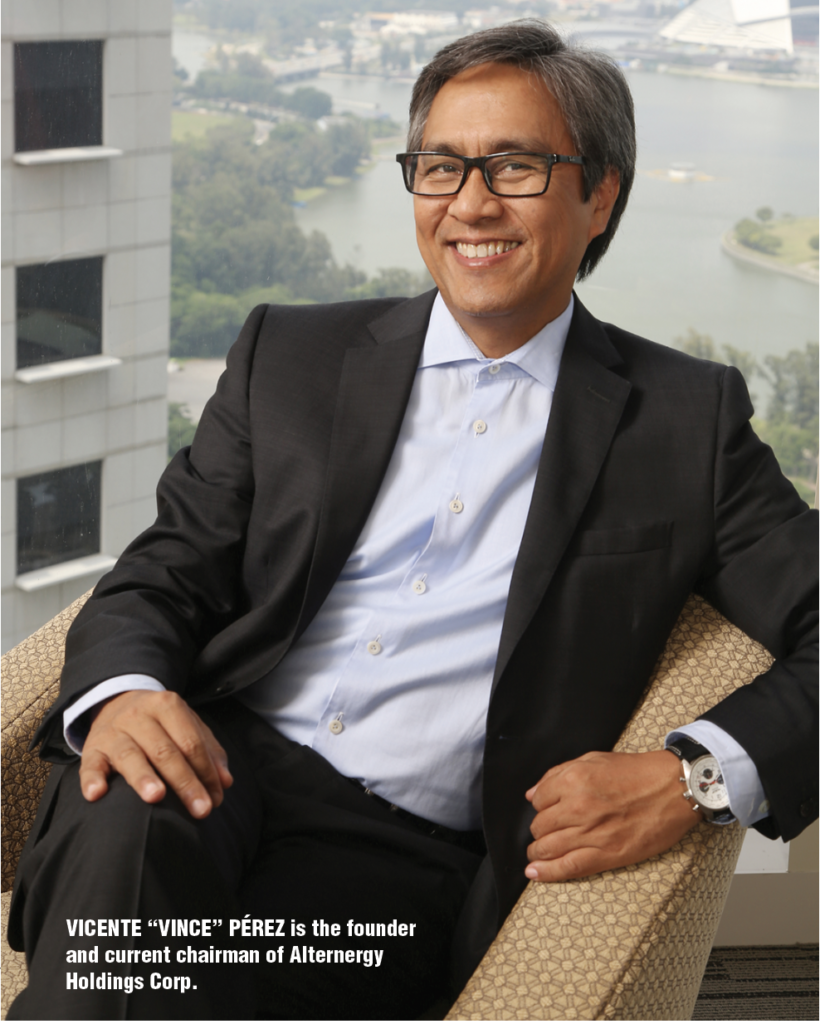 Proven track record
A Philippine pioneer in renewable energy, Alternergy has a proven track record of developing, building, and operating groundbreaking renewable power projects in the country.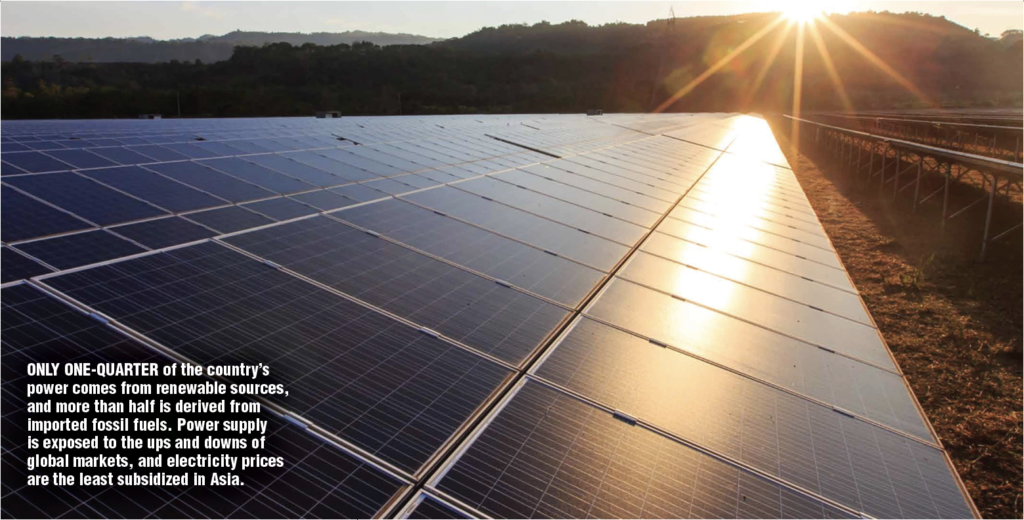 "We strive to create a more sustainable future for the next generation. Alternergy takes a Quadruple Bottom Line approach that prioritizes profitability, carbon reduction, host community benefits, and employee fulfillment," says the company's brochure and website. "We bring development partners into projects as soon as possible, and we leverage our wind, mini-hydro, and solar (in partnership with Solar Pacific) businesses to bring to life a portfolio of projects aimed at altering the renewable energy landscape in the Philippines."
Choice
In addition to establishing offtake agreements through bilateral partnerships and feed-in-tariff agreements, Alternergy gives consumers direct access to choose renewable electricity via GESSI, a Retail Energy Supply business that allows green-conscious consumers the opportunity to directly buy renewable electricity.
P1.4B net proceeds from IPO
The shares will be sold at an offer price of up to P1.28 apiece, with the company expecting gross proceeds of P1.4 billion from the sale of firm shares.
The common shares to be sold are lower than the number previously set by the company in June last year at 1.28 billion with an overallotment option of up to 192.22 million.
Alternergy's updated prospectus dated Feb. 14, 2023 set the listing of shares on the main board of the Philippine Stock Exchange (PSE) on March 24 under the ticker symbol ALTER.
The offer period was March 13 to 17, 2023. The IPO should value the company at P5.82 billion.
Investment & Capital Corp. of the Philippines is sole issue coordinator, and joint issue manager and lead underwriter together with BDO Capital & Investment Corp., while Unicapital, Inc. was assigned as the offering's co-lead underwriter.
Alterenergy plans  to use an estimated P564 million or 35% of the P1.62-billion net proceeds for the construction of projects under development.  Another P522.19 million or 32% will pay for the acquisition of Kirahon Solar Energy Corp. shares.
Use of proceeds
Alternergy will also be using 21% of the net proceeds or P340 million for the pre-development expenses of projects in the pipeline.
Projects under development include its Solana solar project and to start early works on its Lamut hydropower project in the first quarter of 2023.
Also, the IPO will fund the pre-development works on its Ibulao hydropower project, Tanay wind project, Alabat wind project, and offshore wind projects estimated to have a capacity of 1,000 megawatts.
Alternergy is led by Vicente S. Perez, Jr., a former secretary of the Department of Energy. Alterenergy's platform is anchored on three Ps—pioneering, proven, and partnerships.
Pioneering
Alternergy is a company of 'firsts', driven to establish new precedents that drive the development of clean energy in the Philippines. We seek out opportunities to tread new paths that lead to positive long-term change for the industry.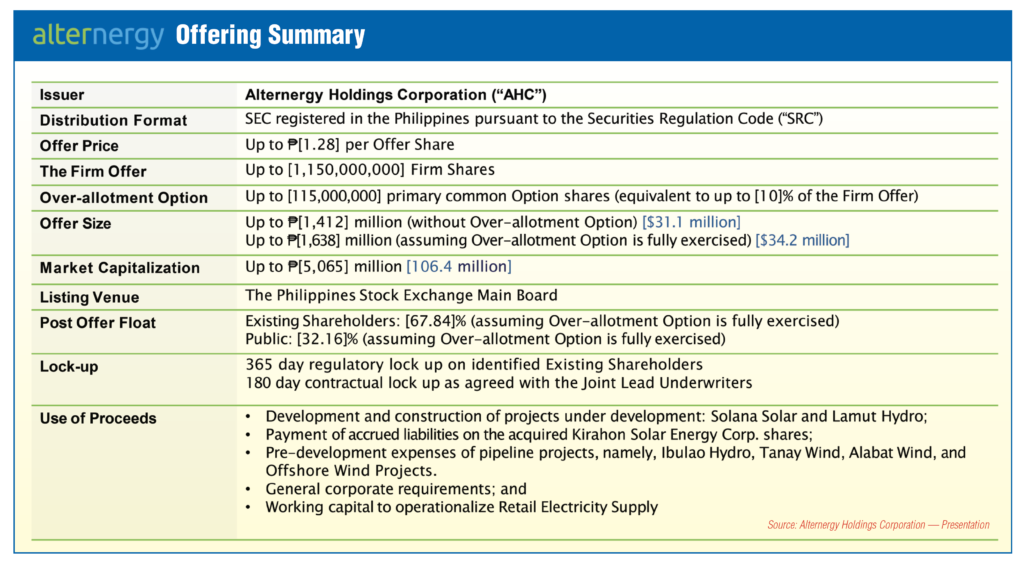 Alternergy's history includes an extensive list of 'firsts'. Select examples include: 
Bangui Bay, a 33MW commercial wind farm in North Luzon – the first in Southeast Asia. As part of NorthWind, several of Alternergy's founding partners were involved in the development of Bangui Bay.
Awarded some of the first contracts from the Department of Energy for wind power.
First non-recourse project financing for wind and solar project with local banks.
Proven
Across Alternergy's portfolio of projects, we demonstrate proven capability to deliver in a well-planned and cost-effective way.
From securing power supply agreements with local utilities and private commercial customers, to working effectively with permitting agencies, we have shown creativity and resilience on the way to achieving our goals.
Alternergy takes pride in its ability to meet even the most ambitious of construction deadlines – prudently setting aside contingencies in plant construction, handling importation and transport logistics of equipment, and reliably managing sites once they are in operation – all while adhering to health, safety and environment protection best practices.
Partnerships
We see our work through the lens of partnerships: We find the people and organizations who will complement our efforts and support our vision to make the Philippines a leader in clean energy. Communities, government agencies, lenders, co-investors, corporates, and local utilities come together to build projects that will impact the country's energy future.
Future
Alternergy is bullish about the future.
The Philippine archipelago is vast. It sits on the fringes of the Asia-Pacific monsoonal belt where strong winds blow across its more than 7,000 islands.
Rivers gush through its dense primary forests. Abundant, year-round sunshine feeds the lush landscape that serves as a home for some of the richest biodiversity on Earth. 
Despite being top three in the world in being the most vulnerable to climate change, the Philippines is a place of fragile beauty.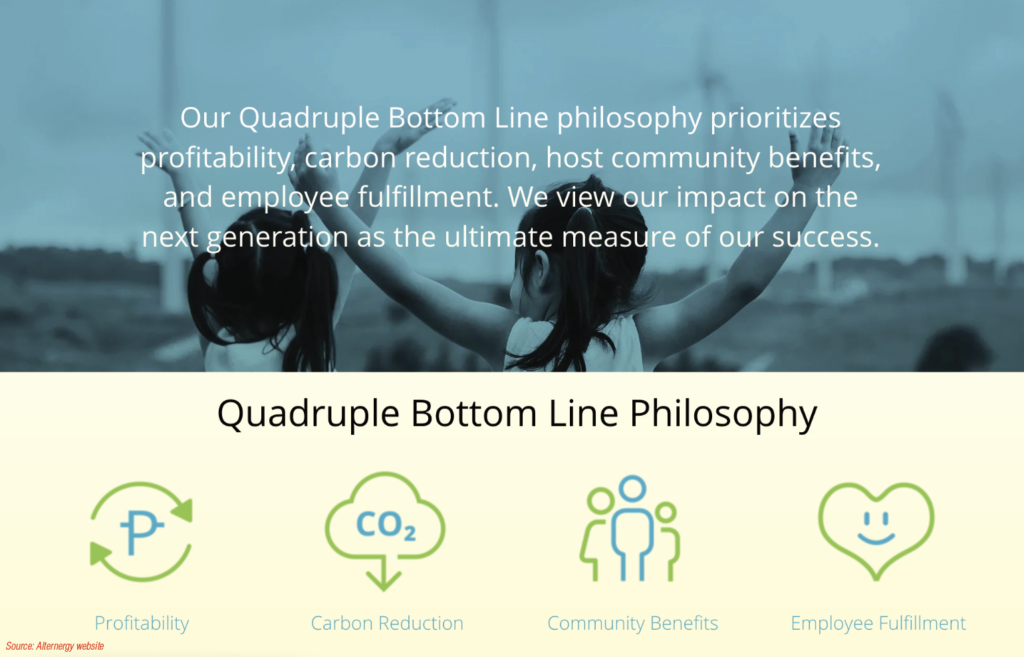 Tremendous is the country's potential for renewable power production. Yet, only one-quarter of the country's power comes from renewable sources, and more than half is derived from imported fossil fuels. Power supply is exposed to the ups and downs of global markets, and electricity prices are the least subsidized in Asia.
The government has set ambitious targets for renewable energy growth, but more groundbreaking projects are needed to establish the standards that will define the country's energy future—and its role in protecting the environment.